Starting a business is a thrilling leap into the unknown. It can lead to some of the most rewarding experiences in life. However, it can be difficult to know where to begin. If you're a budding entrepreneur with a solid business idea, yet lack an understanding of how to launch a business, you've come to the right place. In this post, we've compiled the 12 essential steps for how to start a business. Let's get started!
12 Steps to Starting a Business: A Brief Overview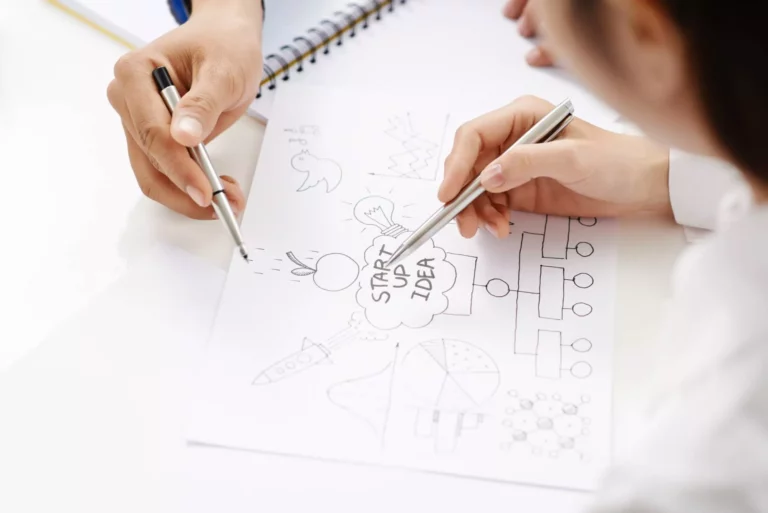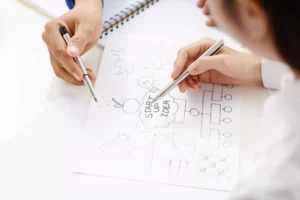 Becoming a successful entrepreneur can sometimes seem unattainable. But, thankfully, you have the wisdom and tried-and-true best practices we've gathered here, which you can return to as you cross items off your to-do list.
Without further ado, let's delve into the 12 steps you should follow when starting a business. By the end, you'll have a comprehensive understanding of how you can chase your entrepreneurial dream, all while starting off on the right foot.
What do you need to start a business?
To start a business, experts say that, at minimum, you need an innovative mind, organizational skills, and plenty of good ol' fashioned elbow grease. It's also no secret that starting a business requires capital, which we'll discuss more in step five.
Additionally, when starting a business, you need to put in plenty of time to nurture it before it can flower. The headlines we see often feature overnight success stories, but in reality, it's rarely that simple. A strong business launch comes after years of dreaming, planning, and grinding away. As you embark on your journey, create a routine so you can consistently build your "overnight success" over time.
Starting a business checklist
As you gather your materials and begin the countdown to launch, it's a good idea to create a business checklist. This list should include all the steps in this guide, as well as the specific tasks associated with your business. For instance, do you need to find and lease a space or is your business going to be completely online? Find a checklist system that works for your specific concept to tackle everything you need to get done.
Legal requirements for starting a small business
Starting a business is a legal venture, as well as a financial, creative, and marketing venture. Make sure to research and follow all the laws that pertain to your state and industry. To get you started, here are the basic legal requirements of starting a small business.
While you're preparing your business to properly follow the letter of the law, it may be worth hiring legal counsel to help you. Having an attorney navigate complex issues on your behalf can save you headaches and lawsuits down the line.
Step 1: Define Your Business Idea
If you're reading this article, you likely already have an idea as to what you'd like your business to sell. To add more color to your business idea and bring your vision to life, you should figure out what you want your business to accomplish. A good place to begin ideating is by examining what brought you here in the first place.
If you're looking for more specific details on starting a particular type of business, check out these resources:
HVAC Business
Gardening Business
Construction Business
Landscaping Business
Plumbing Business
Why are you starting your own business?
Think about exactly why you're setting out on starting a business. Maybe you're looking to explore a new field, increase your income, or set your own hours. Or you could be driven by a million-dollar idea that will fill a niche in the market. Whatever your reasoning, figuring out what will keep you going when the going gets tough is key.
What are your business goals?
After reflecting on your personal goals, think about your goals for starting a business. You can think in terms of values, financial goals, size goals, branding goals, and size goals. Is your goal to serve the local market or are you hoping to grow your business into an international empire? Will you be starting your business from home or will you have a brick-and-mortar location? If so, where? Ask yourself what your milestone signs of success will be.
Step 2: Market Research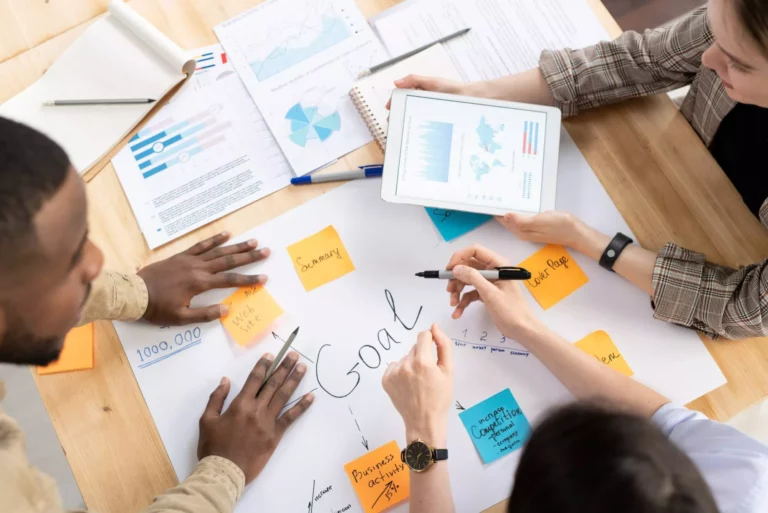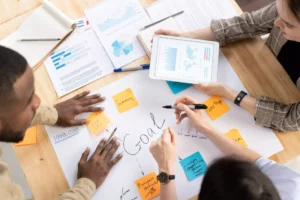 Now that you better understand your business idea, the next step to starting a business is to understand the market and how you'll fit into it. Conducting market research about your field is a key part of developing your strategy. In your research, the goal is to better understand your competitors and customers so you can best design your business plan. To do so, you may want to look at public data and even conduct research with focus groups, surveys, and search engine optimization (SEO) analysis. Below explores some key questions to tackle in your research.
Who is your target customer?
Who will your customers be? What are they looking for? Why do you want to work for them? Is there a demographic that you can eliminate from your list of targets? Zeroing in on your target demographic with the questions helps you understand how to appeal to them.
Define your niche
Next, it's time to figure out your niche or—another business term—your unique selling point (USP). To define your USP, consider your competitors and the industry. Think about the problems your target audience has, where your competitors are missing the mark, and how you can design your business to bridge this gap.
After doing this initial reflection, experts recommend doing a SWOT analysis to hone in on your USP and niche. A SWOT analysis is a tool that helps you break down your business's strengths, weaknesses, opportunities, and threats (SWOT). To complete this analysis, you can use free online templates and tools as a starting point.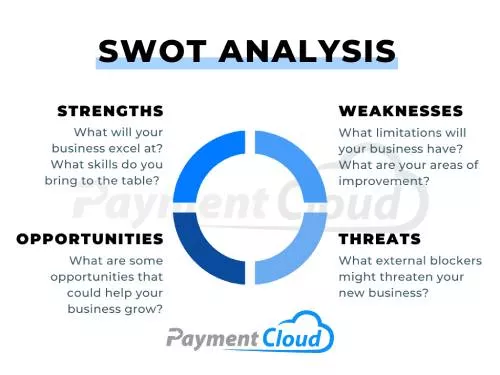 Components of a SWOT Analysis
Strengths: What do you think your business will be good at? What skills do you bring to the table in your line of work? This could be your unique idea, decades of experience, or sharp marketing mind.
Weaknesses: What limitations do you think your business might have? These areas of growth could relate to your location, employees, financial resources, or the competitiveness of the market. Naming these weaknesses puts you in the driver's seat to be able to address them proactively.
Opportunities: What opportunities are out there for your business to grow? A savvy business owner is always on the lookout for ways to expand their business. Perhaps a local coffee shop might want to partner with you to launch a limited-time product. Or maybe you can time your grand opening with the local annual parade to get heavy foot traffic.
Threats: What internal and external events might threaten the health of your business? How can you plan for them?
By thinking of your business in these terms, you'll be able to assess where your business can best fit into the market and meet customers' needs.
Research the business potential
Understand your industry and where it's headed by researching its trends. For example, how's the earning potential in your field? What's projected to happen over the next six months, to a year, to five years? Is there higher potential in one area over another you're deciding between? Has your industry been decreasing or increasing? Is your field increasingly going green, thus affecting your product line? These are all important factors in establishing a firm grasp of the market.
Step 3: Write Business Plan
When starting a business, a good business plan can set you up for success. It can also help you as you apply for funding and pitch your business to potential partners. You can think of this document as a roadmap steering you to realize your vision of success. That said, a business plan is worth doing right. While even the best-laid plans can change, experts recommend putting time into this step and revisiting your plan often.
As you write your plan to start a business, you can rely on free guides and online templates. They give you a foundation to get started, but you can adapt your plan however works best for your business.
Don't forget to consider an exit strategy
Forward-thinking business leaders have several predetermined exit routes. This doesn't mean that you expect your business to fail. Rather, it means that you're thinking proactively through what circumstances would cause you to leave the industry. Think of it as planning which exits you may take while driving down a highway. As you create your business plan, it's worth creating a business impact analysis and thinking through all outcomes to avoid being caught off guard.
Step 4: Choose a Business Name
You have a good knowledge of the market. Your business has taken shape in your mind. The next step to starting a business is giving your business a name before it officially enters the market. Deciding on a business's name is an important step for any entrepreneur. It's the first impression, essentially summing up your business's brand in just a few words. Online name generators can be helpful at this stage.
As you're finalizing the list of candidates, consider if your business name will stick. A name's stickiness stems from how easy it is to remember and spell, how short and sweet it is, etc. It's equally as important to choose a name that's clear. The last thing you want is for your customers to misunderstand your business. Clarify what goods or services you offer or what industry you're in through your business name. Additionally, make sure to choose a name that makes sense to your target demographic. For instance, if your business name has a joke or play-on-word in it, make sure it's inoffensive to your target market.
Confirm your business name's availability
Once you've brainstormed a sticky, yet clear business name that appeals to your target demographic, it's time to check its availability. In your market research, it's helpful to identify if there are any competing businesses with similar-sounding names. Next, plan ahead for your business's future online presence by ensuring sure there's a domain name available. You can do this by typing "domain availability search" into a search engine and checking your name ideas.
Perhaps the most important step before officially registering your business name is finding out if another entrepreneur has already trademarked what you're considering. Check out the U.S. Trademark Electronic Search System. Businesses are registered on a state level, meaning it's possible your business and a business in another state share a name. That is, as long as it doesn't violate any trademark rules, thus checking for trademarks is important.
Finally, to officially name your business, you need to submit your business name to your state and local government. Each state has its own process. Check out your particular Secretary of State's website to learn the necessary steps in your state.
Lastly, note that your business structure may have its own rules for naming. For example, with an LLC, you must include LLC in the name in some form. That said, below explores what business structures you can choose from when setting up your business.
Step 5: Determine Your Business Structure
There are many ways you can structure your new business as a legal entity. Business structures have two main benefits: giving your business credibility and protecting your personal liability. As you're deciding which of the below options to choose, consider these factors:
The number of people involved – If you're planning a solo operation or micro business, you can use a more informal structure, than, say, if you're launching a firm with a host of investors.
Your business's location – The laws vary by state regarding business structure and licensing. Consider what works best in your area.
Your business's industry and scale – Some structures make more sense than others for large businesses.
With these factors considered, below are common business structures you might consider for your budding business:
Sole Proprietorship: A common option for small business due to its straightforward and less costly nature, a sole proprietorship means you'll oversee all business operations, but bear responsiblity for unlimited personal liablity.
Corporation: More attractive to investors than other structures, a corporation is a legal business entity that exists separately from its owners. There are four kinds of corporations with which you should be familiar:

S corporation
B corporation
Close corporation

Limited Liability Company (LLC): With its hybrid structure, a limited liablity company gives you the liability protection of a corporation with the benefits of a simple structure.
Nonprofit: Nonprofits, or 501(c)(3) corporations, follow the organizational rules of a regular C corp. Unlike a C corp, they are created to perform charity or public work, such as in the field of education or science.
Partnership: A partnership is the simplest structure for two or more people going into business together. Partnership structures come in two forms: limited partnerships and limited liability partnerships.

Limited partnerships, or LPs, consist of two different kinds of partners. One general partner has unlimited liability, while the other partner(s) have limited liability. The general partner is typically the day-to-day operations manager, while the limited or "silent" partners are not involved, often acting only as investors.
In a limited liability partnership, or LLP, two or more business partners have a role in the business. Each partner has the exact same limited liability.
That's a rundown of the common business structures. It's worth noting that it is possible to combine different business structures. For example, a limited liability company (LLC) can be taxed as a C or S corp in some circumstances. With this more complicated, non-standard structure, it's best to speak with an advisor or attorney about your options.
Step 6: Organize Your Finances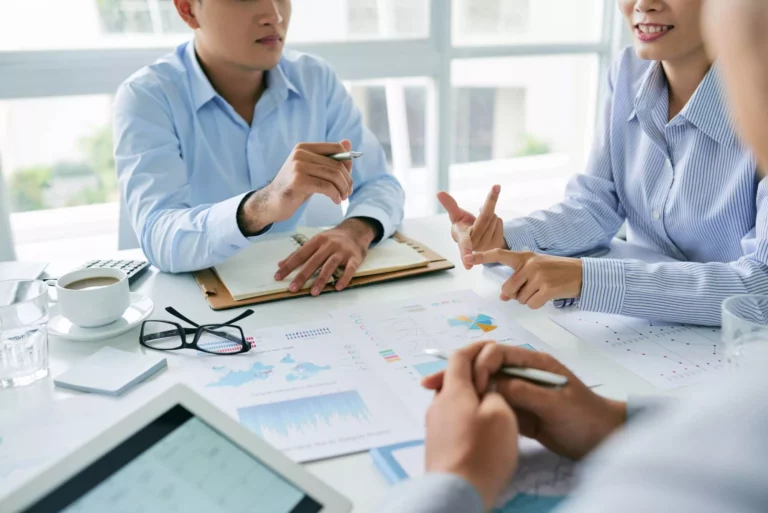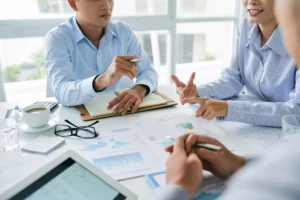 While you may have other goals, every business seeks to make money. To ensure your business reaches this goal, you'll need to determine your startup costs and stay on top of your finances. This means tracking cash flow and capital with bookkeeping. Rigorous bookkeeping keeps your business afloat and helps you identify areas of improvement. It will also help you make informed decisions, such as when to quit your day job or how to sustain yourself in slow months.
Define how much you will charge for your services
When starting a business, setting competitive rates that generate profits is critical. To strike the right balance, do some research into your competitors' pricing.[1] Inc. "How to Price Business Services". Accessed February 18, 2022. Aim for the Goldilocks spot where supply and demand meet. After, you can adjust your price as time goes on to keep your profit margins viable. Note that it may be a while before your business begins to turn a profit, so set sensible goals for your business.
Conduct a break-even analysis
A break-even analysis is one tool you can use to know how much cash you'll need to make to offset your costs, thus breaking even. The break-even point is an important milestone, as it marks when you begin making a profit. In short, there are three major reasons you want to include a break-even analysis in your business plan:
Pricing your products or services successfully
Determining profitability
Analyzing your sales data
The calculation is: Fixed Costs / (Average Price – Variable Costs) = Break-Even Point
Funding options and loans
Getting funding is a crucial step in starting a business, but it can be a stressful one. However, there are many resources designed to make the process easier. Overall, you can categorize your funding options into two buckets: internal and external. Internal funding includes what's available to you in your own bank account or with the support of connections.
Then, you have external funding options. For example, you may be able to secure a small business grant. (Tip: Search for grants specific to your situation, like women- or minority-owned business grants.) Another external funding option is crowdfunding, which has helped many businesses in recent years. Using a platform like Gofundme or Kickstarter gives your network the opportunity to support you.
There's also a category of external funding options that require you to repay the money borrowed. This category includes options such as commercial loans, business lines of credit, merchant cash advances, and asset-based lending.
Consider any licenses and registration fees
Always remember to account for any set-up fees that come with launching a business, like license and registration fees. Fees vary by state, but typically registration costs will be under $300. Your fees will also depend on your business structure. For instance, with an LLC, corporation, nonprofit, or partnership, you may need licenses and permits from your local government.
Define your budget
Last, but not least, you need to gather your data on expenses and revenues to define your budget. Designing your budget to plan for every last expense is key to successful financial management.[2]Nerd Wallet. "How to Create a Business Budget for Your Small Business". Accessed February 18, 2022. To do so, consider your costs coming from start-up expenses, seasonal expenses, overhead, insurance, taxes, and licensing fees. Don't forget to track which expenses are one-time and which are recurring. Then, compile your sources of funding and revenue, like grants, loans, and more.
Your goal in defining your budget is to understand how every dollar flows into and out of your business. And don't forget that your time is valuable too. You should factor in the hours you spend planning, researching, and organizing. To help organize this data, you may want to invest in budgeting software that saves you time and energy.
Step 7: Register Your Business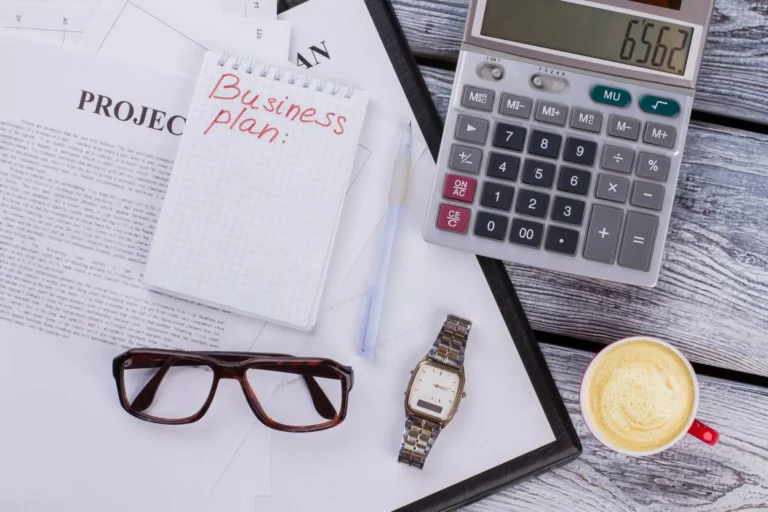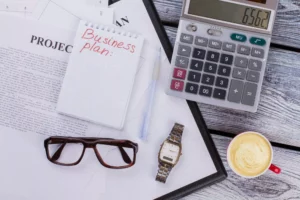 To begin operations, you need to square away all the necessary to-dos of official business registration. For most small businesses, registering your business just requires registering your business name with your state and local governments. Often, you can do this online or file paper documents to your Secretary of State's office, a Business Bureau, or a Business Agency. Afterward, you receive a certificate that you can use to apply for licenses, business bank accounts, and a tax ID number. In some instances, like doing business under your own name, you can avoid registering at all. However, keep in mind that the benefits of registering your business include tax and legal benefits, as well as personal liability protection.
In this section, we'll look at the various paperwork to prepare as you register your business.
Operating agreements and articles of incorporation
Before you hit the market, you need to register your business with the government. What you'll need to submit will depend on your business structure. For example, corporations require an "articles of incorporation" document. Articles of incorporation include your business name, purpose, corporate structure, and stock information. Correspondingly, under an LLC, you need an operating agreement that establishes details of the business between LLC members. An operating agreement is not mandated in most states but, regardless, experts recommend creating one online. To take care of your legal documents, you can draft agreements using Rocket Lawyer's free online template. You may also want to speak with an attorney during this process. To do so, Incfile offers paid online services that provide you with legal services and an operating agreement.
Doing business as (DBA)
If you don't use articles of incorporation or an operating agreement, you need to register your business name. If you're a sole proprietor, you can use your legal name or register a "doing business as" (DBA) name. Also known as an assumed name, trade name, or fictitious business name, a DBA is a way to give your business a name distinct from your own without having to register as a corporation. If you're in a general partnership, you may need to apply for a DBA certificate.
DBA requirements vary by state. Many states require you to get a DBA, while South Carolina, Kansas, and New Mexico do not. Registering a DBA costs anywhere from $5 to $100, depending on the state. Speak with your local county clerk's office to get the details you need.
If you'd like, for extra legal protection, you can also trademark your business name, your brand, or product name. To do so, file with the U.S. Patent and Trademark Office after forming your business.
Income tax forms
As a business owner, you have state and federal tax filing obligations. Exactly which forms you must file depends on your business structure. For information about your state and local tax requirements, you can check your state's and locality's websites.
Federal and state tax IDs
Just as a citizen has a personal Social Security number to identify them, your business needs identification numbers. These IDs allow you to pay state and federal taxes. At the state level, your ID is used to pay state taxes, as well as protect your sole proprietorship from identity theft. Tax obligations vary by state and locality so check your state's website so more information about your state tax ID, income tax, and employment tax requirements. Your federal tax ID is your employer identification number.
Employer identification number (EIN)
As part of your business registration process, you may set up an employer identification number (EIN). This number allows you to pay federal taxes, open a bank account, hire employees, and apply for licenses and permits. The IRS requires some but not all businesses to have EINs. You can review the IRS checklist to determine if you need one. If you do plan to set one up, you can register online to receive an EIN for free right after registering your business. Not sure if you already have an EIN? Make sure to do an EIN lookup to find out if you already have one.
Federal, state, and local licenses and permits
In some cases, businesses must get federal, state, and local licenses and permits. The regulations that apply to your business will also depend on your industry. For example, if you plan to open an Italian bistro, you may need to get health permits, signage permits, and building permits. To find information about licensing requirements, you can use the SBA's database. To obtain your business license, you can visit your local city hall. At the federal level, most businesses can become a legal entity simply by filing to get a federal tax ID.
Step 8: Purchase Business Insurance
When starting a business, buying the appropriate insurance is an important step. The costs of not having insurance, for incidents like theft, property damage, or lawsuits, are too high to risk not having coverage from day one.
Here are the common types of insurance you may want to purchase:
Professional liability insurance
Workers' compensation insurance
General liability insurance
You should also consider buying other types of insurance held by similar businesses. For example, professional liability insurance can cover you in case of operation errors, like neglect or overscheduling employees.
Step 9: Start Hiring to Build Your Team
Your next step in starting a business is considering the size of the team you want to bring on board. You want to hire a stellar staff, making sure to follow all relevant regulations. For example, you will need to register with the IRS for employee taxes.
As you look for talent, think about what skills you want your team to have. Perhaps you want to invest in customer service staff. Or maybe you want to bring on marketing experts to help with your social media, graphic design, and online presence. Depending on your business, you may have marketing, design, shipping, and other needs. You may even want to hire a virtual assistant to help you with the hiring process. Once your team is hired, it's a smart idea to acquire a payroll service. This can help manage employee time and simplify the tax process.
Regardless of what positions you plan to hire for, it's crucial to know the ins and outs of hiring. (Of course, if you plan to go it alone, you won't need to worry about this step immediately. Although it may be helpful to consider for the future.) To help, this section outlines the kinds of workers you may want to hire, as well as the laws you should know as an employer.
Employees vs. independent contractors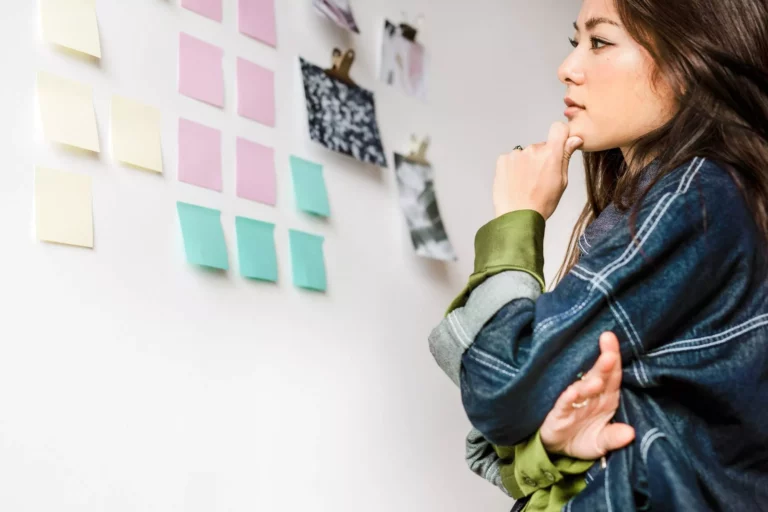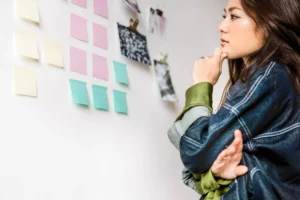 In the job market, there are two groups of labor from which you may want to hire: employees and independent contractors. So, what's the difference?
Employees earn a wage and benefits from their working relationship with you, their employer. After hiring an employee, you set their hours and pay them based on those hours. Independent contractors, on the other hand, offer their paid services to you, but are not your employees. This means, in some cases, you may don't set their hours. And instead of an hourly wage or yearly salary, you typically pay them by the project. Moreover, independent contractors don't have access to benefits.
While the two may be doing similar work, these distinctions carry an important meaning to you as a business owner. You will manage the two groups differently, including the way you handle their taxes. Namely, with your employees, you will take taxes out of their paychecks, while independent contractors pay their own taxes.
Step 10: Get a Merchant Account to Start Accepting Payments
If you plan to accept credit and debit cards, you need to contact a merchant account provider. They can help you get a payment processor, merchant account, and physical card readers if you have an in-person shop. Before breaking down these terms, let's look at why you would want to accept debit and credit card payments, in-person and online.
Simply put, today's customers are using card payments more than ever, so you don't want to miss out on these sales. A survey by the U.S. bank found that about 76 percent of consumers keep under $50 in cash on hand.[3]CNBC. "More Americans say they don't carry cash". Accessed February 18, 2022. Furthermore, when customers buy with cards, they spend over five times more than they spend in cash transactions on average.[4]Boston Fed. "The 2016 Diary of Consumer Payment Choice". Accessed February 18, 2022.
Furthermore, the online world of eCommerce is growing rapidly with no signs of slowing down. Data estimates that over two billion people used online solutions for purchases in 2021, and that number is set to increase.[5]Statista. "Number of digital buyers worldwide from 2014 to 2021". Accessed February 18, 2022. Experts project that by the year 2040, 95 percent of purchases will be through the world of eCommerce.[6]Nasdaq. "UK Online Shopping and E-Commerce Statistics for 2017". Accessed February 18, 2022. On top of convenience, accepting card payments online also gives your business legitimacy in the eyes of your customers.
Given the importance of giving your customers a card payment option, let's clarify what you need to know to get your eCommerce platform operational. First, a merchant account helps you accept card payments. It acts as a payment channel that you set up to process card transactions. It holds your transaction funds, allowing you to seamlessly process transactions while protecting your business.
Step 11: Invest in Required Equipment and Software
To ensure you can seamlessly manage your business operations, set aside time to research the equipment and software you need. This will help save you time and provide your business with services for which you might not otherwise have the capacity. For example, third-party vendors can help you manage everything from HR to phone systems to credit card processing. Below are some kinds of software and hardware you may want to utilize for your business:
Step 12: Market Your Business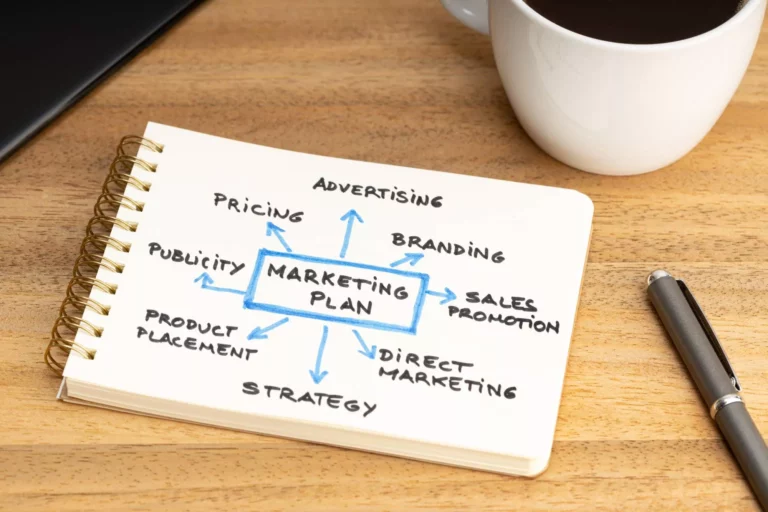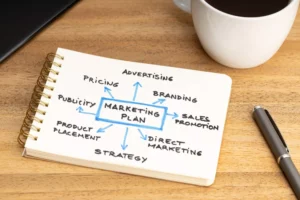 An effective marketing strategy will combine various marketing tools, like a website, social media, and physical advertising. This is where you get the chance to communicate your business branding with a logo and clean copy. Good marketing techniques can help you bring in a flood of customers to your grand opening and keep them loyally coming back. Let's look at each of these tools in more detail to showcase how they can help your business grow.
Build a website
In today's day and age, having an online presence is critical; take it from the almost two billion websites currently live on the world wide web.[7]Internet Live Stats. "Total Number of Websites". Accessed February 18, 2022. A website gives you a digital home for customers to find. This is an opportunity for you to communicate your latest news and convert their interest into sales. It's also a way to integrate eCommerce options to generate sales through a virtual shop. Depending on your hiring plan, you may want to bring on digital marketing experts or web developers. However, thanks to online resources, this is not necessary. With a few hours and persistence, you should be able to create an effective site on your own.
So, what do you need on your business's website? Your website should have a clean landing page and relevant content. It should combine effective copy, images, and even video, while still managing to load quickly on any device. Fortunately, a tight budget or lack of graphic design skills doesn't have to limit you. Free resources online and website builder software can guide you.
Lastly, consider adding a blog to enrich your site. A study has found that small businesses with blogs receive 126 percent more lead growth than those without blogs.[8]HubSpot. "Blogging Businesses Experience 126% Higher Lead Growth Than Non-Blogging Businesses". Accessed February 18, 2022. This is because a blog offers your customers relevant content and keeps them clicking through your site. For example, if you're in the automotive industry, post an article explaining the nuts and bolts of various car services.
Social media marketing
Social media is a great tool to connect with your customers. That's why over 60 million businesses have Facebook pages, with 4 million relying on Facebook ads to increase sales. Social media gives your customers another way to find you and adds a personal touch to your business. It's also a way for you to join the existing online conversation.
Start with the basics and set up pages on popular sites among your target market. For example, you can create a business Facebook page, Pinterest account, YouTube channel, Twitter account, or Linkedin company page. There are also smaller, industry-specific networks you may want to join, such as OpenTable for restaurants and TripAdvisor for travel reviews. Each platform has its own brand, so focus on a couple of sites at first and be sure to tailor your social media content. Then promote your business pages on your own social media and invite your friends to show support. You can also use social media to launch ads, offer promotional discounts to followers, and more.
To create a cohesive, sustainable social media strategy, sketch out your plans for pre-launch, then for the next six to 12 months. Social media management tools can even help you queue up your social media posts in advance. Other tools can track your social media analytics to optimize your chances of reaching your target audience and converting them into customers.
Referral program
Often, when someone else recommends your business, it carries more weight than what you have to say about it yourself. According to recent data, 55 percent of people search online for recommendations and reviews before making a purchase.[9]KPMG. "The Truth About Online Consumers". Accessed February 18, 2022. Thus, as a business owner, don't be afraid to ask your customers to refer you to their friends and family. Send your customers the link to review sites and ask them to share it with someone they know. To incentivize your customers to spread the word, you can offer a discount when one of their referrals turns into a customer. Overall, a referral program is a marketing technique that may take longer to bear fruit, but once your satisfied customers multiply, you'll be happy you took advantage of word-of-mouth marketing.
Physical advertising
Though there are now many more options outside of physical advertising, don't neglect this option in your marketing toolbox. Physical advertising, such as flyering and passing out business cards, can be a great way to build brand awareness. It will do so by helping you increase your business's number of touchpoints. (Touchpoints are the times your customers interact with your business in some form.) In turn, this increases the number of positive associations with your brand.
You don't need to be a graphic design expert to represent your business well. Feel free to rely on templates in order to make sure your materials are sleek with an easy way to contact you. For example, you can include a QR code on your flyer. This code will automatically take customers straight to your website when they scan the image. Then, post your marketing materials anywhere business flyering is allowed, like a community bulletin, utility pole, or partner business.
Tips for Starting a Business: Final Thoughts
Starting a business is an exciting prospect, so congratulations on taking the huge step of even considering doing so. As an entrepreneur setting sail into uncharted territory, you will be sure to face some challenges. But the adventure ahead will also certainly bring rewards, especially when you begin accepting payments for your new business. And hopefully, this guide left you with the know-how and confidence you need to begin your journey. Best of luck!