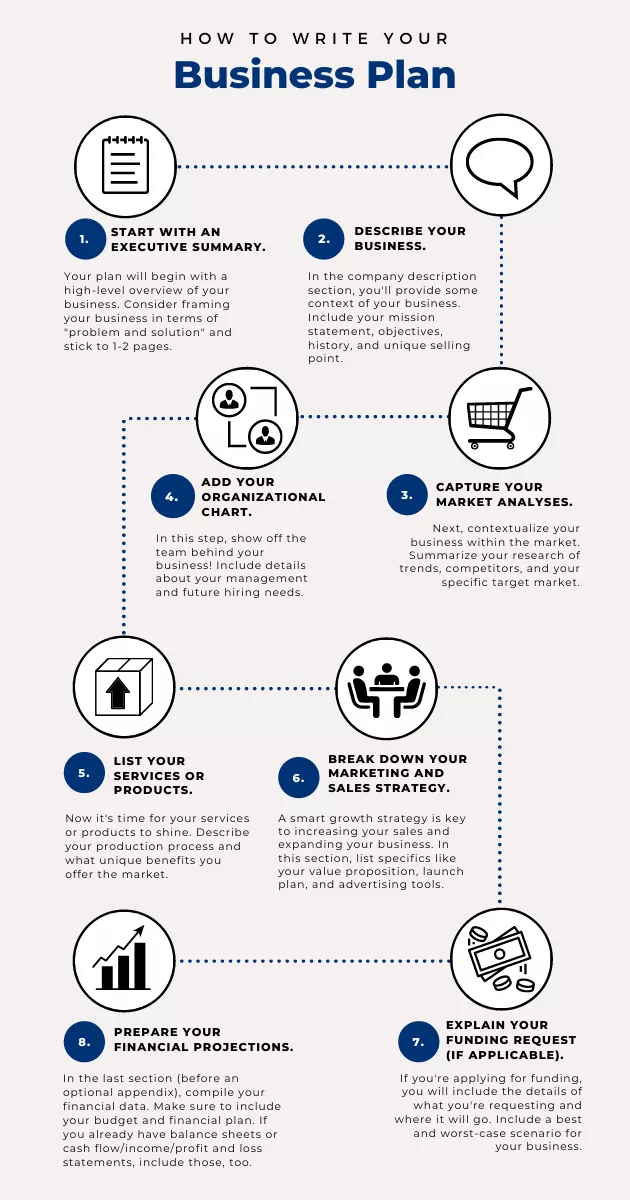 Learning how to write a business plan is a major step for any budding entrepreneur. Business plans can be a great way to track and predict your growth. In fact, business owners that create and use a business plan experience an average of 33.4% more growth than those who don't. Perhaps you've heard of this type of document before but never looked into exactly how to write a business plan. However, it's a vital component of success, and the benefits of creating one before you start a business and revisiting it each year are invaluable. Read on to learn more about how to create a business plan outline and see examples.
What Is a Business Plan?
A business plan is the foundation of your business, and it serves as a guide to how to structure, run, and grow your entity. This document will often end up being more than 20 pages by the end of your research. However, business plans allow owners, stakeholders, and investors to discover whether the venture idea is likely to succeed, predict profits, and much more.
The purpose of business planning
As Benjamin Franklin once said, "If you fail to plan, then you plan to fail." Business planning is an essential tool that will allow you to make sound decisions, help you identify potential weaknesses, communicate your ideas with key people, and meet your business goals.
By going through this process, you will save time, money, and resources. With a business plan, you will quickly find out if your idea is strong enough to survive the market or requires more resources.
How to Write a Business Plan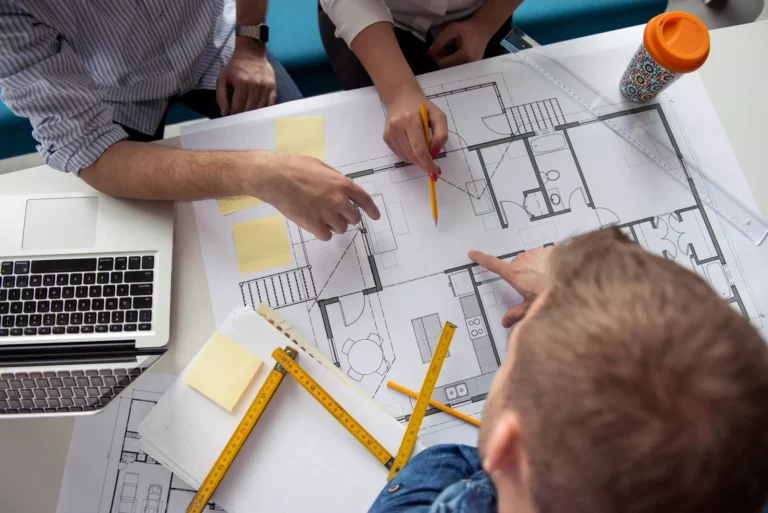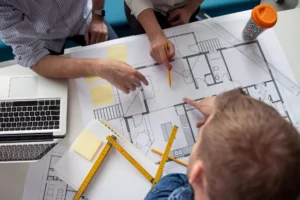 Writing a business plan is easier than you may think. You can follow a business plan outline (traditional format) that will make this process simple and effective. It will ensure no stone is left unturned. By reading through all of the possible sections to include in this document, you can quickly decide which are applicable to your business.
Read on to see business plan outline examples that contain only the parts that apply to the business type. For now, let's begin by analyzing the first part of any plan, the Executive Summary.
1. Executive Summary
When business planning, the first section should be the executive summary. This section clearly describes what your business is and explains why it will be successful. It should illustrate to the people reading the document how and why you'll find success.
Each executive summary should also include:
Your mission statement
A description of your product or service
Information about the leadership team
An explanation of ideal employees
Information about the location and why it was chosen
Include financial information and any growth plans you may have as well, in case if you plan on acquiring financing for the business.
2. Business Description/Overview
After reading the executive summary, your business overview will provide more context. Here you have the opportunity to explain what problems your company solves, who your audience/consumer is, and how you fulfill their needs.
You will also want to explain in detail:
Your competitive advantages
All of the strengths your entity possesses (List your location, team member expertise, unique position, etc.)
This is the section to truly convey to others why your idea is sure to be a success.
3. Market Analysis
You won't be able to write a business plan without a target market analysis. This step will allow you to obtain data that will identify trends and themes. Some of the items you will need to complete are:
Competitor Analysis: What are your competitors doing, and how can you deliver more value?
Industry Analysis: What is the industry outlook?
Audience Research: What is your target market?
After this vital step, you should have a clear idea of who is likely to buy the type of product or service you offer, how you can add more value within your industry, and what you'll need to do to beat your competitors.
4. Products & Services
Without a winning product or service, you'll lose time and money and the business can collapse. In this section, describe what the product or service you offer is and how it will directly benefit its intended customer. If you plan to patent a product or copyright work, it's important to include that information in this section too. It's beneficial to align your business plan with the type of work your business will be doing. For instance, consider your product sourcing strategy for your industry ahead of time.
5. Marketing Strategy
Without sales, a company won't be able to earn revenue. The marketing strategy helps business owners describe how they intend to reach their potential clients and how to retain them. It is important to truly understand your audience. This will help you create a marketing plan to get the most success from a given budget.
6. Operations & Management
Explain who will run your company and how it will be structured. The legal structure of the entity will be important in describing why various key roles/positions are needed and how each person's experience will contribute to the overall success of your venture.
Feel free to include resumes of key personnel in this section. You will also want to brush up on great ways to improve operational strategy and select what you feel would work best for your company.
7. Financial Planning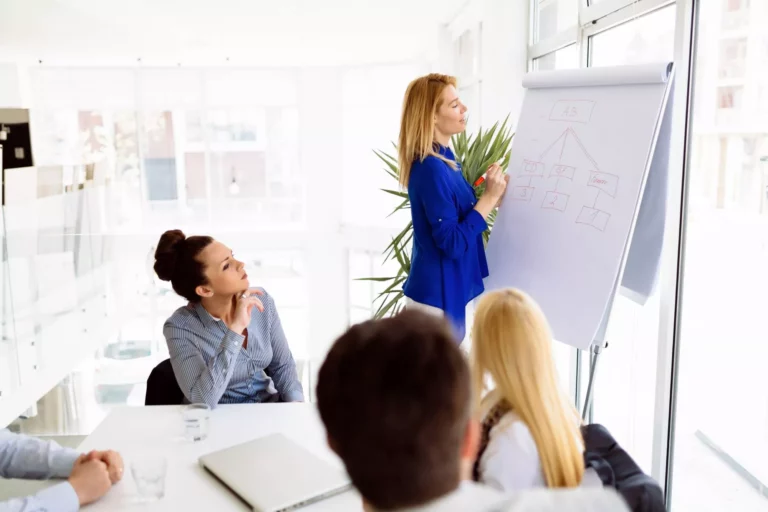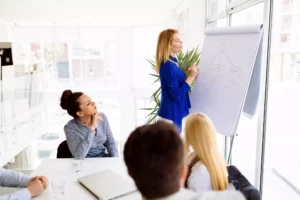 Proper business planning requires accurate forecasting. Financial planning will be a necessary component to success, particularly in the first few years of a business.
Ideally, you want to forecast what the next five years will look like financially. A few items to include or discuss projections about are:
Balance sheets
Cash flow statements
Income statements
Capital expenditure budgets
This is the perfect time to include graphs and charts for clarity. Finances can make or break an organization so it's best to sort out the financial planning early on. You can do this by consulting with an independent accounting firm or by performing a cash flow analysis for your own projections.
Business Plan Examples
There are thousands of business plan examples online. If you want to get a feel for how this looks and comes together, one of the best resources to use is HubSpot. The samples are unique and offer great design ideas to spruce up your plan once the research is finalized.
Make Your Business a Success Story
Now that you have learned how to write a business plan, it's time to get started. There is no time to waste! Create a business plan outline using the sections above and start backing your idea up with hard data. Various studies show that business owners who plan often achieve a much higher rate of success. Feel confident that your idea can not only survive but thrive in the market by conducting the research necessary to identify all of its strengths and weaknesses. Good luck!