Starting your own eCommerce business has never been easier. With the myriad of platforms available, you can start your own store with little to no upfront costs. Many platforms are free or offer attractive monthly plans to help you grow your business. It's important to do your research on eCommerce business ideas and to gain insight into what it takes to create a successful eCommerce store. From sourcing your products and accepting credit cards to marketing your business, read on to learn how to start an eCommerce business.
The Seven Steps to Starting an eCommerce Business
1. Research eCommerce Business Ideas and Niches
The first step to starting an eCommerce business is identifying a vertical you want to operate in. From there, you can find popular products to sell in your store. While it may be tempting to sell whatever you have lying around, doing some research will help you determine if that's viable. You can search for eCommerce business ideas and products to fit unique niches on sites like Google Trends and Amazon's Bestseller List. There, you can browse popular products and identify trending items using their search filters. This data can help you choose a product or products with sufficient demand to sell on your eCommerce site.
If you have a product or vertical you're passionate about or well-versed in, it could be helpful to stick to that general space. Creating and following a mission can help make your business more fulfilling and make it easier to connect with your customers.
2. Choose Your Product for Your Target Market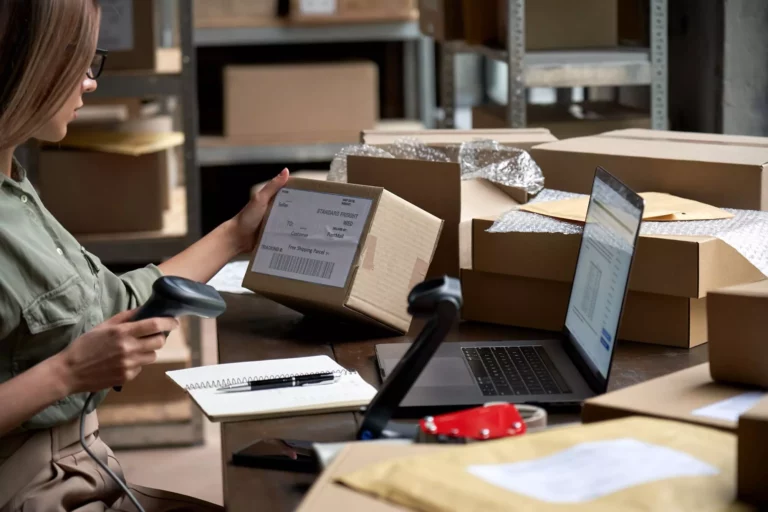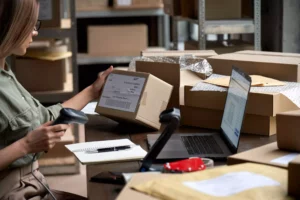 Once you sort through your eCommerce business ideas and choose the product you'd like to sell, you'll need to figure out how that product will fare on the eCommerce landscape. What are similar products selling for? How much room is there in the market to help drive the growth of your business? Is it something that can be easily sourced or produced? Are there any major barriers to entry, like patents or trademarks on the product you want to sell? Are you sure nobody else has tried this idea before? If so, how are your competitors doing it? You'll also want to complete a target market analysis to identify your ideal customer group.
Sourcing Your product
Next, you'll need to find out how to source your product. There's a lot that goes into product sourcing, so it's important to do your research and decide which direction is right for you. For instance, you can choose to create a dropshipping business or source, store, and ship products yourself. Many eCommerce business owners choose to work with a manufacturer or distributor in a place like China. However, that's not always the case. It may be better to find a vendor closer to home if they have experience importing items from overseas. They can also help ensure your products meet US quality standards.
No matter how you source your products, you'll need to decide on one or more suppliers that can provide you with a steady supply of inventory. Staying abreast of industry news and trends will help you determine which sourcing methods make the most sense for your business.
Are you dropshipping?
First and foremost, you need to decide if you're going to operate a dropshipping business or operate in-house. If you're looking for a more hands-off approach or you're just getting started, you may want to start with dropshipping. This is a great way to experiment with trial and error, without significant overhead costs. If you're not dropshipping, you may need to secure a third-party logistics company to do some of the heavy lifting.
How to choose a third-party logistics company
Third-party logistics companies or 3PLs are an important part of the eCommerce process, so it's important to choose someone you trust. You'll need to decide how much oversight you want over your products and inventory since some firms are more hands-on than others. For example, some eCommerce retailers prefer to work with a "white glove" service that allows them to monitor the transportation of their products around the world. Others prefer to work with 3PLs that integrate with their eCommerce platform for seamless logistics.
Choose Your Business Model
Once you know what products you'd like to sell, it's time to choose your business model. Depending on the product you choose, you could pursue one-time sales, recurring subscriptions, or digital downloads. For instance, if you have a digital product and you're only selling the downloads, then you won't have to worry about shipping and handling. On the other hand, if you're looking to sell a product like razors, you may want to do so on a recurring basis and offer different subscription levels.
Pricing Your Product
Once you've secured a supplier for your product, determining how much to sell it for will depend on the market you're selling in. Determining a pricing strategy can be tricky, so you'll have to do some competitive analysis. This means finding products similar to yours, determining how good of a deal they are compared to your own price point, and using that information to set a price you think customers will pay for your product.
If you're using the dropshipping business model, it's important to note that you'll have to set a higher price point for your products so they can be sold at a discounted rate once they reach the supplier. When you're thinking about pricing your products, it's also important to think about your profit margin. You need to make sure you're pricing strategies so that you stay competitive, but still make money. You can determine your profit margin with a known profit margin formula, or by creating your own.
3. Register Your eCommerce Business
Now that you've found products to sell, determined the best ways to source them, and set a price point, it's time to register your eCommerce business. If you haven't already, you'll want to register your business with the right local, state, and federal entities. That way, you can start establishing your company's reputation in the industry. You'll also want to think about getting a business credit card to help finance buying products for your eCommerce business.
Create an eCommerce Business Plan
Next, you'll want to create a business plan for your eCommerce store. Some of the things you might include in this plan are:
A description of your company and its goals
The product(s) you'll sell and how they will fit into your business model
How your products will be sourced and how you'll source them
How you'll market your business online, through social media, through traditional advertising, etc.
A detailed financial analysis of your business model and expected expenses
Choose Your Business Name
Now that you've got your eCommerce business plan ready, you'll need to choose a name for your business. This is one of the most important decisions you'll make when creating an eCommerce store. This is because it will become part of your brand identity. The name should be relevant to what you're selling but also memorable and easy to remember. There are many things to consider when choosing a company name. Because of this, you'll want to take your time finding the right one.
Register a Domain Name
Before you start promoting your eCommerce business, it's important to register a URL for your website. You can purchase a domain name through most web hosts. If you want to be taken more seriously online, try to get the .com version of whatever is related to your business.
Apply for an EIN
Whether you're a sole proprietor or an LLC, you'll need to obtain a federal tax ID number or EIN. This is how your business will be listed as an official entity with the appropriate governmental authorities. If your eCommerce business is a sole proprietorship, you may be able to file your taxes with a social security number. However, if you register your company as an LLC or corporation, you'll need to get a separate EIN from the IRS. You can apply for one online through the IRS website and receive it via mail within four weeks of applying.
Get Business Licenses and Permits
Business licenses and permits will be required for eCommerce retailers depending on their geographical location. However, there are many places that don't require them at all. However, if you're selling in certain states and municipalities, you may need to obtain a business license or permit. This is one of the crucial legal requirements that come with starting an eCommerce business.
State Tax Registration
You may also need to register your eCommerce business with your state's agencies. This is to ensure that you're paying any applicable taxes. Many states don't require this of online retailers, but if yours does, be sure to meet their requirements for registering.
4. Build Your Online eCommerce Website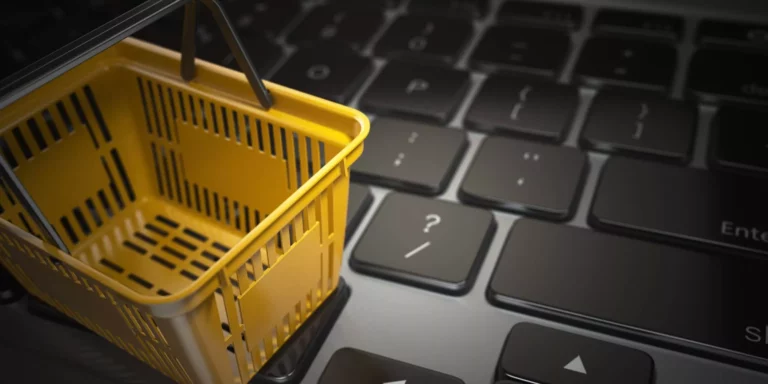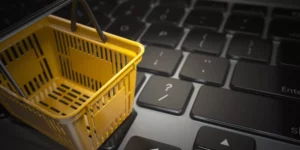 Now that you've done your market research, determined how to source your products, decided on a pricing strategy, created a business plan, and obtained the right licenses and permits for your eCommerce business, it's time to build your online store. But what platform should you use?
There are a few eCommerce platforms that stand out when it comes to building an eCommerce store. The top 3 platforms are Shopify, BigCommerce, and WooCommerce. Each platform offers different features, so it's important for you to do your research and choose the one that best suits your needs.
Choose a theme or design that converts
You'll want to take time to choose a theme or design that will hold your customers' attention while accurately portraying what your store is about. If you're not great at website design, you can use a template that integrates with the platform you've chosen. If you can't find or build something you like, it's wise to hire someone who can. Having an engaging and visually appealing website is the first step to optimizing your conversion rates and ultimately, generating more sales.
Set up a payment gateway to accept online payments
Now that you've got your eCommerce platform ready, it's time to secure credit card processing and choose a payment gateway for your business. If you operate a business online, you'll need to be able to accept payments online through your website. For the best possible rates and peace of mind when accepting payments, you'll want to integrate with an all-in-one gateway that specifically supports eCommerce. You'll also need to choose a gateway that integrates with your chosen eCommerce platform.
5. Decide Which Platform(s) You Want to Sell On
If you're starting an eCommerce business, you likely have a lot on your plate. But it's important for you to decide on where you want to sell your product. There are multiple online marketplaces that allow businesses to sell products online.
Etsy
Etsy is an online marketplace where you can sell your handmade goods. It's great for artists, crafters, and DIY-ers looking to build their businesses. They only allow certain types of products to be sold on the platform.
Amazon
Amazon is an online marketplace where you can sell your products both as a storefront and through their Fulfillment by Amazon program. For those who are just starting in eCommerce, the fulfillment service can be a great option. This is because it saves you time by shipping out any orders placed on your store. In addition, you won't have to worry about handling returns either.
Walmart
Walmart is another online marketplace where you can sell and market your products. This is a great option for those with physical stores who already have a loyal customer base but want to start tapping into the eCommerce business as well.
Google Shopping
Google Shopping is an online marketplace where you can sell your products and buy ads to direct users to your store. This is another great option for those new to eCommerce. This is because of the bidding platform that allows you to get higher ad placements on Google than if you were to go it alone.
Pinterest
Pinterest is an online marketplace where you can sell and market your products. This is a great option for those who have a loyal customer base and want to tap into the eCommerce market as well. Selling on Pinterest can be a lucrative opportunity for eCommerce retailers with the right audience.
Instagram
With Instagram, the same rules apply as they do with any other platform. That is, build your following so that when it's time to start selling, you have a customer base to tap into. It's great for those who have a large following and want to capitalize on that by selling products.
eBay
eBay is not the most eCommerce-friendly platform, but it's another option for those looking to sell their products online. However, it's important to be aware of how strict eBay can be when enforcing rules and regulations. So before you get started, do your due diligence and make sure your business meets their guidelines.
Facebook
Facebook is another eCommerce platform where you can sell your products. Like Instagram, it's important to build a following first and then wait until the timing is right to launch your store on Facebook.
It's important to take advantage of as many of these outlets as you can to increase your exposure. Then, over time, you may find one or some of these platforms are more suited to your needs than others. For example, you may choose to sell on Google Shopping over Amazon or Pinterest over Instagram. If you're selling on multiple platforms, keep in mind that each marketplace comes with its own set of rules that you must abide by. Almost all of these marketplaces have an online bidding platform where you can buy ads to point users to your products as well.
6. Market Your Business to Build Your Brand
Now that you've built your eCommerce store, how will people find you online? How do you create a brand? To start building your brand, it's important to think about what type of audience you want to target. Who are they and why would they buy from you? Once you answer these questions, begin creating content that appeals to them. Focusing on the eCommerce customer experience will help you bring your customers content that appeals to them.
Email Marketing
Email marketing is one of the most effective ways to not only reach customers but also turn website visitors into paying customers. The average eCommerce store owner opens their emails four times a week, so it's an excellent way to get in touch with existing and potential customers. As you build your brand, be sure to craft a solid email marketing strategy. This can include email retargeting, which can help you recapture previously interested customers.
Search Engine Optimization
You've probably heard of SEO before, but how does it apply to eCommerce? SEO is a way for both customers and search engine algorithms to find you. Using keywords related to your products in your website copy can help search engines list your eCommerce store higher on relevant searches. Additionally, the more traffic you get from visitors that have found you through organic search results, the more likely they are to buy from you.
Social Media
People love social media for many reasons-sharing photos, videos, and favorite products with friends is just one of them. But what if you could turn it into an eCommerce marketing tool? If done correctly, your social media strategy can directly lead to higher conversions. You can use social media not only to promote your eCommerce site but also to generate leads, increase conversions, and stay in touch with your customer base.
Get Reviews
Customer reviews are an important part of building trust in your eCommerce store. Without reviews acting as social proof, customers don't know whether or not they can confidently purchase from you. Reputation management is critical for conversion rates. That's why it's important to encourage customers to leave positive reviews on your eCommerce store after purchases. You can do this by offering incentives or discounts, which will make customers more likely to give you feedback and purchase from you again.
PPC Advertising
PPC is another eCommerce marketing strategy that can lead to increased sales. When people search for your product on Google or other search engines, an advertisement may pop up featuring a link to your store. If the copy and image used in the ad appeal to users, they're more likely to click through and buy from you. You can also purchase ads on any and all social media platforms. What matters is understanding your target audience and knowing where to find them. In short, PPC advertising and effective paid search can help you increase your eCommerce store traffic and drive sales.
Remarketing
Remarketing ads are a great way to remind visitors that you exist and want their business. Essentially, it's a targeted ad that follows users around the Internet or social media platforms. When people visit your eCommerce store and leave without making a purchase, remarketing ads can help bring them back to finish checking out. This is another great eCommerce marketing strategy to consider.
7. Establish Supreme Customer Service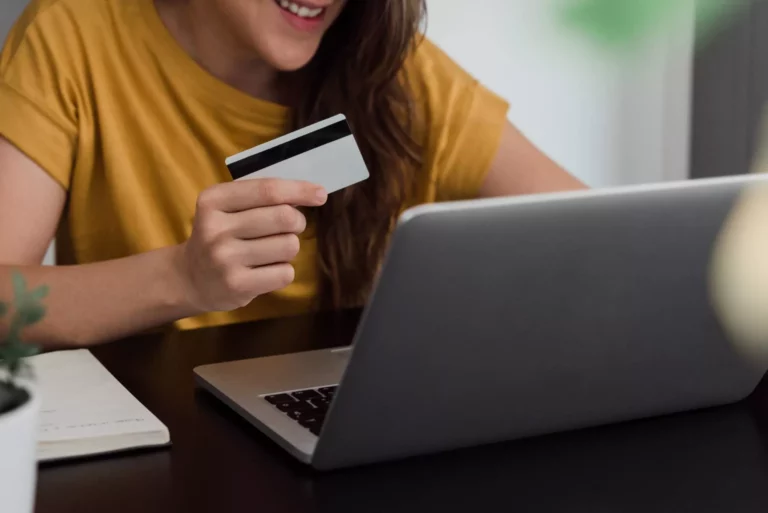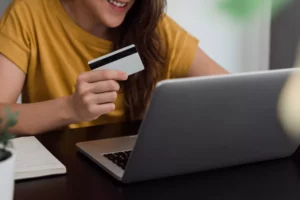 Great customer service is key to the success of your eCommerce store. Instead of simply making a sale, think about how you can make an eCommerce user's day. For example, offer exceptional support hours and provide detailed product descriptions for all items in stock on your website. In short, go above and beyond to provide the best possible buying experience for your eCommerce shoppers.
Establish a customer service email address
You'll want to establish a customer service email address and phone number, which you can make visible on your eCommerce website. If someone has a question about their order or product, they'll contact you if they see this information clearly displayed. It's important to make this information readily available because if your customers don't have a clear way to contact you, they're more likely to go back to their bank and initiate a chargeback.
Create an FAQ section
Creating an FAQ section of your website can help customers find the answers they're looking for. It can also help them learn more about you and your eCommerce store. If a user is interested in what makes your online shop stand out from others, they'll likely spend more time on your site reading about you. An easy way to create an FAQ page is to simply list the most commonly-asked questions you receive about your eCommerce store, and provide detailed answers.
Provide a solid return policy
When you're selling products online, it's important to offer a solid return policy. If for whatever reason your eCommerce store doesn't offer a decent return policy, customers won't feel comfortable purchasing from you. Instead of sending back an item when it is unwanted or defective, a bad return policy is another reason they may simply request a chargeback. That's not ideal because it will end in the loss of money for both you and the bank. Card brands like Visa, MasterCard, AmEx, and Discover require you to disclose a return policy to their cardholders. This is to protect both you and your business.
Legal disclaimers
In order to start a successful eCommerce business, you'll need to cover your legal bases. To do this, it's important to disclose your terms and conditions and privacy policy. The Terms and Conditions document is a legal agreement between the merchant (you) and the customer. This outlines what each party agrees to do or not do in a given situation. For example, if a customer wants to return an item from their order, they need to know how much time they have before they can't return it anymore. The T&C document also covers other things like how orders will be shipped out or refunded, when taxes will be charged on items, and how to handle issues if they arise.
The Privacy Policy is a legal document that outlines how your eCommerce website will utilize the information supplied by customers. This means if you collect any sort of personal data during checkout or registration on your site, you must outline what this information will be used for in your Privacy Policy. You don't want to become the eCommerce website that gets negative attention because they're using their customer's personal data irresponsibly.
Start a newsletter
Offering a newsletter is a great way to promote your eCommerce store and build sales. If the information in the newsletters is useful and up to date, customers will be more likely to sign up for it. You can send out weekly or monthly updates that include new products on your website, coupons, other helpful tips for online shoppers, etc.
If your eCommerce store is ready to send out its first newsletter, make sure they include a special offer inside the email. It's okay if this is a one-time thing or very short-term. If it gets people to subscribe to your feed, then it's worthwhile.
Hopefully, you now have a better sense of what it takes to start an eCommerce business in the modern world. Of course, this is just a basic overview of how eCommerce works and what it takes to become successful in this growing industry. As always, make sure to do your research to decide what's best for your business.