The ability to accept credit card payments for your business is becoming a necessity rather than a luxury. The reality is using cash to make purchases isn't as prevalent, or convenient, as it was a decade ago. A survey by U.S. Bank found that about 76 percent of consumers keep less than $50 on hand. Likewise, roughly 46 percent of respondents indicated that they use cash fewer than eight days a month. What statistics like this mean is that if you're not accepting credit card payments, then you're losing out on sales. Not to mention, if you plan to launch an online store, credit cards are a necessity. Ready to start accepting credit card payments now? Let's discuss what you need to know about how to accept credit card payments at your business.
How to Accept Credit Card Payments
Credit card payments from a customer's perspective are very simple. But for a business, the backend process is very complicated. That is why business owners rely on payment processing companies to validate these types of transactions.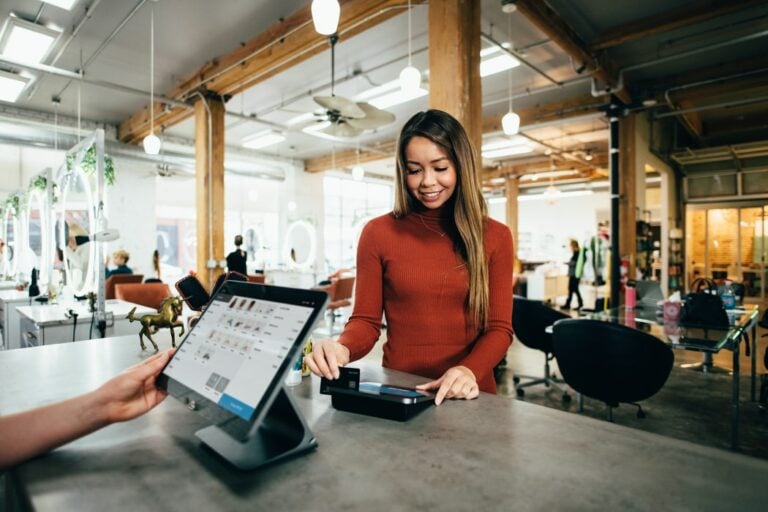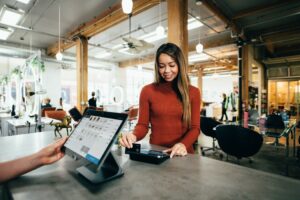 Whether the credit card is inserted, swiped, or tapped, the processor will confirm that the account has the available funds for the transaction. They will also check the account for potential fraud. This entire process takes mere seconds to perform and allows the transaction to go through if everything looks legitimate. For these services and more, processors charge businesses a small fee for each transaction.
When you are wanting to accept credit card payments for the first time, there is some legwork involved. You should do research and determine the specific needs of your business. However, the first step in accepting credit cards is finding and obtaining a merchant account.
Get a Personalized Merchant Account
You'll need a merchant service provider when deciding to accept credit card payments for your business. Choose a merchant service provider that meets the needs of your business. For example, if your business is considered high risk, work with a provider who has experience working with those types of merchants. If you need to take credit card payments online, then a processor who offers eCommerce processing is a necessity.
Other questions to ask a potential merchant service provider include:
Do they provide any fraud prevention tools?
Are they able to offer retail, mobile, or virtual gateways payment options?
Is the fee structure appropriate?
How can customer service be reached? What are the hours of operation?
What type of equipment will be necessary?
Which Payment Method is Best for You?
Part of what you must consider when deciding to take credit card payments is what payment methods to use. Merchant service providers have options that will enable you to accept credit card payments online, over the phone, through a mobile device, or at a retail location. The payment method(s) that you accept will also determine your equipment and software needs.
Online Payments
If your business has an eCommerce platform, you will need an online payment gateway provider, such as Authorize.net. This service enables you to integrate with shopping carts and a number of other services. It processes the payments for you using a secure, cloud-based accounting solution. This software will often integrate with your website, making it easy to start accepting credit card payments.
Other things that you need to start accepting credit card payments online is a storefront and shopping cart. A storefront is essentially your website that allows you to visually display the products and services that you sell. Customers can browse and find out more about your offerings this way. When customers want to purchase items from your storefront, they must have a virtual shopping cart to place them in. Utilizing an intuitive, simplified online shopping cart with enable your customers to make effortless transactions.
In-Person payments
Findings by the Federal Reserve Bank of San Francisco found that consumers use cash for only 35 percent of their in-person transactions. So if your business has a physical location, it's a smart move to accept credit card payments. You will need a point-of-sale (POS) system for in-person transactions. Hardware such as the credit card reader and the software which processes the credit card information are all part of the POS system.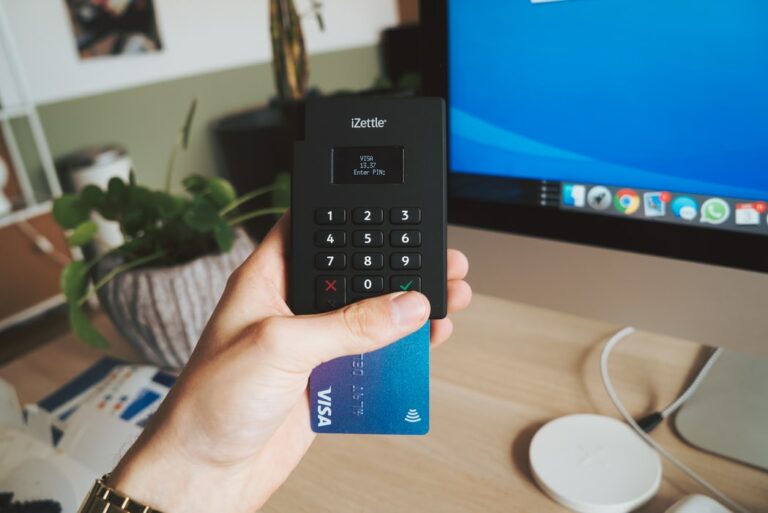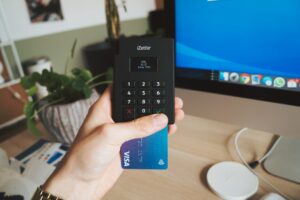 Using the credit card reader, customers can insert or swipe their credit card and have their transaction approved or declined in seconds. Approved transactions will result in funds being received or transferred to your business bank account in a few days. Instead of a physical card terminal or credit card reader, you could also have the advantage of using an online virtual terminal. This is software that can be installed on a smartphone or computer and enable you to accept credit card payments by typing in the information. It's also a great way to take credit card payments over the phone.
Another consideration to make with choosing payment methods is whether to accept contactless payment options. Due to Covid-19, many businesses have opted to use card readers that have near-field communication (NFC) technology. This allows them to take credit card payments using a contactless method like Apple Pay. Because of this trend, digital payments have increased in popularity for both health concerns as well as convenience.
The Fees Associated with Accepting Credit Card Payments
Merchant service providers will charge a fee to a business each time they accept a credit card payment. The credit card processing fees will vary by company. Typically there are two types of fees that are charged:
Processing Rate: A fee that's a percentage of each payment that's charged. It's based on the average transaction amount of the business.
Transaction Fee: A flat fee charged to accept credit card payments for each transaction.
Additionally, the fees and charges will vary by the payment method that's used. This includes in-person, online, and over-the-phone credit card payments. That is another reason why it's important to consider where your credit card charges will originate from.
Take Credit Card Payments and Cash in on the Benefits
Still not convinced that your business should accept credit card payments? Here are just a few of the benefits your business will enjoy:
More convenient for your customers. They don't have to find a nearby ATM or come back later to finish the transaction if they don't have the cash on them.
Your business will be seen as trustworthy and legitimate. Cash-only businesses are given the reputation of being "shady" or inconvenient at best.
Consumers spend more when using non-cash transactions. In 2016 the average cash transaction was $22 while non-cash transactions were $112.
Your business is better off accepting credit card payments for the very reason that you'll reach more customers. In today's world, the average consumer is looking for quick and convenient ways to shop. Your business's ability to accept credit card payments, in any form, appeals to shifting consumer behavior.