In the modern business world, accepting credit card payments is a must. Today's consumers use credit or debit cards more than ever. In fact, research shows that, on average, purchases with cards are also bigger than purchases with cash. A survey by U.S. Bank found that about 76 percent of consumers keep less than $50 in cash on hand.[1] CNBC. "More Americans say they don't carry cash." Accessed January 17, 2022. About 46 percent of these respondents said they use cash fewer than eight days a month.
Accepting payments gives your business the ability to reach more potential customers, making it a very profitable business practice. And if you hope to start an eCommerce business, whether as a new business or for an existing brick-and-mortar store, accepting credit card payments is a necessity.
Are you ready to take the next step? Below, we discuss everything you need to know to set up credit card processing for your business.
5 Steps to Start Accepting Credit Card Payments
Let's explore the five steps needed to set up your business to start accepting credit card payments.
Step 1: Contact a merchant service provider
First, you will need to get in touch with a merchant service provider. Some providers allow you to sign up online, while others require you to contact a sales representative. After that, you will be able to negotiate a contract. Some may require you to print out an application and scan it with a wet signature.
Step 2: Determine how you will be accepting credit card payments
Once you're on your way to accepting credit card payments, you will need to decide which payments methods you'll want to utilize. With a merchant service provider, your options include accepting credit card payments online, in-person, with a mobile device, and over the phone.
Online
Online credit card payments are an important part of any eCommerce platform. To enable online payments, you need three elements:
An online storefront – This allows you to display your products and/or services to browsing customers. To sign up for a digital storefront, many businesses simply sign up for accounts through an eCommerce platform provider.
A virtual shopping cart – This gives customers a place to put their items. Online shopping carts ensure effortless transactions for your customers.
Online payment gateway provider – A payment gateway provider enables your business to integrate a cart and storefront. Thus, you can process payments through a secure, cloud-based solution. With this software, it's simple to begin accepting credit card payments.
In-Person
With a physical business location, it's a good idea to accept credit card payments. It gives your customers another way to pay for your goods. Data from the Federal Reserve Bank of San Francisco shows that customers use cash for just 35 percent of in-person transactions.[2] Federal Reserve Bank of San Francisco. "2019 Findings from the Diary of Consumer Payment Choice". Accessed January 17, 2022.
Offering in-person card payment options ensures you can reach the majority of consumer transactions. To complete in-person transactions, you need a point-of-sale (POS) system. This system includes all the necessary hardware, like a credit card reader, as well as the software that processes the credit card information.
For an in-person customer, after inserting, swiping, or tapping their card, transactions take only seconds. For this process, you can use a physical card reader or an online virtual terminal. A virtual terminal requires a software installation on a smartphone or computer. This allows you to take card payments when the card is not present, such as over the phone, by typing in the card information. After reading the card, funds from the transaction are sent to your business account in days.
In-person payments also come with contactless payment options. Many businesses use card readers with near-field communication (NFC) technology. This allows a business to take credit card payments using a contactless method, such as Apple Pay.
For more details, check out our review of the best POS systems.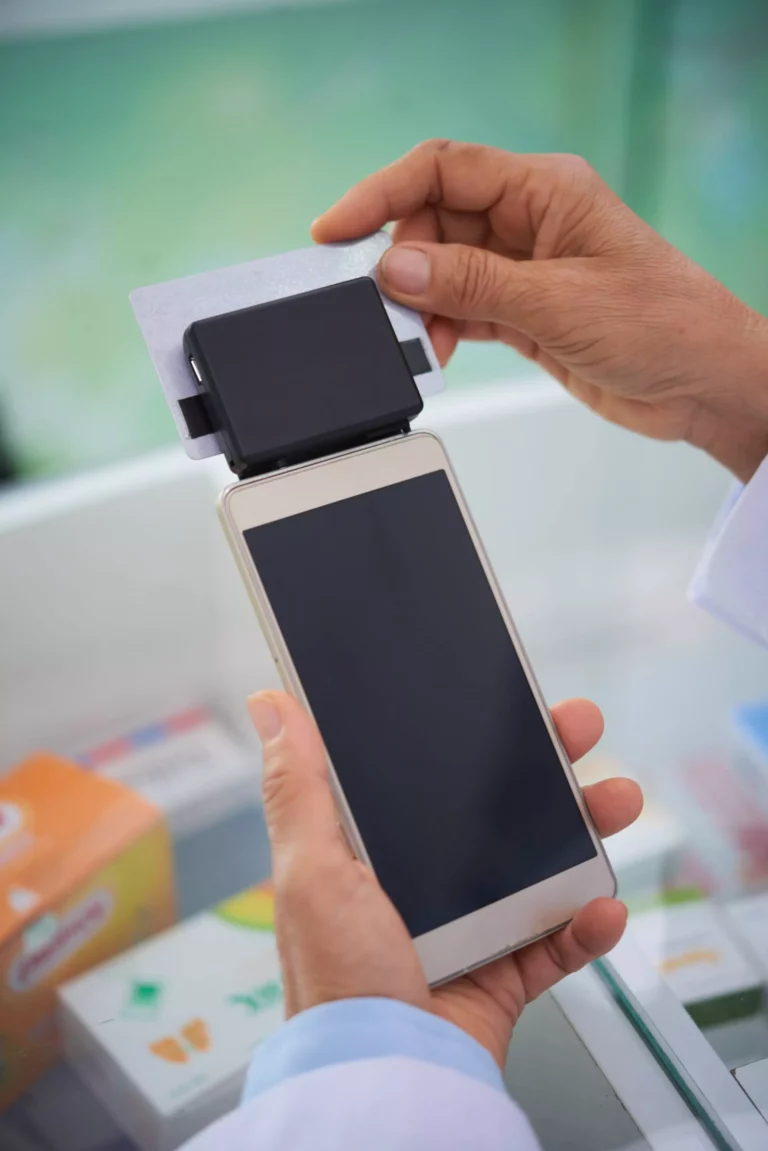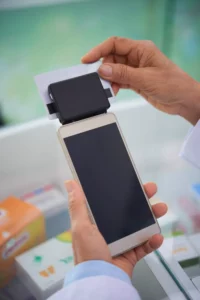 Mobile
Mobile payment options give you the ability to accept payments with a tablet or smartphone. This is ideal for businesses on the go that aren't attached to a brick-and-mortar location. For example, mobile payment capabilities are a must for a business like a taco truck, music festival vendor, or a pet groomer that makes house calls.
So, how can you set up mobile payment processing? You'll need a mobile reader and an application. Thankfully, this technology is widely available. Many POS providers, like Square, Shopify, or PayPal, offer the software and hardware you need. The majority of card readers on the market take swipe or chip cards. Many also take tapped cards. For example, PaymentCloud offers multiple mobile card readers that work with near-field communication or tap payments.
A benefit of this option is that in-person mobile transactions tend to have lower processing fees when done through a phone or tablet.
Over the phone
Your business may want to take MOTO payments over the phone. This option is often a must for restaurants that want to give their customers the option of paying for takeout orders over the phone. This is done via an online user interface known as a virtual terminal. With the virtual terminal, single transactions as well as recurring billing functionality is available. The merchant can also send or initiate invoices from the interface.
Transactions where the business owner has the customer's credit card information, but the card holder is not physically present, are referred to as a card-not-present (CNP) transaction. It is important to note that these kinds of transactions typically incur slightly higher credit card processing fees due to the increased risk of fraud. It is considered riskier to accept CNP transactions because the merchant isn't there to verify the customer's identity and validate the physical credit card. It is commonly known that the majority of fraudulent transactions occur online, which is a card-not-present environment. Here are some tips on how to properly handle CNP transactions to mitigate fraud. According to the U.S. Payments Forum, CNP transactions made up about 45 percent of all credit card fraud in 2014.[3] US Payments Forum. "Card-Not-Present Fraud Around the World". Accessed January 17, 2022.
These fees that accompany over-the-phone transactions are an important budgetary consideration for your business to weigh.
Step 3: Apply for a merchant account
You've now reviewed the available payment options and are ready to apply for the right merchant account for your business. So, what do you need to know?
Applying for a merchant account may seem complicated, but there are helpful guides on how to accept credit cards with a merchant account that give you all the insight needed to navigate the application process with ease. Here is an overview of the necessary steps to take before hitting "submit" on your merchant account application:
Get your business license
Set up a business bank account
Confirm your business structure
Consider separate processors
Add terms of service and refund policies
Ensure PCI compliance
Gather required documents
Once you complete your application, which is most often digital, a merchant services provider with review your documents to grant your approval. At this stage, there are a few final steps to prepare your business for its new processing features.
Step 4: Set up hardware and/or software integrations
Depending on what payment options you choose for your business, you'll have different equipment and software needs. For example, for online credit card processing, you will not need the countertop credit card terminal and POS system with physical hardware that you would with in-person transactions.
Your new processing may mean that you have to upgrade and integrate your existing software and/or hardware. If your business is a brick-and-mortar, you might have to buy checkout software or install an EMV chip-enabled card reader. Your payment service provider may supply this equipment for you to set up in your store.
Step 5: Maintain healthy processing and avoid chargebacks
As a final step in your credit card processing journey, it's a good idea to set up chargeback prevention and management tools if you're taking payments in an online or card-not-present environment. Because chargebacks can be costly to your business, it's a good idea to be proactive about preventing and managing them. To do so, you will want to make sure you invest in effective transaction recordkeeping, quality customer service, and chargeback management solutions.
With effective systems in place to manage all your processing needs, you can set your business up for financial health and credit card processing success in the future.
How to Accept Credit Card Payments Online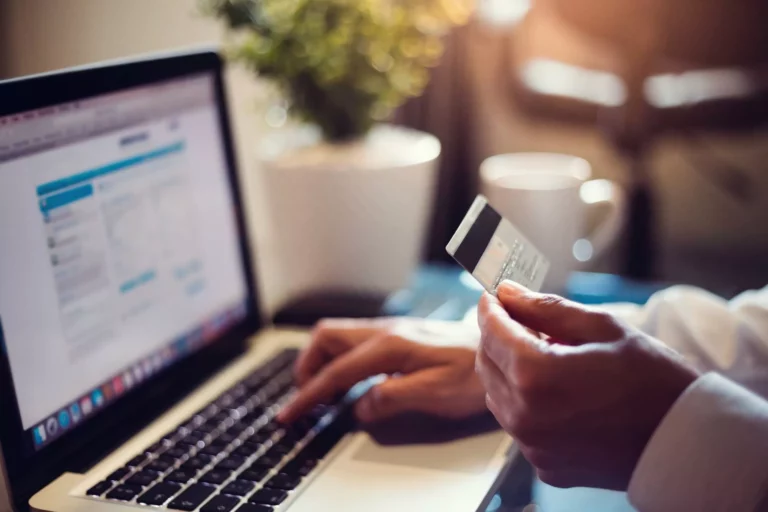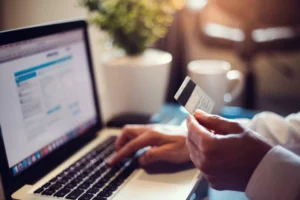 Accepting credit card payments online is a key part of any eCommerce business. The first step, assuming you've already obtained a merchant account, is to integrate a payment gateway into your online shopping cart. Most website and eCommerce platforms make it super simple to integrate the gateway in the backend with just a few clicks. It is important to note that you must first cross-reference gateway compatibility with your particular content management system (Shopify, WooCommerce, Magento, etc.). Popular gateways like Authorize.net and NMI both have advanced fraud settings that should be customized prior to going live. Your merchant service provider should know how to set this up properly.
Once set up, the gateway seamlessly handles transactions on the backend and deposits the funds into your merchant account without your involvement. Lastly, the funds are then transferred to your business bank account less any transaction fees.
What's the Best Way to Accept Credit Cards for Small Business?
The best way to accept credit cards depends on the unique aspects of your small business. That said, you'll want to consider every factor before making your decision. First, you'll need to figure out which method or combination of the below methods is most suited to your needs:
In-person swiped transactions – This includes POS systems, standard plug-in EMV terminals, and wireless swipers
Mobile on-the-go transactions – This includes phone dongles/adapters, apps, and wireless terminals
Over the phone MOTO transactions – This includes virtual terminals and mobile invoicing methods
Online eCommerce transactions – This includes shopping cart and payment gateway integrations
This is where your merchant service provider comes into play; they can truly assess your needs, budget, and third-party integration compatibility. Your merchant account representative will be able to offer a comprehensive product suite of terminals that will satisfy all of the above requirements and meet your specific needs.
For more details, check out our review of the best-in-class credit card readers and terminals.
Cheapest way to accept credit card payments
Most assume the cheapest way to process credit cards is to find a payment processor offering low processing fees. Although this is partly true, it is important to consider a number of factors that contribute to your total expense. These factors include:
Merchant services provider (MSP) vs Payment service provider (PSP): If you're just starting out and don't know how much you are going to be processing, but are fairly certain it's going to be under $5,000 per month, it would make the most economic sense to use a PSP like Square. If you need anything more complex or are processing more volume, it is more beneficial to go with a tailored approach through an MSP.
PCI-compliant payment gateways: A PCI-compliant gateway reduces credit card fraud, potentially saving you from security threats and fines. (If your business is not PCI-compliant, you may face fines up to $100,000/month in fees.)
Payment integrations: Reduce your back-office expenses by integrating and automating our your payment systems and processes.
Personalized customer services: Rely on a merchant services provider who values customer service, giving you the opportunity to speak with a live agent who can provide pricing comparisons to get you the cheapest rates.
Pricing structures: Take a look at the various pricing structures to see which would save you the most money based on your card mix.
Hidden fees, transaction fees, subscription fees, chargebacks: Ensure your credit card processor is transparent, listing all fees upfront. Some common fees hidden fees to watch out for include:

Support fees
Mandatory long-term contracts
Monthly or annual minimums
Installation or upgrade fees
Application and setup fees

Fraud prevention services: By reducing fraud and risk, you reduce the fees and other potential costs associated with fraud.
Easiest way to accept credit cards
Small and adaptable credit card readers make it simple for businesses to accept credit card fees. Some card readers can also work without WiFi. To streamline processes, integrate your payment platform with other software, like customer management, QR codes, and text-to-pay invoicing.
Merchant Account vs Payment Service Provider
To start taking card payments, your business has two main options. You can obtain a merchant account or go with a payment service provider. But, what are merchant accounts and payment service providers? Let's look into the main differences between the two options.
What is a payment service provider (PSP)?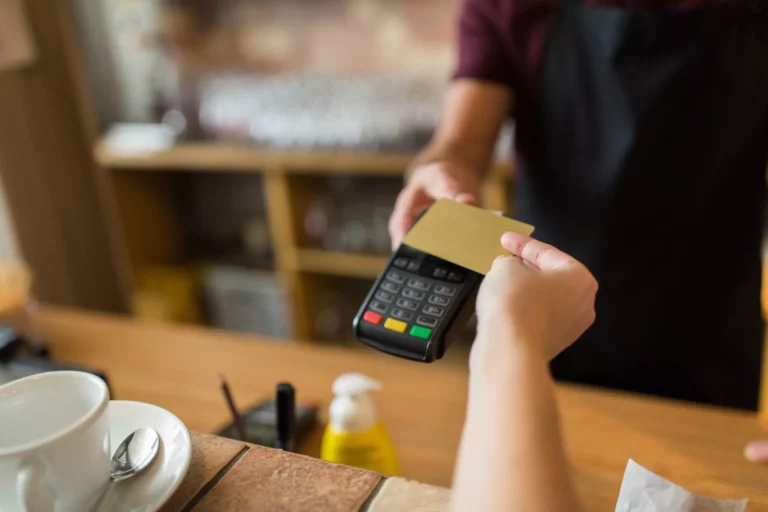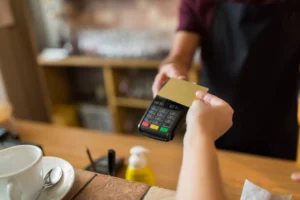 A payment service provider, or PSP, is a company that gives your business the ability to receive card payments without establishing a merchant account.
Examples of streamlined payment service providers include PayPal, Stripe, Square, and Braintree. Using these PSPs, businesses can accept credit and debit payments with few hurdles, however, there are many limitations with these accounts.
What is a merchant account?
A merchant account is a channel set up with a bank through which to process electronic credit card transactions. This has been the traditional way in which businesses accept card payments.
How exactly do merchant accounts work? They function much like a bank account for your business. Money from card purchases goes into your merchant account, which is then transferred to your bank account once the transaction is complete.
Merchant service providers range from banks and payment processing companies to independent sales organizations. Hundreds of providers exist in the market.
PSP vs MSP
Payment service providers and merchant service providers each have their respective benefits and downfalls. PSPs are often preferred by newer businesses or businesses with smaller card processing volumes. Merchant accounts tend to be a better option for established businesses, as well as those managing a large volume of credit card sales.
Furthermore, with a traditional PSP, you are subject to one pricing model and rate without any flexibility. On the other hand, MSPs can adjust and select the appropriate pricing model that makes the most sense for your business.
The Fees Associated with Accepting Credit Card Payments
While accepting credit card payments comes with profit-maximizing benefits, it also comes with various fees to consider. The average credit card processing fees range from 1.5% to 3.5%.
There are a few different pricing plans offered by your payment processor that you'll want to consider. In this section, we'll cover four different kinds of fee pricing structures that you might experience when accepting credit card payments:
Interchange pricing
Tiered pricing
Flat-rate pricing
Surcharge pricing
It's important to note that this pricing will vary by the payment method used, whether it's in-person, online, over the phone, or through a mobile device.
Ensure Safety When Receiving Payments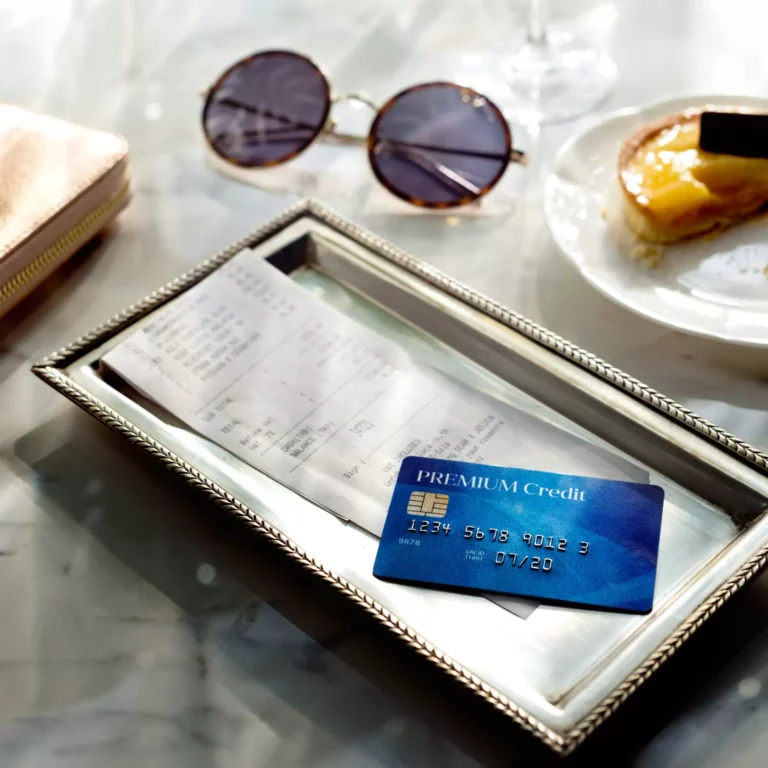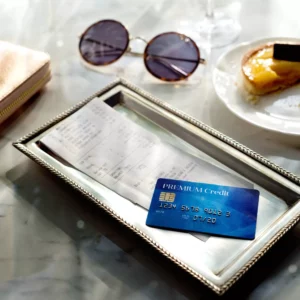 When considering accepting credit card payments, it's important to be aware of the risks involved so you can keep your business safe. Here are the three main risks when receiving card payments:
Fraud – Credit card fraud can affect a business. It's important to eliminate the fraud risks in your business with a credit card system that values security.
Chargebacks – A chargeback is a payment that returns to a customer's card due to due to a charge dispute or a return. Chargeback fees are costly and challenging to dispute, even when you're in the right.
Processing fees – Fees involved with credit card processing can hit businesses with small margins especially hard.
To reduce these risks, as well as ensure the safety and financial health of your business, we'll cover some best practices you can use to protect your business in the next section.
Best practices to protect your business
Here are some best practices for businesses planning to establish credit card payment systems:
Rely on software and equipment with strong reputations. With a large market of payment processors, it can be difficult to choose a trustworthy, efficient one, but be sure to check that the company with which you partner is known for its credentials.
Invest in training your employees. To save time and resources in the long term, it's a good idea to train your staff to handle credit cards, manage data, and spot fraud, such as eCommerce fraud, BIN attacks and credit card testing.
Avoid storing your customers' credit card data. While not illegal, storing card data opens your business up to potential risks. To avoid any issues, instead utilize a use-and-delete process.
Verify your customers' shipping and billing addresses. This verification step cuts down on the potential for your business to experience fraud and thus be liable for losses.
How Can I Accept Credit Card Payments? Closing Thoughts
By now, you should have a good understanding of how to accept credit card payments for your small business. When you accept cards, your business can enjoy these benefits:
Your business will be more convenient for your customers. For customers without cash on their peson, they aren't forced to find a nearby ATM to pay for the transaction.
Customers will view your business as trustworthy and legitimate. Cash-only businesses have a reputation of being "shady" or, at best, inconvenient.
Consumers spend more when using non-cash transactions. In 2016, the average cash transaction was $22 while non-cash transactions were $112.[4] The Federal Reserve Bank of Boston. "The 2016 Diary of Consumer Payment Choice". Accessed January 17, 2022.
Online payment solutions immediately improve your business by helping you reach more customers. In today's world, the average consumer is looking for quick and convenient ways to shop. By accepting credit card payments, your business can appeal to modern consumer behavior and boost your sales.