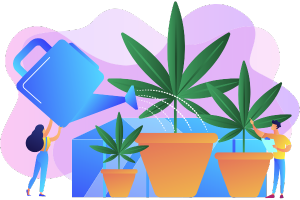 While obtaining a CBD license may be time-consuming, it remains an essential part of selling CBD products for most merchants. With the CBD industry in the U.S. expected to achieve a compound annual growth rate of 28.6% in the period between 2022 and 2029, many entrepreneurs are moving into the niche. [1] Data Bridge Market Research. "U.S. Cannabidiol (CBD) Market – Industry Trends and Forecast to 2029".Accessed June 16, 2023.
Starting a CBD business comes with its fair share of hurdles, especially because cannabidiol only became federally legal in the U.S. when the 2018 Farm Bill passed. And because of regulations like these, the CBD industry is considered high-risk amongst most processing banks. So, understanding the CBD license application process can help your business avoid delays when you first begin selling cannabidiol products.
This guide explores everything you need to know about obtaining a CBD license—we'll overview CBD license application requirements, how to get a CBD license, how to renew a CBD license, and everything else your business needs to start selling CBD products. Let's get started!
What Is a CBD License?
A CBD license is a license that allows businesses to sell CBD products. Potential CBD licenses include business licenses, resale licenses, and any other license a state requires to sell CBD products. However, licenses vary depending on the state and the products being sold, of course. For example, a state may have different licenses for CBD wholesalers and traditional CBD retailers.
Unfortunately, there's no uniform CBD licensing process in the United States, the requirements will vary depending on your state's hemp laws. And although the 2018 Farm Bill effectively legalized hemp and CBD products, different states have their own rules, and some are more strict than others. [2] FDA. "Hemp Production and the 2018 Farm Bill".Accessed June 16, 2023. Let's explore some examples of CBD licenses in more detail below:
CBD Business License
Obtaining a business license allows enterprises to conduct business in a particular state. However, certain states may not mandate business licenses, but other prerequisites or certifications may be necessary. It's advisable to contact your state's regulatory authorities to confirm if a license is needed to sell CBD products.
CBD Resale License
A resale license allows CBD businesses to sell products sourced from wholesalers. If you procure CBD products from a wholesale supplier, you'll likely require a resale permit. Considering most CBD retailers aren't manufacturers or wholesalers, this is one of the most common forms of CBD licenses.
Other CBD Related Licenses
Besides business and resale licenses, your state may have specific CBD industry licensing requirements like a "Consumable Hemp Product License" or other hemp-related licenses.
States often mandate CBD products to have a THC concentration of 0.3% or lower, and they typically require third-party testing to verify this. Officials require proof of THC levels and it may be part of the license or permit registration in your state.
Additionally, licenses can vary depending on what type of CBD business you're operating. For instance, there may be different licenses for cultivation, manufacturing, distribution, and other CBD-related activities.
Do You Need a License to Sell CBD?
To determine whether you need a CBD license, several primary factors come into play. The state where you sell your products is a crucial consideration. For example, just because you live in California doesn't mean you don't have to abide by licensing requirements in other states if you plan to sell products across state borders. Additionally, the total revenue generated by your CBD business may also influence whether a CBD license is required. Some states may have revenue thresholds or tiered licensing systems that determine the type of license you need based on your annual sales.
The sourcing of products from a wholesaler can also impact your licensing requirements. If you obtain your CBD products from a wholesaler, they may already hold the necessary licenses and certifications. Furthermore, the specific activities of your business, whether it involves distribution, manufacturing, retailing, or cultivation of CBD products, can influence the need for a CBD license.
CBD License Application Requirements
Obtaining traditional business licenses and resale licenses requires you to fill out information regarding business activities, contact details, tax details, and more. However, for a CBD-specific business license, there may be additional requirements. While this varies from state to state, let's explore some details that state authorities could require to access a CBD license:
Submission of payment to obtain the license
A written summary of the CBD products you sell.
Details about the source of CBD products you plan to sell.
Information about your retail locations
A written commitment to abide by state CBD laws.
Proof that you have all required licenses and permits.
How to Get a CBD License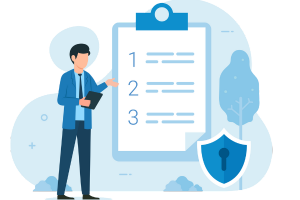 There's no federal license requirement for selling CBD, so the process depends solely on your state. Once you identify which licenses you require for your business, you'll review the application requirements and collect all necessary information. As mentioned previously, you'll need to gather product information, THC concentrations, third-party product testing, business licenses, sales tax registration, and more. Additionally, the process can take weeks or sometimes even months to complete, so starting the application as soon as possible will help to avoid delays.
Explore a comprehensive guide that outlines the step-by-step process of obtaining a CBD license in every state:
How to Renew Your CBD License
The renewal process for a CBD license also varies from state to state. As many CBD businesses require multiple licenses to sell CBD products, there are different procedures depending on which license you want to renew. As a general rule of thumb, staying aware of their expiration dates and revisiting the original source of your license can expedite the renewal process. For example, your state may have an "Office of Cannabis Management" or another authority tasked with issuing and renewing CBD licenses.
What Else Do You Need to Start Selling CBD?
If you're interested in selling CBD, in addition to a CBD license, you'll need to open an LLC, request an EIN, and register to pay sales tax in your state. The specific requirements may differ based on your location, but your state typically maintains a central website that outlines the prerequisites for initiating a business, including permit and tax registration information.
Next, it's time to decide if you want a brick-and-mortar retail location or if you're happy selling CBD products exclusively online. If you choose the eCommerce route, there are countless web builders and eCommerce platforms that make it simple to start online stores without technical experience.
Finally, since most low-risk processors avoid the CBD industry, you'll need to partner with a high-risk merchant account provider to begin accepting customer payments. By working with a high-risk provider, your business will access a CBD merchant account with dedicated support, higher chargeback thresholds, and a range of other useful benefits!
FAQs About CBD Licenses
How much does a CBD license cost?
The CBD license cost varies significantly from state to state. In some states, you won't need more than a traditional business and resale license, meaning the cost of licensing your business could be a few hundred dollars. In other states, licensing requirements are based on revenue figures; which results in high-revenue businesses paying tens of thousands of dollars to access licenses.
Can you sell CBD without a license?
Whether you can sell CBD without a license will depend on the state that you conduct business in. Many states require at least a business license to sell CBD products; however, some states also require extensive CBD-specific licenses. These licenses can vary depending on your business's activities, revenue, and more, so checking your state's requirements is important before selling CBD products. Likewise, if you plan to sell products to customers in other states, you must abide by their state's licensing requirements as well.
How long is a CBD license valid?
You will likely need multiple licenses to legally sell CBD products in your state, with each license potentially possessing a different expiration date. Keeping tabs on your licenses and their expiration dates will ensure that you're conducting activities in accordance with the appropriate permissions.