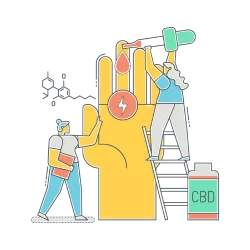 If you're looking to start a CBD business, Michigan is a great place to be. CBD sales were legalized nationwide by the 2018 U.S. Farm Bill, so there is more opportunity to sell CBD products than ever before. [1]Congress.gov "H.R.2 – 115th Congress (2017-2018): Agriculture Improvement Act of 2018". Accessed on September 13, 2023. However, before you start your business, it's important to learn and understand what the process for getting your CBD license in Michigan looks like.
In this article, we will guide you through the steps you'll need to take to launch your first Michigan-based CBD business. These steps entail how to acquire a local CBD license, how to navigate CBD-related regulations, and how to renew your license when the time comes.
How to Start a CBD Business in Michigan
Starting a CBD business in Michigan, like in any state, requires careful planning and preparation. Before applying for a CBD license, take time to determine the type of CBD products you wish to sell, conduct market research to draft a comprehensive business plan, and lastly, identify your target audience. Let's explore the process step-by-step:
Research the CBD industry: Begin by familiarizing yourself with the CBD industry, local market trends, and the preferences of consumers in your area. This knowledge will guide you through choosing the right CBD products to stock up on and identifying your primary audience.
Develop a business plan: Draft a comprehensive business plan detailing your objectives, target demographic, marketing tactics, financial forecasts, and strategies for sourcing CBD products.
Choose a business structure: Select the legal structure for your CBD business. Consult with a business or tax expert to help determine the most suitable structure (be it an LLC, corporation, sole proprietorship, etc.) based on your projected risks, liabilities, and income.
Register your business: Register your CBD business with the Michigan Secretary of State's office. Ensure you understand and obtain any zoning regulations, licenses, and permits required in your local jurisdiction.
How to Get a CBD License in Michigan
Once you set up your business and its registration, the next step is securing a CBD license, which is essential for legally selling CBD products in Michigan.
The first thing you'll need to do is register your business with the Michigan Department of Licensing and Regulatory Affairs (LARA). This registration provides you with a unique identification number required for your CBD license application.[2]LARA. "Licensing & Permits: Cannabis". Accessed on September 13, 2023.
After registration, you'll complete the CBD License Application. LARA provides specific guidelines on completing this application to make the process less confusing. This usually entails detailed information about your business, such as its structure, location, product offerings, etc. Ensure that you fill out the application meticulously to enhance your chances of approval.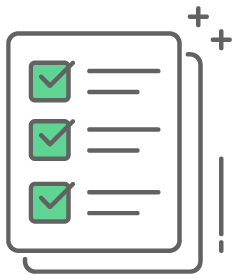 CBD License Application Requirements for Michigan
To bolster your chances of securing a CBD license in Michigan, adherence to all stipulated requirements is recommended. You can download the application checklist from the Michigan government here.[3]Michigan.gov. "Hemp Processor Handler 2023 Application". Accessed on September 13, 2023. Here's a rundown of the principal requirements:
1. License Types
Depending on your operations, the type of license you'll need varies:
2. Background Check
Certain licenses mandate background checks for both business owners and pivotal employees. It's worth noting that specific criminal convictions might render you ineligible for a CBD license.
3. Product Testing
It's imperative that your CBD products undergo comprehensive testing to meet the state's safety and quality standards. Even if you didn't develop the product yourself, you need to be able to obtain this certification from the manufacturer. Have the test results readily available for inspection.
4. Proper Product Labeling
Your CBD products must comply with the labeling requirements. Ensure your labels accurately display the CBD content, ingredients, and any necessary warnings or disclaimers. Remember: making health claims about products on their packaging is prohibited.
Laws & Regulations for Selling CBD in Michigan
To successfully sell CBD products in Michigan, it is essential to familiarize yourself with the state's laws and regulations. Here are some key points to consider:
CBD products sold in Michigan must contain less than 0.3% THC, adhering to federal guidelines.
Selling CBD in Michigan requires a valid processor-handler license. Selling CBD without a license can result in fines or penalties.
CBD-infused food items in Michigan must be in conformity with the state's food regulations.
How to Renew Your CBD License in Michigan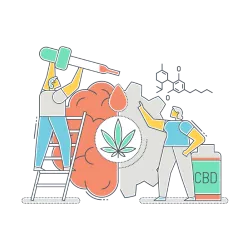 In Michigan, every CBD license expires annually on November 30.[5]Michigan.gov. "Hemp Processing FAQs". Accessed on September 13, 2023. To renew it, you will be sent a renewal application in the mail two months (roughly sixty days) before it expires. You must submit this renewal application along with any listed fees. Make sure you mark your license's expiration date on your calendar each year and initiate the renewal process well in advance to prevent any disruptions to your business operations.
Start Selling CBD in Michigan
Now that you have your CBD license in Michigan, it's time to launch your CBD business and start selling your products. For a successful outcome, consider credible product sourcing, smart marketing techniques, establishing an online CBD presence, and staying updated on industry developments as you get started.
Opening a high-risk merchant account ranks high on the priority list for CBD merchants. This is because CBD sales belong to a business category classified as high-risk, implying that finding willing payment providers may be challenging in this industry. Thankfully, there are experienced CBD merchant service providers that can make the process a lot easier for you. These experts understand the unique challenges associated with your business type, offering tailored solutions to help you navigate the complex landscape of payment processing with confidence.
---
---
Michigan CBD License: FAQs
Is CBD legal in Michigan?
Yes, CBD derived from hemp with less than 0.3% THC is legal in Michigan.
How much does a CBD license cost in Michigan?
The cost for a processor-handler license is $1350. [6] Michigan State University. "Frequently Asked Questions" Accessed on September 13, 2023.
Can you sell CBD without a license in Michigan?
No, selling CBD in Michigan without a valid CBD license is not permitted and can result in legal consequences.
How long is a CBD license valid in Michigan?
Typically, a CBD license in Michigan is valid until the nearest November 30. If you're approved on December 1st, your license is valid for a full year. If you're approved on May 30, you'll have roughly six months before renewal. Renewal is required to continue selling CBD legally in the state.