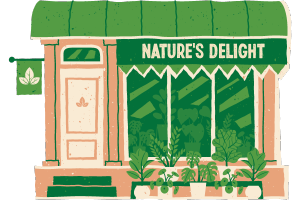 The need for a CBD license in North Carolina varies based on the type of CBD business you have. The demand for CBD has experienced a remarkable rise in North Carolina, leading to a significant increase in the state's hemp production. Between 2018 and 2021, the number of local hemp growers doubled as a result of this growth. North Carolina stands out for its proactive approach, as it established a pilot hemp program back in 2014, even before the adoption of CBD products in other states. [1] Hemp Today. "NC grapples with CBD, as downsized hemp industry re-sets to fiber". Accessed on August 29, 2023.
For entrepreneurs, North Carolina represents a CBD-friendly market with more than six million adult consumers.[2]Infoplease."NC Demographic Statistics". Accessed on August 29, 2023. However, while CBD is legal at a federal level, much of the product regulation occurs at a state level. This means that CBD business owners in North Carolina need to navigate licensing requirements, adhere to product laws, and become aware of other restrictions that affect the CBD market. Complying with North Carolina's CBD laws is crucial to avoid fines and legal repercussions.
This guide will provide some helpful insights for starting a CBD business in North Carolina and facilitate the process of acquiring a CBD license within the state. Let's dive in!
How to Start a CBD Business in North Carolina
Launching a CBD business in North Carolina follows a process similar to starting any other business. Begin by establishing your business entity and selecting a structure that aligns with your goals and risk tolerance. Many CBD entrepreneurs in North Carolina opt for a Limited Liability Corporation (LLC), offering benefits like liability protection.
Fortunately, setting up a new business in North Carolina is fairly streamlined. The North Carolina Secretary of State's website offers valuable resources, including options for business structures, name registration, and essential information for new businesses. However, keep in mind that industry-specific and local permits are not covered on this platform, so check with your county and other local authorities to ensure your business operates legally.
Once your business is registered, you will then acquire an Employer Identification Number (EIN) from the IRS. This federal identification number aids in identifying your business for various purposes, including banking and credit. With an EIN in hand, the next step in establishing a credit profile is to secure a business bank account. This will simplify the separation of personal and business finances.
Finally, it's time to delve into the specific CBD licensing requirements of North Carolina. Let's explore them below.
How to Get a CBD License in North Carolina
There's no mandatory license or permit for selling approved CBD items to customers in North Carolina. However, for those looking to cultivate or process hemp for CBD, a license is non-negotiable.
The licensing authority transitioned from the North Carolina Department of Agriculture and Consumer Services to the United States Department of Agriculture (USDA) in 2022 through the Domestic Hemp Production Program (DHPP). To secure a DHPP license from the USDA, visit the Hemp eManagement Platform on the USDA Agriculture Marketing Service portal here. After creating an account, you can submit an application which will involve verifying your identity.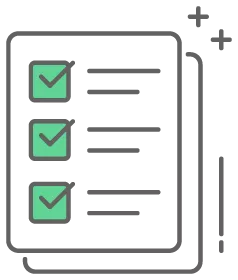 CBD License Application Requirements for North Carolina
While retail CBD sales don't have strict licensing requirements, hemp growers and processors need to meet specific criteria for licensure. Basic requirements include:
Names and contact details of growers and business executives
Addresses and emails of growers and business executives
Criminal background checks for relevant individuals, conducted within 60 days of application
Geo-spatial locations of hemp cultivation areas
Laws & Regulations for Selling CBD in North Carolina
North Carolina initiated its hemp pilot program in 2014, preceding the federal legalization of CBD with the 2018 Farm Bill. This bill reclassified cannabis plants containing 0.3% THC or less as "hemp," allowing for the legal production of hemp-derived products. And despite the expiration of North Carolina's hemp pilot program in 2022, state legislators passed a bill to permanently legalize CBD and hemp as long as they adhere to the 0.3% THC limit.
However, North Carolina enforces the FDA's federal ban on using CBD as a food additive, preventing retailers and processors from incorporating CBD into food products. For updates on prevailing regulations, regularly monitor announcements from the North Carolina Department of Agriculture and Consumer Services. Additionally, North Carolina hemp cultivators must align with the DHPP's guidelines under the USDA's umbrella to remain compliant.[3]NC Department of Health and Human Services. "Guidance Regarding the Use of CBD in Food and Drink Products". Accessed on August 29, 2023.
How to Renew Your CBD License in North Carolina
Given that no license is required for CBD retail in North Carolina, there's no renewal process. However, hemp growers and processors under the DHPP must renew their licenses through the USDA's Hemp Management Platform within 120 days of expiration.
Start Selling CBD in North Carolina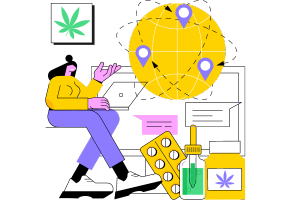 With a staggering 1,200 sanctioned hemp processors and 1,500 approved hemp cultivators, North Carolina's burgeoning CBD sector shows no signs of slowing down.[4] NC State University CALS News. "Hemp: North Carolina's Budding Industry". Accessed on August 29, 2023.
As your CBD business takes shape, consider whether to operate online, in-person, or both. For online CBD businesses, there are affordable web builders making it easy to create an online storefront without a developer. However, make sure to partner with an eCommerce platform allowing CBD businesses, as some ban regulated industries. In the same vein, if you choose to sell CBD online, be careful about selling products across state borders—cross-border sales require compliance with varying state regulations and licensing requirements.
Lastly, your CBD business requires a payment processing partner to facilitate credit card transactions. Traditional financial institutions consider CBD high-risk due to its evolving legal landscape in the state. However, a reliable merchant account provider specializing in high-risk businesses can facilitate credit card transactions and support your CBD business's growth. If you're ready to take your hemp-based business in North Carolina to the next level, it's time to set up a CBD merchant account!
North Carolina CBD License: FAQs
Is CBD Legal in North Carolina?
Yes, CBD products are legal in North Carolina. Although, products must contain 0.3% THC concentration or less. Likewise, North Carolina does not allow CBD retailers to sell food products with CBD additives.
How much does a CBD license cost in North Carolina?
Retailers selling CBD in North Carolina aren't mandated to acquire permits, resulting in no state licensing expenses. However, there are fees associated with growing hemp for CBD in North Carolina—these fees are dictated by the USDA and will vary depending on your business's license type.
Can you sell CBD without a license in North Carolina?
Yes, you can sell CBD without a license in North Carolina. However, you must obtain a license to cultivate hemp to produce CBD products.