Hemp-derived, low-potency CBD products have been available for use and sale in Minnesota since the 2018 federal legalization of hemp. However, Minnesota became the 23rd state to legalize adult-use marijuana in the spring of 2023, and that's when the state's licensing process for both high and low-potency CBD underwent some changes. So if you're thinking of starting a CBD business in the fast-growing North Star State, you'll need to get your Minnesota CBD license.
Here's all you need to know about the still-developing process.
How to Start a CBD Business in Minnesota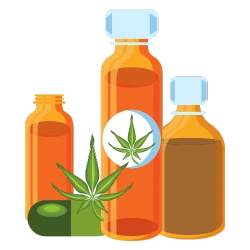 Beyond staying current on developing cannabis law, to set up a CBD business in Minnesota, there is a host of other 'To Do's' as well. Don't forget to:
Determine your business name and business structure, and register your business with the Minnesota Secretary of State.
Set up an account connecting to the MDA's US Bank payment portal to pay your business registration fees.
Contact the Minnesota Department of Revenue to obtain a state tax ID number.
Register with the IRS for a Federal Tax ID number and/or EIN.
Apply for a Hemp Business license depending on what sort of hemp or cannabis business you are.
Trademark/brand your products, or find quality wholesale suppliers with tested, packaged, and appropriately labeled CBD.
See to it your product sourcing includes a 'Fit for Commerce' certificate issued by the MDA to the grower.
Find a reputable CBD merchant service provider that can assist you with accepting CBD transactions.
Receive a state-inspection cannabis certification form if necessary.
Note: The above relates to hemp-produced CBD products only. To open an adult-use cannabis business or to sell high-potency CBD, visit the Minnesota Office of Cannabis Management.
How to Get a CBD License in Minnesota
The state of Minnesota's Department of Agriculture is in charge of overseeing hemp cultivation, processing, and sale. Under a separate Office of Cannabis Management, the department separately oversees Minnesota's new cannabis policies and regulations.
At any point, processors of hemp and cannabis should be able to present a current license to the MDA. An inspection may include an audit of the licensee's records and data as well. Hemp obtained from outside of Minnesota must still hold a bill of landing, certificate of analysis, and other proper documentation. The licensee must retain such records for three years and produce them upon request of the MDA or law enforcement. It's essential to keep checking back with the MDA, as much of Minnesota's new hemp and cannabis licensing protocols are in the process of updating.

CBD License Application Requirements for Minnesota
To legally sell CBD products in Minnesota, you must obtain a CBD license from the Minnesota Department of Agriculture (MDA). The MDA issues licenses to individuals, businesses, and institutions engaged in the processing, manufacturing, or sale of hemp-derived CBD products. Here's a step-by-step guide to obtaining a CBD license:
Determine your licensing eligibility. Determine what sort of license to apply for and complete the CBD license application from the MDA's website. Provide all required information, including details about your business, product formulations, and manufacturing processes.
Pay the application fee: Submit the application fee along with your completed application. The fee may vary depending on the type of license you're applying for.
Background check: As part of the licensing process, key personnel must undergo a criminal background check.
Product testing: The MDA may request samples of your CBD products for testing to ensure compliance with state regulations. Make sure your products meet the quality standards and have accurate labels.
Certification: All lots purchased must have a "Fit for Commerce" certificate issued by the MDA to the grower.
Minnesota's Cannabis Tax: Starting July 1, 2023, all sellers of taxable cannabis products must register with the Minnesota Department of Revenue to remit the new Cannabis Tax.
Any retailer, including exclusive liquor stores, actively selling hemp-derived CBD and/or THC products must register with the State of Minnesota.
Laws & Regulations for Selling CBD in Minnesota
CBD is legal in Minnesota as long as:
The products contain less than 0.3% THC.
Package CBD products are labeled with accurate CBD content, THC content, batch number, manufacturing date, expiration date, and any potential allergens.
Do not make unsubstantiated health claims or claim to be a cure or treatment for specific medical conditions.
What kind of CBD products can I sell in Minnesota?
Retailers can only sell lower-potency hemp products in the form of a beverage or an edible, or a product labeled for external use such as a topical. Otherwise, you fall under the preview of the OCM's cannabis regulations. Here are a few more details about what hemp-derived products are allowed to be sold:
Flower: Strict rules apply to the sale of raw hemp flower, in that it must not contain a THC concentration of more than 0.3%. Furthermore, you cannot advertise, market, or label hemp flowers as containing cannabinoids or indicate it can be smoked, inhaled, or vaped.
Oils/Vapes: CBD products containing nonintoxicating cannabinoids that are intended to be smoked or vaped are not allowed in Minnesota.
Topicals: In Minnesota, non-food products such as a cream or ointments (that contain hemp-derived cannabinoids) must be labeled as such before they are sold.
Edibles: Lower-potency hemp products like CBD are sold in the form of an edible or beverage and must adhere to these guidelines:
Don't package products in a container that could be thought to have anything other than an edible cannabinoid product.
No trace amounts of mold, residual solvents, or other catalysts from processing, pesticides, fertilizers, or heavy metals can contaminate the products. Therefore, you must batch-test your products with an accredited lab to ensure safety.
Beverages must have a maximum of 5 mg delta-9 THC per serving, and the container cannot contain more than two servings or 10 mg total THC.
For edibles, the package cannot contain more than 5 mg delta-8 or delta-9 THC per serving, or 50 mg total THC, and must meet the following:

Distinguish each serving by scoring, wrapping, or some other dosing indicator.
Cannot contain synthetic cannabinoids or artificially derived cannabinoids other than delta-8 or delta-9 THC.
Package products in a child-resistant, tamper-evident, and opaque container.
Not contain any ingredient not approved by the U.S. Food and Drug Administration (FDA) for use in food.
How to Renew Your CBD License in Minnesota
The MDA collects annual fees for THC testing, registration sites, and the certification of hemp crops. A $50 fee applies for all license changes made after the initial application period and requires a Change Request Form.
Start Selling CBD in Minnesota
Over the coming months, the Minnesota Office of Cannabis Management will start to release the new regulatory framework for both low-potency CBD and adult-use, legal cannabis. The state agency is still currently in the process of establishing requirements, applications, and timelines for businesses of all kinds to apply for licenses.
While staying on top of CBD regulations is important, it's also crucial to remember the high-risk nature of CBD. The CBD industry comes with all sorts of tricky legal regulations for small businesses. Fortunately, there are specialized merchant service providers that cater to the unique needs of CBD businesses. These providers offer CBD merchant accounts, which help CBD entrepreneurs facilitate secure and compliant payment processing.
Minnesota CBD License: FAQs
Is CBD legal in Minnesota?
Yes, CBD is legal in Minnesota without a prescription, as long as it contains less than 0.3% THC or any THC derivative like delta-9.
How much does a CBD license cost in Minnesota?
Here are the fees for acquiring your hemp processors or CBD business license in Minnesota.
Grower License – $150
Processor License – $250
Each Location – $250
Each Sample for THC Testing – $100
Each Inspection Beyond the First One – $250
License Change Fee – $50
Can you sell CBD without a license in Minnesota?
The MDA Hemp Program only covers hemp cultivation, processing, and marketing within the state of Minnesota. The 2018 Farm Bill legalized hemp nationwide. However, until the USDA has approved all the states' hemp plans, there will remain a patchwork of different regulations state by state. The license holder should contact the receiving state to find out if they have specific rules for selling CBD. It's important to note that CBD retailers must register with Minnesota.
How long is a CBD license valid in Minnesota
CBD licenses in Minnesota are typically valid for one year. To continue operating your CBD business legally, you must renew your license before it expires. Each license expires on December 31 of the year issued. Each year, licensees must reapply to be in the program.