Despite a well-publicized crackdown on CBD products in 2019, the spotlight has shifted to New York as it embraces the CBD wave, emerging as one of the most CBD-friendly territories in the country.[1]Esquire. "The Crackdown on CBD Edibles Has Begun".Accessed July 12, 2023. This new approach is opening up many opportunities for ambitious CBD entrepreneurs eyeing the state's population of over 20 million. However, while New York has opened its arms to CBD, it is no free-for-all, as strict rules surrounding licensing and permits apply.
CBD businesses seeking to sell and distribute products must comply with all rules and regulations in New York. This article unpacks the nitty-gritty of CBD licenses in New York—how to apply for one, renew it, and more. So if you're ready to dip your toes in the New York CBD business, this guide is your compass.
How to Start a CBD Business in New York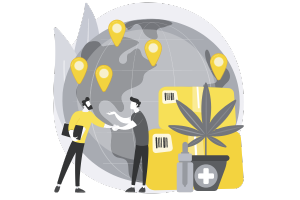 Starting a CBD business in New York isn't vastly different from setting up any other business in the state. The developing business must settle on a name and legal structure, often involving incorporation and applying for an Employer Identification Number (EIN) from the IRS. Typical preliminary steps include setting up bank accounts, launching websites, signing lease agreements for retail space, and conducting other initial business activities.
Once the foundation is laid, the focus shifts to the CBD-specific requirements in New York. Prospective CBD retailers will need to equip themselves with a Cannabinoid Hemp Retail License for every retail location. This license is valid for one year and comes at a price of $300 per location.
For ventures without a fixed location, the state offers a Cannabinoid Hemp Temporary Retail Permit that lasts for three months. At $25 per month, this license is an ideal fit for a first-time CBD business without a brick-and-mortar store.
Additionally, businesses planning to distribute out-of-state CBD products to licensed New York retailers require a Cannabinoid Hemp Distributor Permit. For $300 per location, this annual permit ensures out-of-state CBD products comply with local regulations, including THC limits and packaging requirements.
So, in essence, New York's CBD licensing requirements can be broken down as follows:
Cannabinoid Hemp Retail License
Mandated for all retail businesses selling CBD products
Valid for a year post-issuance
Costs $300 annually (per retail location)
Cannabinoid Hemp Temporary Retail Permit
Needed by retailers without a static location selling CBD products
The validity term varies between one month and three months
Costs $25 per month
Cannabinoid Hemp Distributor Permit
A NY-required license for distributing CBD products that are manufactured out-of-state, to licensed CBD retailers
Valid for a year
Costs $300 annually (per location)
How to Get a CBD License in New York
If you're looking to obtain a CBD license in New York, the application is available online. Head to the New York State Business Express website and select the appropriate application on the Cannabinoid Hemp Retail License, Temporary Retail Permit & Distributor Permit page. For first-time users, registering for an NY.GOV ID is mandatory. And provided you have all the required information on hand, the application will be relatively quick. You can stay in the loop on each step of your application through your NY.GOV account.
CBD License Application Requirements for New York
The Empire State is transparent about its CBD license requirements. As listed on the application page, they include:
Applicant's primary contact information
Applicant's business location
Business hours of operation
Proof of New York State sales tax registration
Planned source of cannabinoid products (including manufacturers' contact information)
Types of cannabinoid products being sold
Submission of license or permit fee
Keeping these details handy before initiating the application can expedite the process for you!
Laws & Regulations for Selling CBD in New York
In addition to a valid retail license, CBD businesses in New York must ensure all products contain a THC concentration of 0.3% or less. The package of the products must have labels displaying requisite information, such as the type of CBD product, THC concentration, a link to the certificate of analysis, etc. It's the merchant's responsibility to confirm that each product has a certificate of analysis verifying the THC concentration.
Regulations can vary for specific products—for instance, CBD retailers cannot sell inhalable CBD products to individuals under 21. It's best to keep an eye on the website for updates as the regulations are not set in stone. A comprehensive list of regulations can also be found on the New York Office of Cannabis Management website.[2]Office of Cannabis Management. "Cannabinoid Hemp Regulation".Accessed July 12, 2023.
How to Renew Your CBD License in New York
Unfortunately, CBD licenses in New York expire after one year, meaning that you'll need to renew your license annually and pay a $300 fee. However, the renewal process is fairly straightforward for those who have previously held a CBD license. You'll simply log in to your Business Express account with your NY.GOV ID to access the renewal application.
As far as timing goes, the state is pretty particular about renewal timelines, here's their protocol: [3] Cannabis.ny.gov. "Cannabinoid Hemp Regulation".Accessed July 12, 2023..
An application to renew any license issued under this part shall be filed with the office not more than 90 days nor less than 30 days prior to the expiration thereof. If a renewal application is not filed at least 30 days prior to the expiration thereof, the office may determine that the license shall expire and become void on such expiration date.
Please note: Non-compliance could result in your business losing its ability to sell products.
Start Selling CBD in New York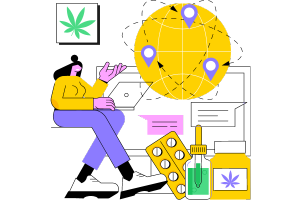 With the cannabidiol industry projected to swell past the $59 billion mark by 2030, it's a good time to get involved if you wish to ride the wave.[4]GlobeNewswire. "Cannabidiol (CBD) Market Size Worth USD 59.3 Billion by 2030 at 18.2% CAGR – Report by Market Research Future (MRFR)".Accessed July 12, 2023. Once you're certain your business meets all New York CBD sales requirements, you can begin marketing and selling your products to customers and reap the benefits.
However, accepting payments for CBD products can come with challenges. Given the unique characteristics of the CBD industry and its perceived financial risks, conventional payment providers often shy away from partnering with CBD businesses. For this reason, many merchants opt to work with specialized merchant service providers for a CBD merchant account. This collaboration ensures consistent access to reliable payment processing solutions and dedicated support, allowing your business to thrive without disruptions!
New York CBD License: FAQs
Is CBD legal in New York?
Yes. CBD products are legal in New York, making it an appealing location to start a CBD business. You can sell CBD products to consumers if your business has a CBD license and complies with all rules and regulations[5]New York Upstate. "With new rules in place, New York opens up licenses for CBD production and sales".Accessed July 12, 2023.
How much does a CBD license cost in New York?
In New York, a CBD license costs $300 per retail location annually. If you want to distribute CBD products to licensed CBD retailers in New York, you must also pay $300 per location annually for a Cannabinoid Hemp Distributor Permit.
Can you sell CBD without a license in New York?
No. If you want to sell CBD products in New York, you must have a Cannabinoid Hemp Retail License for every retail location you operate. If you do not have a fixed retail establishment, obtaining a Cannabinoid Hemp Temporary Retail Permit is necessary. Additionally, if your intention is to distribute CBD products manufactured outside of the state to licensed CBD retailers, obtaining a Cannabinoid Hemp Distributor Permit is essential. It is important for your business to ensure that all CBD products strictly adhere to the state's regulations and guidelines.
How long is a CBD license valid in New York?
Cannabinoid Hemp Retail Licenses and Cannabinoid Hemp Distributor Permits are effective one year from the date of issuance. This means that businesses selling or distributing CBD products must renew their licenses annually.