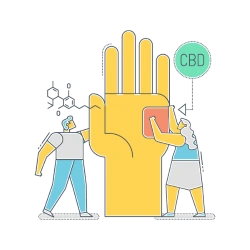 The legal landscape surrounding cannabis has undergone significant changes in recent years, and Arizona has emerged as a promising market for entrepreneurs interested in starting a CBD business. Since 2021, both the medical and recreational cannabis programs have contributed significantly to the state's economy, with combined cannabis sales totaling an impressive $1.361 billion in the first 12 months and increasing by nearly 50% the following year. And despite this much-expanded market, demand for hemp-derived CBD products has only continued to rise in Arizona.
So if you're interested in starting a CBD business in the state of Arizona, read on to learn all about how to obtain your Arizona CBD license in the expansive Grand Canyon state.
How to Start a CBD Business in Arizona
Here are all the necessary To Do's for starting a CBD business in Arizona, some of which relate to your new CBD venture, and some relate to opening a business of any kind in the state.
Determine Your Business Structure: Decide on the business structure you want to establish for your CBD venture. Standard options include sole proprietorship, partnership, limited liability company (LLC), or corporation.
Register Your Business: Register your CBD business with the Arizona Corporation Commission (ACC). The ACC provides resources, guidance, and all the necessary forms and fees.
Obtain a Federal Employer Identification Number (EIN): To comply with federal tax requirements and hire employees, you must obtain an Employer Identification Number (EIN) from the IRS online.
Familiarize Yourself with State Taxation. If you plan on selling high-potency CBD, Arizona imposes a transaction privilege tax (TPT) and a 16% marijuana excise tax (MET) on the sale of adult-use marijuana. Proof of licensing will be required to obtain a MET registration number.
Secure Payment Processing: Consider partnering with a merchant service provider specializing in high-risk industries to help you accept payments.
Establish Supply Chain and Product Sourcing: Find a reliable supply chain to ensure the integrity and legality of your products by conducting thorough due diligence and verifying the quality, sourcing practices, and compliance of your suppliers.
Comply with Labeling and Packaging Requirements: Include the product's CBD content, a list of ingredients, net weight, and the manufacturer's name and contact information.
Market and Promote Your CBD Business. Use various marketing channels such as social media, online advertising, and search engine optimization to reach your target audience. (Also, stay informed about marketing restrictions specific to CBD products to avoid any violations).
Develop a Compliance Plan. Familiarize yourself with the Arizona Hemp Program rules and other relevant legislation. Also, develop a compliance plan that covers areas such as product testing, record-keeping, reporting, etc.
How to Get a CBD License in Arizona
If you are simply selling low-potency, hemp-derived CBD products, Arizona does not issue or require a state business license of any kind. However, depending on the nature of your business, there may be additional regulation and licensing requirements.
For example, if you plan on selling high-potency CBD (to include more than .03% THC content), you will need to apply through and follow the regulations of the state's cannabis and marijuana program. The Arizona Department of Health Services (ADHS) oversees the retail sales of marijuana, its cultivation, and all testing facilities in Arizona. However, if you plan on starting a business that farms hemp (for CBD), there is a different application process. The Arizona Department of Agriculture oversees the cultivation of industrial hemp (as well as marijuana).
The ADHS offers various types of cannabis business licenses, including:
Single Retail Location License: With this license, you can operate a single retail store selling marijuana and marijuana products directly to consumers. Additionally, you can cultivate marijuana on-site and manufacture various marijuana products for your customers.
Single Off-Site Cultivation Location License: This license allows you to run a cultivation facility separate from your retail location. At this off-site facility, you can cultivate marijuana, process it, and manufacture products. However, you cannot transfer or sell directly to consumers from this location.
Single Off-Site Manufacturing and Packaging Location License: With this license, you can establish a facility dedicated to manufacturing marijuana products and handling their packaging and storage. You cannot directly transfer or sell marijuana or marijuana products to consumers from this location.
If this is your path, your business will fall under Arizona state marijuana laws set up for licensing dispensaries, so see the state's website for more information.

CBD License Application Requirements for Arizona
You do not need a license if you're selling, manufacturing, or marketing any post-processed hemp products made from industrial hemp (like CBD). Nor are you subject to the state's marijuana excise taxes, a license from the ADHS is only required if you sell marijuana products.
However, when applying for a license to sell high-potency cannabis (marijuana), you'll need to provide specific documentation and meet certain criteria depending on the type of CBD license you're seeking. Here are some common elements:
Completed application form
Proof of Business Registration
Background checks
Be a resident of Arizona
Be 21 years old or older
A warranty of financial information
A detailed outline of your operating procedures
With this info, you're well on your way to getting your Arizona CBD license to sell to your customers.
Laws & Regulations for Selling CBD in Arizona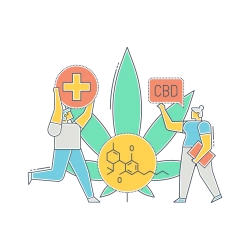 In Arizona, CBD from hemp with 0.3% THC or less is legal to buy, sell, and own, per state law. These state regulations align with the federal provisions outlined in the U.S. Farm Bill. This legalized the cultivation, production, and sale of industrial hemp and its derivatives, including CBD, all across the United States.
However, Arizona's regulations differentiate between CBD products and marijuana-derived products, which have a higher THC content. Under 2020's Arizona Safe and Smart Act, recreational marijuana was legalized for adults over the age of 21. Therefore, marijuana-derived products are subject to separate state regulations. These regulations may include additional licensing requirements, distribution restrictions, and more.
Finally, labeling requirements play a vital role in selling CBD products in Arizona. The state mandates that CBD products must be labeled appropriately, accurately listing the ingredients, CBD content, and the name and contact information of the manufacturer or distributor.
How to Renew Your CBD License in Arizona
If you currently hold a CBD license and wish to continue selling CBD products, consider the following:
Be Aware of the Renewal Period: Renewal notices for the Industrial Hemp Program for the calendar year will be sent out.
Gather Required Documents: When renewing your CBD license, you may need to provide certain requested documentation such as acreage reports, etc.
Submitting the Renewal Application: The AZDA provides an online portal or a physical application form for submitting license renewals. Follow the instructions provided by the department and make sure to accurately complete all sections of the application.
Pay Renewal Fees: Along with your renewal application, pay all applicable renewal fees depending on the type of CBD license you hold and the size of your business.
Replace the Old License: If your renewal application is approved, the ADHS will issue you a new CBD license. Replace your old license with the new one as soon as possible to remain compliant.
Start Selling CBD in Arizona
Again, you don't need to do much regarding retail sales in Arizona if you're simply selling hemp-derived, low-potency CBD. Those who want to cultivate, harvest, produce, or transport, however, should apply for a license issued by the Arizona State Department of Agriculture.
The state of Arizona does mandate that all CBD products be labeled appropriately. That means accurately listing all ingredients, the percentage of CBD content, and the name and contact information of the manufacturer and/or distributor.
Accepting payments for your CBD business is vital. Due to strict regulations, financial institutions often deem CBD as high risk. To securely process payments, partnering with a CBD merchant service provider is essential. They cater to your unique CBD needs, enabling your business to thrive.
Arizona CBD License: FAQs
Is CBD legal in Arizona?
Yes, CBD is legal to buy, possess, and sell in Arizona. The 2018 US Farm Bill legalized hemp and its derivatives, including CBD. The THC content in CBD sold must not exceed 0.3%.
How much does a CBD license cost in Arizona?
The cost of a cannabis business license in Arizona depends on the type of license you require.
For example, the Arizona Department of Agriculture (AZDA) oversees the licensing process for hemp cultivation and has established the following annual licensing fees for 2024:
Grower: $1,000
Nursery: $650
Harvester: $100
Transporter: $100
Processor: $2,000
For cannabis and marijuana businesses licensing fees, the cost includes an initial non-refundable license fee of $5,000-$7,000.
In addition, the cost of a TPT license is $12 and is valid for the calendar year in which it is issued (but may be renewed for subsequent years at no additional cost), plus any municipal license fees.
Can you sell CBD without a license in Arizona?
As long as the THC content of your CBD falls under 0.3%, you can sell CBD products in Arizona without a license. However, should your CBD fall under marijuana law, you must follow a different set of regulations.
In either case, given the high-risk nature of the industry, it's also advisable to seek a CBD merchant account to facilitate smooth payment processing for your CBD sales. Just because CBD is legal doesn't mean financiers and other institutions won't put you at a disadvantage.
How long is a CBD license valid in Arizona?
Marijuana licenses in Arizona are valid for one year. Businesses must renew annually by January 1st before it expires to maintain compliance with the state's regulations.