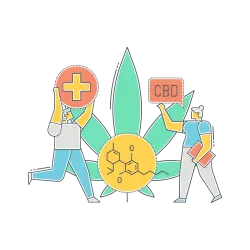 In 2012, Colorado, along with the state of Washington, became the first state in the nation to legalize adult-use, recreational cannabis. With a well-established cannabis market that dates back over a decade, Colorado offers a thriving landscape for entrepreneurs. But, If you're considering starting a CBD business in Colorado, understanding how hemp-derived CBD integrates into the broader cannabis industry is crucial.
This article will guide you in acquiring your CBD license in Colorado and launching your business successfully.
How to Start a CBD Business in Colorado
There are numerous federal, state, and local requirements for doing business in Colorado, regardless of what sort of business it is. For example, you'll need to:
File your business name and corporate entity with the Colorado Secretary of State's office.
Register with the Department of Regulatory Agencies if your business needs to be licensed.
Obtain a business license from the city, county, or local municipality you operate in
Ensure proper zoning, business insurance, and registration with your Taxation and Revenue Department(s).
Become familiar with all Colorado taxes, such as the 2.9% sales tax, a delivery tax for cannabis, or the 15% marijuana retail tax (as applicable).
Apply for a federal Tax Identification Number (TIN) and Employer Identification Number (EIN) from the IRS.
Become familiar with Colorado employer responsibilities, as well as state labor law.
Set up a payment processor through a reputable merchant service provider to get set up.
Apply through the Department of Regulatory Agencies (DORA) if applicable.
Trademark your brand or products as necessary.
Find quality CBD products and comply with the Industrial Hemp or Cannabis state licensing.
Stay fully current on all Colorado CBD license laws and any new legislation.

CBD License Application Requirements for Colorado
Colorado state law requires cannabis (including hemp) businesses to be licensed by state and local authorities. Specifically, the type of products you're selling and their potency—whether high or low—will greatly influence your operations license requirements. For instance, if you'll need a Medical Marijuana, Retail, or Industrial Hemp license, it will depend on the nature of the business you intend to establish. The licenses include:
Retail License: Allows the sale of cannabis in stores to individuals 21 years of age or older.
Cultivation or Grower's License: Permits the harvesting of the cannabis plant.
Product Manufacturing License: Authorizes the processing of CBD-infused items such as concentrates, edibles, and more.
Testing Facility License: Enables establishments to evaluate the content and potency of CBD products.
Transportation License: Allows the transport and temporary storage of CBD products.
Operator License: Permits the provision of operational services to hemp or marijuana businesses.
To apply for any of these licenses, applicants generally must meet the following criteria:
Not be employed by any state department.
Have no convictions related to controlled substances.
Be at least 21 years old.
Have been a resident of Colorado for no less than two years.
Successfully pass a background check.
Compliant with any additional local city or county requirements and/or special permitting.
In touch with the Department of Regulatory Agencies (DORA) if a state-regulated entity (such as a health practitioner, pharmacist, massage therapist, etc. using CBD in your business)
In contact with the Department of Revenue if buying or selling wholesale products (and/or selling alcohol). Or if operating a transport business with the Public Utilities Commission (PUC).
Before embarking on your CBD business journey, it's crucial to identify the specific type of CBD products you plan to deal with. This decision will guide the application processes you undertake and determine the state regulations to which you must adhere.
Laws & Regulations for Selling CBD in Colorado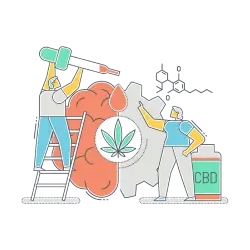 As one of the pioneers in legalizing cannabis, Colorado employs stringent regulations within its cannabis industry. Consequently, the state, and often the local municipalities, mandate a specific license for every cannabis-related business.
This requirement applies irrespective of the business's nature, whether it involves online or in-store sales, manufacturing CBD-infused products, or even the transportation or storage of CBD products for resale. Additionally, it's important to note that industrial hemp is legally permitted to contain no more than 0.3% THC. Any percentage beyond this threshold classifies the substance as marijuana, not hemp. This distinction is crucial as it affects both regulatory measures and taxation protocols.
How to Renew Your CBD License in Colorado
To renew your Colorado state license to operate a retail cannabis business, you must reapply online annually. Also, make sure you renew any licenses or permits you applied for locally. Depending on your business, you may also need to file an annual report with the Secretary of State's office.
Start Selling CBD in Colorado
Those who want to sell CBD products in Colorado need to be prepared. As in, have a strong business plan put together, sufficient finances to support your business plan, a complete application, and compliance with any local jurisdiction requirements.
It's important to remember that the CBD industry is not without its share of risks and challenges. Traditional banks and payment processors are often hesitant to work with CBD businesses due to the industry's legal and regulatory complexities. Thankfully, CBD merchant account providers help Colorado CBD businesses access online and in-person payments. Likewise, these specialized merchant account providers offer a range of additional benefits to CBD retailers, including industry-specific tools, payment stability, quick payout timeframes, high chargeback thresholds, dedicated support, and more!
---
---
Colorado CBD License: FAQs
Is CBD legal in Colorado?
Yes, CBD is legal to buy and sell in Colorado. Various legislations have led to this legalization over the years, allowing the cultivation and sale of CBD:
Medical Marijuana Legalization (2000): Colorado voters approved the use of medical marijuana by patients with severe or debilitating health conditions.
Amendment 64 (2012): legalized the adult, recreational use of marijuana and cannabis products like CBD without a prescription, the first law of its kind in the U.S.
The Farm Bill (2018): legalized the cultivation, production, and sale of industrial hemp.
How much does a CBD license cost in Colorado?
Again, the type of products and services you offer will determine how much your business license costs.
Cannabis licenses can cost upwards of $4,000. Whole-sale retail licenses for CBD products can cost as little as $4-16 in Colorado.
Can you sell CBD without a license in Colorado?
Colorado law does require sellers of CBD to obtain a license, whether they have plans to sell the product in a store, to manufacture CBD-infused products, or to transport and store CBD products for their business.
If you have any questions whatsoever, state officials recommend consulting with a private attorney specializing in cannabis law or getting the advice of a competent business, tax, or merchant services advisor to help guide you through this process.
How long is a CBD license valid in Colorado?
A cannabis business license in Colorado is valid for one year from the date of issuance. Medical marijuana transporters, retail marijuana transporters, and employee licenses are valid for two years.
Make sure to apply for the renewal of an existing license before the license's expiration date because there is no longer a 90-day "grace period" for renewal submissions. Also, be sure to keep an active email address on file with the Colorado Secretary of State's office to get email notifications and important reminders related to your business.