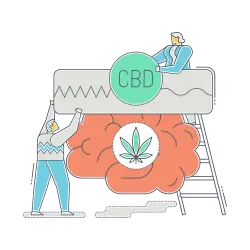 In 2021, New Mexico made history by becoming the 18th state in the United States to legalize cannabis. Dispensary businesses in the state reported over $400 million in adult-use cannabis sales in just the first year.[1]. "New Mexico's marijuana sales eclipse $4 million mark". Accessed on October 4, 2023. However, with the new legalization of both high and low-potency CBD products, business owners must diligently follow the evolving laws and regulations. So if you're thinking about starting a business selling or making CBD products, you'll need to learn more about getting your New Mexico CBD license.
In this article, we'll guide you through the necessary steps for proper CBD licensing and highlight the state regulations you should be aware of. Let's dive in.
How to Start a CBD Business in New Mexico
Starting a CBD business in New Mexico requires addressing several standard and industry-specific tasks:
Business Setup: Register your business name and corporate entity with the Secretary of State of New Mexico and handle all licensing fees. Ensure your business documentation, such as articles of incorporation, corporate bylaws, partnership agreements, and certificates of good standing, is in order.
Tax Obligations: Be informed about your tax obligations. Apply for a New Mexico Tax Identification Number using form ACD-31015 and register with the Taxation and Revenue Department for a Cannabis Excise Tax account. Also, acquire an Employer Identification Number (EIN) from the IRS.
Licensing: Understand the specific licenses required for your business. Submit your permit application to [email protected] or apply through the New Mexico Cannabis Control Division. Remember, some businesses may also need to register with their county and/or municipal clerk.
Employer Responsibilities: Familiarize yourself with the employer's responsibilities, including payroll taxes, workers' compensation requirements, and New Mexico labor laws.
Business Location: Ensure your business venue is appropriately zoned and insured.
Payment Processing: Partner with a trusted merchant service provider to consolidate your payment solutions.
Certifications: Obtain a state-inspection cannabis certification.
Annual Maintenance: Renew state permits annually.
Stay Informed: Regularly update yourself on evolving cannabis laws and New Mexico state legislation.
By following these steps, you can navigate the complexities of the CBD business landscape in New Mexico efficiently.
How to Get a CBD License in New Mexico
In New Mexico, selling hemp-derived CBD alone doesn't necessitate a specific license. However, if you plan on cultivating or processing it, you'll need to apply for specific licenses, and if any of your CBD products are to contain over 0.3% THC content, you will need to treat your business as if it were a cannabis business selling adult-use marijuana and apply for a license with the Cannabis Control Division.
If you're thinking of starting a CBD business in New Mexico, it's essential to determine what sort of products you'll be dealing in so you can fully understand the licensing requirements.
Manufacturers of edible cannabis products, for example, must submit a food permit application to the NM Environmental Department Cannabis and Hemp Bureau (CHB). For hemp cultivation, you'll need to contact the New Mexico Regulation and Licensing Department.
For selling adult-use, high-potency CDB products containing over 0.3% THC, products that are now legal in New Mexico for those 21+, you'll need to apply directly through the CCD. This department issues permits to cannabis producers, microbusiness producers, integrated microbusinesses, manufacturers, retailers, consumption areas, vertically integrated establishments, couriers, and testing and research laboratories.
Regardless, all cannabis businesses that are selling anything more potent than 0.3% THC, must be licensed by the Cannabis Control Division. As well as register with the New Mexico Taxation and Revenue Department to apply for a Cannabis Excise Tax account to set up payment for your state taxes.

CBD License Application Requirements for New Mexico
The state of New Mexico highly regulates all licensing for those who operate cannabis businesses. However, the kind of business you intend to operate dictates the specific license you'll need.
For example, if your interest lies in growing, cultivating, or researching hemp, reach out to the New Mexico Department of Agriculture. For extraction, manufacturing, or distillation of CBD products derived from hemp, the New Mexico Environment Department is your contact point.
Despite cannabis's recent legalization in New Mexico, the plant is still illegal to grow or sell without a license. To apply for a commercial cannabis license, you will need to apply to the CCD directly. For hemp, there are still procedures to follow if you are going to be cultivating, manufacturing, or transporting.
To grow, process, or transport hemp products, apply through the state's hemp program.
Anyone convicted of a controlled substance-related felony from the previous ten years will not be issued a license.
A background check conducted by the NMDA is required for all applicants.
Importantly, retail or online sale of low-potency hemp products falling below the regulated 0.3% THC limit, doesn't necessitate specialized licenses or permits. However, it's vital to ensure your products carry mandatory certifications and that you comply with all state, federal, and local regulations.
Laws & Regulations for Selling CBD in New Mexico
While adult-use cannabis sales are legal from licensed retailers in every county, not every county currently has licensed retailers.
The legal age to buy CBD is unclear, often on both the state and federal levels. However, in New Mexico, purchasing age laws vary by local jurisdiction and most often fall to the vendor. Generally speaking, the minimum age individuals can purchase CBD is over the age of 18. The age is 21+ for any products containing over the legal threshold of THC.
Cultivating, extracting, and producing hemp products do require a special license. According to the statute, manufacturing or transporting CBD for human consumption must adhere to the state's food safety regulations. These regulation ends after the product reaches the store and then falls under the FDA's authority over CBD in food, cosmetics, and other consumer products. Per the CCD, here are the specific rules regarding hemp-derived CBD:
All products must be accompanied by a harvest certificate, received after testing by a state-licensed lab, as well as a manifest.
Each hemp or hemp-derived product must have an analysis certificate from an accredited lab.
This report must include the batch ID number, testing date, method of analysis, and an allowed signature for each product.
The certificate must accompany completed items to the store. This is optional for direct-to-consumer sales.
Without a harvest certificate, transporting hemp-derived CBD is a petty misdemeanor.
Breaking any of these rules could lead to fines over $500, suspension, or even revocation of your cannabis license.
How to Renew Your CBD License in New Mexico
To renew your CBD or cannabis business license, visit the New Mexico CCD online renewal portal to submit a renewal application. However, there is an exception for Integrated Cannabis Establishment Microbusiness (MICB) or Vertically Integrated Cannabis Establishment (VICE) businesses. Your MICB and VICE licenses are renewed by submitting an application form. Renewal fees are paid via cashier's check made payable to the New Mexico Cannabis Control Division.
Start Selling CBD in New Mexico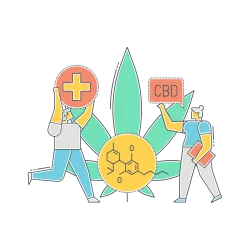 If you'd like to start selling CBD products online or in person in the state of New Mexico, here are a few things to do right away to make sure you comply with the laws.
For starters, as we've covered, each hemp or hemp-derived product must have an analysis certificate from an accredited lab. Contact a list of state-approved hemp labs to schedule a test.
Second, find out if there's anything more to consider, such as any food (FDA) regulations or transporting rules (like ensuring products are accompanied by a harvest certificate and shipment manifest) based on the products you're moving or selling. Once products reach the store, they will fall under the FDA's food, cosmetics, and other consumer product laws.
Lastly, many CBD businesses grapple with limited banking and payment processing access due to evolving state regulations. Though federally legal, CBD is often deemed "high-risk" by financial institutions. However, specialized merchant service providers offer tailored solutions, ensuring dependable support and affordable processing for CBD businesses. With a CBD merchant account, you will be equipped with a dedicated account manager who can help you navigate the complexities of the CBD industry.
---
---
New Mexico CBD License: FAQs
Is CBD legal in New Mexico?
Cannabidiol's legality is determined by its source. Generally speaking, CBD oil that comes from hemp has less THC, the federal limit being less than 0.3%. CBD products derived from THC-rich marijuana, however, have a higher concentration of intoxicating properties and are therefore more regulated.
After the federal legalization, New Mexico enacted House Bill 581 in 2019, legalizing hemp and laying out a process of setting laws for its cultivation, testing, transportation, and processing. The bill also recognizes federally recognized Native American tribes' authority to establish their hemp regulations.
How much does a CBD license cost in New Mexico?
There are a wide variety of different types of cannabis business licenses in New Mexico.
Cannabis courier license: $250 annually
Cannabis testing laboratory license: $2,500 annually
Cannabis manufacturer license: $2,500 annually
Cannabis producer license: $2,500 annually
Cannabis retailer license: $2,500 annually
Cannabis research laboratory license: $2,500 annually
Vertically integrated cannabis establishment license: $7,500 annually
Licensees growing 100 plants or less: $500 annually
Licensees growing 101 to 200 plants: $1,000 annually
Cannabis consumption area: $2,500 annually
Cannabis producer microbusiness license: License fees for cannabis producer microbusinesses determine the number of plants growing under each license.
Can you sell CBD without a license in New Mexico?
Yes, you can sell hemp-derived CBD without a license in New Mexico.
In April 2021, the New Mexico Legislature passed the Cannabis Regulation Act legalizing adult-use marijuana. So even though cannabis became legal—how a consumer buys it, how much they can have at once, and where they can use it are still restricted by the law. Considering that CBD comes in a form either above or below the legal THC threshold, it matters a great deal what the percentage of THC is in your products. This is why lab testing and certification are emphasized in New Mexico.
If you sell any form of high-potency CBD with over 0.3% THC, you must register your business with the Cannabis Control Division and pay taxes through the New Mexico Taxation and Revenue Department. Otherwise, it remains illegal to cultivate for non-personal use, manufacture, or sell cannabis without a license.
How long is a CBD license valid in New Mexico?
All cannabis licenses are valid in New Mexico for one year from the date of issuance and are renewed annually.