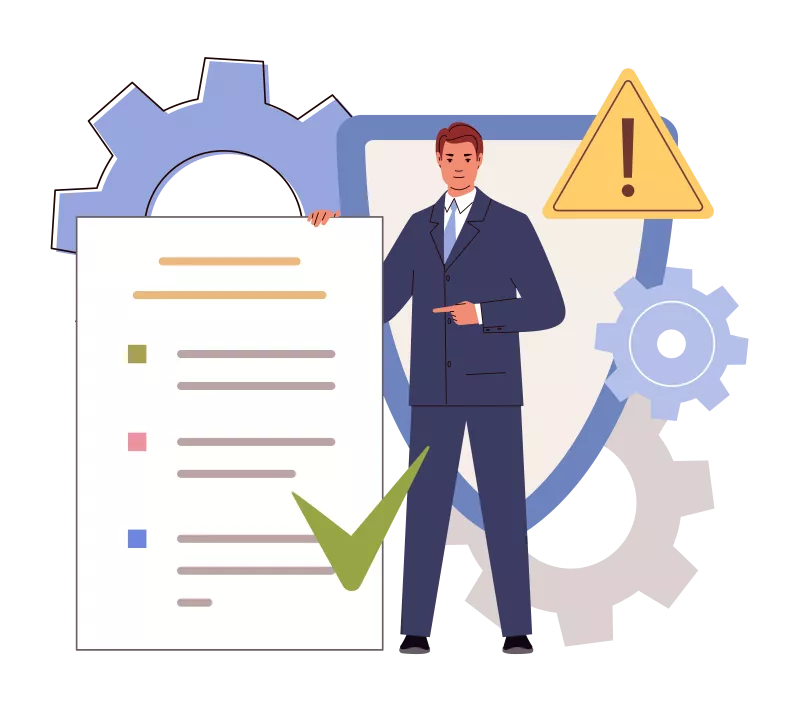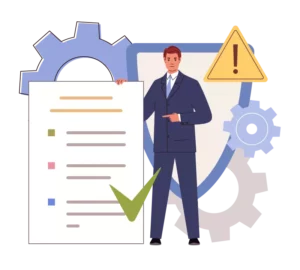 Florida's mixed emotions about the cannabis plant seem to be reflected in the state's somewhat inconsistent laws, steep restrictions, and the lack of decriminalization for the general public. This is despite medicinal use in the state having been approved since 2016. Yet, widespread public support and gathering signatures for recent petitions seem likely to produce new legislative proposals to vote on in 2024.
In line with federal regulations, hemp-derived CBD is legal in Florida but is also subject to frequent changes and tight control. That's why we've assembled the current guidance on obtaining a license in Florida, helping you launch your successful CBD business in the panhandle state.
How to Start a CBD Business in Florida
Starting a CBD business in Florida isn't unlike setting up other types of businesses, but it does require additional licensing and fees.
In other words, Florida's business requirements dictate that you must register your business with the state, file paperwork with the FDSDC, pay the appropriate permit fees, and set up your business with the necessary sales and marketing channels to succeed. Here's a basic overview of the process:
Develop your business plan, and register your CBD business with the Florida Department of State's Division of Corporations.
Obtain a federal Employer Identification Number (EIN) from the Internal Revenue Service (IRS).
Review the requirements for the Hemp-related business license you're applying for and gather the paperwork and documentation needed to apply for those permits (as well as pass other requirements, including background check, inspection, etc.)
Source your CBD products from a reputable supplier providing third-party lab test results and is compliant with state and federal regulations.
Create your brand and marketing strategy, such as your website and social media presence.
Set up sales channels such as an e-commerce website, retail locations, area farmers' markets, or other events you'll attend.
Stay up on changes to Florida's federal and state laws regarding CBD and cannabis to ensure your business remains compliant and avoids legal issues in the future.
How to Get a CBD License in Florida
To obtain a CBD license in Florida, follow the guidelines set forth by the Florida Department of Agriculture and Consumer Services (FDACS). Here are the steps you need to take:
Decide what kind of licensing and permits you'll need based on your business type and learn about this application's prerequisites.
Obtain the necessary licenses and permits for ingestible or inhalable hemp through the Florida Department of Agriculture and Consumer Services (FDACS). If your products contain THC, you must obtain a medical marijuana dispensary license.
Fill out the application with the FDACS providing a description of your business and CBD products, their sourcing, manufacturing process, and testing procedures.
Submit additional documentation as needed, such as ingredient lists, proof of liability insurance, and compliance documentation.
Pay the application fee (currently ~$650 in the state of Florida but subject to changes).
Wait for approval from the FDACS (during this review process, you're subject to an inspection of your business facilities).
Receive your CBD license in the mail after the approval of your application.
CBD regulations no doubt will continue to change in Florida, so make sure to keep up with local laws and regulations. Or, seek guidance from your merchant services provider or legal representative if you're unsure about any aspect of the process.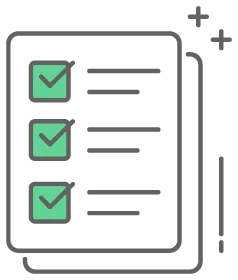 CBD License Application Requirements for Florida
To apply for a CBD license in Florida, you must meet the following eligibility criteria:
At least 21 years old
A legal resident of the state
Complete an application from the FDACS (or OMMU) along with supporting documentation
Pass a background check (requiring your legal info, fingerprints, and a separate fee)
Pass an inspection (after you apply and pay an application fee)
Additional requirements for CBD license applications vary according to the type of license you're applying for. Below are the available CBD-related licenses in the state of Florida:
Processing, manufacturing, distributing, and retailing of ingestible and inhalable CBD products all require a Hemp Food Establishment Permit. (One application covers all four.)
Laws & Regulations for Selling CBD in Florida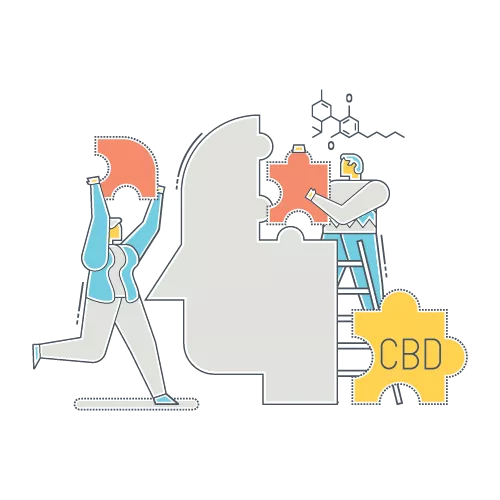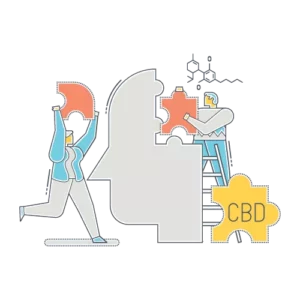 While marijuana is legal for medicinal purposes in Florida, CBD products from hemp plants can't exceed 0.3% THC, per the federal allotment in the federal 2018 Farm Bill. However, CBD derived from the marijuana plant is still illegal under Florida state and federal law.
Florida's most recent CBD legislation added an age requirement for the purchase of consumable hemp. This move is to uphold hemp products to the same health and safety standards as other food products. It also restricts the concentration of certain cannabinoids such as Delta 8, CBG, etc.
Florida's laws govern the production, sale, and labeling of CBD products and are as follows:
You can only sell hemp-derived CBD products with less than 0.3% THC.
Products require accurate labeling and contain only the ingredients listed, and must comply with current Good Manufacturing Practices (cGMP)
Products require testing by a licensed laboratory for purity and potency
Products and marketing cannot make claims about health benefits unless supported by scientific evidence
The processing, manufacturing, and sale of CBD products fall under a permit by the FDACS
There's no sale of CBD products to anyone under the age of 21
It's not sold as a food or beverage (despite what the license is called)
Note that all ingestible CBD/Hemp falls under a food establishment permit, which has further requirements if your products have dairy or frozen elements. No licensing is required if your product is topical and sold in its original packaging. If you're looking to get into the business of hemp cultivation, you'll need to apply for an entirely different license with more stringent requirements. However, the good news is that a grower's license for hemp is free to apply for and renew!
How to Renew Your CBD License in Florida
If you already have a retail business license to sell CBD and it's time to renew your license, you can do so on the FDACS's website. You must renew your license annually at an additional fee of $650.
Start Selling CBD in Florida
CBD can offer a great business opportunity in Florida, but there are crucial steps to take to comply with state and federal regulations. Here's what you need to do to start selling CBD in Florida:
Understand the legal landscape around the sale of CBD. Consider seeking guidance from legal aid or your merchant service provider if necessary.
Register your business with the state of Florida, and obtain any necessary licenses or permits.
Find a reputable supplier of high-quality CBD products by attending trade shows, researching online, or networking with other industry professionals.
Develop a business plan that includes your target market, marketing strategies, pricing, and financial projections.
Set up a storefront or online shop to sell your products.
Market your business through various channels such as social media, email marketing, and advertising.
Ensure the quality and safety of your products with 3rd-party labs and reputable manufacturers.
Starting a CBD business in Florida requires careful planning, research, and adherence to state and federal regulations. But with the right guidance, it's both manageable and lucrative. From finding a supplier to securing high-risk merchant services, it can be hard to grow a successful CBD business. Considering the volatility in the market and laws, many new small businesses find that banks and financial institutions are hesitant to work with those in the cannabis industry. However, some credit card processing companies specialize in CBD businesses and can help you start.
---
---
Florida CBD License: FAQs
Is CBD legal in Florida?
Yes, CBD is legal in Florida, but its legality depends on several factors. such as whether it's sourced from a marijuana or hemp plant and its total THC content.
In 2019, Florida passed Senate Bill 1020, which legalized hemp-derived products (containing less than 0.3% THC) for possession, purchasing, and sale of CBD.
CBD products derived from marijuana or that contain more than the allotted amount of THC are currently still illegal in Florida, except for registered medical marijuana patients.
How much does a CBD license cost in Florida?
The Florida Department of Agriculture and Consumer Services (FDACS) issues licenses in Florida. The average cost of a Hemp business license is around $650, or around $1,000 for manufacturers. However, these fees are subject to change, so regularly check with the FDACS for up-to-date information.
Can you sell CBD without a license in Florida?
No, it's illegal to sell CBD in Florida without a license unless it's a hemp-derived topical or cosmetic.
Florida's 2019 legislation following the US Farm Bill allows the sale of hemp-derived CBD with a THC concentration of 0.3% or less for businesses that have obtained a license from the Florida Department of Agriculture and Consumer Services.
Bear in mind that Florida is heavily regulated and not particularly cannabis-friendly in its current state. Therefore, for best results, we recommend seeking experienced legal counsel or a specialized high-risk merchant service provider who can help navigate the regulatory landscape.
How long is a CBD license valid in Florida
A CBD license in Florida is valid for one year and must be renewed annually for a fee.