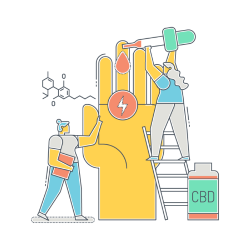 The 2018 Farm Bill federally legalized CBD products with 0.3% THC concentration or less, leading many Virginia businesses to start selling CBD oils, extracts, and topical creams. However, a new Senate bill, SB 903, is changing how Virginia regulates CBD products and retailers, making it more challenging to sell CBD to consumers. As the law takes effect on July 1, 2023, some local CBD business owners report that up to 90% of their current stock will need to be discarded to comply with the new regulations.[1]WDBJ7. "New VA law pulling CBD products off retail shelves". Accessed on September 21, 2023.
For CBD entrepreneurs in Virginia, it's imperative to grasp both current and upcoming regulations to ensure full compliance with state law. The current legal landscape means Virginia CBD business owners must be ready to change their approach to CBD sales in 2023.
This guide explores how to start a CBD business in Virginia, changes in Virginia CBD laws, Virginia CBD license requirements, and other related topics.
How to Start a CBD Business in Virginia
Before selling CBD products to Virginia residents, you need to establish a business entity. While various business structures are available to CBD entrepreneurs—such as sole proprietorships, limited partnerships (LPs), and Limited Liability Companies (LLCs)—many choose LLCs to reduce liability exposure for the ownership group.
Once you choose a business structure suitable for your CBD business, it's time to register. Virginia makes registering a new business extremely easy. Visit the Virginia State Corporation Commission (SCC) website to choose a business type, check the availability of business names, select a registered agent, and register with the SCC. Merchants can complete the entire process online. Moreover, some cities in Virginia might require you to register your business at the city level as well.
Next, head to the IRS website to register for an Employer Identification Number (EIN). This is a requirement for employing staff members, but it also makes it easier for creditors and other businesses to identify your company. Once you have an EIN, you can apply for business bank accounts, business loans, and other financial products.
With your business's foundational infrastructure established, it's time to look for retail space, create a website, or buy CBD products. Additionally, ensure you have the necessary legal permissions to sell CBD in Virginia—we'll delve into the requirements below!
How to Get a CBD License in Virginia
There is no requirement to obtain a license to sell CBD products in Virginia as long as the products adhere to the federal guidelines set out in the 2018 Farm Bill, such as ensuring products contain 0.3% THC concentration or less.
However, starting July 1, 2023, Virginia will mandate CBD retailers to acquire CBD retailer licenses and adhere to new CBD product standards. While application details for these licenses remain unclear, CBD businesses will pay at least $1,000 annually for a CBD license. Failure to comply could lead to fines of up to $10,000 per day.
Alongside the fresh licensing requisites, new product restrictions will also be introduced. We will delve deeper into the specifics of these limitations later in this guide.

CBD License Application Requirements for Virginia
State authorities in Virginia have offered little information on the CBD retailer application coming into effect on July 1, 2023. This has left many CBD retailers in the dark regarding what information is required to obtain the new licenses. SB 903 states it will require "persons to obtain such registration from the Commissioner of the Department of Agriculture and Consumer Services prior to offering for sale or selling regulated hemp products, as defined in the bill, or any substance intended for consumption that is advertised or labeled as containing an industrial hemp-derived cannabinoid.".[2]Virginia's Legislative Information System. "SB 903 Industrial hemp; regulated hemp products, etc.". Accessed on September 21, 2023.
To prepare for the application process, Stay up-to-date with state authorities and regulations.
Laws & Regulations for Selling CBD in Virginia
There aren't CBD product regulations to adhere to as long as your CBD products conform to the 2018 Farm Bill. This 2018 Farm Bill requires all CBD products to contain 0.3% THC concentration or less.
However, starting on July 1, 2023, new laws and regulations regarding CBD products in Virginia come into place. CBD products will have the following restrictions:
THC Content Limits
CBD products in Virginia can have a maximum of 0.3% THC concentration and two milligrams of THC per package.
Mandatory Restrictions
CBD products can only exceed the two-milligram limit if the CBD concentration is 25x higher than the THC concentration.
Future Plans
Hemp processors cannot sell industrial hemp or related substances if they suspect that the buyer intends to exceed the initial two restrictions.
So, why did Virginia enact these new laws for CBD products? State authorities claim there have been many CBD product-related "poisonings" resulting in individuals being taken to hospital for ingesting too much THC. The new laws aim to limit THC levels and close loopholes for products with high levels of psychoactive substances.
How to Renew Your CBD License in Virginia
Starting July 1, 2023, SB 903 mandates that CBD retailers pay an annual fee of $1,000 to maintain their retail CBD license. Consequently, CBD businesses must renew their licenses every year to remain compliant with Virginia law. However, since the infrastructure for applying for and renewing CBD retail licenses hasn't been established yet, the exact renewal process for retailers remains unclear. Stay informed as 2023 progresses for updates on Virginia's renewal process and monitor announcements from state authorities for crucial details.
Start Selling CBD in Virginia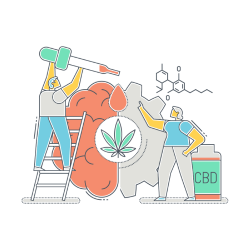 With Virginia continuing to shape its future CBD laws, it's critical to know the latest updates from state authorities. Given that penalties for operating a non-compliant CBD business can lead to fines amounting to tens of thousands of dollars, maintaining compliance is crucial.
After you've incorporated your business, registered it with Virginia state authorities, secured an EIN, and ensured that all your products and licenses align with state laws, you can commence the process of building your company. Numerous CBD retailers operate through brick-and-mortar establishments as well as online platforms to cater to their customers. Website platforms like Shopify and WordPress make selling CBD online easy, eliminating the need for coding skills.
However, one hurdle many Virginia CBD businesses face is little access to banking services, including payment processing. As CBD regulations evolve in Virginia, many banks and payment service providers refuse to offer services to CBD businesses. While CBD is legal federally, most financial services firms categorize the sector as "high-risk." Fortunately, there are CBD merchant service providers offering payment processing solutions to CBD business owners in Virginia. If your CBD retail business wants access to dedicated support, affordable processing fees, and dependable merchant accounts, a CBD merchant account provider is your best option.
---
---
Virginia CBD License: FAQs
Is CBD legal in Virginia?
Yes, CBD products are legal in Virginia, as long as the THC concentration is 0.3% or less. However, on July 1, 2023, new CBD laws are changing what type of CBD products are legal in the state. The new restrictions are as follows:
CBD products in Virginia can have a maximum of 0.3% THC concentration and two milligrams of THC per package.
CBD products can only exceed the two-milligram limit if the CBD concentration is 25x higher than the THC concentration.
Hemp processors cannot sell industrial hemp or other related substances if they believe the buyer plans to make products that exceed either of the first two restrictions.
How much does a CBD license cost in Virginia?
The new CBD retail license coming into effect on July 1, 2023, will have an annual charge of $1,000. It's unclear if the fee applies per location or covers the entire business, including location numbers or online domains.
Can you sell CBD without a license in Virginia?
Previously, retailers did not require a license to sell legal CBD products in Virginia. However, recent law changes, which come into effect on July 1, 2023, will require CBD retailers to obtain a license to sell products in Virginia. Not doing so will result in significant penalties, including fines of up to $10,000 per day.
How long is a CBD license valid in Virginia?
Starting on July 1, 2023, the new CBD retail license in Virginia will require an annual fee. This means the license will have one year of validity. Ensure your CBD retail license remains valid to avoid daily fines of up to $10,000.