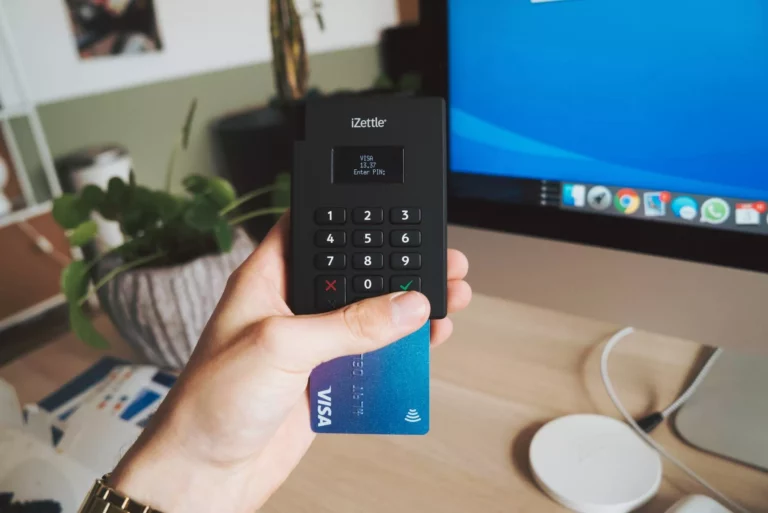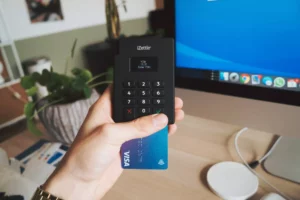 It is absolutely necessary to accept credit card payments if you own a business. As American consumers start using credit cards more than cash, an affordable payment service provider can have a huge impact on your business's revenue. Both Square and PayPal are popular options for business owners seeking easy-to-use payment service platforms with sleek hardware, useful features, and fair rates.
Square was founded with a clear goal of creating an in-person payment platform for small businesses, that is functional and easy to access. PayPal originally started with eCommerce and slowly expanded into in-store payment options. [1]CNBC. "Why PayPal bought a European start-up with IPO plans for $2.2 billion." Accessed May 2, 2022.
Now, let's take a closer look at these two options and what they can offer to your business.
Square vs. PayPal: A Brief Overview
| | | |
| --- | --- | --- |
| | Square | PayPal |
| Monthly Fee for Payment Processing | No | No |
| All Major Cards Accepted | Yes | Yes |
| Standard In-Person Transaction Fee | 2.6% + $0.10 | 2.29% + $0.09 |
| CNP Transaction Fee (Keyed) | 3.5% + $0.15 | 3.49% + $0.09 |
| Online Transactions | 2.9% + $0.30 | 3.49% + $0.49 |
| POS System Available | Yes | Yes |
| Online and In-Store Capable | Yes | Yes |
| Additional Foreign Card Fee | 0% | 1.5% |
| Gift Cards | Yes | Yes |
| Instant Bank Account Transfers Fee | 1.5% | 1.5% |
| Standard Bank Transfers | Free | Free |
What Is the Difference Between PayPal and Square?
If you are choosing between these two payment platforms, below is what makes PayPal and Square both similar and different from one another:
Differences
Processing rates
One of the key differences between them is the basic in-person processing rate:
PayPal: 2.29% + $0.09
Square: 2.6% + $0.10
As you can see, PayPal has a slight edge when it comes to in-person transactions. While this might seem small, it can add up if you process a large volume of transactions.
Hardware options
While both Square and PayPal offer a range of card readers, POS hardware products, printers, and more, it's clear that Square dominates in this area. At Square, you can access mobile magstripe readers, contactless readers, stands, terminals, registers, and a range of different hardware kits.
PayPal also offers credit card readers and terminals, but there is less variety and you won't have access to Square's famous mobile magstripe reader, which is a fan favorite with business owners that want minimalist hardware.
Extra business software
While both PayPal and Square offer extra business features, such as business accounts, invoicing platforms, and management tools, Square has a clear advantage.
Square has invested heavily into point of sale software, appointment software, and other add-ons that can make running a business easier.
While PayPal does have a POS platform, most of its add-ons are in the form of integrations with third-party software products such as Shopify and Xero. Square offers more in-house features.
Withdrawing money
When it comes to withdrawing money, Square offers more convenience to its clients. You can automate the withdrawal process to send money directly to your business bank account. With PayPal, your money will enter your PayPal business account, and you will need to manually transfer the funds to your business bank account.
Similarities
Easy-to-use
Both Square and PayPal are easy-to-use platforms for business owners. They offer quick, simple payments and their integrations and add-ons ensure you can access all the tools you need in a single location.
Both accept online and in-person payments
Both online and brick-and-mortar merchants are able to benefit from Paypal and Square. These platforms have uncomplicated integration setups and can provide an effortless POS system experience.
No monthly fees for core features
While add-ons will be at an additional cost, you don't need to pay anything to access the basic features with Square and PayPal. In fact, Square will even send your first mobile credit card reader to you for free.
Flat-rate processing
At Square and PayPal, you benefit from flat-rate credit card processing on standard transactions. Flat-rate pricing is preferred by businesses because it's easier to track business expenses. You don't need to worry about differences in payment depending on transaction size, card type, or whether it's swipe, chip, or contactless.
Keep in mind that different types of transactions, such as invoices and CNP transactions, can carry different fees from standard in-person transactions. However, these fees are also flat-rate across each category.
Transparent pricing
Fortunately, both Square and PayPal offer transparent pricing and list them on their websites. Square also has plenty of free trials for its add-on products, which makes it easy to test services before you make financial commitments.
Paypal does have an extensive list of fees but you are able to reduce PayPal seller fees with tricks like having customers pay in local currencies or by including PayPal fees in your prices.
Square benefits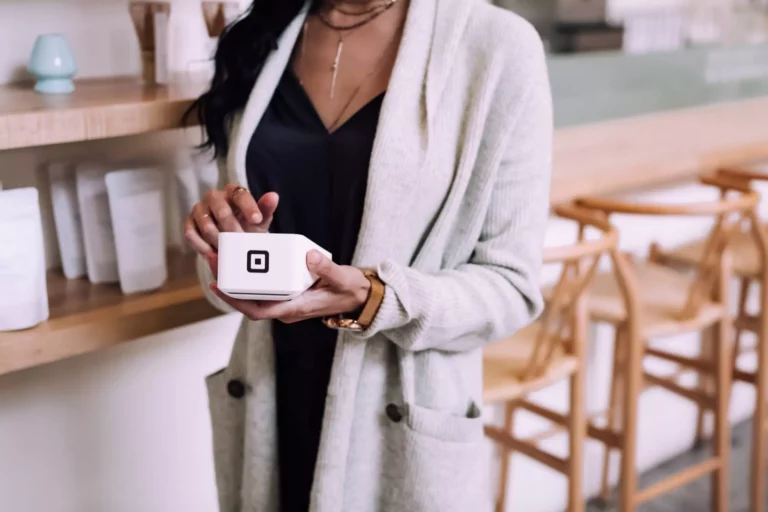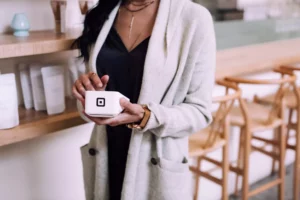 If you choose to partner with Square, check out this platform's strongpoints below:
Flat-rate pricing
Transparent pricing
No monthly fees for basic services
Extensive hardware options
Quick approval timeframes
Available for online and in-store payments
Free business bank accounts
A large range of add-ons and software features.
PayPal benefits
If you choose to partner with PayPal, here are the platform's strongpoints:
Flat-rate pricing
Transparent fees
No monthly fees for basic services
Various hardware options
POS software and plenty of third-party integrations
Digital business wallet
Available for online and in-store payments
Low requirements to apply for a business account
PayPal vs Square Features
Both PayPal and Square have unique features that help with the credit card processing experience between your staff and customers. While the core function of both these providers involves payments, there are other built-in features that can help you take your business to the next level. Let's explore these tools below:
In-store payments
Both PayPal and Square offer in-store payments. Square has a range of hardware options available to its users while PayPal only has standard readers and stands.
Square users benefit from a free basic POS system and can also access two specialized types of POS systems: Square for Retail and Square for Restaurants. These two options come with industry-specific tools that are excellent for retail and hospitality.
With PayPal, you only have access to a standard Zettle POS system, which has much fewer features than the point of sale tools available on Square.
Online payments
Again, both PayPal and Square offer online payments. With Square, you can set up an online store or send payment links to customers. Both options allow for seamless online transactions.
On the other hand, PayPal is the guru of online payments. Their easy-to-use PayPal payment buttons and portals make it easy to accept online payments on a variety of platforms. Also, as many American consumers already have PayPal accounts and are familiar with the platform, this can be a preferable choice for online merchants.
Mobile payments
Square is well-known for its mobile payment options. You can use a mobile credit card reader that plugs into your mobile phone or tablet, making it simple to accept payments from an existing mobile device.
With PayPal, you can purchase a portable card reader that connects to your phone for wireless credit card processing.
Virtual terminals
If you're seeking a credit card terminal to use through a browser, a virtual terminal is a perfect solution. Square offers a free virtual terminal that you can accept over the phone.
PayPal's virtual terminal has the same built-in features but it comes at a monthly cost of $30.
Recurring payments
Both PayPal and Square have recurring payment tools to set up subscription payments. Square allows you to do recurring payments, but fees will increase to 3.5% and $0.15 if you would like to securely store a card for each transaction. For Paypal, standard rates apply, however for recurring payments, it will cost you $10 a month.
Nonprofit tools
Nonprofits and other organizations can use PayPal and Square for fundraising activities. Square makes it easy to send payment links that can be used for fundraising, event payments, and more.
PayPal also makes it easy to accept in-person and online payments if you're a nonprofit organization. You don't need any coding or web experience to quickly set up a donation platform with PayPal.
Nonprofits will see a discounted rate with Paypal at 1.9% plus a $0.49 per transaction. Unfortunately, Square does not offer any discounted rates to nonprofits. To receive the charity rate with Paypal, you will need to be pre-approved and have the proper nonprofit registration.
Invoicing tools
PayPal makes it easy to make and send invoices to customers. Your customers can then pay the invoice through the PayPal platform.
Similarly, Square allows you to send invoices by SMS, email, and link. While the basic invoice platform is free, you can upgrade to a $20 per month plan if you want to access project tracking and other premium features.
International sales
When it comes to international sales, both Square and PayPal offer access to overseas card transactions. Square allows international cards at the same standard rates as domestic cards. However, with PayPal, you can expect a 1.5% fee for international transactions and an additional 1% fee if a currency change is needed.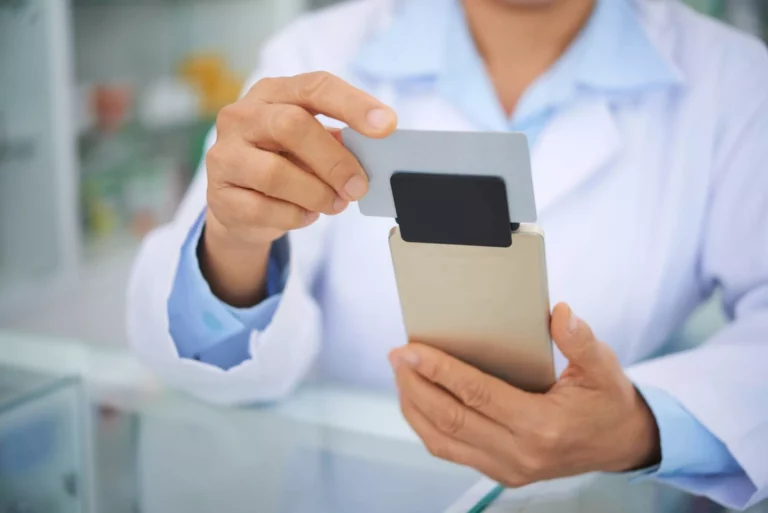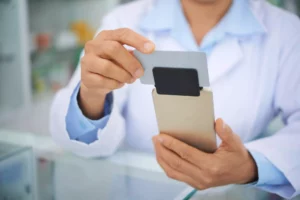 Paypal vs Square Fees and Pricing
If you're choosing a payment service provider, the cost of the platform is one of the most critical factors. Overspending on your credit card processing fees and point of sale tools can quickly impact your business's expenses. Let's check out PayPal and Square pricing below:
Pricing structure
Both PayPal's and Square's pricing structures are easy-to-understand. There are no monthly fees involved in using the basic platforms. However, some premium add-ons do require monthly fees.
Additionally, with both providers, if you have a high-volume business, you can negotiate cheaper rates.
Monthly fees
There are no monthly fees for the basic processing features at Square and PayPal. Other features do incur costs:
Square monthly fees
Team Management: Free
Employee Payroll: $35 per month plus $5 per employee
Loyalty Program: $45 per month
Gift Cards: $0.80 per gift card
Basic POS: Free
Square for Restaruants: $0 – $60 per month
Square for Retail: $0 – $60 per month
Email Marketing: $15 per month
Square Appointments: $0 – $69 per month
PayPal monthly fees
Zettle POS: Free
Third-Party Integrations: Come with their own costs
Processing fees
PayPal processing fees per transaction
In-Person (Swipe, Chip, Tap): 2.29% and $0.09
Keyed (CNP): 3.49% and $0.09
Online: 3.49% + $0.49
Square processing fees
In-Person (Swipe, Chip, Tap): 2.6% and $0.10
Keyed (CNP): 3.5% + $0.15
Online: 2.9% + $0.30
Square vs PayPal Customer Service & Support
PayPal offers a range of support resources, including an online database of topics and FAQs that can help you troubleshoot any problems you see with your account. You can send messages and call PayPal support for any outstanding questions.
On the other hand, Square has an online resource center that you can use to search for topics and find solutions. You can also log into your Square account to speak to a support representative using a live chat portal on the Square website, as well as contact Square directly.
Square vs PayPal Ease of Use
Square and PayPal have made a name for themselves by offering user-friendly payment platforms. Both interfaces have an intuitive design where you don't need to be tech-savvy to navigate their dashboards.
If you operate a brick-and-mortar business, then Square is slightly better to use if you don't have experience with a wide range of software platforms. Square has a range of add-ons and features that you can use without the need for outside software to manage and keep your team updated. With PayPal, the reliance of third-party integrations means that you will depend on a host of different software designs and databases.
PayPal vs Square Integrations
Square has plenty of in-house tools, so there's less need for integration with third-party software. However, you can still integrate with a range of external platforms, including Wix, WooCommerce, WordPress, and BigCommerce.
As previously discussed, PayPal is more reliant on third-party software, making it simple to integrate with most website builders compared to their competitors. Some of the most notable PayPal integrations are as follows:
Adobe Commerce
BigCommerce
QuickBooks
SalesVu
WooCommerce
WordPress
Weebly
Square or PayPal: Which Is Best for Your Business?
If you're deciding between PayPal and Square, the best option will depend on your business and its priorities. Below, let's explore which payment service provider is best for various types of business needs:
Best for affordability: PayPal
If you're seeking the most affordable option for your business, there's no doubt that PayPal wins. By offering 2.29% and $0.09 for a standard in-person transaction, PayPal beats the 2.6% and $0.10 offered by Square.
Again, while this seems like a small difference in pricing, it can quickly add up over time.
Best for retail and in-store: Square
While PayPal has made strides into the retail sphere, there's no doubt that Square is still miles ahead. With a range of payment terminals and hardware options, as well as extensive POS software tools and other add-ons, Square is the best option for brick-and-mortar businesses.
This is especially true if you're in the retail or hospitality space. Square's industry-specific POS software platforms make it easy to manage a business without the need for third-party tools.
Best for eCommerce and online: PayPal
If your primary aim is to build an online store, you need a payment system that specializes in digital transactions. While Square is making considerable efforts to grow its eCommerce platform, PayPal's hold in digital payments is extremely strong.
PayPal makes online payments effortless for customers. You can process all credit card types, complete bank transfers, and integrate with most websites. Additionally, PayPal is widely used by many online shoppers, which makes it a familiar platform for online transactions.
Best for mobile: Square
There's no doubt that Square is the dominant force in mobile payments. With easy-to-use magstripe readers that plug into your smartphone, it's simple to swipe cards without the need for separate hardware. You can also use Square's bluetooth card reader for chip and contactless payments.
While PayPal also has a bluetooth card reader known as PayPal Here, Square far surpasses the capabilities of PayPal Here's reader. Paypal's iZettle does have contactless payments that take quick mobile payments that are suitable for your on-the-go customers.
Best for invoicing: Square
Square offers an elite invoicing platform that includes unlimited invoices, access to estimates, and invoice sending options. There is also a premium subscription option that allows project tracking for $20 a month.
However, invoicing is not a weak point at PayPal. The platform also has a straightforward invoice platform that businesses can take advantage of.
Square and PayPal Alternatives
There are many payment service providers available to US business owners. If you don't like the features included in Square and PayPal, there are various alternatives. Let's take a look at some other options below:
Merchant accounts
With merchant accounts, you can have custom credit card processing fees and have control over your payment platform. Some merchant account providers specialize in high-risk businesses, which means you won't need to worry about some of the inconveniences like account closure or held funds that are associated with Square and PayPal.
Zero-cost credit card processing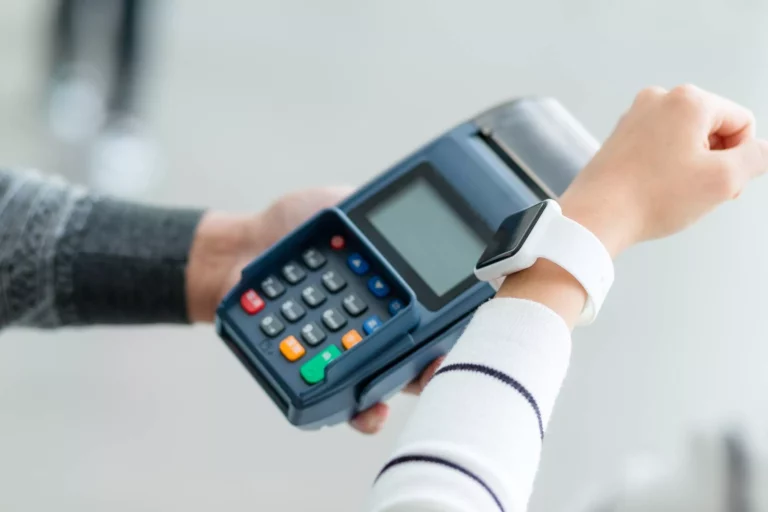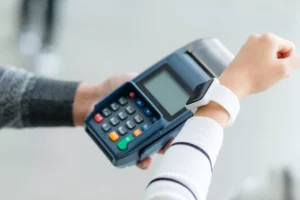 If you want to avoid the cost of payment processing altogether, it might be worth considering zero-cost credit card processing. This type of credit card processing automatically passes the cost of the processing fees onto the customer. Keep in mind: This may not be legal in all 50 states, so make sure to check local regulations or a merchant service provider about compliant zero-cost processing programs.[2]USA Today Money. "It's illegal to charge credit card processing fees in these 5 states. Here's what to do." May 2, 2022.
Square and PayPal's Reputation for Holding Funds
Square and PayPal both have a reputation for holding funds. The companies use algorithms to detect fraudulent activity, which means that your business may experience a cash freeze even if your business is legitimate. For example, in some cases, if you have a high-risk account with PayPal, you may see a 30-day hold, preventing you from accessing your own funds. There are also situations with Square deactivating accounts without letting merchants know. Oftentimes, you will realize your account is closed when payments start declining.
Both Square and PayPal may initially place limits on how much funds you can withdraw. As you process more transactions through the platforms and keep chargebacks to a minimum, you can expect these limits altogether.
This is another reason that it can be beneficial to work with a merchant account provider that understands high-risk businesses. If you operate in an industry that is deemed risky by payment service providers, a specialist merchant account might be a more suitable option.
FAQs: Square vs PayPal
Business owners deciding between Square and PayPal often have additional questions about these two payment service providers. Let's take a look at some of the most common questions we receive about Square vs PayPal:
Does PayPal own Square?
No. PayPal and Square are different entities. Square first started providing services to customers in 2010, while PayPal first began offering its online payment services in 1998.
Can I transfer money from Paypal to Square?
Not directly. However, if you link your PayPal and Square account to the same bank account, you can transfer money to your bank account and then transfer it between PayPal and Square.
Does Square accept PayPal?
No. That being said, some paid plans on Square allow online store users to add PayPal payment options to their websites.
Is PayPal or Square more secure?
It's hard to provide a definitive answer on which platform is more secure as all payment platforms have vulnerabilities. However, Square does have a credit card fraud detection tool at an additional cost. Paypal only provides proactive tips to prevent fraud as a business owner.
Which is better for small businesses, Square or PayPal?
As discussed in this guide, the best payment service provider will depend on your business's individual needs. If your priority is lower fees, then PayPal is a better option. If you're seeking a payment processing platform that's extremely convenient for mobile phones, you should choose Square.
Can you pay a Square invoice with Paypal?
No. At present, you cannot pay Square invoices with PayPal. However, you can pay your invoice using ACH bank transfer, eligible cards, Apple Pay, or Google Pay.[3]Square "Pay Invoices with Square". May 2, 2022
PayPal vs Square: Closing Thoughts
Now that you understand the core features of PayPal and Square, it's time to decide if either of these platforms is best for your business. Each platform does well in certain areas like Square with in-store shops and PayPal with eCommerce businesses. Either way, the fees with payment service providers like Square and PayPal are around the same and you will want to base your decision on features.
However, PaymentCloud offers the same basic features, which can give you a better rate and merchant support.