As a business owner, you're probably familiar with Square, a payment processing platform targeted toward new and small businesses. Square credit card processing makes it simple to get started. The company works well with inconsistent processing patterns, such as processing once every few months, making it perfect for startup businesses and side hustles. As your business grows, however, you may find yourself questioning whether Square is still the right choice.
In this article, we discuss what Square is, what Square credit card processing costs, and the differences between Square and merchant accounts. We'll equip you with everything you need to know regarding Square in order to make the right choice for your business.
What Is Square?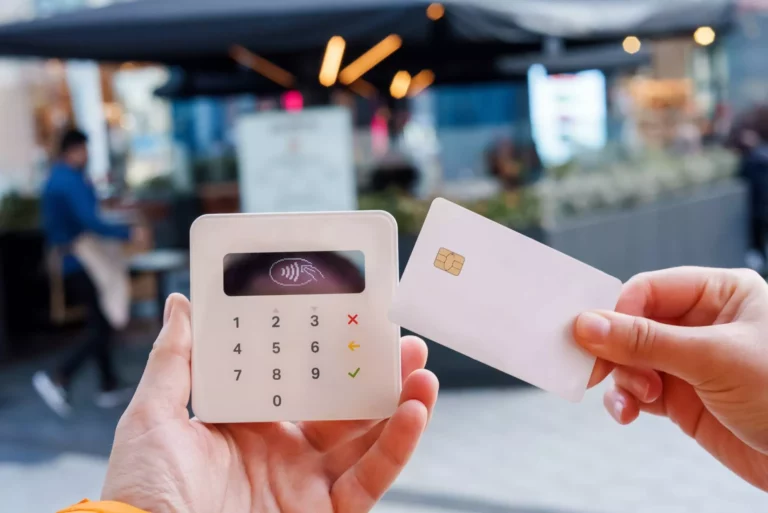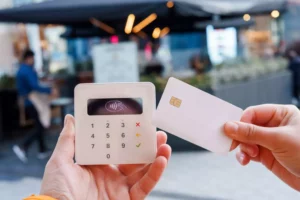 Square is a third-party credit card processing solution that makes it quick and simple for any business to set up an account and accept credit cards for payment. Square credit card processing offers a cloud-based point-of-sale solution that you can set up and use quickly. Their goal is to make accepting payments accessible through simple rates, simple equipment, and a simple sign-up process.
Over the last decade or so, Square credit card processing disrupted the payments industry in that it allows businesses to process cards without merchant accounts. Merchant accounts, otherwise standard in the credit card processing industry, require an application and approval process. Essentially, Square payment processing allows anyone to start accepting credit cards for payment with relatively little scrutiny when compared to a traditional payment processor.
How Does Square Credit Card Processing Work?
To begin payment processing with Square, simply follow the sign-up process on its website. Once active, your account can accept payments shortly thereafter, depending on the equipment you've opted to receive.
The necessary steps to complete a transaction through Square credit card processing depend on the solution selected. If you have an online seller account—known as Square Virtual Terminal—you will need to manually key in a card number from an internet-connected device (i.e., a cell phone, tablet, or laptop). Such devices are considered virtual terminals. You can also send a payment link or payment-enabled invoice to customers to process their transactions.
If you want to accept a transaction in person, you need point-of-sale machines, such as payment terminals, or an attachment, such as a magstripe or contactless reader smart device attachment, to swipe, tap, or dip cards.
What do you get with a Square merchant account?
When setting up an account with Square, you receive a payments dashboard enabling you to track your gross and net income, as well as other basic accounting metrics. In addition, you receive a free magstripe reader and access to their virtual terminal to start immediately processing payments if needed.
You may also receive additional hardware, depending on the choices you've selected, shortly after you've completed onboarding.
What is a Merchant Account?
As mentioned, Square allows businesses to start processing so quickly because it bypasses the need for a merchant account. You may now be wondering, what is a merchant account? And, do you need one?
A merchant account is an account that holds the funds you've earned from your customers' credit and debit card purchases. It processes transactions automatically, but you cannot add or remove funds to or from it yourself. Any funds deposited into your merchant account will release to your business bank account after processing, usually within a day or two.
And the answer to the latter question: It depends.
How Does a Merchant Account Work?
Setting up a merchant account requires time, due to the underwriting process.
When underwriting your merchant account, a payment processor is obligated to do a thorough evaluation. Some of what this evaluation analyzes includes:
your business history
processing behavior, including transaction size and volume
industry and/or personal risks, like if your previous processor blacklisted your business
personal and business credit scores, as applicable
That said, a new or high-risk business may find it incredibly difficult to establish a merchant account.
Once established, your merchant account becomes, essentially, an agreement of trust between you and your credit card processor. You'll be assigned a merchant ID number that uniquely identifies your account, then your payment processor will set parameters of normal processing behavior. This account then becomes the filter for every payment you accept, managing the cash flow from your customer's bank account to your business' bank account.
Square vs Merchant Account: Breaking Down the Key Differences
Below explores the key differences between Square vs merchant account.
Merchant Account
A merchant account establishes trust between you and your payment processor. This trust allows you to process a broader range of payments. You will also typically receive overall lower rates when compared to an aggregator like Square. Because it did the due diligence upfront, your payment processor has a higher threshold of tolerance for your business processing habits. Comparable to Square, Clover is a fantastic POS system that works seamlessly with traditional payment processors.
Square
Square is an aggregator. This means that it essentially uses one giant merchant account for all of its customers and their transactions. This merchant account has funds coming and going (i.e., being distributed to you, the business owner) at Square's discretion. Because of this, the major complaints about Square credit card processing include funding delays, frozen funds, and lack of customer support.
What kinds of businesses benefit from Square credit card processing?
If your business processing habits fit any of the below descriptions, Square may be worth considering to fulfill your processing needs:
Your business processes infrequently.
It processes under $5,000 a month.
Your business is seasonal and/or simple.
You don't foresee the need to reach someone on the phone for support.
You'd like to get set up to process payments immediately.
What kinds of businesses benefit from a merchant account?
A merchant account may greatly benefit businesses that are:
Established.
Processing a high volume of transactions each month.
Processing very large and/or low-risk transactions.
Selling many SKUs or to many customers.
In need of a robust and detailed POS and accounting solution.
Need enhanced recurring billing functionalities.
Need to integrate advanced chargeback prevention and fraud tools.
If you have the time to get your own merchant account and plan to process regularly, it's worth considering. The process for setting up a merchant account is often worth it because of the savings per processed transaction and control it offers.
Square Processing Fees: How Much Does Square Charge per Transaction?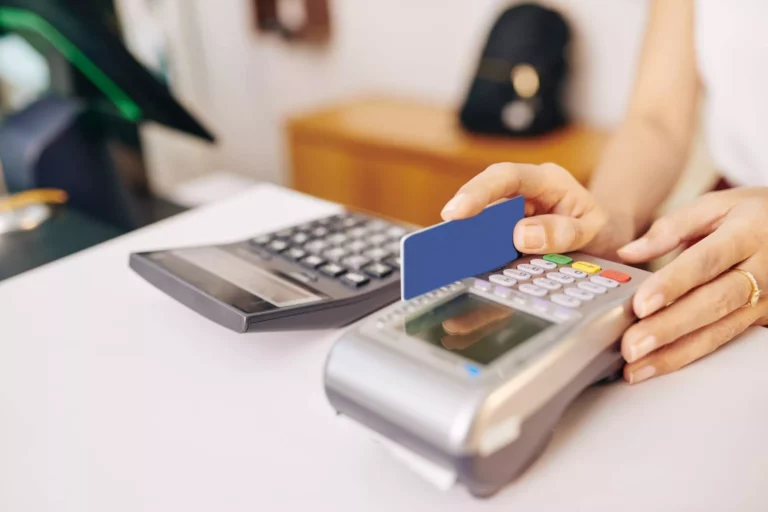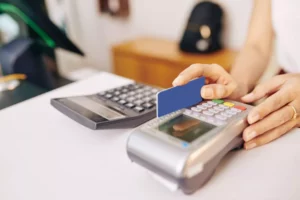 One of the elements drawing business owners to Square credit card processing is its transparent pricing. Square's pricing and fee structure details exactly what you can expect to pay in credit card processing fees. The amount you pay is based on how you processed the transaction, as in card-present vs. card-not-present transaction processing. The rate you pay doesn't change based on the type of card you accept, which could mean leaving money on the table.
Merchant services price merchant accounts in a more nuanced fashion. They typically take into consideration processing tendencies, risk, business structure, and much more to determine a fair rate for processing payments. Also, the rate you pay may fluctuate depending on the type of card you accept.
While merchant account pricing is not typically as straightforward as Square's pricing, it is, on average, lower than Square's pricing.
Transaction fees
Currently, Square credit card processing fees for card-present payments—any transaction tapped with an NFC reader, dipped with a chip reader, or swiped with a magstripe reader—costs 2.6 percent of the total transaction amount and $0.10 for the authorization.
For card-not-present payments, Square credit card processing fees can be a little more complicated:
Using a Square Invoice, you pay 2.9 percent of the transaction amount and $0.30 for the authorization.
Transactions including manually keyed in payments and card-on-file payments cost 3.5 percent and $0.15 to process.
Using the Square Virtual Terminal costs 3.5 percent and $0.15 to process.
Transactions that use Square's eCommerce platform cost 2.9 percent and $0.30.
ACH bank transfers, which may require additional paperwork, cost 1 percent to process.
Note: If you choose to upgrade to Square Plus or Premium, your rates may differ.
Card reader fees
If you choose to operate through Square with a smart device that you already own, you will not need to pay for additional hardware. A magstripe reader comes free with your Square account. If you'd like a more robust solution, here are sample hardware fees you can expect to pay:
Square Register: $799
Square Terminal: $299
Accessory Stand: $199
Other Factors to Consider Before Choosing Square
Credit card processing fees can truly eat into a business's revenue, thus they tend to be high on the list of priorities when debating between credit card processors. However, fees shouldn't be the only deciding factor when choosing what payment processor is best for your business. Chargeback policies, dispute resolution policies, and customer service are all uniquely important factors. Below explores each of these subjects.
Do you have a high-risk business?
If you have a high-risk business, getting started without a merchant account, based on our prior explanation, may sound appealing. Should you choose to move forward with Square, however, you may run into issues. Processing without a merchant account does not mean processing without scrutiny.
If your processing behavior or business is high risk, if you receive the occasional transaction dispute, or if your processing behaviors are inconsistent, Square may choose to hold your funds. This hold sometimes comes without warning, without explanation, and for an undisclosed period. They also do not have a phone number you can call to resolve these issues or receive answers.
For your business longevity and cash flow, a merchant account is often worth the effort.
Square's policies on fraud and chargebacks
If a cardholder disputes a transaction, the chargeback process is initiated. When facing a chargeback, Square will place a hold on your account to freeze the funds under dispute. If the necessary funds are not available to cover the chargeback, they will debit your bank account for the amount under dispute.
Square offers a chargeback protection program, which is beyond what traditional processors offer, but it seems to have some serious limitations. According to Chargeback Gurus: [1]Chargeback Gurus. "A Comprehensive Guide to Square Chargebacks" Accessed January 19, 2022. .
It covers chargebacks of up to only $250 per month. This amount does not carry over to another month and cannot be used to cover a partial balance. This means that if your chargeback is $300, they offer no protection.
Some businesses are ineligible for coverage. High-risk goods and merchants found to be out of compliance with Square's best practices are ineligible for the chargeback protection program.
Is Squareup Safe? The Drawbacks of Square
Ultimately, Square credit card processing is a safe and reputable solution for many businesses. Over time it has built a robust line of point of sale processing solutions. It continues to offer transparent pricing and a relatively pain-free setup process.
As we've mentioned, its drawbacks include:
High pricing when compared to many standard merchant accounts and payment processors.
Restrictive rules and low-risk tolerance.
Communication is difficult, if not impossible when you run into an issue with your funding.
Square Alternatives
There are hundreds of alternatives to Square, including scalable options such as merchant accounts. There are hundreds of companies that can get you started with a traditional merchant account.
Common alternatives to Square that you might consider include:
You may even reach out to us about a merchant account if you are thinking about credit card processing.
The Bottom Line: What's the Best Option for Your Business?
The bottom line is that only you know what is best for your business. For most established, high-risk, or traditional businesses, applying for a standard merchant account is typically the way to go, as it offers complete credit card processing services. By establishing your own payment processor relationship through obtaining a merchant account, you can expect custom pricing, tailored payment thresholds based on your business processing habits, more control over your money, and support when you really need it.