Mobile payments are a core everyday tool around the world. Not a day goes by without the use of mobile payment apps like Venmo. Until now, Venmo was used for mobile payments between friends, and colleagues, as well as for other non-business purposes. Thanks to its new "Business Profiles," Venmo now offers payment solutions for businesses.
This article focuses on Venmo's business features and how they may benefit your business. Keep reading to discover how to utilize Venmo's latest functions.
What Is Venmo?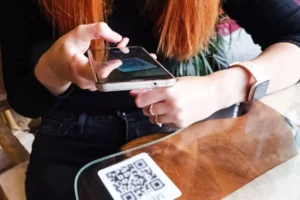 Owned by Paypal, Venmo is a US mobile payment platform launched in 2009. It focuses on transactions between friends.

Recently, the company added Venmo business accounts. These accounts function as payment service providers, allowing customers to pay businesses with just a few taps. Venmo currently has over 70 million customers and two million merchants.
Although Venmo is a great solution for mobile payments, it's surrounded by quite a few controversies. The application has faced privacy issues for its millions of users since 2018. Transaction histories are public by default, leaving payment amounts and transaction names open for everyone to see. Since then, the company has not taken action to improve its privacy.
How does Venmo work?
Venmo works by executing mobile payments with an account through a mobile app. You can find the app on the Google Play Store and App Store for free, though there are some fees associated with business accounts. More on that later on.

After a user creates a Venmo account, they link it to their credit card, debit card, or bank account and can immediately begin making transactions with other Venmo users. Alternatively, customers can use their Venmo balance as a funding source.
---
What Is a Venmo Business Account?
By creating a Venmo business account, you can effectively receive payments from your customers. It is perfect for individuals, store owners, and registered businesses.
Basic features available for business profiles:
| | |
| --- | --- |
| Tipping | As the name suggests, it allows your customers to tip your business. You can turn it on or off in "Settings." If you want to see the tips you've received can download an account statement from your web browser. |
| QR code payment and sharing | QR code payment is available with Venmo. You can find your code by tapping on the "Scan" button and then going to "My Code." You can also share your QR code via text, email, print, and more. |
| Balance Transfers | Venmo allows you to request a balance transfer between your business and personal accounts. This feature is only available if you've verified your identity. You can transfer a balance from the main menu by tapping on the "Transfer Balance" button. There are no limits but the transfers must be approved by Venmo first. |
| Refunds | Yes, refunds are possible with a Venmo business account. You can return money back to a customer by making a completely new payment. This payment will act as a new payment that's different from the others and you can add a note so you know it's a refund. To refund the full amount of money to your customer you'll also need to add the initial transaction fee to the refund. |
| Transaction History | Transaction history is a very useful tool for any business. With Venmo, you have the option to view and download your transaction history for your business and personal profiles. |
Note: Venmo strictly prohibits any kind of transaction for selling or buying goods through a personal Venmo account.
Other Venmo users can find your business profile by typing your business name or username in the search bar. For more precise results, users can select whether they want to see only Profiles or only Businesses. To appear in searches you'll need to opt into the search feature.

Another important thing to note is that business profiles can't obtain a Venmo debit card. Those are only directed toward personal accounts, but Venmo says that they might make them available for business profiles in the future.
Venmo business account vs personal account
Business accounts are basically an augmented version of personal accounts as they offer extra features that answer your business needs. Much like a personal account, a business account has social sharing features to share transactions with friends. Below are some of the benefits of using Venmo for business:
Greater visibility 
Ability to generate referrals through Venmo's social platform
Option to include links to your website and social media
Formal tax documentation for business profiles encompassing (or exceeding) Federal or State reporting thresholds
Management tool for bookkeeping
Customer insights
Personal accounts are only for peer-to-peer transfers, splitting bills, and other trades not involving any kind of customer-merchant interaction.
---
Can You Use Venmo to Accept Payments in Your Business?
As of 2021, Venmo started offering the possibility to open a profile that's suitable for all your business needs, including accepting payments. Customers can pay anywhere with their balance if their Venmo account is linked to your business. All they have to do is connect their Venmo account to either your app (if you have one) or through your website. The next step is checkout. Customers can pay with the funds they have in Venmo or with another linked funding source. Alternatively, you can display them a QR code that they can scan and pay that way.
However, Venmo's business user offerings are more limited than other payment solutions. Additionally, its noted lack of effective customer support can make inevitable payment processing difficulties, like the occurrence of a Venmo payment decline, more challenging to resolve than they would be otherwise.
Advantages
Send and receive cash effortlessly
Free for Venmo business with low seller transaction fees
Multiple payment options
Social transaction sharing
Disadvantages
A controversial past with privacy issues
Requires an app to process payments
Only available in the United States
Overly precarious payment protections
Is Venmo safe for business?
The short answer is yes. Venmo is safe for businesses because it uses standard encryption to keep your data. The encryption monitors your account and detects suspicious activity. Additionally, if you look closely at the address bar you'll see that it has an "s" after "http" which means it has an SSL encryption.
Buyers using Venmo are protected in two ways:
For a Venmo business to be able to offer its products and services it must go through specific authorizations. That means that a business that isn't authorized by Venmo can't sell products or services.
Buyers are protected by the Venmo Purchase Protection Program. The Venmo Purchase Protection Program requires sellers to keep transaction documentation, which may be requested during a Venmo chargeback claim investigation.
Note: Even though Venmo is a safe option, please be mindful of the common Venmo business account scams so you can prevent them from happening to you.
---
Venmo Business Fees
While Venmo business accounts are free there are still other Venmo fees to be mindful of. Venmo Business charges a standard transaction fee of 1.9% plus $0.10 for each transaction.
It's important to mention that business and personal accounts don't share the same transfer limits. Business profiles can have different transfer limits depending on if they're verified or not. If you haven't completed the identity verification, you'd have a weekly payment limit of $2,499 and a bank transfer limit of $999.

However, if you finished the identification process you will have increased limits. Your weekly payment limits in this case would be $24,999 and the bank transfer limit would be $49,999. There's also a limit per transaction of $10,000 for instant transfers to your debit card and $25,000 for instant transfers to your bank.
---
Is Venmo a Good Option for Merchants?
While Venmo for business can be a convenient payment option, it's important to consider potential privacy issues associated with the platform. Deleting your Venmo business account and switching to another provider is a viable option for protecting customers' data and prioritizing security.
There are a number of different mobile payment options available to your business, but only one option gives you the security and control to keep your funds safe: a merchant account. While apps like Venmo or Google Wallet can be useful tools for those who don't need much from their payment processor, these services just aren't designed to meet the needs of business owners.
A merchant account provides businesses with a unique, customizable experience that can be adapted to fit your needs while still being simple enough for employees who are new on the job. Unlike Venmo, a merchant account integrates with your online shopping cart and third-party software, processes recurring billing, supports Level II and Level III processing, and has advanced invoicing capabilities. A merchant account is good for processing a high volume of transactions and does not limit transfers to your bank account. If your business requires these functionalities, consider speaking to a merchant service provider today.