With fewer and fewer people carrying cash, P2P payment platforms have become a leading method for exchanging funds. Even if the term "P2P payment" is unfamiliar, you may already use or have at least heard of the most popular P2P payment platforms: Venmo, Zelle, and PayPal. Their popularity is not without reason. Whether for personal or business purposes, P2P payments are a convenient, quick, low-cost way to send and receive money. Below, we explore how P2P payments work, how much they cost, and whether they're secure.
What Does P2P Mean?
The acronym "P2P" stands for peer-to-peer or person-to-person, describing a direct connection between two individuals. The term "P2P payment" simply describes the act of one individual sending funds electronically to another individual. P2P payments are commonly initiated through person-to-person payment apps.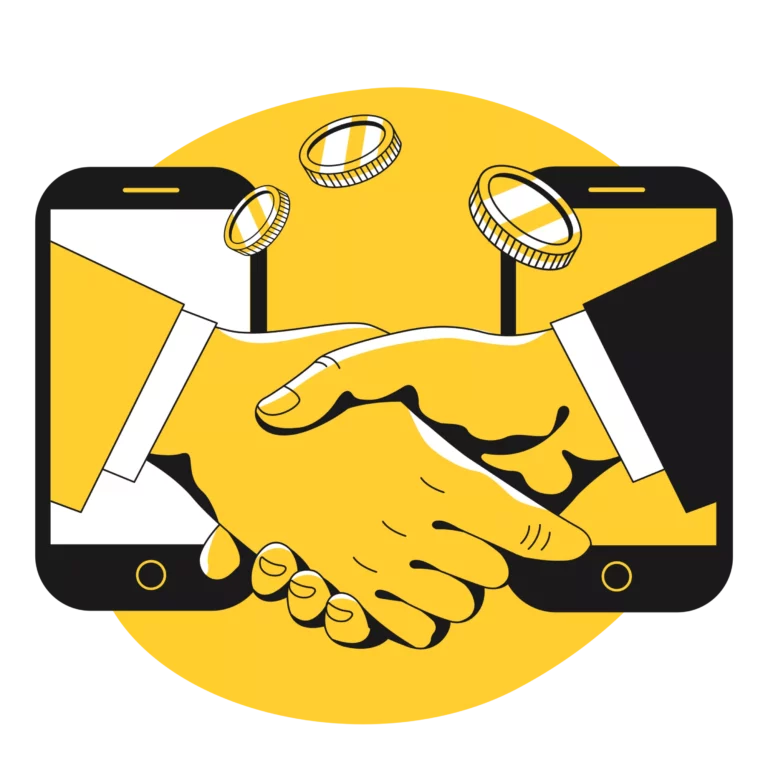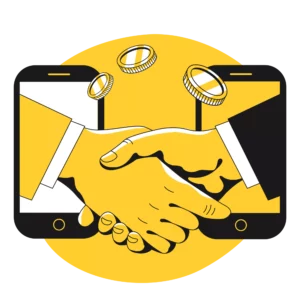 What Is a P2P Payment?
Often used to transfer money to friends, family, or small businesses, a peer-to-peer payment transfers money from one individual to another without revealing the sensitive financial data of either party. In many cases, P2P payments are free or incur low fees, making them an attractive option for those who wish to avoid the high costs of traditional wire transfers.
Typically, P2P payments transfer funds instantaneously, meaning the recipient can immediately access the money. This timeliness is helpful to individuals in emergencies. Additionally, small businesses utilizing P2P payments experience increased cash flow due to the speed at which funds become available.
How Do P2P Payments Work?
Whether for personal or business use, executing a P2P is very easy. Simply download the person-to-person payment app of your choice, create an account, and link a checking or savings bank account. You're now able to transfer money!
To initiate a P2P payment, you typically need the other party's username, email, or phone number to identify the individual to whom you're transferring funds. Once you have this information, follow the person-to-person payment app's directions to initiate the transfer. While the specific steps of payment initiation differ depending on the platform, most person-to-person payment apps prioritize ease of use, so you shouldn't encounter many difficulties.
Popular Person-to-Person Payment Apps
With so many person-to-person payment apps on the market, choosing which app to use can be difficult. If choosing the most beneficial app proves a challenge, allow us to help you make your selection! Below examines the seven most popular person-to-person payment apps on the market:
1. Venmo
Owned by PayPal, Venmo is one of the most popular P2P payment platforms. Only accessible through the mobile app, Venmo may be used for business or personal purposes.[1]Forbes. "Venmo Vs. PayPal: Which To Use And When". Accessed August 14, 2022.
In addition to instant payments, Venmo allows you to request a payment from another user. Once transferred, you can send funds to your bank for free. These funds will arrive within one to three business days. If you'd prefer to instantly transfer funds to your bank, the transaction is subject to a charge of 1.5 percent of the transfer amount.
2. Zelle
Like Venmo, Zelle enables users to make direct P2P payments instantly. What sets Zelle apart is its partnership with many financial institutions, such as Chase, Bank of America, and Wells Fargo. These partnerships authorize Zelle to transfer the money directly to and from users' bank accounts, making Zelle an attractive option for small businesses seeking to implement P2P payments in their operations.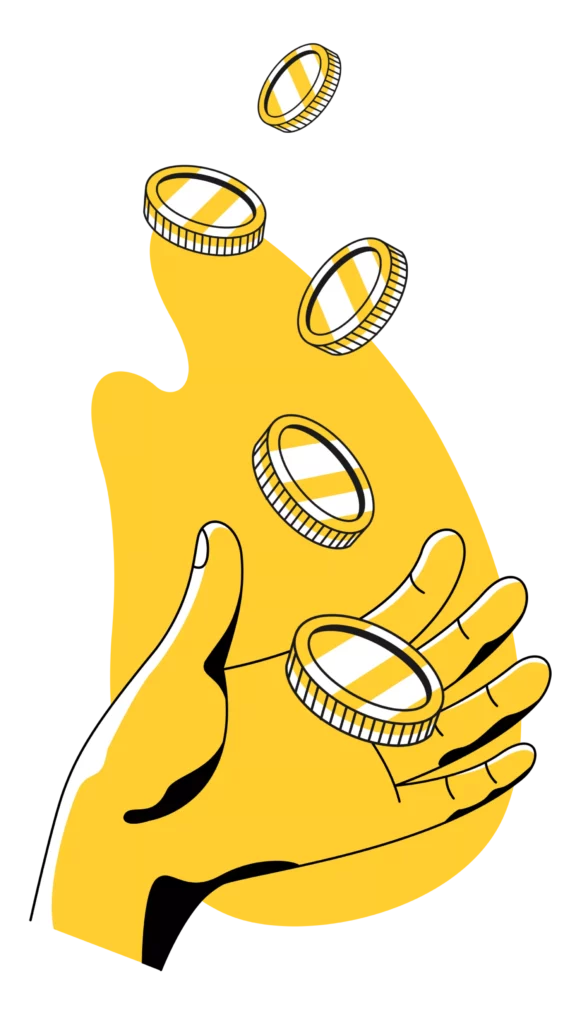 3. Wise
As an international company, Wise is a specialized P2P money transfer app. Through this platform, you can transfer money to and from over 80 countries. Wise implements mid-market exchange rates to transfer funds from one currency to another.[2]Wise. "The Only Fair Exchange Rate: The Mid-Market Exchange Rate". Accessed August 14, 2022. For individuals or businesses interested in international P2P payments, Wise is an excellent solution.
4. Google Pay
You must have a Google account to use its person-to-person payment app, aptly named Google Pay. An attractive benefit of Google Pay is the ability to make purchases in person and online with contactless payments.
Connecting to your checking account, savings account, or PayPal account, Google Pay typically transfers funds in one to three business days. Transfers via debit card incur an additional fee of 1.5 percent of the transaction total or $0.31, whichever is greater.[3]Digital Trends. "​​PayPal vs. Google Pay vs. Venmo vs. Cash App vs. Apple Pay Cash." Accessed August 14, 2022.
5. PayPal
A pioneer in the digital payments space, PayPal enables users to send and receive money, make purchases online, and manage their finances. To use PayPal, simply create a free account with an email address. Once registered, input your bank account, debit card, or credit card information. Now, you can use PayPal to send or receive money with just a few clicks. However, if you employ PayPal's services for business operations, PayPal seller fees apply.
6. Cash App
Available in the United States and the United Kingdom, Cash App offers free or low-cost person-to-person money transfers. Like many of the platforms on this list, transactions are typically processed within one to three days. For business-related P2P payments, Cash App offers a Cash for Business Account, though some fees apply.[4]Cash App. "Cash for Business Payment Terms". Accessed August 14, 2022.
7. Popmoney
Yet another easy, fast, and secure person-to-person payment app, Popmoney's standout benefit is that transfers are not limited to Popmoney users. Through Popmoney, funds may be transferred to a recipient with just their email address or mobile number—no Popmoney account necessary! However, users do enjoy funds the benefits of funds deposited within one business day. Recipients without an account receive instructions to obtain their funds.
How Much Do P2P Money Transfers Cost?
The cost of a P2P money transfer depends on several factors. Many P2P payment platforms, including several listed above, offer free transfers. However, these platforms typically charge fees based on the speed of the transfer, locations of associated parties, and source of the funds. For example, using a debit or credit card, instead of a bank account, can result in fees. Transferring money internationally, as opposed to domestically, can also result in fees. That said, a domestic P2P transfer from one bank account to another will usually be free of charge.
How Safe Are P2P Transactions?
Most P2P payment platforms implement data encryption and other security measures to protect users' sensitive financial information. Although, P2P payments are not completely without risk of security, privacy, and problem resolution. Below examines these three major risks associated with P2P payments: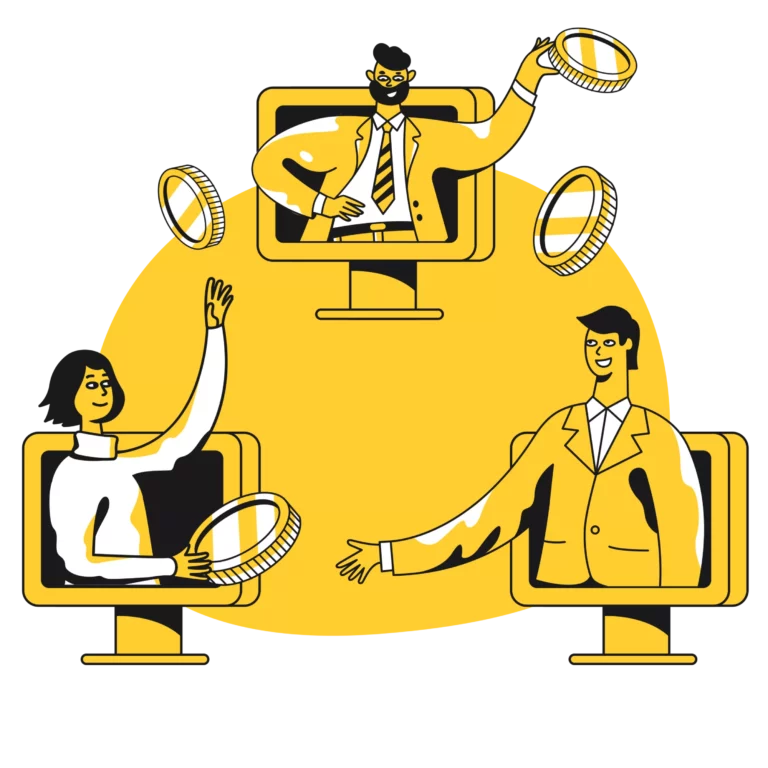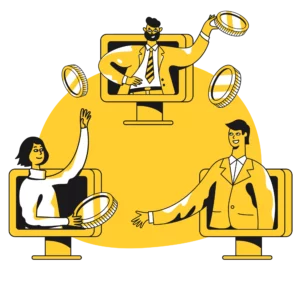 Security: Many available person-to-person payment apps spend a significant amount of resources on security measures. However, many platforms do not require a password when initiating transfers. This poses the possibility of unauthorized transactions, even if you have a password on your phone.
Privacy: As with technology platforms offering convenience, person-to-person payment apps leave much to be desired regarding privacy. By default, Venmo publicly posts transfers and their required memos to users' feeds. Additionally, many P2P platforms reserve the right to sell your information.
Problem Resolution: It's entirely possible to send a payment to the wrong person. If this happens, most apps will neither refund you nor help you retrieve your money.
Pros and Cons of Peer-to-Peer Payments
Like most things in life, there are advantages and disadvantages associated with peer-to-peer payments. Below outlines the pros and cons of P2P payments.
Speed: In a matter of seconds, P2P payments transfer money from one individual to another. Funds are typically made available to the recipient in one to three days. Many platforms allow recipients immediate access to funds for a small fee.
Convenience: P2P payment platforms enable you to transfer money with the click of a button.
Security: For personal and business purposes, data security is of material concern.
Currency: Most P2P payment apps only allow you to transfer money of the same currency.
Refunds: If you send money to the wrong person, it can be hard (or even impossible) to recover these funds.
Are There Any Alternatives to Peer-to-Peer Payments?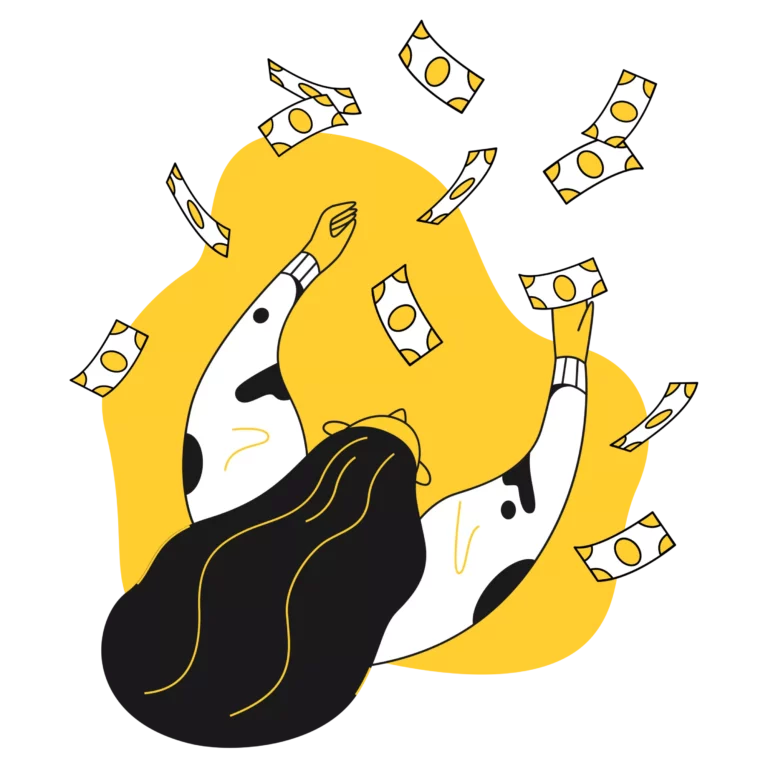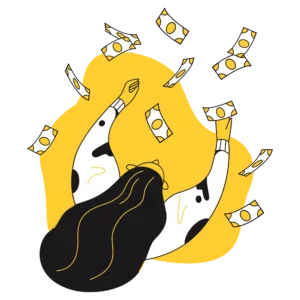 If you find the drawbacks associated with P2P payments outweigh their benefits, you have other options:
Set Up a Merchant Account: Of the many methods through which businesses may collect payments for their goods or services, nothing beats a merchant account. With a merchant account, you can accept nearly all forms of payments—debit and credit cards, eChecks, eWallets, you name it!—via secure payment mechanisms tailored to meet the specific needs of your business.
Checks: Though seemingly old-fashioned, checks are still an easy and convenient way to send money. Once a check is deposited, it typically takes one to three days to reach a bank account.
Those considering a P2P payment platform for business purposes may find a merchant account a much better solution. Meanwhile, traditional checks are a solution for those considering a platform for personal purposes.
Final Thoughts on Peer-to-Peer Money Transfers
Be it for personal or business purposes, P2P money transfers are a convenient way to exchange money. However, P2P transactions aren't without their drawbacks, including security risks, privacy concerns, and additional fees. Those interested in P2P payments for business purposes may be better served by a merchant account.
A merchant services provider can help you obtain a merchant account, through which you can accept many payment methods unavailable on P2P payment platforms. Additionally, your provider can fine-tune your merchant account to meet the specific needs of your business. P2P payments may be popular for their convenience, but what's more convenient than a customized merchant account accepting a wide range of payment methods?
---
---
P2P Payments FAQs
How long do P2P payments take to process?
The time it takes to process a P2P payment varies. Typically, the funds instantly transfer within the platform. However, transferring funds from the associated platform to a bank account typically has a one- to three-day processing window. Many platforms allow you to bypass the processing window for a small fee.
What is a P2P wallet?
Essentially, a P2P wallet is a digital version of the wallet in your pocket. You can connect multiple debit cards, credit cards, and bank accounts to a P2P wallet.
Can I send or receive a P2P transfer without a bank account?
Most P2P payment platforms do not require you to link a bank account to open an account, into which you may receive money. You can then send said funds to users within the app. However, most P2P money transfer apps require you to link a bank account to transfer money out of the platform.
What are P2P payments often used for?
P2P payments can be used for nearly anything. It's a popular method of reimbursement between friends splitting dinner, sharing transportation, or ordering tickets for an event. It's also a handy tool for roommates splitting rents and utility bills.