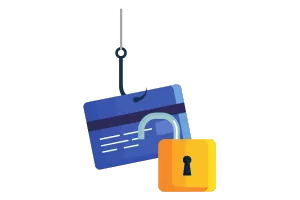 Offering much sought-after payment convenience in today's on-demand culture, Venmo has become one of the most popular peer-to-peer (P2P) payment apps in the United States. But such platforms aren't just popular with business owners and consumers—they've also become a hotbed of opportunity for fraudsters and scammers. So much so that business account scams on Venmo are one of the biggest security threats to using the platform.
As a business owner, you don't only want to ensure the safety of your business funds; you also want to avoid having any scamming activity associated with your account or business. But to do so, you need to be aware of the most common scams and how to prevent them. In this guide, we list the scam tactics most commonly targeting Venmo business accounts and provide practical tips on how to avoid falling prey to them.
1. Business Phishing Scams
Classic phishing scams are nothing new, and they are also one of the most common tactics used by scammers to target Venmo sellers. Taking the form of phishing emails or SMS phishing texts (smishing), the scammer creates texts or emails containing authentic-looking Venmo logos and design elements. The notification may read as follows (although fraudsters may use other reasons to lure you in as well):
Your Venmo account has been suspended due to the detection of suspicious activity on your account. Recover your Venmo account immediately by clicking the link below. Please act on your account within 48 hours to prevent permanent suspension.
The login link provided will lead to a fake pharming website. In many cases, the webpage looks nearly identical to the Venmo login page. Scammers may alternatively ask you to provide personal details like your credit card information, Social Security number, or bank account details to recover your account. As you try to sign on from the linked web page or provide any information, the scammers steal your data and gain immediate access to your funds.
How to Identify Venmo Phishing Scams
Real Venmo communications—whether via text or email—will never have misspelled words or typing errors.
Venmo will not ask for sensitive information via email or text and will never ask for your PIN. Information you provide to Venmo for verification happens in the app from your mobile device—not from a web page.
Venmo communication will never use a pushy tone.
How to Avoid Being a Victim of Phishing
Don't click on any links requesting you to log in or provide information. Type the official Venmo website address into your browser if you need to access the site.
Switch on two-factor authentication and ensure you choose a strong password.
Venmo offers in-app support and a contact form you can use if you receive a request you are unsure about.
2. Fake Venmo Payment Scams
Venmo scams often involve stolen credit cards. Scammers will use these stolen cards to deposit money into victims' accounts, then falsely claim it was an error. You will receive a note from a stranger saying they accidentally paid money into your account—and yes, you will actually receive money in your account. The scammer will then request that you transfer the money back to them.
When the rightful cardholder finds out and the credit card company issues a chargeback for the initial transaction, you are liable for the illegal money. That means you will return the payment amount to the fraudster (who subsequently disappears) and then be liable to return that amount a second time to the real card owner's account. In addition, you will pay chargeback fees, as well as the Venmo business fees incurred on every transaction.
When it comes to business account scams, fraudsters use a variety of similar tactics. They make payments with stolen credit cards, which may result in you dispatching the items to them. However, when the rightful owner's credit card company issues a chargeback, you are liable for returning the funds.
Similarly, scammers may also take the route of disputing a transaction, claiming a transaction was unauthorized, the product or service was not as described, they didn't receive it, or they overpaid. The financial institution initiates a chargeback reversing the transaction and refunds the customer, who subsequently disappears with your goods and their money. Not only are you left minus stock and payment, but you are also liable for associated chargeback fees.
Fraudsters may also send a fake proof of payment screenshot to you claiming they've paid when they haven't. Another common tactic is sending you an authentic-looking Venmo branded notification that the buyer made the payment for goods or services ordered from you. The notice informs you that the payment will only reach your Venmo account once you ship the item and provide the shipping information. The notice may read as follows:
Dear @username,
We have received a $120 payment from @username for a purchase from you. These funds are held in our secure server until you dispatch the item and upload the tracking number. Please provide shipment information within 24 hours. Once shipped, you will receive the funds in your Venmo account.
Note that Venmo does not offer this feature, and this type of communication is fake.
How to Avoid Being a Victim of Fake Payment Scams
To protect yourself from scams, retain the funds initially sent. If the transfer was a genuine mistake, the sender can address the issue with their card issuer.
If a customer claims to accidentally have overpaid you for the items ordered, do not pay the money back. Hold onto the payment and let the sender address the issue with their bank or card company to initiate the chargeback.
Don't dispatch any goods unless the payment shows in your Venmo account, even if the customer sends you proof of payment.
Ensure your business has a policy for non-refundable goods and that clients agree to this before completing their orders.
Venmo will never ask you for tracking details or to dispatch goods before releasing funds.
Venmo will only email you from an email address ending in venmo.com.
3. Fake Tech Support Calls
Identity thieves may either call you pretending to be a Venmo customer support agent or lure you to call them through a fake Venmo customer support website. You will even find these legitimate-looking websites when you search "Venmo Customer Service" on Google. The scam site includes a phone number users can call for assistance. When you do, the scammer might ask for your login information or have you pay a "tech service fee" by transferring money to another Venmo account.
A hacker may also call you pretending to be a Venmo customer care representative to access your 2FA code. They may claim that there was suspicious activity on your account and ask you to verify your identity as the account holder by providing them with the code sent to your phone. Alternatively, the fake agent may ask you to send money to another Venmo account to verify your identity and account. The transfer, of course, goes straight into the fraudster's pocket.
Since Venmo is known for its lacking customer support, scammers use this to their advantage. Most people are very happy and willing to cooperate when they find a 'Venmo support agent' that finally wants to resolve their problem. Always remember that a legitimate support agent will never ask you for sign-in details, PINs, or service payments.
How to Avoid Fake Tech Support
The best way to avoid fake Venmo customer support websites is to use the free "Get Help" feature in your Venmo mobile app.
Never share your verification code. Venmo representatives will never ask for this code; if they do, it's an obvious sign that it's a scam.
Venmo agents will also never ask you to transfer money to another account.
---
---
4. Prepayment Scams: Paying for Things That Don't Exist
When you need an essential business component ASAP, you're willing to do whatever you need to get it. Scammers know this—and are more than ready to take advantage. They will often list high-demand or critical items for sale, and ask you to pay upfront via Venmo, perhaps to promise expedited service. They might provide you with fake shipping information or screenshots in the pretense the item is on its way. However, said key item will never arrive.
In such a situation, the scammer will ask you not to mark the payment as a purchase, since doing so qualifies them for Purchase Protection when the item doesn't arrive. In your haste to get said critical component, you may wave away the concern. But this is the tell—you can't ignore it.
How to Avoid Prepayment Scams
Venmo advises never using the service for payments to strangers. Personal accounts are intended for transfers between family and close friends; you should rely on authorized retailers for business necessities—the same as you'd advise a customer at your own store. If you do take the risk, always tag said payment as a purchase to qualify for Venmo's purchase protection program. When it comes to prepayment scam prevention, the same rules apply to you as to your clientele!
5. Money Circles: Peer-To-Peer Transactions and Ponzi Schemes
Commonly known as a pyramid scheme, money circle, or cash wheel, this ploy ultimately results in the scammer pocketing your money and never repaying you the promised return on your business investment. A scammer might promise you a large return on a small investment: they will, for instance, request you send them $100, promising you $1,000 in a week's time as more investors come on board to join your new business investment circle. Alternatively, they may offer you a service for your new business which you will never receive.
Stay away from get-rich-quick proposals. If it seems too good to be true, it likely is.
6. Fake Rewards Scams
In this scam, a fraudster sends you a text message or email to inform you that you have won a special reward or money from Venmo. The scammer provides you with a link that will prompt you to log in to claim your prize. By signing in or providing information through the link provided, you give your personal data and account access right to the scammer.
The message might look similar to this:
As a long-time Venmo user, we selected you to take a $100 paid survey. Get started by signing in at the following link: …
How to Avoid Fake Rewards Scams
Do not sign in via a link. Instead, type the Venmo address into your browser when signing in from the website.
Never provide your Venmo log-in information anywhere besides Venmo.com or the Venmo app.
Emails from Venmo will always come from an email address that ends in venmo.com.
7. Paper Check Scams
Finally, some scams on the platform involve fraudsters paying for goods ordered by check. This is most common when selling items on online platforms like Facebook Marketplace, but it can happen in any sales scenario.
The scammer will send a check for an amount greater than the item's value. They then ask you to send a payment for the excess amount on Venmo in return. When cashed, this check may clear—but it will eventually bounce, leaving you out the funds. This type of scam may also involve gift cards.
Never pay someone money on Venmo in exchange for a check. If someone requests this, it is a telltale signal that they are in to scam you.
What Happens if You're Hit by a Venmo Business Account Scam?
If you've already fallen victim to a business account scam, there are steps you can take to try and recover your losses and minimize damage. Collect all the evidence you have, do not engage further with the scammer, and follow the steps below:
Change passwords to your Venmo account, bank account, and any other online accounts that may be affected.
Report the scam to Venmo and file an official police report with your local police station.
Report the scam to the Federal Trade Commission. If the fraud involves the name of a registered company, you can also file a complaint to the Better Business Bureau. This is mainly to prevent similar scams from happening in the future, but it won't help to recover your losses.
If you are the victim of identity theft, visit the FTC's identity theft portal immediately to start a recovery plan. Although the process can take some time, identity theft is reversible.
PaymentCloud: Where Functionality and Payment Security Meet
Consumers are spoiled for choice when it comes to digital payment apps. While apps like Venmo make it easy to pay for goods from anywhere, digital payment solutions also make it easy for scammers to operate anywhere. As a small- to medium-sized business owner, payment security should be a key consideration when you choose a payment service provider.
Knowing the consequences that payment fraud can have on a business, PaymentCloud prioritizes fraud prevention tools as one of its key offerings. Our robust fraud protection tools help detect and shield merchant accounts from credit and debit card fraud, as well as eCommerce risk. We evaluate each merchant account for associated risk factors to determine the most suitable fraud protection features for your needs. Whether you're a high-risk business or a low-risk operation, PaymentCloud lets you protect your business without sacrificing functionality or convenience for your clients.
---
---
Frequently Asked Questions
Does Venmo offer a scam protection program?
Venmo doesn't provide fraud protection. If a scammer pays you with a stolen card and the actual cardholder reports it, you may lose the money. To avoid Venmo fraud, contact the support team about any unauthorized transactions. For extra protection, only transact with verified Venmo accounts.
Will Venmo refund my money after a scam?
Venmo will not generally issue refunds for scams. In an effort to recover lost funds, you can send a charge request to the recipient, cancel a pending payment, and contact Venmo support for assistance. While Venmo will investigate possibilities, there is no guarantee of a refund.
How do I report a Venmo scam?
Contact Venmo's support team for any suspected unauthorized access, being locked out of an account, or if you encounter a scam. You can do this via the app, email, or phone call. Venmo will freeze any suspicious activity reported.
What precautions should I take when buying from an unfamiliar seller?
Venmo recommends that you only purchase from verified Venmo business accounts. To avoid scams from unverified accounts, meet the seller in person and swap the item for cash. Alternatively, opt to purchase from official online stores or retailers instead of strangers.
Can someone steal my bank details and log in from Venmo?
If someone gains access to your Venmo account or uses stolen credit cards, they can steal your bank information. As such, Venmo recommends that you report any unauthorized payments or activity to their support team.
When should I avoid using Venmo as a seller?
Sellers should not use personal Venmo accounts for business transactions since there is no associated protection. Venmo recommends that users do not transact with individuals they do not know well, especially if it involves the purchase or sale of goods or services. If you are a small business owner, register and verify a Venmo business account or opt for a different payment service provider.