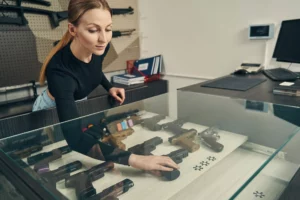 With the demand for guns at an all-time high, individuals interested in launching a firearms business may see a unique opportunity. Affordable startup costs, low overhead, and a captive market make this a lucrative industry. But if you're thinking of entering the business of manufacturing, importing, or selling firearms, you may find yourself in need of a Federal Firearms License (FFL).
With an Federal Firearms License, a gun-friendly credit card processor, and less than $200, you could become a weapons manufacturer, importer, or dealer in the United States. Read on to learn everything you need to know about Federal Firearms Licenses, including which type will be most beneficial for your business operations.
What Is an FFL?
The acronym FFL stands for "Federal Firearms License." Established to implement the Federal Firearms Act of 1938, an FFL authorizes certified arms dealers to legally sell firearms. Furthermore, there are several FFL types, ranging from Type 01 to Type 11. The type of FFL you obtain dictates what you're legally authorized to do, ranging from manufacturing firearms to simply facilitating the trade of a gun between two parties. The latter is known as an FFL transfer.
Generally speaking, all firearm business owners shipping and/or receiving firearms require an FFL to conduct business. This license prevents businesses from selling these types of items to customers without meeting safety regulations.
Who Is Eligible for an FFL?
The Bureau of Alcohol, Tobacco, Firearms, and Explosives (ATF) is the government agency responsible for issuing Federal Firearms Licenses. As such, the ATF considers applicants eligible for an FFL if they:
Are at least 21 years old,
Are a citizen or legal permanent resident of the United States,
Have no history of felony convictions,
Have no history of illegal drugs, including federally-illegal marijuana,
Possess a record free of domestic violence convictions,
Possess a record free of other convictions disqualifying you from owning a gun,
Have no formal diagnosis as mentally incompetent,
Have no history of any federal gun law violations,
Operate out of a physical location, either a home or storefront,
And meet their state-specific requirements for obtaining an FFL.
Additionally, applicants for a Federal Firearms Licenses must certify that:
The business conducted under the license is not prohibited by state or local law.
Within 30 days after approval, the business complies with the conduct requirements of state and local law.
The business does not make transactions under the license until the business conduct requirements of state and local law are met.
The applicant has notified the chief law enforcement officer that they intend to apply for a license.
Safe and secure gun storage and safety devices are available at the place in which firearms are sold.
Applicants failing to meet the above criteria may not be eligible for an FFL. However, they may be able to sell items at gun shows without a license. As always, it's important to do your own research to determine what's best for your business.
How to Get an FFL
You've determined that you're eligible for an FFL. Next, you need to navigate the application process. To help, we break down the steps you need to take to successfully get your FFL below.
Step 1: Review FFL Requirements
If you're 21 or older and can legally purchase a firearm, you likely meet the criteria by the ATF (listed above) to be eligible for an FFL. Still, it's important to double-check to be sure you qualify.
Unfortunately, certain groups of people cannot possess firearms or ammunition. As such, they aren't eligible for an FFL. These are "prohibited persons" by the ATF, including anyone who is or has been:
A felon
A fugitive
An undocumented immigrant
Adjudicated as a mental defective
Committed to a mental institution
Under indictment or found guilty of a crime punishable by more than a year in prison
Found guilty of a domestic violence crime
Under order from the court restraining you from making threats against, stalking, or harassing an intimate partner or their child
An unlawful user of any controlled substance
Received a dishonorable military discharge
Relieved of U.S. rights to citizenship
Review Your State's FFL Requirements
In order to obtain an FFL, you must meet the federal and state requirements. To find out how to obtain a Federal Firearms License in your state, refer to your state in the below directory.
Alabama
Alaska
Arizona
Arkansas
Colorado
Connecticut
Delaware
Florida
Georgia
Hawaii
Idaho
Illinois
Montana
Nebraska
Nevada
New Hampshire
New Jersey
New Mexico
New York
North Carolina
North Dakota
Ohio
Oklahoma
Oregon
Pennsylvania
Rhode Island
South Carolina
South Dakota
Tennessee
Texas
Utah
Vermont
Washington
West Virginia
Wisconsin
Wyoming
Step 2: Decide on the FFL Type
There are nine different types of Federal Firearms Licenses. Each type of license serves a different purpose. For instance, if you collect antique guns you will need a different license than if you manufacture guns or ammunition. Use the below guide, as well as the ATF website, to decide which license is right for you before applying.
FFL Types
As per the US Bureau of Alcohol, Tobacco, and Firearms (ATF), there are nine FFL types. They are as follows:
Dealer licenses:
01 FFL: Dealer in firearms other than destructive devices
02 FFL: Pawnbroker in firearms other than destructive devices
09 FFL: Dealer in destructive devices
03 FFL: Collector of curio or relic firearms
Manufacturer licenses:
06 FFL: Manufacturer of ammunition for firearms, not including ammunition for destructive devices or armor-piercing ammunition
07 FFL: Manufacturer of firearms other than destructive devices
10 FFL: Manufacturer of destructive devices, ammunition for destructive devices, or armor-piercing ammunition
Importer licenses: 
08 FFL: Importer of firearms or ammunition for firearms, not including destructive devices, ammunition for destructive devices, or armor-piercing ammunition
11 FFL: Importer of destructive devices, ammunition for destructive devices, or armor piercing ammunition
SOT registration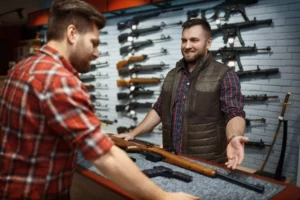 If you plan on importing, dealing, or manufacturing silencers, machine guns, and/or other items falling into the NFA category, you need to register as a Special Occupational Taxpayer (SOT). There are three classes of SOT. They are as follows:
One – Importer of NFA firearms
Two – Manufacturer of NFA firearms
Three – Dealer of NFA firearms
SOT registration varies between $500 to $1,000 for entities over $500,000. For entities under $500,000, SOT registration is $500. However, you should note that SOT registration is valid for one year, but that year is specifically from July 1 to June 30. A SOT registration beginning in April may not be a great investment, as you'll have to renew in a few months.
Step 3: Take an Online Course
There are currently only a few online certified FFL courses available. When looking into choosing an FFL course, you want to make sure you are receiving:
Advice from a licensed firearms attorney with the necessary qualifications
Guidance from an industry professional who knows the ins and outs of the ATF and firearms industry at large
Software that helps you track course progress
Automatic notifications of updates to applicable firearms laws
Compliance training necessary for both you and your employees
For the ultimate FFL course, including a start-up course, sample forms, and step-by-step instructions, we recommend RocketFFL.
Step 4: Apply for Your FFL
Once you've completed an application for a Federal Firearms License, mail in your application! The application must include the appropriate application fee, which you can pay by check, credit card, or money order. After processing the fee, the Federal Firearms Licensing Center will enter your information into the database and commence a full review of your application. Next, a field office supervisor will assign an Industry Operations Investigator (IOI) to conduct your in-person interview. The IOI will discuss the legal requirements and review your application to ensure the information is current and correct. In preparing a report of their interview and inspection, the IOI will make a recommendation to issue you the license or deny the application.
How to apply for an FFL
If completing the FFL application seems overwhelming, it's best to take it step by step. That said, below is a step-by-step guide detailing the FFL application process.
Fill out the required forms
To acquire an FFL, there's some paperwork you need to square away. First, fill out the ATF Form 7/7CR. Along with this completed form, your application requires a fingerprint card, obtained through Form FD-258, and a 2 by 2-inch photo of yourself. The photo must be current (taken in the last six months) and show your full face (no hat or head covering).
Note: If you're applying for a Type 03 FFL, you may skip the fingerprint card and photo.
Federal Firearms Licensing Center (FFLC) background check
After the Federal Firearms Licensing Center (FFLC) receives your completed application, they review your materials and perform a background check. Once your background check is complete, the FFLC sends your application to the local ATF field office.
Industry Operations Investigator (IOI) in-person interviews
At your local ATF field office, your application goes to the Industry Operations Investigator (IOI) assigned to your case. The IOI will conduct an interview with you to better understand your case. They will also inspect your place of work to ensure you're starting a legitimate business. Overall, their goal is to ensure you are responsible and knowledgeable, as well as confirm all the details of your application.
There are a few ways to prepare for your interview and inspection, including knowing what business licenses or registrations you need. Basically, you want to demonstrate that you've begun taking the necessary steps to show your IOI your level of commitment.
Wait for FFLC to issue your license
It's time to wait for the FFLC to issue your license. During this time, it's a smart idea to take steps in the meantime to set yourself up for success, such as securing a gun-friendly merchant services provider. That way, you can begin processing payments for firearms sales as soon as your FLL is issued.
Typically, you can expect to wait 30 to 60 days. According to its website, the ATF will approve or deny an application within 60 days from the time the application is received at the FFLC.
How Much Does an FFL Cost?
The cost to obtain an FFL depends on the type you acquire. The below section outlines the initial application fee and three-year renewal fee.
FFL application fee & FFL renewal fee
| | | |
| --- | --- | --- |
| FFL License | Application Fee | Renewal Fee |
| Type 01 | $200 | $90 |
| Type 02 | $200 | $90 |
| Type 03 | $30 | $30 |
| Type 06 | $30 | $30 |
| Type 07 | $150 | $150 |
| Type 08 | $150 | $150 |
| Type 09 | $3,000 | $3,000 |
| Type 10 | $3,000 | $3,000 |
| Type 11 | $3,000 | $3,000 |
Additional costs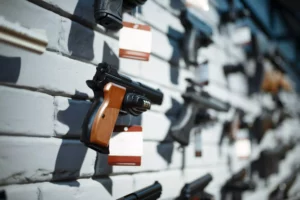 There are various additional costs you may encounter when obtaining an FFL. One of which is an ITAR/DDTC registration. If you meet the State Department's definition of a gun manufacturer and manufacture products listed in the USML, you must register with the Directorate of Defense Trade Controls (DDTC) per the International Traffic in Arms Regulations (ITAR). The cost of this registration is $2,250 every year.
Another additional cost, and a sneaky one at that, is exercise tax payments. This is enforced if you're a manufacturer and made 50 or more firearms in one year. This cost comes in the form of a 10 to 11 percent tax on the firearm's value. To make such a steep tax worth it, manufacturers tend to either stop yearly production at 49 firearms or produce in such excess of 50 that the tax is worth it.
Fingerprinting
To obtain an FFL, you must supply your fingerprints with the application. However, there's no requirement that fingerprinting must be done by law enforcement or other government professionals. That said, you can buy your own kit to take your fingerprints for the form. The cost for fingerprinting varies on the method of execution.
FBI check
The FBI does not charge a fee for NCIS checks. However, states acting as points of contact may charge a fee. The background check itself only takes about 30 seconds.
Required training courses
In 1999, the ATF implemented the National Firearms Examiner Academy (NFEA), which is currently the only national training program that provides a standardized curriculum in the firearm field.
Permit to purchase
State governments, not the federal government, regulate firearms. That said, gun laws vary from state to state. If you're in a state that mandates a permit to purchase, your customer will have to obtain such before purchasing a firearm from you.
FFL cost per year
You pay upfront for an FFL, but that license is valid for three years. Thus, the cost of the license should be considered over a three-year period. For example, if you obtain a Type 01 FFL, you'll pay a $200 fee to apply for the three-year license. The yearly cost of which is $67. Additionally, the renewal fee is $90, which also has a three-year lifespan. Thus, the cost per year for, say, years four through six is $30.
Final Thoughts
While owning a gun shop or gun accessories business can be quite lucrative, it is considered a high-risk business. After you've obtained your Federal Firearms License, you'll be able to sell guns and firearms after securing a high-risk merchant account from a merchant services provider. With the firearms industry booming, it's never been a better time to complete your FFL application, secure a high-risk payment processing partner, and reap the benefits of providing firearms to buyers.
Federal Firearms License FAQs
When it comes to obtaining your Federal Firearms License, we know that you might have some questions. To offer some clarity on the process and how it applies to your situation, here's a list of answers to the most commonly asked questions regarding Federal Firearms Licenses.
How long does it take to obtain an FFL?
Generally, it takes two months to issue your FFL from the time the ATF receives your application.
How long is an FFL valid?
Your FFL will be valid for three years from the issuant date on the license. However, there are incidences in which an FFL can be closed or revoked before the expiration date.
Does the BATF&E have requirements for an FFL?
The Bureau of Alcohol, Tobacco, Firearms, and Explosives may be referred to as "ATF" or "BATF&E." That said, yes the BATF&E has requirements for an FFL. Those requirements can be found above.
Can I get an FFL without a business?
An FFL is only meant for business use. The only exception in which you can get an FFL without a business intent is with a Type 03 FFL. This is the only FFL that the FFLC issues to people without a business.
Can I get an FFL for personal use?
In short, yes, you're able to get an FFL for personal use, however, you must first obtain an FFL with business intent. Once you have this, you can also use the same FFL for personal use.
How hard is it to get an FFL?
The process of getting an FFL is not difficult. Overall, the process consists of filling out paperwork, sending in your fingerprints and a current photo, and completing an interview.
Can I get a home-based FFL?
Yes, you can get an FFL that's based out of your home. Home-based FFLs make up the majority of FFLs in the United States.
What are the requirements to get an FFL?
The specific requirements for getting an FFL are listed above, but generally speaking, the requirements are:
Ensuring you're lawfully allowed to have firearms
Getting the FFL in an allowed location
Having a business intent
How many different FFL types are there?
There are nine different types of FFLs, as listed above. The type you choose varies based on the kind of business you want to do. By far, Type 01 is the most common type of FFL.
Can I carry a concealed weapon with an FFL?
No. To carry a concealed weapon, you need to get a Carrying a Concealed Weapon (CCW) permit that's valid in the state in which you'd like to carry it.
What does a valid FFL number look like?
A valid FFL number consists of a total of 14 numbers and one letter. For example: 1-99-889-77-6Y-55555.
This FFL number is divided into six sections, each containing information about the specific FFL. The first section denotes in which region of the United States the FFL was issued. The second indicates the IRS district where the FFL is located. The third is mainly for federal purposes.
The fourth section is the most important for a license holder. It tells you the type of FFL you have, which affects what kinds of activity you're permitted to do.
The fifth section marks the month and year when the FFL expires. Finally, the sixth section is a code that's unique to you and your FFL.