No other industry is measured so closely or emotionally as selling ammunition. Any and all products in this space, even remotely linked to the firearms trade, are regulated by local and federal laws. Potential entrepreneurs will find that in order to do business, they will need an understanding of ammunition laws by state, federal ammunition laws, and regulation. Making decisions about their website, shipping policies, and gun friendly merchant account with that in mind will be easier to ensure long term success. So what is the first step to finding out how to sell ammo? The laws.
Federal Ammunition Laws by State
Gun laws vary greatly by state. The first step in how to sell ammo is to know anti-gun laws from the states where you plan to retail your products. There are plenty of state scorecard websites, offering firearm policies for each one. California and Connecticut have the most restrictive laws, while Arizona and Kansas are the least restrictive. Licensed ammo vendors in some states are also required to report sales records to the appropriate state department. This requires more time and effort on behalf of the business owner. For this reason, a majority of experienced firearm retailers also advise that it may be important to have an attorney on retainer.
A Federal Firearms License (FFL) certificate will be required to proceed to sell ammunition online. This is in place for your protection as well as the protection of your customers. Simply apply for an FFL and provide all necessary documents to proceed. A background check will be done and once everything is approved, your FFL receipt will be sent to you.
Do your research on the state that you will be selling from and to. It will make all of the difference in how to sell ammo in those areas. Take a look below for a beginner's guide to ammunition requirements state-by-state.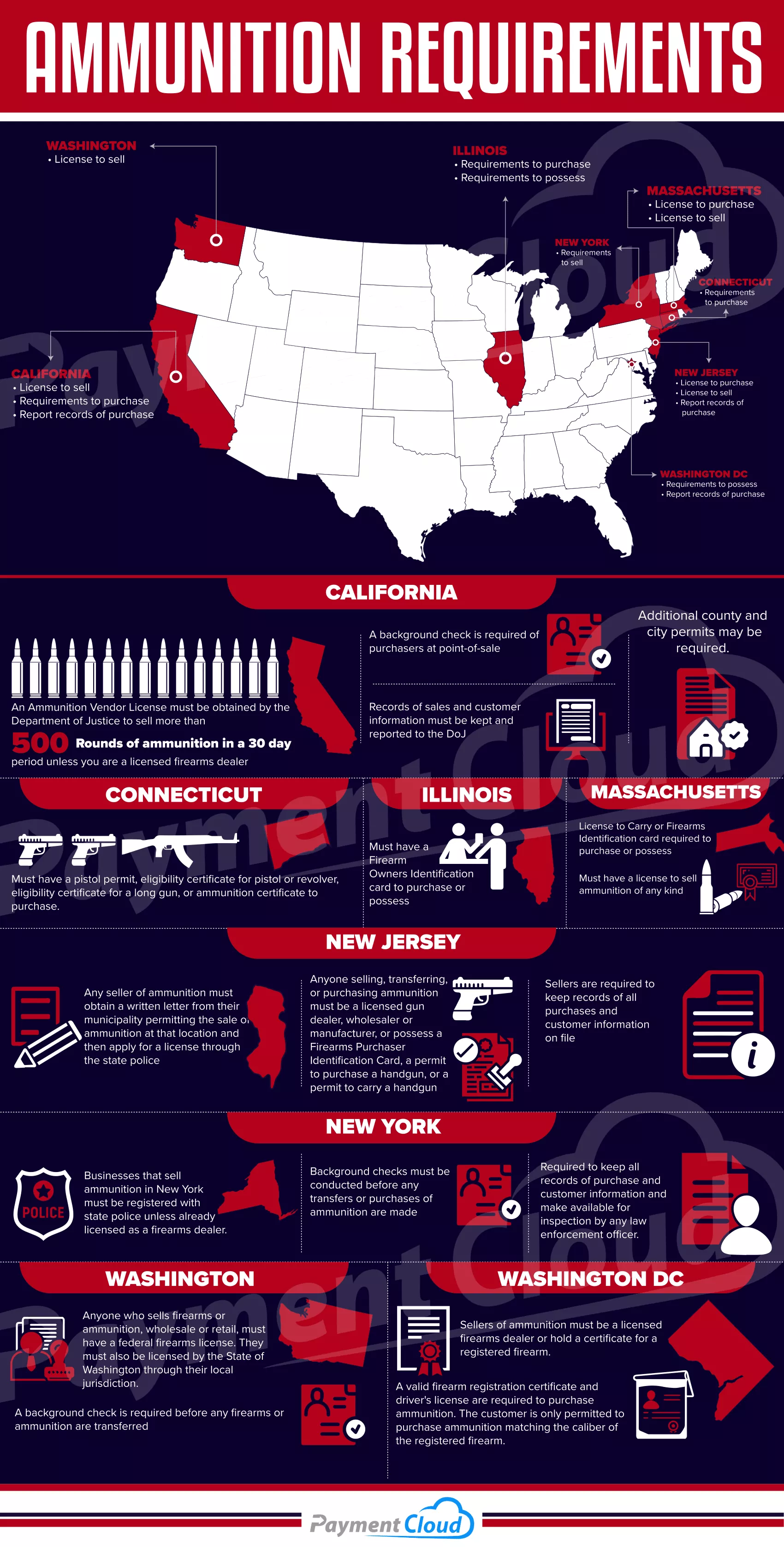 Ammunition laws
As of now, the federal regulations on online sales of ammunition are not lengthy, though that will likely change in the near future.
Current federal ammunition sale regulations
Prohibited Purchaser Categories. The same regulations that govern firearm purchases, also cover ammo. This means that the sale of ammunition to persons convicted of certain crimes, are subject to court orders concerning domestic violence, or have court orders concerning a serious mental condition, is illegal. On a federal level, though, it is not a requirement to run a background check on customers to see if they fall into the prohibited purchaser category – that would be handled on the state level.
Minimum Age Requirements. The same regulations that govern firearm purchases, also cover ammunition in this case as well. Depending on the state, this can be anywhere between 18-21. Again, federally, it is not a requirement to run a background check on customers to determine their age.
Licensing. The import and manufacturing of ammunition require a license from the Attorney General, while simply the sale, purchase, and possession of ammunition does not.
Restrict Armor-Piercing Ammo. There are only a few exceptions to the prohibition on manufacturing, importing, selling, and delivery of armor-piercing ammunition. So in most cases, these ammunition laws will apply to your business.
Likely federal ammunition sale regulations
Stop Online Ammunition Sales Act. This would require all ammo dealers to be licensed and maintain a daily sales record that will be passed on to the state department. Business owners would also need to report all high volume sales and require a government-issued ID at the time of purchase.
What Your Website Needs to Sell Ammo Online
Setting up an eCommerce site to sell ammunition should be your number one priority when starting an online business. But unfortunately, because you're dealing in a firearm-related industry, there are eCommerce platforms that will not accept you. Take a look at their terms of service and see what they say about high risk businesses. If they don't mention firearms or ammunition, you should be in the clear.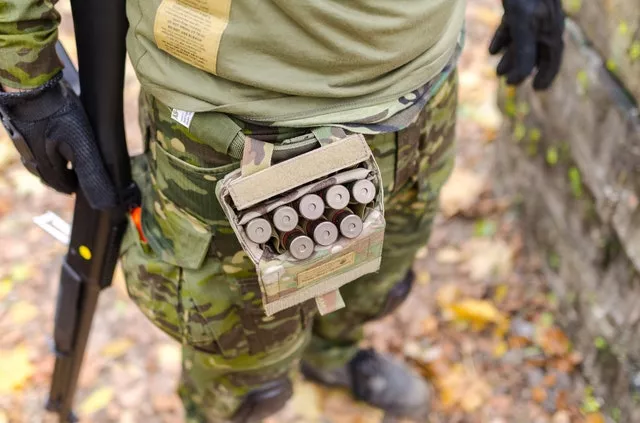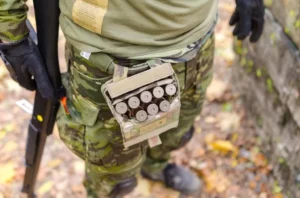 Once you find an appropriate platform, be sure to follow all guidelines for an online ammunition retailer. State and federal disclosures are required and need to be visible to all potential customers.
Another thing to be aware of for your eCommerce site is its integration possibilities. Third-party plugins include a shopping cart, eCommerce functionality, recurring billing options for subscription merchants, and the ability to process credit and debit payments. If they can't integrate into the things that you need, you should find another provider.
1. Find a third-party shopping cart to sell ammo
There are a ton of third-party shopping cart plug-ins, but only a handful of them are for firearms and ammunition exclusively. By doing a quick browser search, you can turn up a list of options that could fit your business. Make sure to have your FFL certificate on hand to get set up with them, because it will be required. Other than that, though, your only real worry is finding a cart that fits the look and feel of your website.
2. Secure your shipping and fulfilling solutions
Shipping is one of the biggest considerations in the learning process of how to sell ammo online. There are a lot of regulations such as:
The US Postal Service has ammunition on their prohibited list and cannot be mailed

Shipping ammunition through UPS requires appropriate labeling

FedEx can ship ammunition when labeled as hazardous goods
Find a reliable shipping solution so that you won't run into any issues once you begin selling and fulfilling products.
It is possible that your shopping cart integration has a built-in fulfillment spec, so it would be worth it to check into their service as a part of your business. Another way to ship would be to link up with firearm dealers in the area that will be your middleman using an FFL transfer. You will ship to their stores and the customer will pick it up from that location. This way you can ensure that the paperwork gets filled out correctly and the customer fulfills the requirements to purchase.
3. Install an SSL for security risks
As with any online business, online ammunition sales need to be encrypted. A secure socket layer can be purchased through a few different providers but needs to be installed by their team as soon as possible.
It would also be in your best interest to include on your site that you are protecting customer data, for peace of mind and to prevent any undue attacks.
4. Write a terms and conditions and privacy policy
With plenty of templates to use, coming up with terms and conditions & privacy policy page can be completed within a day. These cannot be overlooked, though, because they are important for legal purposes and outlines what customers can expect when doing business with you.
5. Find a Processor so You Can Take Card Payments
Most vendors would consider your business to be higher risk than many other ecommerce sites. The content of what you are selling online automatically tags you with this status.
Payment processing is one of the most difficult things to secure when you are high risk. Banks do not take risk posed by their merchants lightly. Because of this, they impose harsh requirements or will outright deny an ammunition merchant application.
So, how can you get set up to sell ammo online?
In order to find safe, secure, and gun friendly payment processing, you will have to turn to a high risk merchant account provider. With their support and banking relationships, you will be able to take debit and credit transactions.
They also ensure that your payment gateway is set up properly and quickly so that you can get back to selling ammunition online right away.
The Industry of Selling Ammunition
Despite its controversial nature, the firearms and ammunition industry is booming. Selling firearms and their accessories account for more than 300,000 jobs and more than $6 billion in direct annual wages. According to the Firearms Industry Trade Association, the industry also accounts for nearly $7 billion in annual tax revenue. Given the industry's size, it is obvious that plenty of people are looking to get involved.
The most important things for your business will be to stay on top of changing regulations, make sure your customers are happy, and make your company as safe as possible.