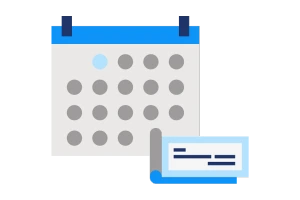 Though paper checks haven't been entirely replaced yet, in an era where speed, security, and convenience rule, eCheck payment processing has become a necessity in the world of financial transactions. According to NACHA, the ACH network transfers approximately $72.6 trillion in eCheck payments from one account to another every year.[1]NACHA. "ACH Network Sees 29.1 Billion Payments in 2021, Led by Major Gains in B2B and Same Day ACH". Accessed November 3, 2023.
With so many eChecks in circulation, it's hardly surprising that many are curious about the processing time associated with them. Today, we'll lay out the eCheck processing mechanism as compared to ACH and wire transfers—and even establish which method might be the fastest and best fit for your small business's transaction needs.
What Is an eCheck?
An electronic check (eCheck) is the digital form of the traditional paper check for transferring funds from a payer's account to a payee's account through the help of a payment processor.
Unlike paper checks that are written manually and sent through the mail, eChecks are written and sent electronically through a secure online platform. The Automated Clearing House (ACH) network processes electronic checks here in the United States, where a signed contract, recorded conversation, or acceptance of terms and conditions of a business website is needed to authorize transactions within an ACH network.
How Long Does an eCheck Take to Process?
On average, an electronic check takes 3-5 business days to process payment through the ACH network.[2]Forbes. "Funds Availability And Your Bank Account: What You Need To Know". Accessed November 3, 2023. More time is allocated to the verification step to ensure the provided details are properly authenticated.
In some cases, electronic check processing can take a single business day. This timeline is only practical if your payment processor or bank credits your account with their funds and reimburses you when the eCheck clears.
How Long Does an eCheck Take to Clear
The time an electronic check takes to clear solely depends on the ACH transfer process. This means that once the payer authorizes eCheck payment, the payee can initiate a transfer through their payment processor.
The originating or payer's bank confirms the availability of funds in their account and initiates the transfer through the ACH network. On average, the ACH process takes 3-5 days for the funds to clear and reflect in the payee's bank account.

Factors that impact electronic check processing time
While eCheck processing takes a few business days to clear, the exact processing time varies depending on the following factors:
Verification Process: The time it takes to verify the payer's details and the availability of funds in their accounts impact the electronic check processing time. This process can take up to 3 days as it involves the payment processor liaising with the payers and payees' banks.
Financial Institution Guidelines: eCheck processing time varies depending on the guidelines of the payers and payees' banks. Some banks credit a recipient's account in advance and reimburse when the eCheck clears, while others do not.
Transaction Volume: Banks, payment processors, and the ACH network typically process large volumes of transactions. And the more the transactions, the longer the processing time. Some banks even have ACH limits to regulate the amount of funds that can be transferred.
Weekends and Holidays: Banks remain closed during weekends and holidays. So, if you initiate an eCheck on a day preceding a weekend or holiday, the processing of the eCheck will occur on the next business day.
Returned Checks or Insufficient Funds: Sometimes things go south, and an eCheck can return due to insufficient funds in the payer's account or other reasons. This causes delays because the payer has to top up their account or rectify the details that failed authentication protocols.
Technical Issues: Sometimes payment processing systems run into technical glitches and take time to resolve. This can cause delays and prolong the eCheck processing time.
How Does eCheck Processing Work?
To ensure payments are made to the right accounts, eCheck processing uses the following steps:

Authorization
The first step in eCheck processing is transaction authorization. The payer authorizes the transaction through the following:
Appending a digital signature on a contract, order, or authorization form
Recording a phone conversation that gives verbal consent
Accepting the terms and conditions of a business website and clicking on the submit button

Processing and Verification
Once the payer gives consent, the payee inputs the payer's eCheck details such as the account and routing number, and sends the payment request to their payment merchant.
The payment processor will verify all the details, including the payment type (one-time purchase or recurring subscription) and funds availability in the payer's account.
If the eCheck verification is successful, the processor will initiate an ACH transfer of the funds to the payee's account through the ACH network.

Payment
After successfully verifying the transaction, funds transfer from the customer's account to the merchant's account. A digital receipt or confirmation email will go to both the payer and payee, marking the end of the process.
In some cases, eChecks can work in reverse—recipients authorizing deposits instead of withdrawals. For instance, when initiating an online tax refund or making direct deposit payroll, the payee can authorize a deposit instead of a withdrawal.
eCheck vs ACH vs Wire Transfers: Which Is Fastest?
The processing time of electronic checks, ACH, and wire transfers have a disparity. As discussed above, electronic checks take 3-5 business days to clear and reflect in the payee's account. However, some banks and payment processors offer same-day eCheck processing.
An ACH transfer is an electronic fund transfer from one bank to another through the ACH network. The timeline for ACH transfers typically takes 2-6 business days to process a payment. Some banks charge an extra fee to process ACH transfers within the same day.
On the other hand, wire transfers are direct bank-to-bank payments and can go through within 24 hours if the transfer is between accounts at the same bank. It takes a few minutes to wire funds to a non-bank payment processor and a maximum of 5 days for international transfers.
In terms of sheer speed, wire transfers are the fastest payment method, followed by ACH transfers. While eCheck and ACH transfers do take a bit longer to clear, they are still convenient, secure, and most of all, cost-effective in comparison.
Final Thoughts on eCheck Payment Processing Time
Indeed, eChecks are an excellent way to make financial transactions. They're secure, cost-effective, and usually take very few business days to process. However, know that the exact eCheck processing time is subject to factors such as technical issues, insufficient funds, and transaction volume.
The choice of your eCheck processing solution can significantly affect the processing time. Some eCheck providers offer faster processing times than others, so selecting the right service provider for your business can make a noticeable difference in how quickly your eChecks will process.
---
---
Frequently Asked Questions (FAQs)
Why is my eCheck taking so long to process?
Your eCheck might be taking longer than expected to process for various reasons. If you're initiating a payment late in the day, or, say, the Friday just before a holiday weekend, that might be the reason. Other reasons for delayed eCheck processing include technical glitches, a larger-than-usual volume of transactions, or a returned check. Make sure to check the guidelines of the financial institutions handling your eCheck transfers for other conditions that might cause a delay.
Do eChecks process immediately?
Electronic check processing follows the ACH guidelines that require transactions to be processed within 1-2 business days. However, that's not a guarantee that your account will see a credit that fast.
Can eChecks be processed on weekends?
No. Financial institutions will not process eChecks on weekends because they rely on the ACH network for processing. If you deposit an eCheck on Friday, it could take up to 7 days to clear.
Are eChecks secure?
Yes, eChecks are secure. eChecks process through the Automated Clearing House (ACH) network that imposes strict security measures to meet the regulatory standards of the Federal Reserve.