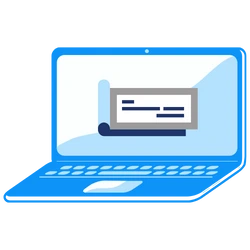 Thanks to today's technology, both a check payer and payee can conveniently process a check electronically and through their banks without having to make a trip down to the bank. However, it wasn't always this easy, and you might recall a time when a visit to the bank was a necessity. Thanks to legislative advancements like the 21st Century Act, there's greater ease in the world of electronic check processing.
But just what is an eCheck these days, and how do you deposit it? In this article, we'll briefly discuss what they are, how to deposit one, and the benefits of accepting eChecks for your small businesses.
What is an Electronic Check (eCheck)?
An electronic check is a virtual version of the traditional paper check. This means that payments are made electronically from payers to payees' checking accounts through an Automated Clearing House (ACH) network. Much like paper checks, eChecks require a check number, routing and account numbers, a signature, a recipient, and an amount.
To initiate eCheck processing, the payer authorizes the payment through a recorded phone conversation, a signed contract, or by accepting the terms and conditions on a business' website.
How to Cash an eCheck
Because eChecks are digital versions of check payments, you can cash them as you would traditional paper checks. You have two options to cash an eCheck: depositing it in person, or depositing it digitally.

How to Deposit an eCheck In-Person
If you're wondering how to deposit an eCheck in person, simply follow these steps:
Print your eCheck
Sign your eCheck
Visit your bank branch
Fill out a deposit slip (if required)
Hand the eCheck over to the cashier designated for processing
Before processing your check deposit, the cashier may ask some basic questions to verify your data. It may take a few business days after processing the check for the funds to reflect in your account.

How to Deposit an eCheck without Printing
The first way to deposit an eCheck without printing it is to use your smartphone and banking app. Open your banking app and choose the deposit option. You will be prompted to fill in the required details, sign at the back of the eCheck, take clear pictures of the front and back of the eCheck, and then submit your deposit.
Another viable option is to use an electronic payment app or web browser. You'll start by opening up the application, and selecting "Cash a Check". Submit photos of the eCheck, and be prepared to receive your funds. Keep in mind that it may take between a few minutes, to a day or two, or even sometimes up to a week or more. Consequently, you can download an app, request eCheck collection, snap the eCheck using your phone, and deposit it into your electronic payment application account.
Lastly, you can use a walk-up ATM that uses optical character recognition (OCR) technology. The OCR technology allows the ATM to extract data from the electronic check and convert it into a form that it can read and process.
Benefits of Accepting eChecks in Your Business
From convenience to ease of use to safety, eChecks have a handful of benefits for businesses that accept them. Here are the top picks:
Security: Electronic checks are verified, authenticated, and encrypted using the ACH network. Additionally, eChecks are validated using time-stamped digital signatures, adding an extra layer of security.
Automation: If your business deals with recurring payments like insurance and rent, eChecks is the best option. You can automate eChecks to ensure payments are made at the same time, every month.
User Intuitive: The prompts on how to deposit an eCheck without printing it or in person are straightforward. This means you and your customers will have an easy time making and receiving payments electronically.
Convenience: eChecks allows your customers to make payments from any place and at any time using their banking app and smartphone. It also saves them the time of visiting a branch or ATM to deposit a check, making payments faster.
Cost Effective: It's a no-brainer that eChecks, unlike paper checks and credit cards, cost a few cents to process (rates differ depending on the provider). This makes eChecks a necessity if your business accepts large recurring payments like rent, insurance premiums, or mortgages.
Client Satisfaction: You know customers and suppliers are the lifeblood of your business. Building stronger relationships with them makes you stay ahead of the curve. And nothing does that better than eChecks' fast, secure, and convenient digital payment platform.
Closing Thoughts on eCheck Deposits
You no longer need to visit a bank or ATM to deposit your check, thanks to eChecks. All you need is your banking app and a smartphone—then follow our step-by-step guide on how to deposit an eCheck without printing it. Electronic checks not only make it easy to accept money from customers, but they also make taking payments more secure and faster to process. For businesses looking for electronic payment solutions, consider a merchant service provider for assistance. They can offer custom eCheck payment solutions at affordable rates!
---
---