A cleaning company is a unique business due to its low cost of entry and non-traditional operating costs. It's a domestic and commercial service that is pretty much always in demand. A person can get started with little to no training and can find success in it if they're willing to work hard for a modest profit.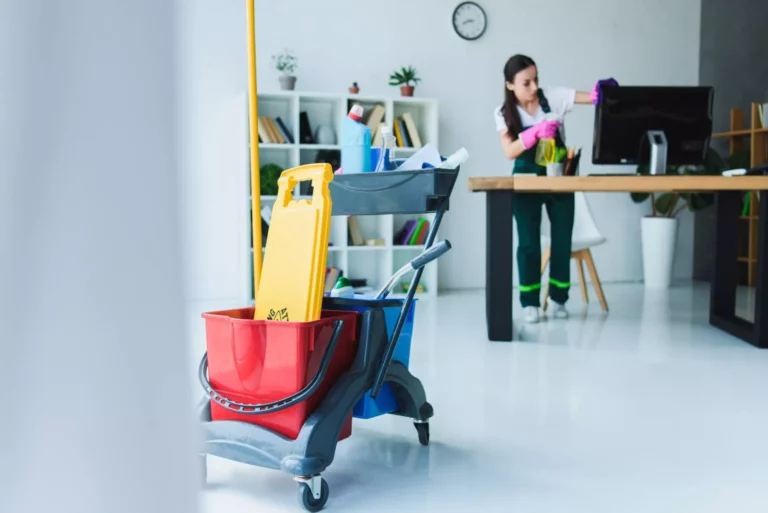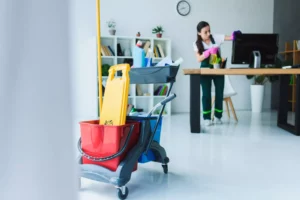 How to Start Your Own Cleaning Business: 11 Steps to Success
If you're curious to know a bit more about the industry or ready to take the plunge to start a business, here are 11 steps to help you begin your journey in the cleaning industry.
Step 1: Define Your Goals and Set Expectations
Starting a business can be challenging if you don't map out exactly what you plan to do and consider all your options. In other words, take some time to evaluate your big-picture goals, so you can set up a cleaning company that's sure to succeed.
Why are you starting your own cleaning business?
Cleaning may seem like simple work, but in reality, it's hard work. The care of your own home is not the same as deep cleaning hour after hour, day after day, to earn a living. So before launching a full-scale business, spend some time "on the job" to make sure you're okay with the work.
Take a look at your intentions and long-term commitment to the profession: is this going to be your main source of income, or a side-hustle to earn some extra cash for another goal? Are you planning to work alone or hire employees?
Doing the work on your own helps minimize costs and provides you with the most flexibility. But working with a partner, or managing a crew, could open up different, and maybe even more lucrative, opportunities.
What cleaning services are you offering?
There are different types of cleaning businesses out there, and it's best to specialize in one.
Residential housekeeping business
Residential cleaning, or housekeeping, is where you provide cleaning services in personal residences where people either rent or own their homes. Tasks often include vacuuming, dusting, mopping, dishes, laundry, or various other types of cleaning. Individual cleaners work primarily for a small number of clients.
Some independent contractors keep weekly appointments with a fixed schedule of clients and jobs. Others make themselves available for short-term or one-time services by the day or hour. If you go this route, you'll spend a lot less upfront to get started.
Cleaning service for businesses
This type of cleaning business focuses on offices, schools, hospitals, factories, warehouses, commercial kitchens, or other industrial facilities. Though the commercial market is a little tougher to break into (it can be dominated by larger janitorial companies), the jobs are more regular and may pay more, if you can win the contracts.
Specialty cleaning services
This type of cleaning company focuses on specific methods such as:
The use of eco-friendly products
A focus on certain items like carpets, upholstery, windows, tile
Organizing or removing clutter
Specialties in cleaning crime scenes or bio-hazards
Note that specialties are only worth offering if you're experienced or have some sort of unique access. Otherwise, the training, equipment, and/or supplies needed could cut into your revenue.
How much can you make cleaning houses and businesses?
How much you can earn as a house cleaner depends on what sort of cleaning business you're operating, the size of the business, and where you're located. How big the job is and your experience level will determine what you charge. But, generally speaking, an individual can make anywhere from $10 to $30 per hour cleaning houses and businesses. If you're just starting out, you'll likely want to keep your prices low to attract new customers and build up your client roster.
What do I need to start my own cleaning business?
Cleaning companies are easy to start because there are few upfront costs and, relative to other start-ups, equipment and supplies aren't expensive or hard to get. Cleaning supplies and transportation are the two major ongoing expenses of a cleaning company. Expenses could range from a couple of bottles of cleaner to leasing a fleet of company vehicles and gear to outfit a multi-team crew.
Equipment for cleaning business
There are no set standards for what a cleaning company should bring to a job however, it's good practice to invest in high-quality supplies so you can do your job with ease. Items to purchase or acquire include:
Buckets and mops
Dusters, rags, scrub brushes, and sponges
Bleach, window cleaner, and dish soap
A vacuum cleaner
Commercial carpet cleaner or steam cleaner
If you're just starting out, try getting some of your equipment secondhand. But whether new or refurbished, invest in quality machines that can be maintained for long-term use. And finally, when purchasing cleaning supplies and equipment, get recommendations from other business owners or check online reviews for the best products based on your needs.
Do you need a cleaning business license?
For most house cleaning services you will not need any special licensing, permits, training, or certification for your day-to-day operations.
As a precaution, you can always check the EPA website about the disposal of household cleaning products. Some chemical waste can cause a chemical reaction under circumstances. [1] EPA. Household Hazardous Waste (HHW). Accessed May 17, 2022.
Cleaning services don't need to be bonded unless working with a large corporate or government entity. However, you will want to register your cleaning company with a business license and ideally, acquire business insurance.
Step 2: Market Research
The clientele you pursue and the services you offer ought to be based on local demands, your own interests, abilities, and transportation. Keep an eye out for business opportunities as well that can push your business forward.
Define your niche and cleaning services
Generally, it's best to find a niche and then specialize within it. You can pick a niche that focuses on eco-friendly cleaning services or pet households. Once you have a clear understanding of your target market, you can start creating a marketing strategy that will help you attract customers.
Define your target customers
Think about who your business will cater to and how you can be the solution to their problems. Once you've decided who your target customer is, decide what the best way is to reach them. Keep in mind that your target customers can always change over time, so it's important to regularly reassess who they are and what they're looking for.
Step 3: Choose Your Business Structure
Cleaning businesses larger than a few individuals will need more structure than a service you operate alone or as a side hustle. Decide what kind of business structure you want to have for your cleaning business.
Limited Liability Company (LLC)
You can set up a limited liability corporation (LLC) in your state if you want to separate your business and personal finances. An LLC is a business entity that offers protection like a corporation but is taxed more like a partnership.
Partnership
If you want to start a business with another individual you'll want to set up a partnership. A partnership is a business that's owned by two or more people. Partners are jointly and severally liable for all debts of the partnership.
Sole Proprietorship
If you aren't interested in the above business structures, consider a sole proprietorship. A sole proprietorship is an unincorporated business owned by one person. You'll register with the county clerk to set up a "Doing Business As" (DBA) for your company name. The DBA gives you the authority to advertise and operate as your business, but continue to use your personal tax identification number for all tax purposes. There is no legal distinction between the business and the owner, and the owner is liable for all business debts.
Franchise
Another sure road for starting your cleaning business is to acquire or purchase an existing cleaning company or franchise opportunity. A franchise is a type of business where a franchisor, a company that owns the brand, licenses its name and trademarks to you, the franchisee. As a franchisee, you can open and operate a business under the franchisor's name. The franchisee typically pays the franchisor an initial fee, as well as ongoing royalties based on sales or profits. This option does require a bigger upfront investment but is perhaps more of a streamlined process for those just getting started.
Step 4: Plan your Budget
Unlike other businesses that take significant investment to start, startup costs can be comparatively low for cleaning services. This means you can keep upfront spending and debt to a minimum when you're starting a cleaning business from scratch, then grow your operations as you generate revenue and expand.
How much does it cost to start a cleaning business?
The upfront investment you make depends on the size of your team, the cost of equipment, and competitive rates in your local market. However, here are some considerations to think about when you track your business expenses.
1. Business insurance
There are several different types of insurance that you may want to consider when setting up your cleaning business. Property damage insurance, for example, can help protect your business if a property is damaged or destroyed.
2. Liability insurance
Liability insurance can help protect your business from lawsuits if someone is injured, while workers' compensation insurance can help cover the costs of medical bills and lost wages if you or someone else is injured on the job.
3. Incorporation & licensure fees
Even if a license or bond isn't required, having both gives you an edge when marketing to new clients. Potential customers gain more confidence knowing a cleaning company has taken extra steps to protect customer belongings. Obtain your business license through your secretary of state and a bond through a local insurance or surety bond company. A bond is an insurance product that allows a payee to get a payout for damages faster and with a guarantee, even though the bill for damages is still paid out by your company. This can sometimes be a more affordable option over other kinds of business insurance.
4. Technology costs
Choose to invest in technology that can help you run your business efficiently. Some examples include contact management software, a scheduling platform, or a mobile-payment processor. Technology can help automate some of your administrative tasks and create a seamless payment processing experience for your customers.
5. Equipment costs
You may want to invest in some larger pieces of equipment for your cleaning company, such as industrial sweepers/floor cleaners, power mops, industrial-grade vacuums, etc. These larger types of equipment may cost you a few hundred dollars but are worth it to complete services at a faster rate and lead to an increase in the number of clients you can take in.
6. Other costs
There are lots of ways tiny expenses can eat into a budget. Try listing out everything else you can think of that you pay for in a year. Keep track of advertising expenditures, accounting services, software applications, credit card processing fees, etc.
On-going expenses
The costs associated with starting a cleaning business include the price of cleaning supplies and products, as well as transportation costs. Supplies at big-box retailers cost less, which can help to increase your profit margins. With large enough orders, an established cleaning company may even be able to source supplies directly from the manufacturer.
Taxes and insurance
If you're making more than a few hundred dollars in a month and cleaning outside of just your family members, you need to register your business and use formal channels to report your income to the IRS. The IRS requires a business to provide a 1099 contract to individuals who provide services exceeding $600 annually.
Cleaning business insurance can protect your cleaning business from risks like employee illness, property damage, and injury. Additionally, you can get commercial vehicle insurance in combination with other coverage.
Step 5: Write Your Cleaning Service Business Plan
When writing a business plan, you will want to include the business operations, marketing strategy, target market, and financial projections. There is no one right way to write a plan, but the following steps might help: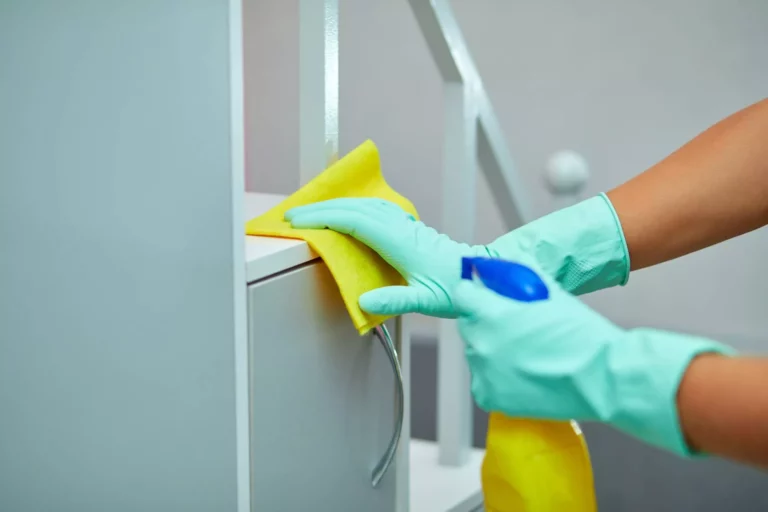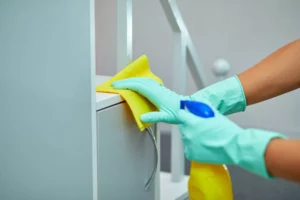 Start by writing a summary. This is like an abstract overview of your services, market strategies, and competitive advantage.
Describe your business in detail. Include your business history and experience, offerings, target market, and an analysis of competitors.
Outline your marketing and sales strategies. Figure out how to reach your target market, price your products or services, and generate leads or sales.
Forecast your financial projections. This should include information on your projected revenue and expenses for the next three to five years.
Finish up by writing a conclusion. Summarize your business plan with highlights of your strategy and demonstrate why your business is a solid investment opportunity.
The above should help you write a business plan that effectively communicates the key strengths and opportunities of your new cleaning business.
Pricing: How much will you charge for cleaning?
Cleaners typically quote prices based on an hourly rate, square footage, or a flat rate. Rates can vary by location, level of competition, and services offered. So when you're just starting out, it's essential to price services that will cover your business expenses, emergencies, and future investments.
Your prices should include workers' hourly rates, overhead costs, and a small profit margin. If you are not charging more than your baseline wages, you'll never be able to grow or reinvest in your business.
Name your cleaning business
You'll want to name your business based on your values and the services you provide. Be thoughtful, clever, but most of all memorable because the name you select will be an important aspect of your marketing and branding efforts.
Step 6: Register Your Business and Obtain a License
Register your business with the state or county clerk and obtain any required licenses if applicable. After you've registered your business entity, file for a federal tax identification number (TIN). This is free through the Internal Revenue Service and can be issued in a matter of minutes by filling out the Form SS-4 online.
How do I get a license for a cleaning business?
Check your state's licensing board for specifics, but generally, housekeepers and cleaning companies do not need any specific permits. Your regular household cleaning products will not require a license or permit. However, if you are using cleaning agents that require a permit or license, you will need to obtain one.
Step 7: Open a Business Account
If you're not sure where to start, most banks offer guided applications on their websites to help you find the right bank account for your business. Come prepared to provide your business name, address, TIN, and proof of your business' legal existence such as a Certificate of Incorporation or Certificate of DBA.
Step 8: Hire Your Team
If you'll be hiring others, clarify the procedures, liabilities, and tax implications of bringing on a team. When choosing team members, you'll want to decide what characteristics you look for in employees. You may want to hire based on experience, budget, and skills. Determine the criteria for who you will hire, upload a job posting, and schedule interviews.
Employment law liability insurance
Employment Law Liability insurance helps protect businesses from lawsuits arising from employee claims stemming from wrongful termination, harassment, discrimination, and other employment-related issues. The coverage helps businesses pay for legal costs and damages.
Hiring employees vs independent contractors
With hired employees, you can provide them with specific instructions and train them to your standards. The downside of hiring employees is the overall cost. Employers pay taxes on wages, including Social Security and Medicare benefits which can be hard on a cleaning company's margins.
With independent contractors, it's harder to manage when and how they work. However, they're easy to hire on a short-term, and flexible basis, and don't require tax withholdings. For this reason, cleaning companies often choose to work with contractors.
Step 9: Get Set Up to Accept Mobile Payments
Set up a merchant account to accept credit cards. With a merchant account, you will be quickly set up with a payment gateway, to accept payment methods like wireless mobile payments.
Utilize field service management software for easy invoicing
Your cleaning business is on-the-go, so consider asking for a mobile card reader from your merchant service provider to help you accept multiple forms of payment in the field. Payment platforms like a mobile card reader can help you move faster and help ease your clients' barriers to payment.
Step 10: Market Your Cleaning Business
As soon as you're able to start taking on clients, you'll want to get the word out about your cleaning company. There are lots of ways you can go about this. Whatever the route, make sure your advertising is clear and concise, and that it lists the services you offer, as well as the areas that you serve. And of course, be sure to include your contact information.
Online
Even if you primarily rely on referrals for new clients, investing in an online presence is good business. Online forums and service platforms connect individuals with local cleaning businesses, so sign up for a directory and service platforms like Care.com, TaskRabbit, or Handy. Customer reviews can strengthen your credibility and a website can help with your online image.
Social media
Even if you don't have a full website, make sure current and potential customers can find you online with a business profile on Facebook with updated contact information. You could even consider social media platforms as a free marketing outlet, where you can post regularly to platforms like Twitter or Instagram to keep in touch with past or current clients. If you want to spend the extra dollars, promote your business via social media ad campaigns.
Physical advertising
Some of the most common places to advertise your cleaning business might be local directories, classified ads, and local newspapers. You can also put up flyers, postcards, and/or business cards at local businesses or in public places. Advertising in local media outlets to attract customers in a particular area is also an option.
Flyers
Flyers with eye-catching designs, fun slogans, and a clear message of what your business does is a great way to advertise. Flyers can be passed around to just about anyone, and be uploaded and reshared online.
Business cards
Business cards are still a fast, reliable way to hand out your contact information for offline networking opportunities. These days, a number of business card builders make DIY printing and/or ordering your business cards seamless. Many offer simple templates specifically for cleaning companies, or you can upload your own. A simple, uncluttered design works best. After printing your cards, take plenty around to distribute to potential customers around town.
Customer referrals
Word-of-mouth still plays a big part in the domestic service industry. Housekeepers most often find new business through their own customers. Consider your own client roster your greatest marketing asset. Establish a rapport with your clients and don't be shy about asking happy customers to refer you to people they know. You can ask them to share your Facebook page, or hand out business cards to interested friends.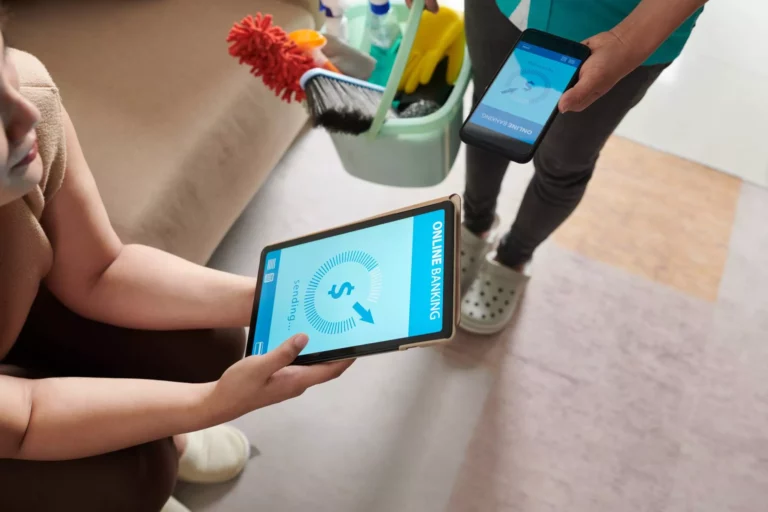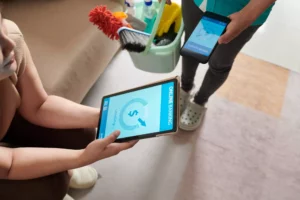 Personal connections
The best way to grow a small business is incremental and slow. Start out with family, friends, or acquaintances before growing your network. Try launching your business with a discounted or free cleaning. With good work and the favor of a referral, you'll be off in no time.
How to Start a Cleaning Company: Final Thoughts
A cleaning company requires very little investment capital, training, and experience to start. It's a business opportunity that offers a flexible schedule and the ability to be your own boss. The startup costs are relatively small but cleaning companies require simple payment solutions to accept mobile credit card payments and a detailed business plan. However, with little more than an able body, cleaning supplies, and a strong work ethic, nearly anyone can start a cleaning company.