Gone are the days when you had to know how to code to launch a professional-looking website. Today, there's an array of easy-to-use, worthy website builders ready to take the difficult and technical job of building a website off your plate. These website-building platforms are today's DIY answer to web development. Now, the obvious question: Which website builder is the best?
Comparing website builders can be difficult. There are over a hundred on the market today, most of which offer two to four pricing plans with differing features. However, many platforms don't allow you to export your work or transfer to another service. Thus, you should weigh your options before settling on a website builder. And what you may think are obvious criteria for comparison—price, ease-of-use, storage capacity—are far from all there is to consider.
Below, we list the 21 best website builders of 2023, including their features, pricing, benefits, pitfalls, and additional elements you might have not considered. If you're searching for the best website builder for your business, you'll surely find your answer below.
The Best Website Builder Software: Getting Started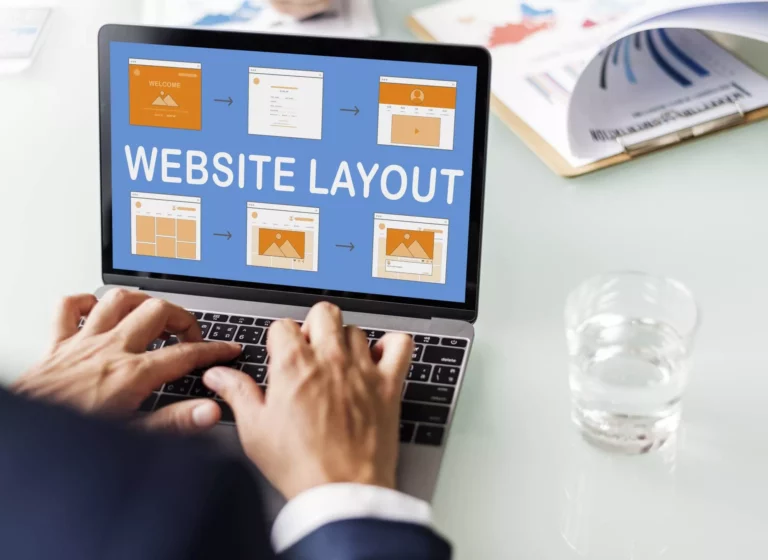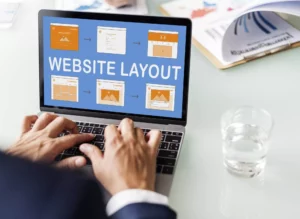 Amateur, small, professional, and global enterprises all use website builders to represent themselves online. That said, there are website builders to meet the goals of each of these businesses' individual needs. Therefore, analyzing the overarching goals of your website is essential to finding your match. You might consider some of these guiding questions while shopping:
Is your goal to establish a web presence via a portfolio page?
Are you selling products or services?
Do you plan to use your website as a marketing tool to attract customers?
In what ways, if any, will your website need to scale?
Do you have a need now or in the future for expansion into the global market?
Will your website need any of the following tools or features?
As you can see, there are many questions to ask yourself before settling on the website builder you'll utilize to build your business's website. This is why we've broken down the best website builders to compare their elements. Though we start with some of the most popular website builders, don't discount some well-priced options further down the list with features both comparable and unique.
Without further adieu, below are the 21 best website builders on the market this year!
1. Shopify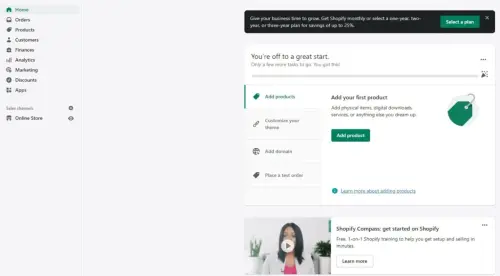 Shopify is primarily an eCommerce website builder. All of the paid plans come with built-in shopping cart solutions and marketing features. If you don't mind paying, there are dozens of premium templates available, but they cost an average of $100. Shopify Lite costs $9 per month and allows you to add a buy button to a site you already own, a Tumblr blog, or sell in person with the Shopify point-of-sale mobile app. The main drawback of Shopify is its pricing model.
Pros
Dropshipping options available
Lower transaction fees with higher-tier plans
24/7 customer support
Seamlessly integrates with third-party gateways
Cons
Only nine free eCommerce templates
No automatic image optimization
More point-and-click than drag-and-drop, which can add to the learning curve
Pricing
Given that its user base is fairly defined, Shopify doesn't offer many plan options. Also, its plan prices come in above the market average. The Basic plan is $29 per month, while the $79-a-month offers some additional bells and whistles, as well as fewer transaction fees. For large-scale operations, there's a plan for $299 per month.
---
2. BigCommerce
More geared for medium- to large-scale online stores with a high sales volume, BigCommerce lives up to its name. It offers unlimited product variants. The website builder is not quite as easy to use as Shopify, but the savings and SEO features might be worth the extra effort.
Pros
Built-in features to help grow your business
Best-in-class SEO capabilities
Supports bigger stores
They claim to have 50% less setup time than competitors
Mobile responsive stores
Capabilities to link your eCommerce site to eBay or Amazon, as well as Google Shopping
Seamlessly integrates with third-party gateways
Cons
The editor has a lot of features and flexibility when you're getting set up, but, similar to Wix, can be overwhelming for newcomers
Pricing
BigCommerce's price tiers are identical to Shopify's price tier, with levels from $29 – $249. But unlike Shopify, the lowest plan gives you unlimited users, unlimited bandwidth and storage, unlimited products, and no additional transaction fees. However, there are sales thresholds: The Standard plan supports annual sales of less than $50,000, the Plus plan supports up to $150,000, and the Pro up to $400,000. Also, you'll receive one month free with an upgrade to a paid plan.
---
3. Site123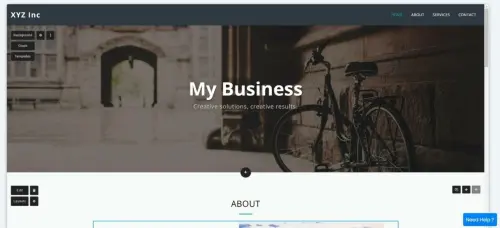 SITE123 is another web builder with a free online store plan available. If you're planning to expand to multiple countries, you'll love the fact that SITE123 offers international online stores. They also get excellent reviews for their customer support. A domain name is included in their free and premium plans.
Pros
Includes an hour of live support
Supports contactless ordering and in-store pickup
Excellent inventory management system
Supports numerous currencies
Seamlessly integrates with third-party gateways
Cons
Limited design flexibility
Only works with Square or PayPal for payments
Pricing
Their paid plans start at $12.80 per month. This plan includes a free domain for a year, 10GB of storage, 5GB of bandwidth, and some limited email capabilities. It also removes the SITE123 branding that comes with the free plan.
---
4. Website Builder by Hostinger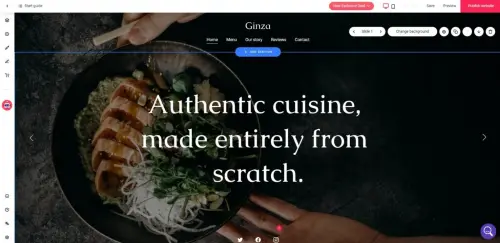 Website Builder by Hostinger is another DIY website builder featuring a well-rated interface and some powerful tools that give you a lot of control. It lacks a free option. Additionally, it has some customization limitations that might narrow your overall design vision, but all told, the platform is not missing much. A solid choice for small businesses looking to launch a website fast.
Pros
Includes tools like an AI-powered slogan generator, logo maker, and terms and conditions generator
Incredibly affordable
30-day money-back guarantee
Unlimited storage and bandwidth in all plans
Seamlessly integrates with third-party gateways
Cons
It doesn't let you switch templates
Photo editing could use more options
No free plan is available
Pricing
With no free tier, Website Builder by Hostinger's plans starts at just $2.90 per month, going up to about $15 per month for its most advanced selling and marketing tools.
---
5. Duda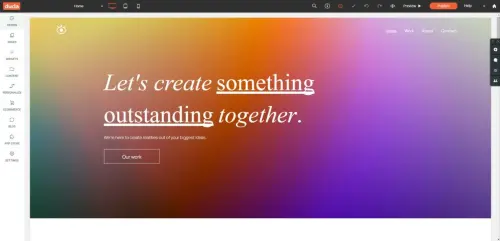 Duda isn't the cheapest, but it fills in a hole in the market for those needing analytics and multilingual capabilities. This is paired with better mobile customizations. Though a smaller player, Duda found its niche with designers and design agencies aiming to build multiple sites for its easy-to-use website builder, differentiated offerings, and ability to support teams.
Pros
The best website builder for a team building a customized experience
Multilanguage support and detailed data analytics
Free eCommerce add-on allowing you to sell up to 10 products
The ability to download site files for portability
Seamlessly integrates with third-party gateways
Cons
Lacks basic marketing features like a newsletter tool
Lacks an app store to easily add extra functions to your site
Pricing
Duda has a total of three available account plans: Basic for individuals making one monthly site for $19 per month, a Team plan for adding up to 4 editors on one site for $29, and an Agency plan for teams working on up to 4 monthly websites for $59 per month.
---
6. Webflow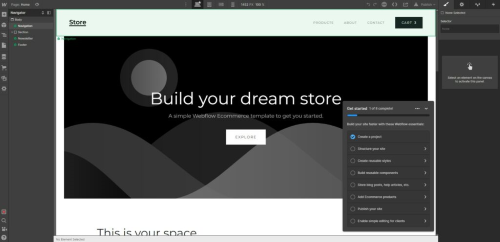 Best for professional designers, Webflow is one of the most customizable website builders on our list. It's a drag-and-drop interface built for designing websites. Like many of the more sophisticated and customizable website builders, it comes with more of a learning curve.
Pros
Special emphasis on the visual aesthetics of the site
Starts at $12 per month or pro-level features
You can create animation and visual effects
Provides over 20 pre-built interactions, animations, and triggers
Cons
Limited customization on templates
Pricing plans can be confusing
Powerful features make the learning curve steeper
Limited traffic on some plans
Requires a plug-in to integrate with third-party payment gateways
Pricing
One of the better free website builders on the market. If you want to step up the bells and whistles, it's $12 per month for its basic site plan. There's an Account plan at $16 per month more suitable for professional web designers, as well as an eCommerce plan with no transaction fees costing $79 per month.
---
7. WooCommerce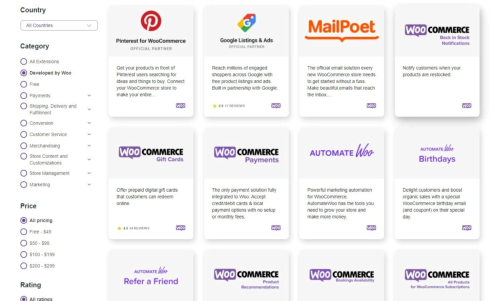 Brought to you by Bluehost and built for WordPress, WooCommerce offers plugins, SEO tools, and social media integration. This website builder is yet another online storefront option offering a range of plus-and-play features. It's almost like you can build your site à la carte. One of its best-known features is a complete shopping cart solution for online eCommerce.
Pros
A simple, affordable cart solution
Easily migrate existing sites from other platforms
Supports unlimited products
Mobile-friendly templates
Thousands of extensions
Cons
Very little functionality on its own, requiring many plugins to be competitive with other eCommerce platforms
Many WordPress plugins can lead to conflicts
Users occasionally experience issues with speed
Requires a plug-in to integrate with third-party payment gateways
Pricing
WooCommerce's Basic plan is $15.95 per month, and its Premium plan is $39.95 with a 36-month signup.
---
8. GoDaddy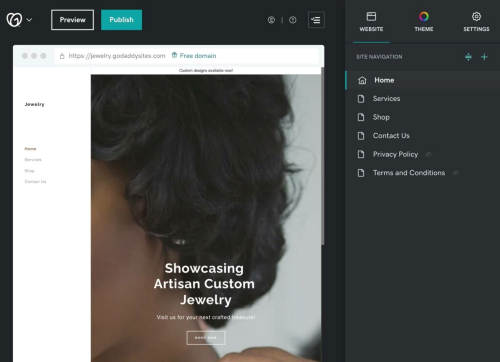 Domains were always GoDaddy's domain, so to speak, as the provider is best known for its custom domain names and web hosting services. While you're there, you might as well stay and build your website, too. You get much of the same templatized web-building experience as with the other services, but you have to pay for your domain separately.
Pros
Best website builder for making a basic, no-frills website
Convenience for those who are already GoDaddy subscribers
Cons
For a domain seller, it's surprising GoDaddy doesn't include your domain in their website building service prices, as that's billed separately
The free tier no longer comes with a 30-day trial
Requires a plug-in to integrate with third-party payment gateways
Pricing
The free tier includes email and social media marketing, PayPal payments, and an SSL certificate. The $10 per month plan is basic. The $15 plan adds an SEO tool, $20 adds extended support for appointments, and $25 adds online store capabilities, including product listing and shipping options.
---
9. Dreamhost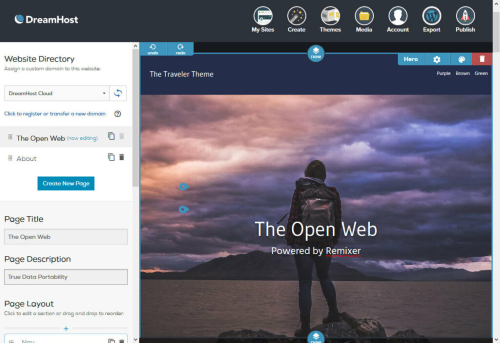 Dreamhost is mainly a web hosting service plan for WordPress sites. It also offers other features like website building and domain name registration. Affordable, entry-level cloud computing & VPS plans.
Pros
Best for programmers and web designers
100% uptime guaranteed
Unlimited bandwidth
Affordable, entry-level cloud computing & VPS plans
A 97-day money-back guarantee
Their dashboard is extremely easy to use
Cons
The custom-built control panel is hard to get used to, even for more experienced users
Extensive projects are harder, as some key features might be missing
They claim 24/7 support, but only via chat during United States business hours
Requires a plug-in to integrate with third-party payment gateways
Pricing
Affordable plans offering a free domain name start at $2.59. They go up in three tiers: DreamPress for regular websites, DreamPress Plus designed to help you grow your business, and DreamPress Pro for high-capacity needs and performance.
---
10. IONOS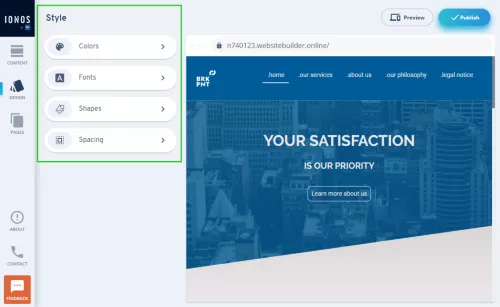 IONOS excels in its choice of themed templates. Organized by industry and type, some are more image-focused, and others are more text-heavy. They are all easy to implement and adjust. Notably, IONOS's multilingual translation, which can translate a site's content into 62 different languages, makes it a great choice in terms of international scalability. With its Pro plan, you can create personalized content for specific visitors. You can customize your site for first-time visitors to see something different than returning visitors or to display different content based on holidays, events, sales, etc.
Pros
Language translations
Excellent user reviews
24/7 customer support
Privacy and analytic tools included
Personalized content available
Affordable monthly fees
Cons
Ads on the lowest-priced plan
Limited, dated templates
No membership sites
Requires a plug-in to integrate with third-party payment gateways
Pricing
IONOS doesn't offer a free plan, except for the first month. Its prices start at $84 per year, with a domain, email address, and an expansive image library.
---
11. Wix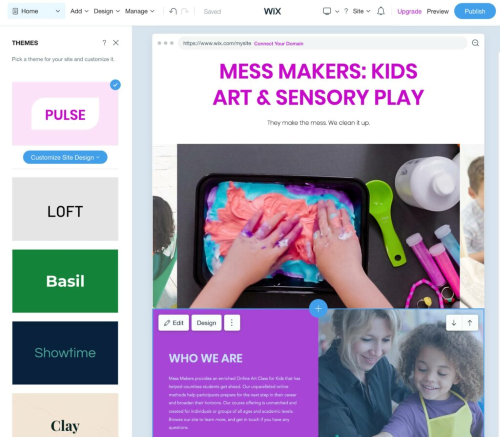 Wix is generally ranked as one of the best website builders. It's a basic, free way to set up a website supported by ads. Wix includes domain and hosting for free. If you like what you create on Wix, you may consider stepping up to a premium plan for an ad-free website.
Pros
Often ranked the overall best website builder and best free website builder
500+ designer-made templates
For a free website builder, it has a lot of features and tools
Cons
Data limitations for each of its plan tiers
Though powerful and flexible, the range of options may be overwhelming for the time-strapped or inexperienced
Does not include domain or any analytics tools
Requires a plug-in to integrate with third-party payment gateways
Pricing
Pricing plans start around $14 per month, which should be sufficient for most personal or small business websites. They also offer a Business VIP plan starting at $49 per month.
---
12. WordPress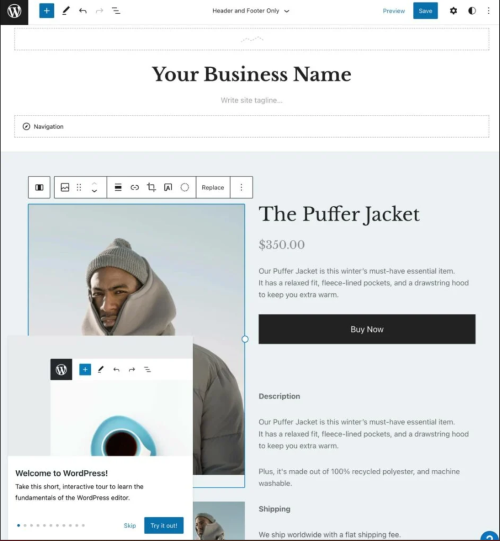 WordPress is a huge name when it comes to creating websites, as both WordPress.org and WordPress.com play a role in this arena. Customizable with themes and plug-ins, WordPress platforms are blog-focused content management systems. However, WordPress's website builder is comparable to many of the other website builders on this list, complete with hosting services.
Pros
Best website builder for writers and bloggers
Good for site transferability
Supports over 58,000 plugins and themes
Cons
Does not have an intuitive drag-and-drop system
Limited in its uses beyond content management
Can be difficult to learn how to use
Requires a plug-in to integrate with third-party payment gateways
Pricing
WordPress is extremely affordable, starting at $4 per month for 6BG of data ad-free. From there, it goes to $8 for 13GB of storage and web store capabilities and $25 for a selection that allows for custom themes and add-ons.
WordPress.com vs Wordpress.org
It's a bit confusing, we know. What most software developers mean when they talk about WordPress, is the free open-source blogging software available through WordPress.org. Learning how to use it is a great skill to have, as some estimate that WordPress powers 40 percent of the world's websites. If you go that route, check out WordPress Lessons for Beginners on WordPress.org to get started.
---
13. Squarespace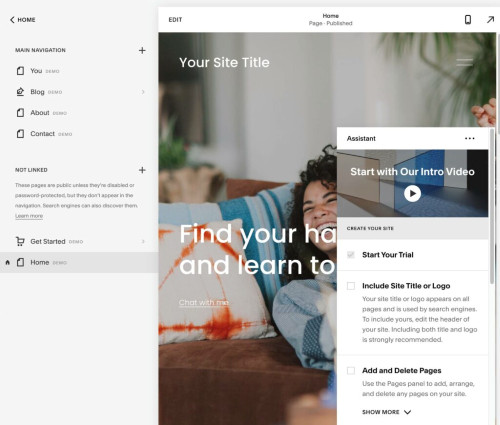 With its slick, mobile-friendly design, many consider Squarespace one of the best website builders on the market, but at a higher price point. Its pre-packaged designs offer gorgeous, modern templates that look great on all modern devices. But where Squarespace scores for beauty, it lacks in substance.
Pros
Attractive, modern designs
500+ designer-made templates and add-ons
Powerful features like strong photo editing and marketing tools
Fairly easy to use
The price, although higher, comes with a lot
Cons
It's rigid, in that you can only customize fonts, colors, and media content
No mobile-specific edits
Does not auto-save your work
Customer service through live chat and email only
Requires a plug-in to integrate with third-party payment gateways
Pricing
Squarespace pricing starts with a $12 per month personal plan, which includes unlimited storage, bandwidth, and a domain. The Business plan charges a 3 percent transaction fee on each purchase. An Online Store plan is between $26 and $40 per month for some additional features and no transaction fees.
---
14. Weebly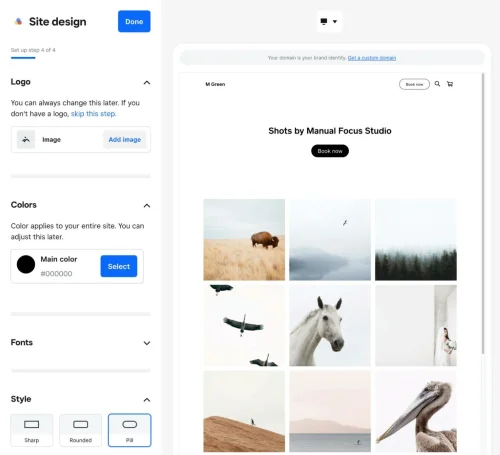 Weebly is an eCommerce site powered by Square. Built for those low on time, money, and/or commitment, Weebly shines for its eCommerce offerings. Weebly also offers the ability to download site files. This feature is a rarity among website builders and allows you to move to another host if you so choose.
Pros
Easy-to-use eCommerce features that integrate with Square
Great for those who hate commitment because you can easily move to another host if you choose
Cons
Could offer more themes
A mediocre photo repository
Ads can be noticeable
Requires a plug-in to integrate with third-party payment gateways
Pricing
For just $5 per month, you can get up and running with your own domain name, although this plan features ads on your site. It's $12 per month to go ad-free. The $25 plan gets you even more tools. Weebly's prices are similar to competitors, but its free plan is pretty generous.
---
15. Gator by HostGator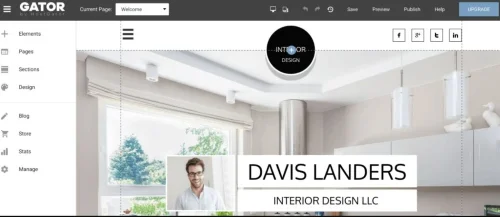 Gator is a website builder by HostGator. It's commended for its simplicity and price point, both of which are great for small businesses or beginners. Gator's quick, professional, and well-designed sites work well and come with 24-hour support for all users and free analytic solutions. Drag-and-drop design elements such as images, videos, text, columns, maps, and contact forms come with Gator's fully customizable 200+ templates. Additionally, Gator offers a number of mobile-friendly themes, as well as its own stock photo library.
Pros
It's an affordable, easy-to-use editor
Great for personal, blogging, or small business websites
A good balance between design freedom and responsive restrictions
Cons
Lacking template and design options
A bit dated compared to its competitors
Lacking functionality for larger, more complex websites
Requires a plug-in to integrate with third-party payment gateways
Pricing
The Starter plan costs $3.84 per month. This comes with free hosting, website analytics, free domain name registration (for one year), and unmetered storage. The Premium plan comes with the addition of priority support for $5.99 per month. The eCommerce plan, meanwhile, costs $9.22 for additional features.
---
16. Square Up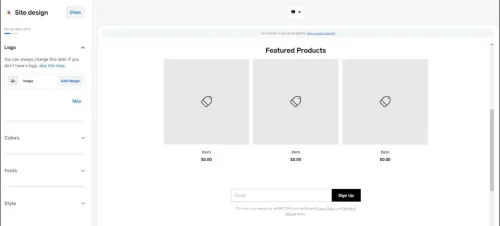 Easy to use, Square's website builder is great for merchants of all kinds, especially those just starting out because it's one of the rare eCommerce builders that lets you sell for free. However, you'll pay a $0.30 transaction fee per sale. They have a variety of vendor services like dropshipping and payment processing. Though, if you don't want to use Square's in-house payment processor, you'll incur extra fees.
Pros
The dashboard is straightforward and beginner-friendly
You can start selling products for free
Staying organized is easy with their inventory management
Cons
Limited payment processing options
The designs are clean, but not exciting
Design flexibility is limited
Does not integrate with third-party gateways
Pricing
Sure, you can start selling for free. However, we don't recommend it as a long-term solution as you'll have ads on your site and you won't be able to use a custom domain. If you upgrade, you'll have three options ranging from $12 to $72 per month. Of these, the $26-per-month Performance plan has the most features (comparable to Squarespace) with which you can send abandoned cart emails and post customer reviews on your site.
---
17. Bluehost Website Builder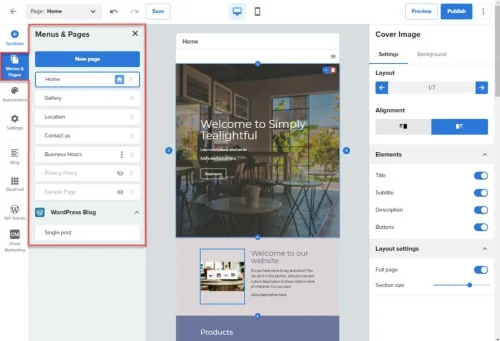 With the aim of offering more than just web hosting, Bluehost recently launched a website builder. Built on top of WordPress, its website builder has a drag-and-drop editing interface, live and mobile editing, and a stock image repository. And thanks to the WordPress integration, you can pick which elements of your website to build using Bluehost and WordPress.
Pros
Great turnaround time
Large repository of templates
You can easily switch between Bluehost's and WordPress's website builders
Cons
No email accounts included
The base plan does not come with an online store
No monthly billing
Does not integrate with third-party gateways
Pricing
For a 12-month subscription, the Basic plan is $2.95 per month. The Pro plan is $9.95 per month. For the eCommerce site, it's $39.95 per month.
---
18. HubSpot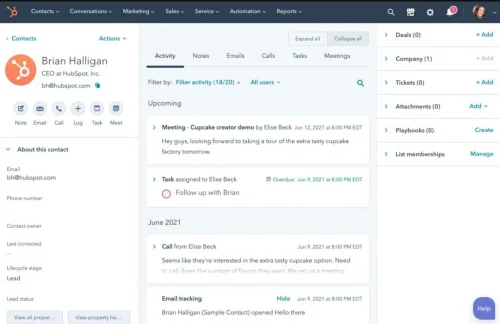 If you're looking for a website builder that's also a fully-loaded, powerful customer relationship management (CMS) and marketing tool, HubSpot is going to be the best website builder for you. It allows you to make website pages, blog posts, and landing pages from scratch or use their templatized tools. This is your way to get found online while capturing, engaging with, and understanding your leads throughout the customer lifecycle.
Pros
Top-notch CMS with an integrated marketing suite
Yoast comes standard so you can optimize your SEO strategy
They can provide solutions for every part of the customer lifecycle
They have a drag-and-drop website builder, responsive design, and other tools expected for the price point
Best for large enterprises and those whose KPIs are tied to website goals
Cons
Overkill for simple websites with basic marketing goals
The entry-level price point is prohibitive for most companies
You can get many of the same features for a fraction of the price, if not free, making the many thousands of dollars per year a tough sell
Does not integrate with third-party gateways
Pricing
You will get what you pay for, but you will really pay for it. The cheapest option is a $400-per-month website with a $1,000 onboarding fee per seat. And it only goes up from there.
---
19. Strikingly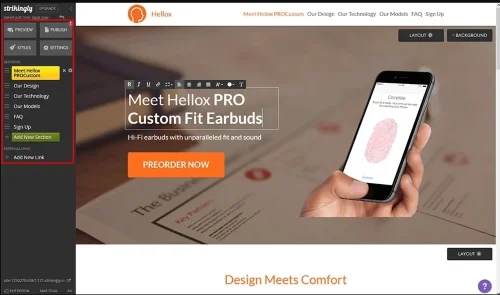 Strikingly is a good website builder for beginners or small businesses looking to quickly create landing pages or other single-page websites with an intuitive drag-and-drop editor. With this website builder, you should be able to get your site online in a few hours.
Pros
Its standout feature is its blogging capabilities
Offers analytics, an RSS feed, comments section, search features, etc.
Good for a freelancer or small business mostly looking to market their goods or services
Cons
Limited capabilities
Not optimal for large, multi-page websites
Does not integrate with third-party gateways
Pricing
Pricing starts at $8 per month for a limited plan. The $16-per-month Pro plan includes all the tools you need to launch and grow, but only offers a free domain for up to a year. At $49 per month, the VIP plan offers additional business tools.
---
20. Jimdo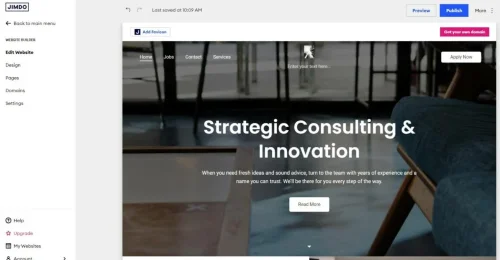 Jimdo caters to designers, photographers, and small businesses who want an easy way to create a clean-looking website with a real design aesthetic. It does this through flexible content blocks that can be changed based on the type of business or service. Jimdo offers a unique feature that sets website colors to automatically harmonize with an uploaded logo or image. They even have an AI-created website tool.
Pros
Praised for its speed and simplicity
Offers a simple, clean, modern aesthetic
Best for freelancers and small businesses
Easy integrations for selling on Facebook and Instagram
Cons
Fewer features than some rivals
Fewer pro tools and customizations
The free site uses their subdomain
Does not integrate with third-party gateways
Pricing
The free plan comes with no time limit, but you'll have Jimdo sub-domain and on-site advertising. You can upgrade to a $9-per-month plan to go ad-free. With the paid plan, you receive a domain free for the first year, as well as some advanced SEO features and analytics.
---
21. Web.com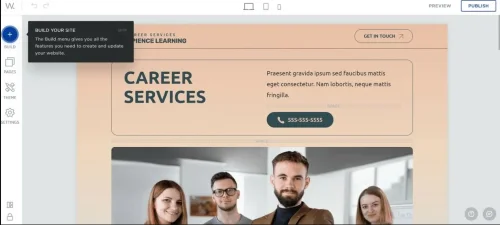 Relatively new, Web.com enables you to put together smart websites with a minimum of fuss. Their design is based on simple, modular blocks and pre-assembled drag-and-drop elements, making customization simple.
Pros
Extremely low cost of entry
Includes one hour of free design support
Set up an online store with all the functions you'd expect for only a few bucks a month
Cons
Only 150 templates
Not suitable for bigger eCommerce ventures
Does not integrate with third-party gateways
Pricing
The initial fee of just $1.95 per month, complete with a free URL, makes it one of the most affordable website builders on the market. Web.com's eCommerce package is just $3.95 per month.
---
---
Best Website Builders by Business Type
Now that we've detailed the features and pricing of the 21 best website builders on the market, below are our suggestions for their best uses.
Small business
Because there are many different kinds of small businesses, we broke down the best options based on needs:
Overall website builder across small business lists: Wix
Best value for small eCommerce businesses: Squarespace
Best for brick-and-mortar shops: Weebly
Fastest setup for small businesses: GoDaddy
Small businesses wanting complete control of their website design: WordPress
Below are the best website builder for specific industries:
| | |
| --- | --- |
| eCommerce | Gator (HostGator's excellent website builder) is a great choice for the price. Of course, Shopify and Weebly remain popular web stores, too. |
| Self-Employment | If you're a freelancer looking to promote your online presence, your work, or your brand, Strikingly is fast and easy to launch. Duda and Jimdo are good options, too. |
| Finance & Insurance | Website Builder by Hostinger and SITE123 are so easy, templatized, and frugal that they're perfect for insurers and personal financial advisors. |
| Restaurants | Wix and Square are the clear winners here, as are Squarespace and Shopify. |
| Real Estate | Where first impressions matter, Squarespace seems to dominate the real estate space. |
| Nonprofit | Wix offers nonprofits a free Premium plan for a year, with the option of extending the plan for an additional two years. |
| Teachers & Education | Strikingly is a great option for educators on tight budgets who want something online fast. |
| Podcasting | GoDaddy's new website builder features excellent uptime, good-looking templates, generous storage, and monthly data transfers. |
| Wedding Industries | For a gorgeous, clean aesthetic and pro-level control, Webflow and Jimdo are great choices, as are Squarespace and Wix. |
| Marketing & SEO Services | Hubspot is the clear winner for powerful and integrated marketing tools, but don't discount Website Builder by Hostinger, Gator, and Duda. |
| Integrated SaaS Builder | Duda's SASS integrations are highly regarded among teams and enterprise agencies. |
| Visual Arts | Webflow, Jimdo, and Web.com give you access to pro-level editing tools. If you're looking for high-quality stock photography, Gator, Squarespace, and Wix offer loads in their photo galleries. |
| Musicians, Bands, and Record Labels | Though not from our above list, Bandzoogle is the website builder of choice for bands, as it boasts band-specific features. Otherwise, Wix is an always-great, solid choice for massive customization, ease, and price. |
| Authors & Other Literary Professionals | Strikingly gets your website up quickly and easily, but WordPress is the winning solution for writers, bloggers, and content marketers. |
| Therapists & Other Medical Professionals | Appealing to freelancers and small businesses for its simplicity and clean aesthetic, Jimdo is a solid choice here, as are Squarespace or Wix. |
| Churches & Other Religious Entities | WordPress allows the most flexibility and customization, while Wix is an all-around winner for tools like donations, security, live streaming, etc. |
Best Website Builders by Features
If you're looking for a website builder with specific features, below is a feature-based list of the best website builders.
| | |
| --- | --- |
| Best Free Website Builder | Strikingly, Weebly, and Wix are among the most generous with their free offerings. |
| SEO Tools | Wix has all the SEO capabilities you could ask for. Website Builder by Hostinger ranks high here as well. |
| Integrated SaaS Builder | Duda's SASS integrations for some of the best on the market. |
| Social Media Tools | Jimdo offers numerous social media integrations. |
| Online Store | Shopify and Weebly for fantastic eCommerce website builders. If you're a larger vendor, BigCommerce is the best choice. |
| Design Templates | Gator strikes a good balance between design freedom and responsive restrictions. |
| Portfolio Showcasing | Jimdo is a great website builder for designers, photographers, or anyone else who wants to display their portfolio online. |
| Blogging Capability | Strikingly is a good option for blogging, but WordPress is the industry standard when it comes to blogging capabilities. |
| Multilingual Capability | IONOS's multilingual translation, which can translate a site's content into 62 different languages, makes it a great choice in terms of its international scalability. |
| Affiliate Marketing | Affiliate marketing is an integration Jimdo does well. You can obtain similar affiliate marketing integrations with Squarespace, Website Builder by Hostinger, SITE123, and Wix. |
| Easiest to use | Weebly is an easy-to-use site website builder with a free option. Its responsive design means that it's hard to truly mess it up. |
| Do-It-Yourself | It depends on the "you" in this scenario, but Weebly, Website Builder by Hostinger, Strikingly, and Web.com are all great for the self-starter. For those with more experience, website builders like Dreamhost or Hubspot are good options. |
| Drag-and-Drop | By definition, the platforms on this list are all easy to use, but drag-and-drop capabilities make website building that much easier. Some of the highest-rated are Weebly, Wix, Duda, and Website Builder by Hostinger. |
Website Builders To Avoid
Google Sites are free! However, you get what you pay for, with few customization options and a dated look.
Watch out for sites offering unlimited storage. This typically means the web host or website builder doesn't set a hard limit, but they can cut you off if they think you're misusing storage.
Watch out for sites offering introductory pricing or advertising low costs for the first year, as the price will usually get much more expensive.
---
The Best Website Builders: Final Thoughts
No matter which website builder you decide to go with, you'll be able to easily integrate PaymentCloud's payment gateway, virtual terminal, and shopping cart solutions directly to your site so you can start accepting online payments with ease.
In the wide world of website builders, there are many factors to consider before settling on one. But once you have selected the best builder for your needs, you'll be on your way to marketing your business, selling your products and services online, and instantly accepting online payments.
---
---
FAQs About Website Builders in 2023
Still have questions about website builders? You might just find the answer below!
What is the difference between a website builder and web hosting?
A website builder gives you the tools to design a sleek website for customers to visit. However, it needs to be hosted or stored somewhere on the internet, much like you would pay rent on a storefront property. That is what the term "web hosting" refers to.
What is a domain name and how do I get one?
Your domain name is the URL for your website. You can get a domain name from your website builder, a web hosting service, or another domain provider.
How much does a website cost?
There are three main ways to build a website: use a website builder, build it yourself on WordPress, or hire a professional web designer. Which method you choose will have a huge impact on how much your website costs.
While WordPress is the most flexible open-source platform, you have to pay for hosting, themes, and plugins. If you're not experienced, this may require professional help from a developer, which eats into your total costs.
Using a website builder is easy and cheap, with the prices ranging from free to around $500 per month for sophisticated merchant sites.
So, what about those free sites?
Free website builders are the perfect way to try out your ideas. But keep in mind you'll likely have to deal with at least one of the following pitfalls:
Advertisements displayed on your website
A non-custom domain, such as www.mywebsite.wix.com
Limited features, such as low storage and bandwidth allowances
No eCommerce capabilities
Lacking customer support
Startup costs
Hiring a web designer is usually the most expensive option. Realistically, you don't want to pay less than $5,000 for a qualified web designer. Better that than hiring a designer for shoddy work you could probably do yourself.
Long term costs
Generally speaking, you'll pay around $8 to $10 per month with an annual subscription to a website builder. It's closer to $12-30 per month for small businesses. eCommerce plans range between $20 to $25 per month, going up to $300 per month for enterprise-style premium plans.
Should I hire a web designer or web developer?
In terms of your dream website, one of the biggest decisions you'll make is whether to design it yourself or hire a web designer. But the 21 website builders listed above make it a breeze to design a suitable website without hiring a web designer or web developer.
Is it worth it to invest in a website builder?
If you're a beginner looking for a simple, attractive website for your blog, portfolio, or business, we highly recommend a website builder. This is especially true if you're looking to build an eCommerce website, as most website builders are tailor-made for just that. And even if you're more experienced, website builders are for everyone looking to put themselves online.
Do I need to learn how to code?
You don't need to learn to code in order to build a website or web store. (Though plenty argue there are reasons to learn to code anyway.) With so many out-of-the-box solutions today, it's not time-effective to learn how to code just to make your own website.
Do I have any design flexibility when using a website builder?
Most website builders include enough flexibility and customization, even in their templates, to cover your design needs. However, if you'd like more control over your website and platform, purchasing a domain, a web hosting service, and a content management system gives you fuller agency over every aspect of website design.