Tired of the controversy surrounding marijuana consumption? Maybe it is time to try CBD tinctures. They have quickly been developing into an accepted herbal medicine, but have actually been around for a long time. Now what benefits do they have and are they the best option for you? Let's explore.
First of all, what is a CBD tincture?
CBD tinctures are made by soaking hemp buds in high-proof alcohol with low heat and stored for months. The soaking process allows the plant's cell wall to break down and release the active compounds into the spirits. It is then strained and separated into opaque liquid droppers until use.
This form of medicine is seen as far back as the Ancient Egyptians, using nearly every type of herb available. Experimentation and ease of use made it a popular treatment for many common ailments. Tinctures were being made and used up until popular pharmacology began emphasizing the use of pills instead.
What benefits do Tinctures provide?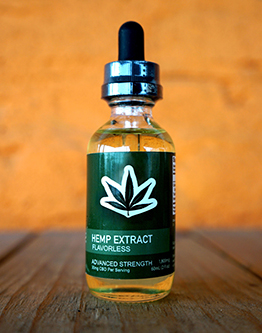 Tinctures have become one of the most popular devices to consume CBD. It is easy to use and a potent alternative to other ingested forms of CBD. To be instantly be absorbed into the bloodstream, simply squeeze the preferred amount underneath your tongue. The potency of the liquid varies greatly anywhere from 200mg to as much as 2,500mg per bottle, which is great for beginners and light users trying to find the perfect dosage. Because oil is produced in the steeping process, the tincture becomes stable, lasts indefinitely in the right conditions, and allows better absorption into the body.
Many supporters use tinctures to help with migraines, anxiety, chronic pain, and even seizures because they are fast-acting and potent. The PMC U.S. National library of medicine sites that CBD has a better side effect profile when compared to other drugs that are used to treat similar medical conditions
While this may not be considered a benefit for all, traditionally this process also does not allow THC (tetrahydrocannabivarin) to be absorbed into the tincture liquid. Without the presence of THC, using this substance will not produce any psychoactive effects.
Are Tinctures right for you?
This underrated CBD option often works better than other available methods of cannabis consumption, but not everyone likes them. They are perfect for people suffering from pain with stomach issues which makes it hard to ingest edibles; Issues related to this could be ulcerative pain, hyperactive gut, coeliac disease, and similar digestion issues.
Those that are sick, too young, or too old to smoke or vaporize marijuana prefer tinctures over other CBD options. People of all ages can take advantage of the benefits that tinctures provide without the additional side effects.
Lastly, it is a great option for people who cannot blaze up at any given time: people at work, in public, or in their own home. If any of these situations relate to you, then you would be a great proponent for using tinctures in place of or in addition to your current marijuana use.
What to look for when purchasing Tinctures?
With so many options flooding the market within the last couple years, there are so many things to look for when purchasing tinctures.
Pick your potency– this ranges from 200mg/ bottle to 2500+mg/ bottle
Choose the bottle size– Most starter doses are 2-3 drops a few times a day so make sure to buy enough
Find a flavor– honey, grape, spearmint, oh my! Add to your food, drinks, or consume on its own
Consider non-GMO– there are brands that focus on making non-GMO tinctures
It may seem daunting, but doing your research and reading the labels will help you make an informed decision. You will also be much more likely to find your favorite tincture faster.

Securing CBD Tincture Merchant Processing
With greater acceptance of CBD, hemp, and cannabidiol products in the marketplace, there has been an influx in merchant accounts for businesses dealing with them. But these types of accounts are still considered high risk and are treated differently than traditional, low-risk merchants. What to ask when securing a payment processor for your hemp oil account:
Are they adept at working with the high risk industry?
The processor must have the right framework for high risk credit card processing, things to look for are flexible underwriting, chargeback protection, along with seamless integration with multiple platforms and gateways.
More specifically, do they have experience with CBD ecommerce merchants?
A CBD Tincture payment processor is crucial as a traditional processor with little to no expertise in CBD eCommerce will most likely not be able to effectively deal with the evolving legislation, regulatory demands, and need for increased security. Make it easy on yourself and pick a processor that already has numerous CBD merchants and can handle the additional precautions.
Do they offer supplementary services in addition to the essentials?
Essential services include mitigating chargebacks, security, and fraud prevention, but the customizable options set apart the mediocre processors from the exceptional ones. Additional services to help your business scale and grow may include a tailored gateway, seamless platform integrations, and an open API.
Are they well connected and invested in CBD merchant success?
Prioritizing merchants' success is one of the most important aspects of finding a great payment processor. Be sure to select a processor that wants to work hard for your success.