CBD, the non-psychoactive component of the marijuana plant, has been receiving a lot of attention recently. Claims about its pain relief and anxiety-calming properties are circulating at an alarming speed. This versatile extract, though, aspires for more. Beauty products and cosmetics are the newest ventures for CBD-friendly users. Within the last few months, CBD and hemp oil have been popping up in creams, lotions, soaps, chap-sticks, brow gel, capsules, etc. With claims ranging from wrinkle reduction to overcoming breakouts, could it all be true?
Studies surrounding the effects of CBD and Hemp
Many cases have been floating around about the effectiveness of cannabidiol when used topically. According to users, reducing inflammation, skin and lip hydration, wrinkle reduction, and a decrease in breakouts are all common benefits. While many of these claims have yet to be formally proven, there are a plethora of studies being performed in the hope to support them.
There is a huge amount of research being conducted to catch up with the popularity of using CBD. One such study by the U.S. National Library of Medicine found that CBD is a promising therapy for reducing inflammation associated with acne and psoriasis. Another possibility being researched concerns the concentration of CBD in association with the effectiveness of the therapy. The findings showed that while effective in small doses, it has a greater possibility when using higher amounts.
While further research is still necessary, scientists are doing their due diligence to substantiate all of the claims that CBD has both preventative and corrective qualities.
Who should use CBD beauty products
Thankfully, the advantages are not limited to only a few skin types. CBD is a safe and effective alternative for anyone, but there are some groups that should definitely consider it:
Prone to Inflammation

Dry or Sensitive skin

Worried about wrinkles
Inflammatory conditions, stemming from skin conditions to acne, benefit most from CBD products. Because of its anti-inflammatory properties, CBD helps to support the skin regeneration process, effectively shortening breakouts and flare-ups. While you may see results quickly, extended use is most effective.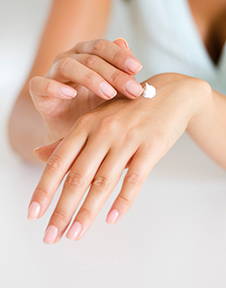 Another subset of users that appreciate the moisturizing effects of CBD products are those who have dry or sensitive skin. The topical CBD products often contain GLA (gamma-linolenic acid), a moisturizing agent, which is easily absorbed and often produces immediate relief for dry skin.
Although the effect of CBD on the look of wrinkles is still being studied, many people swear by its efficacy. CBD has already been found to be a powerful antioxidant by the Proceedings of the National Academy of Sciences of the United States of America as long ago as 1998. But just recently, we have tied it to damage reduction in the skin. Antioxidants are known to help slow the aging process by reducing the effects of free radicals. Collagen is broken down by free radicals.
Ultimately, antioxidants, such as CBD, slow down collagen loss, which has a greater effectiveness when used over time.
What to look for when purchasing CBD products
It is important to do your research and understand what you want to gain from switching to CBD before purchasing. These products are still new to the market and are awaiting scientific testing, but have great potential. Cost will be a big indicator of the quality; If you find products that boast a large mg potency with a small price tag, it is probably too good to be true. Factors to look for when purchasing CBD skincare products:
When buying CBD oil, try to stay with items that say 95% purity or above, this will make sure that you are getting the most refined product without the additives that may negatively affect the therapeutic benefits.
Unfortunately, these types of items do not always come cheap, and you will most likely get what you pay for so consider being generous with the price.
Look for user reviews of the products, customers will have the best knowledge about each item's effectiveness.
Whether it's oil, lotion, cream, or balm, make sure to pick what you like and what will be right for your needs. Choosing a balm will be more effective for someone who wants a more targeted application, while a lotion is great for all-over use. CBD oil is the most common form of use, but many people dislike the feel of it on their skin, so in that case, a cream would be a better fit.

Securing Merchant Processing for CBD Beauty Products
With greater acceptance of hemp, and CBD beauty products in the marketplace, there has been an influx in merchant accounts for businesses dealing with them. But these types of accounts are still considered high risk and are treated differently than traditional, low-risk merchants. When looking for a high risk CBD oil merchant account for your business, consider the credit card processing company that is right for you. What to ask when securing a payment processor for your hemp oil merchant account:
Are they adept at providing high risk merchant accounts?
The processor must have the right framework to work with high risk businesses. Things to look for are flexible underwriting, chargeback protection, along with seamless integrations to multiple platforms and gateways.
More specifically, do they have experience with CBD ecommerce merchants?
A payments processor with little to no expertise in CBD eCommerce will most likely not be able to effectively deal with the evolving legislation, regulatory demands, and need for increased security. Make it easy on yourself and pick a processor that already has numerous CBD merchants and can handle the additional precautions.
Do they offer supplementary services in addition to the essentials?
Essential services include reducing chargebacks, security, and fraud mitigation. But the customization options set apart the mediocre processors from the exceptional ones. Additional services to help your business scale and grow may include a tailored gateway, seamless platform integrations, and an open API.
Are they well connected and invested in CBD merchant success?
One of the most important aspects to finding a great payment processor is if they are invested in their merchants' success. Be sure to select a processor that wants to work hard for your success.