When you think of the word "credit score," you may think of a number or a particular credit bureau. But what about business credit scores? Businesses have credit scores just like people. And just like personal credit scores, a business credit score is a measure of how trustworthy your organization is as a borrower.
Lenders will look at your business's credit score to help determine if you will repay a loan in a timely fashion. While business credit and personal credit may represent similar goals to lenders, they also have their differences.
What is Business Credit vs. Personal Credit?
It's imperative to understand the differences between your personal credit score and your business credit score if you want to own or operate your own business. The top differences between business credit vs. personal credit are:
Calculation Standardization:

Generally, individuals only have one credit score. Businesses, however, can have a few different scores calculated by a variety of different factors. This may be based on your net worth or your repayment risk, also known as an evaluation by lenders of how likely you are to miss a payment on outstanding debts. Various factors can influence these different scores.

Score Ranges:

While personal credit scores usually rank between 300 and 850 on the

FICO scale

, business credit scores can be ranked on several different numerical scales, depending on the score type. Before you look up your business credit score, make sure you know which one you're seeing. 

Lower Insurance Rates: Good business credit can also keep your insurance rates low. This can make a huge difference, especially for small businesses. Because when your business grows, your insurance rates are viable to go up. With healthy business credit, you can keep your rates lower.
Rights to Privacy: With individual credit, only you and the

companies you authorize can access your credit score and history. This is to keep your sensitive information protected. However, business credit scores are public record, and there are even services that audit other businesses for you. Your right to privacy is something that changes vastly when it comes to your personal credit vs. your business credit. 
Is Business Credit Necessary?
Depending on the size and age of your business, you may have been able to finance business loans based on your personal credit score. Unfortunately, this isn't always the best move for your financial health. You may also miss out on some worthwhile benefits of utilizing your business credit that could include:
Better Loan Terms: Because business loans can be used to finance large purchases — such as equipment, or building expansions and repairs — good business credit can result in a larger lump sum upfront and a fixed interest rate. Long-term repayment schedules that can lower your monthly payments are also an option for business loans. Typically those types of loans are not available to you based solely on your personal credit.
Secure your Personal Assets:

It isn't uncommon for large loans to require collateral for financing. By applying for a large business loan with your personal credit, this can put some of your personal assets — such as your home or vehicle — on the line of collateral. This raises your loan stakes and makes the repayment process that much more stressful. By using your business credit, you can put items such as owned machinery, equipment, or business real estate up for collateral, and protect your vital personal assets. 

Protect your Personal Credit:

Similar to the above, using your business accounts rather than your personal accounts not only helps to safeguard your valuables, but your personal credit score as well. If your business does not succeed, filing for bankruptcy affects your business and also drives down your personal score. This is why maintaining elements of separation is so crucial. By utilizing your business credit, fluctuations in your business are less likely to affect your personal score.
How is a Business Credit Score Calculated?
Business credit scores are calculated by taking various pieces of data and assigning them a value. These sections of data include:
Your business's payment history

How much of your credit you use

Your net worth
The three main credit bureaus — Equifax, Experian, and Dun & Bradstreet — all calculate business credit scores, but each bureau scores differently. 
Dun & Bradstreet
Dun & Bradstreet focuses on two main scores; your failure score and your Paydex score. The Paydex score is zero to 100 and bases itself on vendor payment history. To have a Paydex number with D&B, you'll have to file for a D-U-N-S number through their website and have at least four vendors on record. The failure score (formally the "financial stress score") is usually a one-to-five class ranking, based on your business's likelihood of financial stress. The age of your business, your history of financial lawsuits, your net worth, and other similar factors influence this score. 
Equifax uses three scores — the payment index, the credit risk score, and the business failure score — to evaluate your credit. The payment index ranges one to 100 and reflects your percentage of timely payments. It's important to note that this score is not used to predict future payment history. The credit risk score predicts how likely your outstanding debts are to become delinquent or overdue. It scores from 101 to 992 based on business size, oldest financial account, credit limits, and missed payment frequency. Finally, the business failure score measures the likelihood of your business closing within 12 months. This score ranges from 1,000 to 1,610 and is calculated using your history of maximized credit, late payments, and your oldest financial account. 
Experian focuses on one score: The CreditScore report. This report amasses your payment trends, account history, and public records into one number between zero and 100. In comparison to the other two bureaus, this score covers the widest range of factors. For this reason, it may be the most useful when looking for how to build and improve business credit.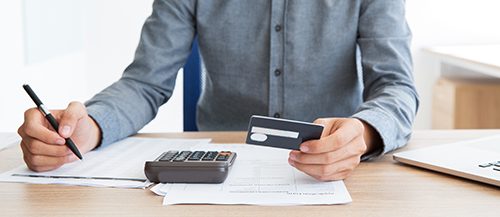 How Do I Build Business Credit?
Whether you're looking to improve a poor business credit score or establish your company's credit score as early as possible, there are a few things you can do to build up business credit.
Legally register your business
If you haven't already, make sure your business is legally registered in your state and has a federal employer identification number, or "EIN." This is crucial for business taxes, but some reporting agencies will use this number to track your business credit score in the same way your Social Security number is used to track your personal credit.
Open a business bank account
Open a separate bank account for your business and keep all business expenditures separate from your personal assets. This is a good time to look into protections, such as PCI compliance and fraud prevention, to safeguard all your assets. 
Pay on time
Make your business payments on time, if not early. Comparable to personal credit scores, missing a payment or submitting it late is the easiest way to negatively affect your business credit, while paying on time or early is directly and positively measured by all three credit bureaus. 
Check your scores
Finally, check your scores from all three credit bureaus regularly. Generally, this means about every six months to a year, depending on how established your business is. This will allow you to note any issues or fluctuations in your score, and to respond to them accordingly.
Any business looking to better its financial health, regardless of size or age, can benefit from checking its business credit score and fostering a working knowledge of what these scores mean to the business. And just like personal credit, a low or non-existent score shouldn't be a cause for panic, but rather an opportunity for growth.