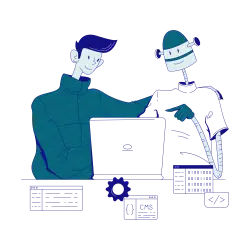 In the ever-evolving landscape of digital marketing and sales, the ability for various tools and online platforms to connect becomes crucial for a smooth and efficient workflow. Among the many powerful combinations available is that between HubSpot, an online customer relationship management platform, and Stripe, a popular payment service provider.
For business owners already using Hubspot and setting up an eCommerce site, you still lack one critical element for opening your 'online doors:' a payment processor. One such option is Stripe—and so in this article, we'll lay out all the benefits, limitations, alternatives, and even a step-by-step guide to implementing this particular integration.
How Does Stripe Integrate with Hubspot?
Stripe integration with HubSpot allows businesses to seamlessly process payments, track transactions, and manage customer data within the HubSpot ecosystem. Stripe is a popular payment processing platform known for its security, scalability, and developer-friendly features. By integrating Stripe with HubSpot, companies can centralize their sales and marketing data, enabling better customer insights and streamlined operations.
HubSpot Payments vs. Stripe Hubspot Integration
HubSpot Payments is the native payment processing tool of HubSpot. It enables businesses to accept payments directly through HubSpot forms, deals, and emails.
While HubSpot Payments efficiently addresses fundamental payment needs, those seeking a more comprehensive range of payment options might prefer connecting with Stripe or its alternatives.
Step-by-Step Guide to Stripe Payment Integration with Hubspot
Integrating Stripe with HubSpot requires some initial setup but can be easily achieved by following these steps:
Step 1: If you don't already have one, sign up for a Stripe account and complete the necessary verification process.
Step 2: In the HubSpot marketplace, locate the Stripe integration app and install it to your HubSpot account.
Step 3: Follow the on-screen instructions to connect your Stripe account with HubSpot.
Step 4: Customize your payment options, such as currency, payment methods, and billing cycles.
Step 5: Begin accepting payments using Stripe through HubSpot's various channels, such as forms, deals, and emails.
Benefits of HubSpot Stripe Integration
Integrating payments into HubSpot with Stripe offers numerous advantages. One standout feature is the ability to manage and accept payments for HubSpot's native quotes. Users can integrate Stripe checkout into a quote, facilitating credit card payments. Upon payment receipt, HubSpot will automatically generate a customer record and add the relevant subscriptions in Stripe. This capability streamlines many manual processes, allowing users to create and dispatch polished, customizable quotes to prospects. It also reduces back-and-forth communications.
Another significant advantage is the automatic creation of new contacts in HubSpot once a Stripe transaction is approved, provided the contact isn't already present in the database. When a transaction is completed, HubSpot creates a customer record and logs the subscription, while Stripe handles the payment.
Other key benefits include:

Simplified payment processing
With Stripe integrated into HubSpot, you can take payments directly within your CRM, removing the need for separate platforms and manual data entry.

Enhanced customer insights
The integration allows for viewing payment data alongside customer data, including transaction history and preferences.

Automated sales and marketing processes:
The Stripe HubSpot integration enables the automation of follow-up actions like email confirmations, email nurture, and upselling based on customer payment behavior.

Improved sales efficiencies:
With payment processing and related tasks now automated, your sales team can focus on building customer relationships and closing deals.

Multi-platform compatibility:
Stripe supports various payment methods, including credit cards, digital wallets, and ACH, making it convenient for customers from different regions and demographics to make payments.
Limitations of Stripe HubSpot Integration
While the Stripe and HubSpot integration offers numerous benefits, it does come with certain challenges. Commonly cited limitations include:
Complicated for beginners to get the hang of. Setting up the integration may be hard for users unfamiliar with API connections and third-party integrations.
Doesn't accept ACH payments. The integration doesn't accept direct bank transfers or ACH payments. You'll only be able to accept payments through credit and debit cards.
You'll end up paying transaction fees: Stripe charges credit card processing fees for each transaction, which could be a consideration for businesses with high transaction volumes.
There's limited reporting: Some may find the default reporting capabilities within HubSpot limited for in-depth financial analysis, making it necessary to use external reporting tools.
There could be data synchronization issues: Although rare, integration-related hiccups might occur, leading to data syncing errors between Stripe and HubSpot.
Alternative Payment Options That Integrate with Hubspot
While Stripe is a prominent choice for payment processing, there are numerous other options that harmonize flawlessly with HubSpot. One alternative is a merchant service provider that can provide custom online payment solutions to seamlessly connect to your HubSpot account. Their expert guidance can help tailor the ideal integration solution specifically to your needs. Dive deeper and explore how the right provider can elevate your payment experience.
---
---
Stripe and Hubspot: Frequently Asked Questions
How much does it cost to use Stripe with Hubspot?
Stripe's pricing structure typically includes a per-transaction fee, which can vary based on the region and payment method. For the most accurate information, it's recommended to check the pricing pages of both platforms.
How does Stripe work with Hubspot Quotes?
Stripe can be integrated as a payment method within HubSpot Quotes. This allows customers to directly make payments through the quote, streamlining the sales process and making deal closures more efficient.
Does Hubspot let you use Stripe with forms?
Yes, businesses can integrate Stripe with HubSpot forms. This lets customers make payments directly on the form submission page, enhancing lead-generation efforts and ensuring smooth transactions.
Why should I integrate HubSpot with Stripe payments?
Combining HubSpot with Stripe payments can substantially improve your business's sales and marketing operations. This integration facilitates smoother payment processing, centralized data management, and data-driven decision-making based on valuable customer insights.