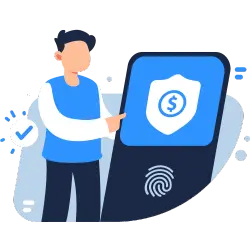 Fintech has propelled the speed at which payments are made and expanded the accessibility of financial services, which may leave many business owners wondering if platforms like Zelle are safe for sellers.
Zelle offers instant transfers from the mobile app for free. Valued at US $81.03 billion in 2022, the global digital payment market is set to expand at a growth rate of nearly 20% in the next seven years. As businesses try to increase consumer convenience, payment services like Zelle are becoming more attractive. However, with the high rate of digital payment fraud and scams, sellers must also understand exactly how safe (or not) platforms like Zelle are.
With increased financial crime risks, FinTech companies are constantly trying to balance user satisfaction, data security, and evolving regulations. In this article, we'll dig into just how safe Zelle for business is to use. We'll examine Zelle's security features and platform security risks, so you can make informed decisions about using Zelle as a payment provider for your business.
Ensuring Zelle's Safety for Your Customers
Zelle is largely known as a P2P app that explicitly warns users to be wary of making payments to individuals other than family and friends. However, in 2018, Zelle introduced the business account function, making it easy for consumers to pay businesses as well.
To use Zelle for your business, you need a business bank account. Although Zelle doesn't offer business-specific features, it is helpful if you'd like to accept and make payments from a business account at a much lower (or no) cost, saving your company unwanted transaction fees.
It's essential to always put customers at ease about the legitimacy of your company, and transparency is crucial for building trust. Zelle makes consumer payments convenient and quick, so you can focus on providing them with clear details about the information you share on the platform.
Tips to Set Customers at Ease
Here are some things you can do to help protect your customers and build confidence within your business:
Educate your customers. Provide clear instructions on how to use Zelle to pay securely.
Send customers official business invoices.
Reiterate that customers should only use the official details you provide for the payment and that you cannot make any refunds via Zelle.
Stay informed. Keep up with the latest security updates and best practices provided by Zelle.
Train your staff on how to respond to customer queries regarding payments. They also need to remain aware of scamming red flags.
If a customer reports a security concern that involves your business name, take immediate action to investigate and resolve the issue. Keep open communication with your customers and keep them informed.
How Safe is Zelle for Sellers? Security Features in Focus
Zelle has numerous technical, physical, and administrative security measures in place to protect user information against misuse, unauthorized access, and theft. Zelle states on its website that it implements:

Firewalls
Zelle has a firewall that acts as a 24/7 filter. It scans all data that attempts to enter a network and prevents anything suspicious from getting through.

Data Encryption
Encryption converts plain text into cipher text within Zelle. In other words, plain text is processed using an encryption algorithm to scramble the data. This makes it unintelligible or unreadable to anyone who doesn't have the precise decryption key. Therefore, even if hackers do gain access to a database, your data will not be of any use.

Device Security Features
Zelle allows you to enable security features built into your device such as facial or fingerprint recognition. Note that Zelle does not collect or store user biometric verification data when they use the app.

Information Access Controls
Zelle employs access controls that limit the functions users can (or cannot) perform. They do this by assigning permissions to authorized individuals. They limit access to files and the ability to create, read, edit, or erase information.

Physical Access Controls to Data Centers
Physical access refers to the literal access of a data center building. Security staff, surveillance, and detection systems are in place to manage Zelle's data storage location. Only authorized staff can gain access with multi-factor authentication.
Despite these measures, the digital payment platform makes it clear that it is ultimately the user's responsibility to ensure the accuracy and safety of their personal information, password(s), and profile registration by not sharing details with third parties.
Is Zelle Secure for Sellers? Constraints to be Aware of
While Zelle takes data security seriously, they take no responsibility for users who fall prey to scammers and authorize payments to impersonators. So in terms of safety for you and your customers, there are some constraints to using Zelle for business.
Zelle Does NOT Offer Purchase Protection
Transactions made through Zelle are typically completed instantly—but they do not come with any form of protection if the payment was made to the wrong person, or if you or your customer were scammed. Whether you are paying someone who posed falsely as a vendor or a customer was scammed into paying someone who fraudulently used your business name, there won't be any recourse through Zelle itself.
Zelle Does NOT Allow or Enable Refunds or Payment Reversals
If a payment has already gone through and your customer wishes to return the item, you cannot refund the purchase through Zelle. You will need to initiate a new payment entirely into their account or use a different payment method. The same is true for Zelle chargebacks. Zelle does not involve itself in chargebacks, so you cannot protect purchases that are part of a scam.
How to Stay Safe When Using Zelle
Above, we discussed some ways to protect your customers when using Zelle for business. Here are some key ways you can help to protect your own business account and funds.

Communicate Clearly
We mentioned this before, but it's worth mentioning again to protect yourself from a popular refund request tactic used by scammers. Make it clear to buyers that you cannot offer them refunds if they pay via Zelle.

Be Cautious With Vendor Payments
Zelle can be very handy for small businesses to pay wages and vendors. While Zelle does not integrate with accounting software, many programs allow you to log transactions manually.
When paying an unknown or new vendor for the first time, we recommend that you do not use Zelle, but rather a more official payment method such as a credit card. Once you have an established relationship with the vendor, then you should proceed with Zelle if you choose to do so.

Treat Urgent Payment Requests as a Red Flag
Scammers often depend on a sense of urgency. If someone claims to be from a company you do business with—such as a vendor or utilities company—and threatens to cancel your service if you do not pay immediately via Zelle, this is a major red flag.
Contact the company on their official contact details to verify the legitimacy of such requests. The same applies to requests from your bank; scammers may fake caller IDs and emails to represent your bank or other financial institutions.

Monitor Your Business Bank Account
Stay vigilant about what's going on in your account by checking your bank statements. Report unauthorized transactions to your bank immediately.
Additional general safety measures for all mobile payment users include:
Enabling two-factor authentication as an extra layer of security when logging in
Keeping Zelle and other banking apps updated with the latest security
Proceeding with caution when granting anyone else (such as employees) permission to access your Zelle account
Only using Zelle over a secure WiFi network
Verifying contact information through a trusted source before paying vendors
Avoiding clicking on links; rather, always log into your bank account by physically typing in a web address or using your mobile app
Keeping informed about new fraud tactics and Zelle payment scams
For more information on how to recognize potential Zelle scams, read our full scam guide here.
Enhance Your Business Reputation with Stronger Protection
So, is Zelle safe for sellers? The answer is yes it can be, but you should remain vigilant. Is Zelle the safest payment provider for sellers? Definitely not.
Customers want convenience as well as safety. If you offer one without the other, it can be detrimental to your business—and it's not worth the risk. PaymentCloud balances fraud protection with convenience, allowing your business to succeed. From online payments and credit cards, to scan-and-pay QR codes, your dedicated account manager will help you find a custom solution to fit your business needs and budget. When you secure a reliable merchant account, you'll receive the best service as well as assurance that your business is protected in the case of payment disputes.