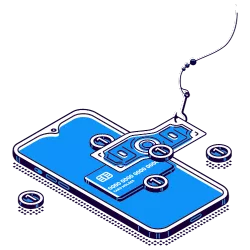 With the rise in popularity of P2P platforms, concerns about Zelle business account scams have increased equally. Peer-to-peer (P2P) payment platforms have been leading the US mobile payment landscape. Total P2P transactions are expected to reach $ 1.4 trillion in 2023, a 28.5% increase from the previous year.
One of the major factors distinguishing Zelle from its competitors is its direct connection to financial institutions. The vast majority of the US population already have Zelle connected through their banking app. [1]Insider Intelligence."Zelle carries momentum thanks to network and capability expansions". Accessed on Nov 21, 2023. While some users may think this distinction makes them immune to being targeted by scammers, this isn't quite the case. In an analysis in 2023, the four largest US banks reported more than 192,878 Zelle scams that involved over $213 million worth of payments over just 18 months. [2]News Channel 8. "Zelle fraud cases explode, customers lose millions". Accessed on Nov 21, 2023.
If you use Zelle for business, you're likely doubly concerned as your business income is at stake. Here, we'll explore scam tactics and suggest some best practices to protect your personal and business information and funds.
Can You Get Scammed Using Zelle? Understanding the Threat
As mentioned earlier, many users access Zelle through their existing bank app, making instant transfers (free of charge) from their bank account to other bank accounts. Alternatively, users access the service through the Zelle app, which works in the same way.
The process differs from other mobile payment platforms or credit card payments, leading to scams in two key ways.
Since transfers are immediate and directly between bank accounts, there is no party holding the funds while verifying transfers or before recipients withdraw funds. No safe holding space exists while identities are verified, and the money instantly moves.
Unlike platforms such as PayPal and credit card providers, Zelle doesn't charge transaction fees. This means it has no financial reserves built up to cover fraud losses.
Scammers are professionals at what they do, whether they're disguising their number as the bank's or they're directing you to a mock-up website with branding identical to your bank. Naïve individuals aren't the only targets—anyone can fall victim to scams. And since Zelle does not keep the financial reserves to assist in a dispute, scams via the service can prove particularly impactful.
Exploring Common Zelle Business Account Scams
Scammers often catch people off guard in the most unsuspecting situations. Regardless of whether you're dealing with a customer, or a vendor, or think you're dealing with your bank's support center, you must remain vigilant. Let's review the most common types of scams.

Business Offers and Coaching Scams
Whether you want to expand, buy a business, start a new one, or join a business training program, fraudsters have multiple scams targeting entrepreneurs.
These scams will present you with a life-changing business opportunity, guaranteeing a low-cost system and large returns. With online business coaching programs, promoters claim that their experts will teach you guaranteed proven methods to build your five-to-six-figure internet business—no experience needed. They may even claim that program participants earn between 50% to 100% return on their investment during the first 12 months, or some similar "too good to be true" claim.
Of course, in both cases, you have to pay upfront for a program or business start-up kit. Once the entrepreneur makes the payment, the scammer disappears with their money—and no business opportunity.
How to Avoid a Business Offer Scam
Research the company, check reviews, and contact them directly via phone or video call to discuss the opportunity. Ask specific questions and ensure you get clear answers. If they tell you that you don't need to know the specifics, since details are taken care of, it's likely a scam.
Some questions you can ask include:
What will I be doing or selling?
What will my expenses be?
How will the business generate income, and how will I get my money?
When can I expect a profit?
How will customers find my website?
If it's a coaching program, check the coach's credentials as well.
Scams often pressure you to 'act quickly' so you don't miss out. But don't give your Zelle or bank account information to unknown individuals as part of a sign-up process.

Overpayment Scams Targeting Sellers
Be wary of clients who accidentally overpay you or who make an unprompted payment into your account. (This can also happen with personal payments from unknown individuals.)
With overpayment scams, the scammer uses a stolen credit card to pay funds into your account or send you a fraudulent check for too much money. They then notify you that they accidentally paid too much or paid into the wrong account and ask you to refund their money via Zelle.
Zelle makes the payment easy, since the money you refund arrives almost instantaneously in their bank account. However, Zelle also does not offer chargebacks or fraud protection—meaning the scammer now takes off, leaving you and the original scammed individual worse for wear.
How to Deal With Overpayment Zelle Scams
Unfortunately, when it comes to overpayment scams and Zelle, achieving a happy ending for all parties is hard work. For your part, you should not send the money back if you are concerned about a potential scam. This will certainly upset many clients; however, their main recourse is to call their bank and dispute the charge via Regulation E of the Electronic Transfer Fund Act (ETFA) or contact the Consumer Financial Protection Bureau (CFPB)—both of which take time to assess and clear a dispute.
If one of these processes results in declaring the transaction fraudulent, the bank will initiate an automatic chargeback on behalf of the customer.

Impersonation Scams Posing as Trusted Contacts
Traditional phishing or impersonation scams remain one of the most common methods used by fraudsters. Since entry to your Zelle account gives fraudsters direct and instant access to your bank account, it can be a quick way to drain your funds.
These scams often include SMS phishing texts (smishing) or emails that look like officially branded Zelle or bank communications. In some cases, they may even contact you via a phone call, posing as a bank representative.
A fake bank email, text, or representative notifies you that they suspect suspicious activity on your Zelle business account. As a safety measure, they will suspend your account until you verify your identity as the legal account holder. In addition, this needs to happen within a given time period (usually 24 or 48 hours).
You are then requested to log in to your account via a link in the email or text. Alternatively, the scammer might ask for personal details such as your account information, SSN, and PIN to recover your account. The fraudsters steal your data and instantly gain access to your funds.
How to Spot a Phishing Scam
Authentic Zelle and bank communications will never:
Contain typing errors or misspelled words
Ask for your PIN
Ask for sensitive information such as account details or SSN via email or text
Use a pushy tone of voice
Ask you to verify your account via a provided link (as all such interactions will usually occur in your mobile app)
To add an extra layer of protection, enable two-factor authentication with a secure password or PIN.

Online Marketplace Fraud—Fake Upgrade Notifications
If you sell on social platforms such as Facebook Marketplace, beware of fraudsters posing as buyers. The "buyer" will get your Zelle-linked email address to make a payment via Zelle.
You will then receive a fake email that appears to be from Zelle, saying that the buyer has paid you, but you cannot access the money until your account is upgraded for a fee. Of course, no payment has actually been paid—and the so-called upgrade fee you pay goes straight into the scammer's pocket.
To avoid these types of scams, always contact Zelle or your bank directly to verify the upgrade request or payment. Zelle is free to register; you should not have to pay to do so.
How to Secure Your Zelle Account Against Scammers
While the danger of falling victim to Zelle business account scams doesn't mean you should stop using the platform entirely, there are precautions you can take.
Always be suspicious of urgent payment requests from people or businesses you don't know. Don't respond—rather, contact your bank to review account activity.
Enable two-factor authentication.
Never share your password or two-factor authentication PIN with others, even if they claim to be from your bank or Zelle.
Keep your device and apps updated. Install the latest Zelle security patches and updates to protect against vulnerabilities.
How to Get Your Money Back From Zelle if You've Been Scammed
Unfortunately, if you fall victim to a Zelle scam, it can be challenging to recover your money. As mentioned, Zelle does not provide chargebacks for any authorized payments—meaning that even if you were scammed into making the payment, your money is likely gone. That's why it's important to stay vigilant before falling prey to such attacks.
If you'd like to try anyway, your best recourse will be the same option mentioned above for customers: contacting your bank directly and disputing the charge via Regulation E of the ETFA. There is no guarantee your claim will result in a return of your funds, however. Regulation E only applies to "unauthorized" funds—meaning that you, as the account holder, did not authorize the payment yourself.
You can also go after the fraudsters directly by filing a police report. The problem here is that many scammers operate from outside the US, making it incredibly difficult—if not impossible—to track them.
Ask if there is a specific department to deal with this type of situation at your local police station. It's essential to keep all records of your communication related to the scam, including screenshots, texts, and emails that can support your claim.
Maximize Fraud Protection With PaymentCloud
When running a business, the last thing you want to do is constantly second-guess every payment you make or receive. While this might work for smaller businesses, it's not always a good fit.
Rather, consider finding a payment provider that offers fraud protection while maximizing convenience for your customers. This protects you, and your clients—and builds consumer confidence. Depending on your business type—take high-risk, for example—you may have unique circumstances to consider.
At PaymentCloud, we prioritize fraud prevention and include free protection tools to safeguard your merchant account, including:
Automated fraud detection
Consumer data tracking
Address verification
Volume and threshold filters
Fraud alerts