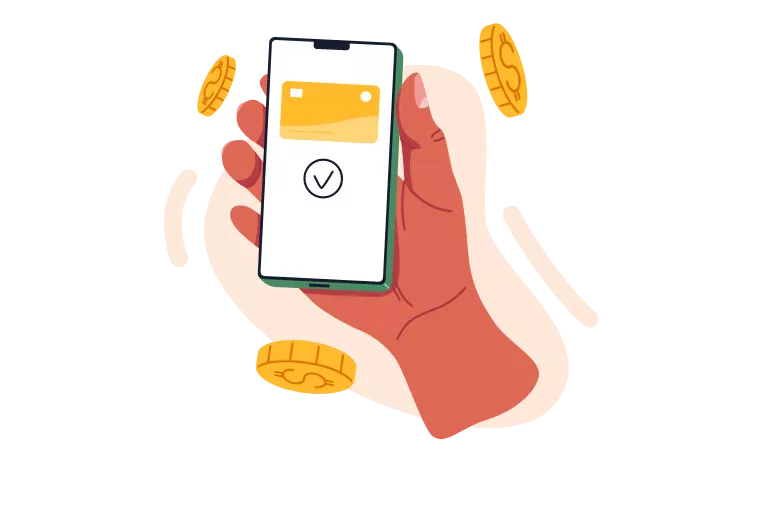 For merchants who rely on accepting mobile payments—either due to preference or operational necessity—a mobile card reader is an essential tool. These are portable devices capable of attaching to a smartphone and transforming them into a credit card reader. Owning such a tool opens you up to accepting payments from potential customers anywhere, anytime.
If you're looking to unlock new avenues for your business and cater to a broader customer base, then integrating mobile card payment solutions should be at the top of your priority list. In this guide, we walk you through the process of accepting mobile credit card payments and the business benefits you'll unlock by doing so.
How to Accept Mobile Credit Card Payments
There are a few easy steps you need to follow so you can start to accept payments on a smartphone:
Open a merchant account. You must have a merchant account to process any credit and debit card payments. A merchant account enables businesses to accept payments in multiple ways, including debit and credit cards.
Choose the transaction method. Assess what types of payments you will accept from your customers. While a mobile card reader may require additional hardware, alternatives such as a virtual terminal, QR code option, and a payment link feature can be utilized directly on your mobile device.
Install the required software. Every mobile card reader has a mobile or web app compatible with Android and/or iOS. Most software has a general dashboard where you can access features like transaction reporting, data analytics, recurring billing, and a virtual terminal.
Understanding Mobile Card Readers
Mobile card readers are plug-in devices that attach to a mobile phone and enable you to accept mobile credit card payments. You can attach them through compatible phone ports, turning any phone into a portable POS terminal.
There are three types of mobile card readers: magstripe, EMV, and NFC. However, some devices may offer two or three types of readers in one single device.
Magstripe
A magstripe reader accepts cards by swiping a card's magnetic stripe. Magstripe payments are the least secure of all three technology acceptance methods. Today, merchants exclusively relying on magstripe readers are liable for losses incurred from fraudulent transactions for both magstripe and EMV chip cards.
EMV
An EMV (Europay, Mastercard, Visa) card reader interprets the EMV chips on credit or debit cards. As you may know, all payment information required is already on the chip. This device simply reads it through chip insertion. Regarding security, it's far more secure than a magstripe card reader.
NFC
An NFC card reader uses wireless technology to accept contactless payments. Customers can use mobile wallet apps like Apple Pay, Google Pay, and Cash App to send payment information through a tapping or waving motion using either a smartphone or an NFC-enabled card. It's worth noting that NFC is one of the more secure options.
How to Take Credit Card Payments on a Phone Without a Reader
Besides credit card readers, merchants can opt for two other ways to accept card payments: a virtual terminal or QR codes/payment links.
With a virtual terminal, credit card information is entered manually. However, the credit card processing fees through a virtual terminal are generally higher than those of the other methods because it accepts card-not-present (CNP) transactions.
With QR codes or payment links, all a customer has to do is scan a QR code or click a payment link to make a payment. QR codes and payment links are a modern, efficient way to accept mobile credit card payments.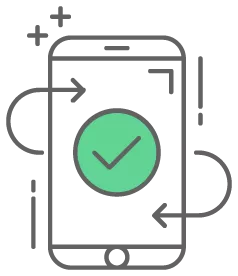 Accepting Credit Card Payments on Android vs iPhone
Merchants can accept mobile payments whether they have an Android or an iOS operating system. Generally, most processors have card-processing software compatible with both Android and iPhone devices. However, it's never a bad idea to check OS compatibility with a proper payment processor when searching for mobile card readers or software.
What Business Types Would Benefit from Accepting Mobile Payments?
Mobile payments are best for small businesses and freelancers for two reasons.
The first one is convenience. Say you're a professional mover working with clients on the go. After a move, it's much easier for you to accept mobile payments with a smartphone instead of having to carry a heavy-duty POS terminal.
The second reason is price. Mobile card readers and card-processing software are far more affordable than the POS systems you see in brick-and-mortar stores. Some processors offer free card readers, whereas a POS system can cost anywhere between $300 to as much as $4,000.
What are the benefits of accepting mobile credit card payments?
As there aren't any significant drawbacks, we'll look at all the benefits you get from accepting mobile credit card payments:
Convenience: Accepting card payments anywhere is the peak of convenience for both merchants and customers. In particular, artists, start-up businesses, and on-the-go operations can utilize this technology to accept mobile credit card payments within seconds—any place, any time.
Cost Efficiency: With a mobile card reader, you can offer the same experience as a POS system for next to nothing. Simply obtain a merchant account, choose a transaction method, and the app you install will then be your primary payment tool. From its dashboard, you can access features such as data reports, transaction history, and inventory lists.
Easy Integration: There's nothing easier to integrate than a card reader. Plug in the hardware, download the software, and you're ready to accept mobile payments. Meanwhile, a POS system requires complicated hardware that must be installed. In contrast, card readers usually require little to no installation.
Taking Card Payments via Mobile Phone: Closing Remarks
It takes only three steps to start accepting card payments with a mobile device—open a merchant account, choose a transaction method, and install an app. Yes, it's that easy. But to effectively navigate the world of payment processing, partnering with a reliable merchant service provider can make all the difference. Our professionals possess the expertise needed to guide you through your reader selection process, ensuring you find the ideal mobile payment solution tailored to your unique business needs. By partnering with PaymentCloud, you can embrace the future of commerce and position your business at the forefront of technological advancements.
---
---
Frequently Asked Questions
Is mobile payment processing secure?
Yes, it is. The level of security usually depends on the payment processor with whom you'll be collaborating. Ensure its hardware and software have data encryption and tokenization, and comply with the PCI standards.
How much does it cost to accept mobile payments?
Mobile payments can either be considered card-present or card-not-present transactions depending on the method you're using. Mobile card readers tend to incur card-present fees, whereas transactions without a reader incur card-not-present fees.
Card-not-present fees are higher, averaging somewhere between 2.9% + $0.10 and 3.5% + $0.10 per transaction. Card-present fees average somewhere between 2.3% + $0.10 and 2.9% + $0.10 per transaction.
When would I need a mobile card reader as opposed to using my phone?
You need a mobile card reader to accept physical cards. The "downside" of accepting cards with a mobile card reader is that you're carrying an additional device besides your phone. However, not using a mobile card reader can incur higher fees because processors deem card-not-present transactions as a higher risk.