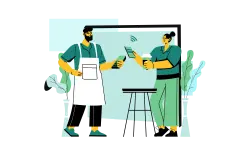 As most business owners know, smooth transactions can significantly impact customer conversion and loyalty. That's why accepting Apple Pay, a leading form of contactless mobile payment, has become almost essential for those in retail sales.
The good news is that it's relatively straightforward to accept payments like Apple Pay into your business. Begin by familiarizing yourself with Apple Pay's features and the broader landscape of the Apple Pay process. Continue reading for a comprehensive guide on how to incorporate Apple Pay into your business.
The Basics of Apple Pay
First and foremost, it's important to grasp what Apple Pay is and what its capabilities are. Apple Pay is a contactless mobile payment system available on Apple devices such as the iPhone, Apple Watch, and iPad.
In simple terms, it's a technology that transforms your Apple mobile device into a payment method comparable to a credit card, usable at any establishment that accepts Apple Pay.
How Does Apple Pay Work?
Apple Pay uses near-field communication (NFC) to connect a customer's device (like an iPhone) to a merchant's device and transmit payment information to the merchant. Customers usually have a credit card registered in their Apple Pay account, but they can also deposit funds into an Apple Cash account.
When your POS system is configured to accept Apple Pay, a customer simply places their enabled device near the terminal. This action securely sends the stored credit card or Apple Cash details to the merchant's device. From there, it's processed like any other transaction, which means you'll need a payment processor compatible with Apple Pay.
How to Receive Apple Pay Payments
Accepting Apple Pay payments is relatively straightforward. Firstly, ensure you have both a payment processor compatible with Apple Pay and hardware that can process payments using NFC technology. Additionally, it's beneficial to promote that your business accepts Apple Pay; this way, you won't miss out on potential transactions because customers might not be aware of their payment options.

Select a Payment Processor Compatible with Apple Pay
The first thing you need to do is to choose a payment processor compatible with Apple Pay. Apple has a list of preferred payment service providers from which you can select, but the truth is that most payment processors these days are equipped to handle Apple Pay. If you're uncertain, it's advisable to consult directly with the provider to avoid unexpected issues when trying to process Apple Pay transactions.

Equip Your Business with NFC-Enabled Hardware
As mentioned above, Apple Pay works via near-field communication, which means the hardware you select has to have NFC capabilities. If you use an iPad or an iPhone for transactions, you should be covered already. But if you use a POS system that provides specialized hardware, you'll want to confirm that payment terminals have the ability to accept payments that make use of NFC technology. There are more and more NFC-equipped devices on the market now, so when you're choosing your hardware, make sure it has NFC capabilities.

Let Customers Know You Accept Apple Pay
Apple offers a bevy of options to help you advertise the fact that you accept Apple Pay, including decals for your brick-and-mortar store and instructions on how to add Apple Pay icons to websites and maps. When you're finished, customers should be well aware that you accept Apple Pay no matter how they find you.
Accepting Apple Pay on Your Website
For online transactions, it's essential to ensure that your payment processor supports Apple Pay. That means finding an eCommerce platform that can accept Apple payments. Many POS systems come with e-commerce features, enabling you to integrate in-person transactions with online sales seamlessly. If there's any uncertainty, it's always prudent to consult with your payment processor or eCommerce provider to ascertain whether you can accommodate Apple Pay on your website.
How to Accept Apple Pay on an iPhone
Accepting Apple Pay on an iPhone is a fairly simple process. Thanks to Apple's Tap-to-Pay system on iPhone, you don't need any specialized hardware to start accepting mobile payments. You will need a compatible third-party app, which typically comes in the form of your payment processor's application, but business owners who don't want to spend extra money on new hardware can get up and running with an iPhone immediately.
Advantages of Using Apple Pay
As the world continues its collective transition into a mobile economy, the advantages of using Apple Pay become more prevalent.
Firstly, it's readily available on customers' devices, negating the need for physical credit cards. Additionally, transactions through Apple Pay are quicker than those with credit cards or cash, which can positively affect a business's efficiency.
Moreover, Apple Pay boasts robust security. It utilizes secure tokens in each transaction, ensuring that customer's credit card details remain out of reach from potential fraudsters.
Lastly, Apple Pay is the foremost mobile wallet available. With the rise of contactless payments, especially post-Covid-19, it's crucial for businesses to align with current customer trends and inclinations.
Challenges with Apple Pay
While Apple Pay offers numerous advantages to customers and merchants alike, any new technology can present obstacles. Some customers are wary of alternative payment methods like contactless payments, so having multiple different payment methods available becomes more important. Also, if you use outdated equipment, you may see some upfront costs to upgrade to NFC-enabled hardware. Those less tech-oriented might encounter a brief learning curve when introducing Apple Pay. However, as reiterated in this guide, configuring Apple Pay is generally straightforward and user-friendly.
Costs and Fees Associated with Apple Pay
A significant advantage of Apple Pay is the absence of extra fees for its initiation. While regular transaction fees levied by your payment processor remain applicable, and there might be costs associated with hardware upgrades, there aren't any recurring or one-time charges specific to Apple Pay adoption.
Evaluating Alternatives: Competitors to Apple Pay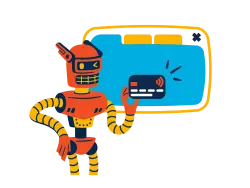 Given the escalating popularity of mobile wallets, several noteworthy competitors to Apple Pay exist. The primary contenders are Google Pay and Samsung Pay. These platforms cater more to Android device users, given their seamless compatibility with Google Pay. However, Samsung Pay is exclusive to Samsung devices.
For merchants, the silver lining is that there's no obligation to pick one over the other. If your equipment is equipped to handle mobile payments, you'll be able to process Apple Pay, Google Pay, and Samsung Pay.
Is Apple Pay the Right Fit for Your Business?
Only you can answer this question! If you have the required hardware—or even simply an iPhone—and conduct transactions with tech-savvy customers, there's little downside to accepting Apple Pay. Of course, you should always do your research and determine the best option for your business.
To assist with the transition or to address any uncertainties, consider consulting a credit card processing provider who can guide you through the process and help get you started.
---
---
Frequently Asked Questions (FAQs)
How secure is Apple Pay for Transactions?
Apple Pay is highly secure. It transmits encrypted payment tokens to merchants, making a customer's credit card information even more secure than when using a physical card.
What types of card readers are compatible with Apple Pay?
Many card readers are compatible with Apple Pay. Generally, you'll need a reader equipped with NFC (Near Field Communication) technology. If your reader can accept contactless EMV credit card payments, it will likely work with Apple Pay.
How do my customers pay with Apple Pay?
Customers must have an Apple Pay account set up on a compatible mobile device with NFC capability. Most Apple smartphones and tablets, as well as Apple Watches, possess this technology.
What is the difference between Apple Cash and Apple Pay?
Apple Cash operates similarly to a checking account, where you must transfer actual funds to it to make purchases. While Apple Cash can be linked to Apple Pay, functioning similarly to a debit card, Apple Pay can also be connected to a credit card. This allows for transactions as long as there's adequate available credit.
Does Square accept Apple Pay?
Yes, Square accepts Apple Pay! Apple lists Square as one of its verified Apple Pay-compatible payment processors, so you can rest easy knowing Square has you covered when it comes to Apple Pay.