In this article, we'll explore the importance of business operating accounts for business owners and examine the various types of operating accounts that exist. We will also differentiate between these operating accounts, providing a comprehensive overview of the categories they fall under. Before we dive in, let's define what an operating account is.
What Is an Operating Account?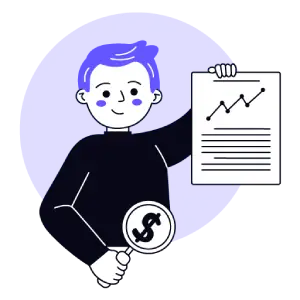 A business operating account is a business checking account used to help businesses manage their daily operations. It allows business owners easily access cash when needed, while also keeping their business and personal funds separate.
This type of account can be utilized for tasks such as paying taxes, managing payroll, and handling general accounting. Furthermore, it provides a suite of money management tools to aid your business: online banking, automatic payments, and expenditure tracking to allow you to use your capital effectively.
Overall, a business operating account helps businesses effectively manage their finances, reducing the risk of cash flow problems or complete financial resource depletion.
Operating Account vs Trust Account
Understanding the various types of accounts is crucial for managing business finances. In this first comparison section, we'll look at an operating account in comparison to a trust account.
A business operating account is typically used to facilitate everyday transactions related to the operation of the business. Examples include paychecks or supplier invoices. In contrast, a business trust account is used to manage money or property that may not necessarily be related to the company's daily operations, often serving as collateral on behalf of another party or as a vehicle for long-term investments.[1]Kaiser Law Firm. "Business Trusts 101: What Entrepreneurs Should Know About Using a Business Trust". Accessed June 27, 2023. It is crucial for businesses to understand both types of accounts, as each serves a unique role in protecting their own and their business's financial interests. However, a trust account is far less common (and not entirely necessary) for small businesses.
Operating Account vs Checking Account
Next, let's compare a business operating account with a more familiar account type: the business checking account.
A business operating account and a business checking account are both crucial resources for businesses of all sizes, but they fulfill different functions. The business operating account typically acts as a secure reserve of capital to cover overhead expenses, such as monthly rent and employee wages. It acts almost like a savings account, often accumulating interest over time while providing access as needed.
On the other hand, a business checking account is used for everyday transactions, like purchasing inventory or office supplies. This account offers more flexibility than an operating account, with faster transaction times, enabling businesses to conduct daily operations smoothly.
Note: It's important to highlight that although each account type serves a different purpose, it's not necessary to open multiple accounts when starting a business. The key takeaway is that you need to keep business and personal finances separate.
Different Types of Business Operating Accounts
As we've touched on, it's important to be familiar with the various types of business operating accounts to make the right choice and effectively manage your operation's finances. Below, we outline several operating account types that every business owner should familiarize themselves with to optimize their financial management.
1. Payroll Checking Account
A business payroll checking account is an invaluable resource for any business with employees. This account serves as a central hub for payroll funds, allowing employers to easily and promptly make payments to their staff. It's exclusively used for payroll—other payments, such as those to vendors, would be processed through a separate account.
Not only does this account help businesses manage their cash flow more accurately, but it also provides convenience in tracking employee benefits and deductions. Additionally, its security measures reduce the risk of fraud, theft, or cyber-attacks. If you pay any of your employees by check, they get the business's routing and account numbers printed on it. By using a separate account from your main business account, you can keep your finances more secure.[2]Patriot Software. "What Is a Payroll Account? | Payroll Bank Account Benefits". Accessed June 27, 2023.
Overall, a business payroll checking account is essential for any employer looking to efficiently and securely meet the needs of their employee payment schedule.
2. Merchant Account
A merchant account is a type of business bank account that enables you to accept credit and debit card payments (and other types of digital-based payments) from your customers. It differs from a typical bank account because it acts as an intermediary between your business and the payment processing system. However, this also means you cannot access the funds in it until they deposit into your main business bank account.
Typically, a merchant account is set up through a financial institution or a payment processor. Once your merchant account is set up and activated, you can begin accepting card payments from your customers and processing them through your account.
3. Money Market Accounts
A business money market account (MMA) is a type of savings account available to businesses and other organizations from banks and credit unions.[3]Fit Small Business. "What Is a Business Money Market Account & How It Works." Accessed June 27, 2023. Similar to a personal money market account, it offers a higher interest rate than a regular savings account and can often be linked to a checking account for convenient transfers.
Businesses can deposit any amount of money into one of these accounts at any time and usually earn dividends on their investment without maximum limits. This product is typically suitable for businesses with significant amounts of capital that they want to invest in a secure, accessible manner.
4. Imprest Account
A business imprest account is a cash flow tracking tool. An example of this is a petty cash fund. It consists of a small "floating" amount used for miscellaneous expenditures, which is then replenished once these transactions are cleared. Any minor expense related to maintenance, repairs, or equipment replacement can be paid from this account, but its balance needs to remain constant for full financial visibility.
Tips for Managing Operating Accounts
Proper management of operating accounts is crucial for any business. To ensure effective financial management, there are several steps you can take.
Track: It's important to accurately track business expenses, business income, and all other transactions related to your business. This helps you quickly identify and correct potential issues. Up-to-date records for each account also prevent incurring late penalties or fees due to incorrect payments or lack of documentation.
Budget: Follow budgeting guidelines to reduce the risk of unexpected costs and overspending.
Review: Regularly checking balances can help identify discrepancies before they become too large and difficult to manage.
Audit: Incorporating recurring audit reviews into your financial plan can further protect your operating accounts from misuse or mismanagement.
Business Operating Account: Final Thoughts
Maintaining your business operating accounts is crucial for several reasons. Tracking income, expenses, overdue payments, and other financial data can provide invaluable insights into the performance of the business. Without proper tracking of money flowing into and out of the business, it is difficult to determine if objectives are being met or to set appropriate goals. Luckily, with the advancements in financial technology, such as PaymentCloud's integration offerings, maintaining and improving your business's operating accounts, accounting systems, and payment operations has never been simpler.