If you're looking to purchase or even sell firearms and ammunition, you've probably wondered, "How long does it take to buy a gun?" Fortunately, there are many ways you can legally purchase guns in the U.S. Options include going through a licensed retail outlet, buying online, through a private sale, or at a gun show. However, in some cases, you will need to undergo a waiting period before you can buy or pick up a purchased gun. State and federal gun laws differ by the type of gun that is purchased. Likewise, there are different waiting periods for guns by state. Read on to learn more about the waiting period for guns and how they affect your timeline for purchasing or selling a firearm.
How Long Does it Take to Buy a Gun in the US?
The gun waiting period for purchasers will depend on the state the person is buying it in or from. How long it takes to buy a gun could be anywhere from a matter of minutes to several days. State and federal laws mandate different waiting periods for guns. Let's explore both.
Federal law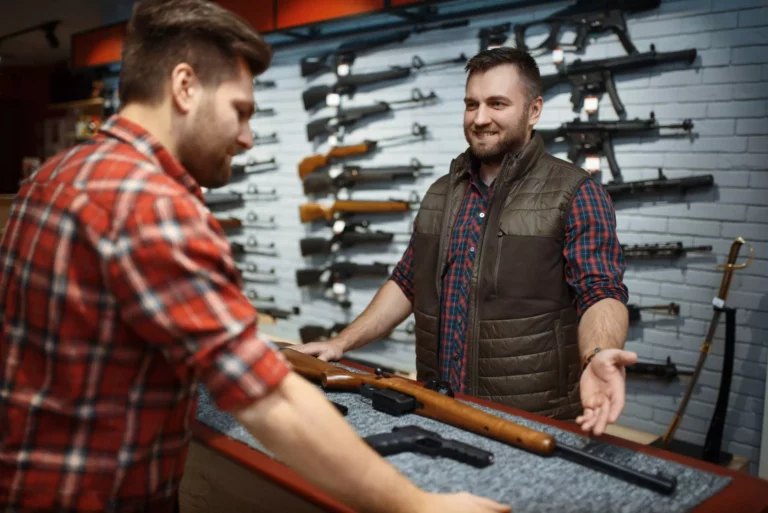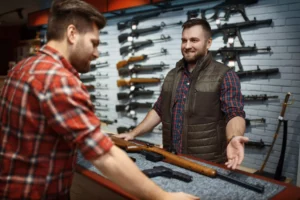 Currently, there is no federal waiting period to buy a gun. Private sellers aren't required by any federal laws to conduct background checks on people who purchase guns from them. That means that a person who purchases a gun from a private seller can take immediate possession of the gun. The only exception is if there are state or local laws that say otherwise.
The National Instant Criminal Background Check System (NICS) does require that a prospective purchaser pass a background check before a dealer transfers possession. This rule is for sources like a licensed retail outlet. If the FBI doesn't complete the background check within three business days, the transfer can still continue.
State law
There are currently ten states with gun waiting periods. In addition, Washington DC also has regulations that apply a waiting period to certain types of firearms purchases.
Certain states also have waiting period requirements for the gun purchaser themselves. They might have to obtain a permit or license before purchasing a gun. These types of laws will typically deter the immediate possession of more dangerous types of firearms. This makes it take longer to buy a gun for the individual wanting to take possession of the weapon. Waiting periods can range from 3-14 days and often rely on the time it takes to complete mandatory background checks.
So, What is a Gun Waiting Period?
A gun waiting period is the legal requirement of a certain number of days that must pass after purchase before a buyer can take possession of a gun. The idea behind having a waiting period for guns is that it creates a buffer, or "cooling off" period. By delaying immediate access to the weapon, it can aid in the prevention of gun violence.
This buffer between the waiting period for guns offers time for people to prevent impulsive acts that might have otherwise lead to violence. Additionally, a gun waiting period gives law enforcement agencies more time to complete background checks. The federally mandated three-day window is not always enough time to complete a background check.
As a result of this, every year there are about 3,800 people who acquire firearms that would have failed a background check. Unfortunately, if a dealer submits a background check to the FBI and they don't respond within three days, the sale can proceed. This is known as a "default proceed" sale. FBI experts recommend extending gun waiting periods to reduce the chances of prohibited people taking possession of firearms through this default process.
Waiting Period for Guns By State
How long does it take to buy a gun in each state? There are two factors that affect how long it takes to buy a gun. These include the type of gun and the state where the purchase takes place. In certain states, there are regulations a dealer and purchaser must both satisfy before the buyer takes possession. The waiting period for guns by the state is as follows.
All firearms
The District of Columbia, Rhode Island, and California have a statutory waiting period that applies to all firearm purchases. While there are a few exceptions, there's a ten-day gun waiting period in California and the District of Columbia. In Rhode Island, there's a seven-day waiting period unless the purchaser is a law enforcement officer. Another exception is if the seller doesn't receive any information from the background check that disqualifies the buyer from the purchase.
Hawaii has a 14-day waiting period for guns after a person applies for the required permit. However, there are exceptions. These include people with a license to carry a firearm, state or federally licensed dealers, law enforcement officers, and cases where a firearm was brought to the state and registered.
Illinois has a waiting period of 72 hours for handguns and long guns. In Florida, there is a mandatory waiting period between the purchase and delivery of a firearm sold by a licensed dealer. This period is either the time it takes for a background check to be completed or three days, whichever happens later. However, some people, such as law enforcement officers, are exempt from this gun waiting period.
Handguns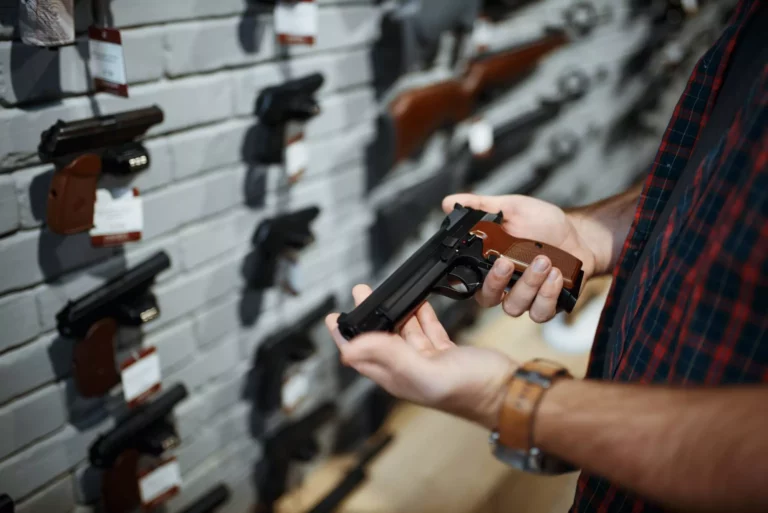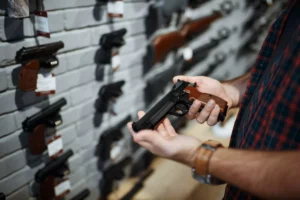 Three states have gun waiting periods on the sale of handguns. Iowa requires that the transferee obtain a permit to purchase the gun unless they are a concealed weapons permit holder. The permit is valid three days after the application date.
New Jersey has a seven-day waiting period on all handgun sales. It also prohibits retail firearms dealers from delivering a handgun to someone without a valid permit. People in Maryland must wait seven days from the time the purchaser completes an application to buy the firearm. This application goes to the Secretary of the Maryland State Police.
Certain caliber guns
Two states have gun waiting periods for certain classes of weapons. In Minnesota, there is a five business day or seven days waiting period on handgun and assault weapon transfers. The time starts when the dealer delivers the transfer report to the Sheriff or police chief. Washington has a ten day waiting period on semiautomatic rifles.
The Basics on Background Checks
All purchases through the Federal Firearms Licensee (FFL) require background checks. This includes online sellers, retailers such as Dick's Sporting Goods, and small businesses. A background check is not required for private sellers. However, if you're buying online or out of state, you'll need to go through an FFL transfer.
In order to complete a background check, you must fill out a 4473 Form, which is also known as a Firearms Transaction Record. Once the form has been filled out, the seller will run your information through NICS, maintained by the FBI. It takes about 30 seconds to run a background check through the NICS.
If there is nothing on your record that prohibits you from the purchase, you can buy the firearm. If something on your record disqualifies you, then you are not allowed to make the purchase. The FBI has three business days to get back to you if they find something on your record that requires more investigation. If there's no approval or decline from the FBI after this waiting period, you may make the purchase anyway.
Gun Waiting Period: Conclusion
The vast majority of people who want to purchase a firearm do not have violent intentions. However, a waiting period for guns allows for time to prevent ineligible buyers from completing their purchases and those in high emotional conditions to cool off. Reducing the chances of these negative scenarios and regulating how long it takes to buy a gun is why a gun waiting period is a good solution. If you're in the business of selling firearms, you need to take these factors into consideration.