A Look at Where We've Been and Where We're Heading
Credit card processing is a complicated world fraught with confusing terms like "level 3 data" or "negative-option billing." However frustrating, you're not alone in your confusion. Studies show many Americans are confused with payment processing jargon, especially regarding their credit scores.[1]NBC News. "Many Americans Are Still Totally Confused About Credit Scores". Accessed January 26, 2022.
At PaymentCloud, our mission is to help small business owners like you succeed. We decipher the jargon so you don't have to. Last year, we brought you over 148,000 words of payment processing advice. This year, we aim to surpass that number. We not only want to help you with your payment processing needs, we want to ensure you have the tools you need to make the decisions that benefit your business best.
It can be hard to find the time and resources to learn about all the different options out there. At PaymentCloud, we're dedicated to making sure you have everything you need. Our experts are here year-round with advice and tips on everything from choosing a processor, understanding fees, optimizing rates and more. Browse our blog for posts packed with information on topics like how credit card processing works or available federal funding for small businesses. You'll also find helpful tips and tricks like how to optimize your website's click-through rate, as well as advice on how best to market your company with social media.
Here's a look at our top resources and guides: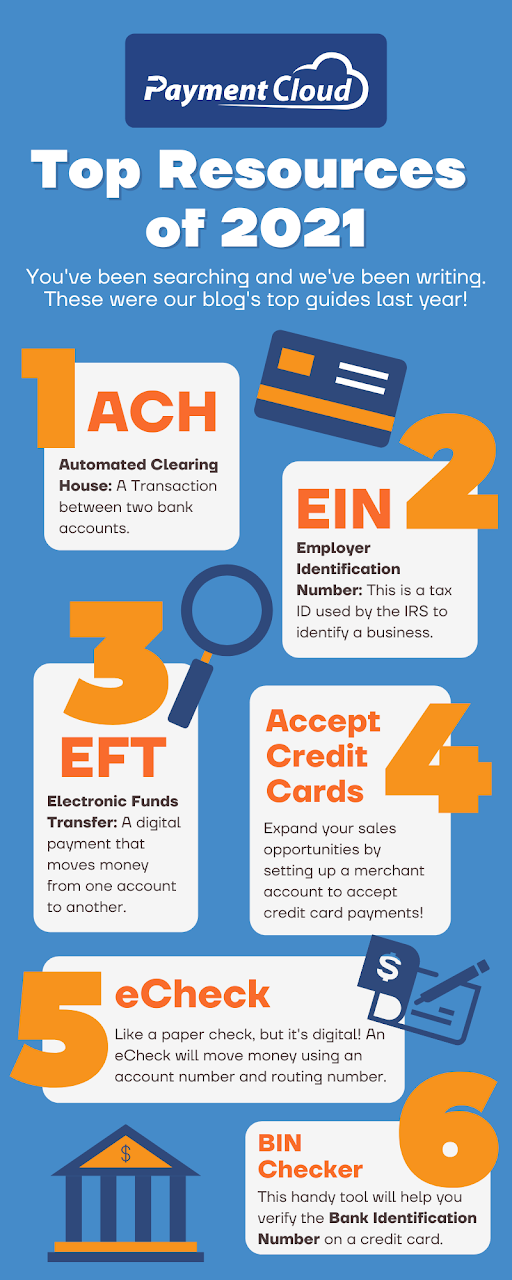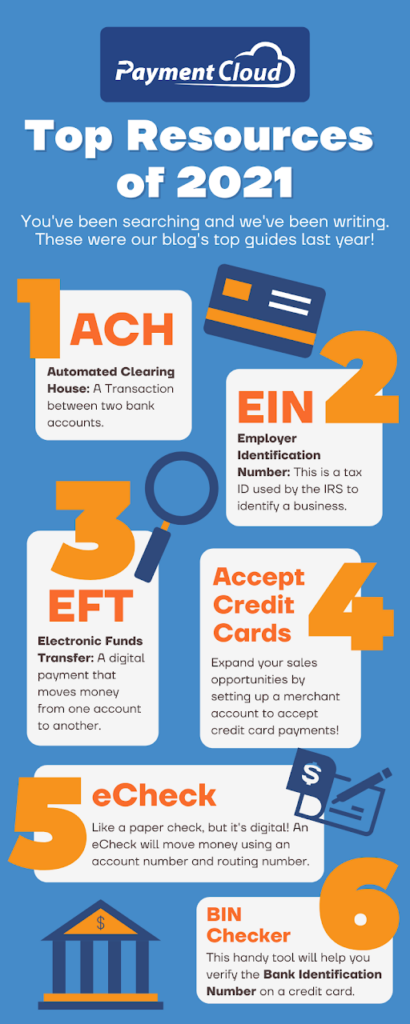 The Ultimate Guide to ACH Transfers
An Automated Clearing House (ACH) payment is a transaction that is processed electronically or by check between two bank accounts. These transactions are typically used for direct deposit, vendor payments, final salary payments, loan repayments, and direct debits. They can be used to make payments of any size without additional fees where the account holder has arranged to do so, although there are transaction limits to ensure that the payments can be processed quickly. Check out our guide for a detailed explanation on how ACH transfers work, how long they take, and the pros and cons of using these payments.
What is an EIN Number?
An Employer Identification Number (EIN) is a unique nine-digit number that the Internal Revenue Service (IRS) assigns to your business for tax filing and reporting purposes. The EIN system was designed by the IRS to handle the way companies report payroll taxes, profits, losses, etc. Your EIN can be used instead of your Social Security number (SSN) on certain IRS tax forms. Check out our article to find out who needs an EIN and where to get one.
What are EFT Payments?
Electronic funds transfers, or EFTs, are electronic payment transactions that facilitate the transfer of money from one bank account to another. This includes direct deposits made into employees' accounts, payments made via debit cards, ACH or wire transfers initiated by vendors or suppliers, and any other type of transaction which takes place without the physical exchange of money. Read on to find out the differences between EFT payments and ACH transfers, as well as the benefits and risks of EFT payments.
Accept Credit Cards
If you're a small business owner and want to start accepting credit cards, you will probably need a merchant account. A merchant account allows you to accept credit card payments. It comes with a unique identifying number that verifies each transaction and authorizes the transaction by transferring the money from the customer's credit card account to your own business bank account.
What is an eCheck
eCheck (Electronic Check) is a payment method that is pretty much like an ordinary check used in the real world. It's different from credit card and online bank transfers because it only works with checking accounts, not savings accounts. eChecks are initiated using your checking account number and routing number. Our guide explains how long it takes for an eCheck to clear the bank, what types of payments you can make with an eCheck, and how to cash an eCheck.
How to Get the Right Type of Federal Tax ID Number for your Business
A Tax ID number is a unique identifier assigned to businesses by the Internal Revenue Service (IRS) in the United States. It is used to track business income and expenses for tax purposes. Read on to learn about the various types of TINs.
BIN Checker
A BIN or bank identification number is a unique number assigned to a payment card by the institution that issued the payment card. It is also known as Bank Identification Number, IIN (Issuer Identification Number), ABA (American Banking Association) Number and SWIFT code. BIN numbers can be used by fraudsters to exploit people's card information. This is called a BIN attack. To find out what your BIN number is, check out our unique BIN checker tool.
Software for Accountants
If you're looking for the best accounting software for your small business, there are a couple of things to take into consideration. Take a look at our comprehensive guide comparing the 8 best accounting software programs for your business.
Cash Discount Program
A cash discount program is perfect for any business that has the ability to sell on credit, but prefers to receive immediate payment. Most businesses offer some form of a cash discount program on larger purchases to increase their profit margins and reduce the amount of time it takes them to see revenue from the purchase made by one of their customers. This guide compares cash discount programs with surcharges, detailing the differences and everything you need to know before implementing a cash discount program.
Best Credit Card Processing Companies of 2022
PaymentCloud is proud to be featured as one of the best credit card processing companies. If you're a business owner and accept credit card payments, take a look at our full suite of merchant services to see how we can help you reach your goals.
The more informed you are about your payment processing needs, the better equipped you are when it comes time to make both short-term and long-term decisions. Last year's content library not only provided valuable insight into topics like merchant accounts and mobile payments but also equipped readers with take-aways from each post, no matter where they were in their journey. This year, we want to provide additional value by focusing on topics our readers crave. If there's any topic you find helpful–no matter how big or small–feel free to send in your suggestion to marketing (at) paymentcloudinc (dot) com.
So whether you're new to credit card processing or looking for ways to improve upon existing processes – let PaymentCloud help guide your path forward today!