The airline industry is continuously looking for ways to adapt to modern consumer demands. Technology is one of the many ways they are doing so. In-flight entertainment, food, and add-ons are constantly increasing and have seen a huge overhaul in the last 20 years of flying. While many of these things are free, there are still options that allow airlines to monetize their products and services.  To do so there needs to also be a shift in how these things are paid for. Customers are already traveling with limited access to resources, so making the journey as seamless as possible is a must.  The answer to this is with an integrated POS solution for airlines that can run wirelessly and without interference to the plane.
Facilitating onboard payments and optimizing your list of services has never been easier. Offer more to your customers and put your best foot forward with point of sale credit card processing.
Options for Card Processing in the Cabin
If your airline is hoping to process credit card payments online, you have two primary payment methods to choose from- onboard mobile POS terminals and individual passenger payment processing.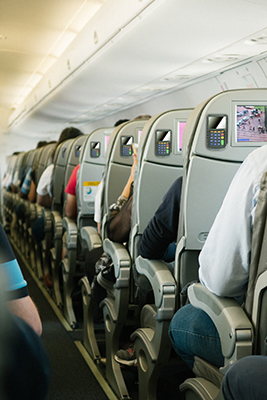 Onboard mobile POS terminals
This is definitely the easiest option to implement because you may already have the infrastructure to support this. The steward may already be accepting cards through a stationary system that is built into the airplane. But there is most definitely a better way to take cards.
If you're trying to sell products, food, or beverages, it can pay *pun intended* to have an onboard mobile wireless POS solution for airlines. This type of point of sale system will operate in a similar fashion to tabletop POS systems, but will be handheld. For example, you can attach an iPhone card reader to any iPhone, iPad, or other tablets, allowing airline staff to accept credit card payments directly from customers' seats.
And these terminals are typically EMV-compatible and able to take all types of card types (i.e. MasterCard, Visa, etc.) which helps prevent fraud and chargebacks. There are also options that can display the currencies that the purchaser is most comfortable with.
Swipe, insert, and tap to sell meals, snacks, chargers, headphones, neck pillows, movies, etc. easily with airline merchant services.
Individual passenger payment processing
In the case of selling entertainment packages such as movies, TV shows, and games, it makes more sense to offer individual payment terminals to passengers. This doesn't have to be physical POS solutions for airlines either. It can be a payment gateway where your customers can pay using their own phone. There are pros and cons to both options, so let's explore them.
Physical POS solutions for individual use on airlines
The pros of this solution include:
Payment terminals can easily be fitted to the back of seats
Passengers have full control over the entry of a pin number and signature
Printable and virtual receipts can be available for in-flight purchases
Can be integrated with your current in-seat technology (if any)
No need to type in card details or a URL for the gateway
Tap and EMV-compatible solutions are available
The cons of this solution include:
Multiple card readers will need to be purchased and installed
Technology malfunction is possible (though not probable)
Customer needs their physical card on hand to purchase
Virtual POS solutions for individual use on airlines
The pros of this solution include:
No need to purchase or install physical hardware
Passengers have full control over the entry of a pin number and signature
Virtual receipts can be available for in-flight purchases
Easy access via a mobile device
Card information may be stored on the customer device meaning one-click payments
QR code option to easily access payment gateway
Easy to browse options and add to cart
The cons of this solution include:
Unless a link is provided, the user will need to type in a URL to purchase
WiFi connection is required in-flight
POS solutions for airlines are quickly becoming an important part of eCommerce during travel. Equip yourself with the best solution that fits your business' needs.
Find POS Solutions That Fit Your Airline Business' Needs
Depending on your airline, onboard sales, and administration, you will need to devise a payment processing program that is suitable for your individual needs. One of the biggest contributors to your payment processing decisions will be your flight jurisdictions.
For example, in the United States, there are no strict laws on EMV payments, so your credit card processing platforms do not need to be EMV chip compliant. On the other hand, European countries have strict EMV standards, which might result in your airline requiring payment terminals that accept EMV payments.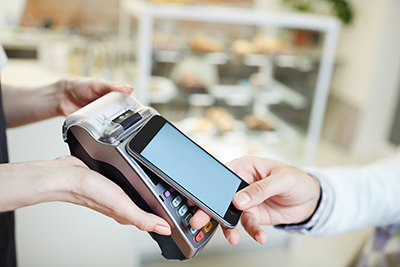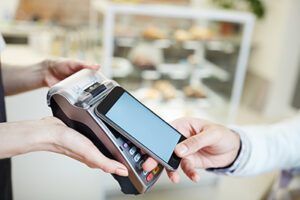 For this reason, it's essential to work with a payment processor that can adapt to your needs and requirements. Your merchant account provider is critical to your success. Also, keep in mind that not all payment processors are capable of working with airlines. The industry is sometimes considered high risk due to delays, cancellations, and high ticket costs, possible fraud, as well as chargebacks.
These hurdles are not insurmountable, but it takes some preventing and determination to lower your risk in the airline industry.
Why is it Important to Add POS Solutions on Airlines?
Ancillary offerings increase revenue streams
Airlines operate on notoriously small margins. In fact, in 2019, it was estimated that the airline industry's margin ranged between five and six percent. The competition for customers in the industry makes it hard for many large airlines to remain profitable.
As fares decrease, airlines have been looking to ancillary purchases to increase revenue streams. Selling products, entertainment, food, and drinks onboard have become a massive cash booster for struggling airline companies. If your airline is hoping to increase revenue outside of normal ticket sales, this is an excellent option.
Also, it's not just a one-way street. If you're able to charge customers for onboard services, you can increase the overall options you provide to your passengers. Both business and leisure passengers are likely to want more from their flying experience – credit card payments allow you to offer it.
Less hassle means happier customers
While taking onboard payments is not a new direction for airliners, many companies still rely on cash payments. While this is still a viable option and shouldn't be removed completely, it reduces your ability to accept payments from everyone on your flights as well as not allowing for a contactless interaction. As cash use decreases, many passengers won't be able to pay for products and services mid-flight.
By accepting credit card payments, you open yourself up to a much wider range of customers, quicker transactions, and the value of customer experience. Instead of spending time counting out change, customers will be able to swipe, insert, or tap their credit cards. Increase overall customer service and payment options for your passengers.
It prepares your business for even more advancements
Who knows what will happen over the next few years, but it will most likely be quick and fueled by innovation. Many other industries are showing more adoption of contactless tap payments, virtual card options, and QR codes to pay. For this reason, it is best to be looking in that direction as you bring about change to your POS solutions for your airline.