Document preparation companies provide much-needed services for government agencies, businesses, and individuals. From loan settlements to tax preparation, they make life simpler for both organizations and people. It's no wonder, then, that the industry makes about $5 billion in revenue every year. Now is a great time to start creating a profitable business in this industry. Take the time to learn why opening a merchant account for document preparation services is key to growing your business. Find out how to apply and what to look for in a high risk credit card processing company.
You Need a Merchant Account for Document Preparation
As a business owner, you need a reliable method of accepting payments to keep your company running. Merchant Service Providers (MSPs) help bridge the payment gap between you and your clients. They can equip you with a shopping cart integration that allows customers to make payments online or give you a virtual terminal so that you can take transactions over the phone. Without them, your business would only be able to take debit cards and cash.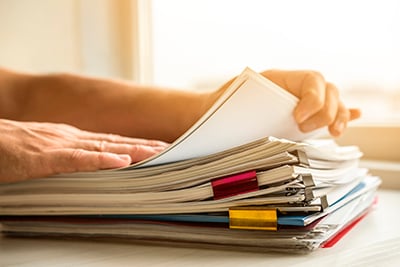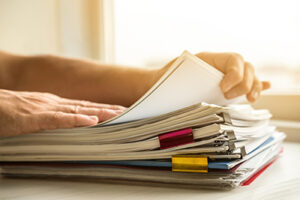 There is one small catch to this nearly impenetrable plan: your business is risky. Just when you thought you were out of the woods by selecting document preparation services as a stable source of income, the banks and processors throw a wrench in your merchant payments.
In fact, traditional credit card processing companies like PayPal and Stripe can be difficult (harmful even) for your business. They can not accept you at all, close you down after a period of time, and even add you to the Terminated Merchant File (TMF) which blacklists you from applying for a document preparation merchant account elsewhere. In that case, it would be a blessing to be declined outright than to be strung along and shut down without being informed.
So, why is your business risky?
At this point, you may be wondering, "Why is this process so difficult for a company in my industry?"
For one, the majority of transactions for your service are done online, via mail, or over the phone. Those payment types are common avenues for fraud. Without the security of a face-to-face transaction, many banks take this as strike one to your document preparation merchant services account.
Doc prep businesses also work with high ticket sales. Transactions in the hundreds or thousands of dollars are not uncommon. In this case, companies with high volume encounter more instances of friendly fraud. This is where customers will issue chargebacks on valid payments so that they get their money back and still keep the services. A refund here and there is no issue for most businesses and banks, but your chargeback rate is tracked. Most companies are required to keep their chargeback ratio under 2%, by utilizing preventative tactics or integrated software. But because most doc prep businesses have a low amount of transactions each month, this percentage can go higher very easily.
Chargebacks are one of the most common reasons that a merchant account will be shut down in document preparation. Banks don't want to be liable for this and will instead charge you high fees or not approve you at all.
Benefits of Using a High Risk Payment Processor
Choosing a high risk merchant service provider will ensure that you are protected from all of the risks mentioned above. They can give you a virtual terminal online that scans for fraud, card validation services, and even preventative chargeback protection. In addition to that, they may also offer:
These high risk processors understand your business and are capable of finding the appropriate banking relationship to support you. By utilizing their risk mitigation procedures, you can consistently lower your rates and have a healthier account over time.
The only thing to consider now is which high risk processor to use? There are a few options online, but in order to pick the best one for your business, you should consider what your business would actually use.
How to Apply for a Doc Prep Merchant Account
When conducting your search, you'll want to make sure the company you choose has experience working with document preparation businesses. This way, you can be sure that they have the banking relationships in place. They will also have a deeper understanding of the doc prep industry and what you may or may not need on your merchant account.
Next, look into their reviews. Do they have a good reputation online? You will have a better experience with a highly rated processor.
Once you find the right payment processing company for your business, gather all pertinent information for your application:
Personal information: your name, address, phone number, social security number or employer identification number

Your company website's URL

Bank account information and statements from the past three months

Credit score
Once your doc prep application is approved, you will be able to start taking transactions right away. 
With the wealth of options available, choosing the right provider may be the hardest part of the entire process. But the effort is well worth it. A business is allowed to grow and flourish when it has the right resources and support.