There exists an ever-increasing number of CBD products that seem to crop up by the day, and yet have a completely justified place in the current market. Of all the ways one can consume CBD, possibly the easiest method is through capsules that contain–you guessed it–some amount or form of CBD. Each one of these products is unique in their own right, so it ultimately comes down to user preference in the end.
What Are CBD Capsules?
CBD capsules are ingestible pills that contain the compound cannabidiol from the marijuana plant. Although it's found in marijuana, cannabidiol is currently only legal in the United States for products to contain a minute trace of THC–if any at all. Because of the low content of THC, which is the compound responsible for creating the sensation of being 'high' or giving psychoactive effects, CBD products are safe for consumption without the hassle of unwanted side effects.
The Benefits of CBD
As with any type of CBD product, the main goal is for consumers to find relief in some capacity, whether that be from stress to actual seizures.
Pain relief or management is a major area of the capsules' benefits, with consumers using cannabidiol to combat inflammation as well as a number of other painful ailments. Because of their convenient form as pills, these products can be a great substitute for more common pain relievers.
Multiple Advantages of Capsules
Convenient
No Mess
Preset Measurement
Easy to Remember
Good for Travel
Tasteless
Avoid the Additives in Edibles
Why Consider CBD Capsules Over Alternatives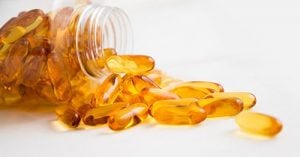 Those seeking out CBD capsules have a variety of reasons and motivations for this specific way of incorporating cannabidiol into their lifestyle. A common reason for capsules vs. an oil is taste. For some, the taste of CBD or hemp oil is unpleasant and the pills provide a tasteless alternative. The convenience of capsules continues with the quick and regulated amount already preset–there's no guesswork.
CBD Product Additives
The way CBD products are manufactured requires the compound cannabidiol to be combined with a dilutant of some sort, most commonly, substances similar to coconut oil work best. When involving capsules, the CBD can be paired with other extracts to add other benefits. Popular additives include hemp, turmeric, and melatonin.
By incorporating these other extracts into the capsules, the purported relievers are able to target ailments more effectively. For example, turmeric is known for its anti-inflammatory properties. When paired with CBD, which is also known to be an anti-inflammatory, the capsule has a dual effect. The same is true for melatonin which aids in sleep, another reason individuals turn to CBD for. These additives are intended for increasing the effectiveness of the active CBD.
The Variations of CBD Capsules
Primarily, CBD capsules come in two variants, CBD or Hemp Oil and CBD Isolates. CBD oil or hemp oil is the most common form of CBD capsules, which contain the physical oil most will be familiar with. As previously mentioned, the active CBD oil is then combined with an extract like coconut oil or hemp to dilute it.
CBD isolates are different because they are made from a crystalline powder. By stripping all of the other cannabinoids from the plant, like the oil, a new form is made. This form of active CBD is the most potent, with the isolate containing 99% pure CBD. The capsules are then made with the dosage of the isolate, sometimes combining with an extract.
There is some debate in the cannabidiol community over which form of capsule works the best, although there is no extensive research that proves either more effective than the other.
Choosing The Right Product
Currently, there seems to be an influx of CBD products that have bombarded the market, making it difficult for consumers to discern which product is the best fit for them. Preference varies on the reason for needing CBD products, the amount of dosage needed, and the type of capsule.
Online comparisons can help you find the perfect match for your needs, with rankings of some top CBD and health brand products.
As with any new supplement, you should start with a low dosage and monitor how your body responds to the capsules, as there can be different reactions based on the method of consumption. It's important to note that everyone can potentially react to cannabidiol and therefore should be cautious when first incorporating CBD capsules into your lifestyle.
The Different Types of Capsules Available
CBD Gel Capsules
CBD Oil + Hemp Extract
CBD Oil + Coconut Extract
CBD Oil + Turmeric Extract
CBD Isolates
High Risk Merchant Account
If you are a merchant looking to secure CBD credit card processing, you might find that you are being turned away at every turn. This is because banks and credit card processing companies consider you to be in the high risk category. Due to the changing legality and relatively small research surrounding edible CBD products, many processors choose to not support businesses in this space. For this reason, businesses in this arena need to turn to high risk merchant account solutions to be able to sell their items online. No longer be turned away for your industry type and seek support from high risk providers.
Merchant service providers who can support CBD businesses offer many solutions to common business issues. This may mean chargeback protection, fraud mitigation tools, and even software integrations that connect with your current website. Take advantage of their host of tools and begin processing transactions that are both secure and PCI compliant. Whether you are completely online or also need POS solutions (point of sale), find a merchant services provider that can handle every aspect of your business as you grow and scale.