If you conduct personal or work-related business over an iPhone, you can further your business's growth with an iPhone card reader. Many entrepreneurs use their cellphones or other mobile devices for business. If you're accepting payment on the road, from a booth, or one-on-one as a service provider, it's imperative for you to be able to accept credit and debit cards. Since today's consumers are most likely to make purchases with credit cards, getting a card reader for iPhone users can help increase your service offerings and grow your sales. A credit card reader for iPhone will also help you keep your and your customer's data secure by greatly reducing the number of times you have to manually input card information. Read on to learn about different card reading products, how they work, and what solutions are offered in the marketplace.
What is an iPhone Card Reader?
An iPhone card reader is an accessory that makes it possible for businesses to accept debit and credit card payments using their iPhone. In fact, several companies offer card readers for iPhone users. Once a card is swiped or card data is input, the money is directed from the user's bank account to the merchant's. The type of credit card reader for iPhone you choose should be based on your total sales volume, your industry, the number of sales you make, and the product's ease of use.
It should be noted, there are other smartphone card readers available but for the purpose of this article, we will be focusing solely on hardware for iPhone users.
How does it work?
Essentially, a card reader for iPhone works as a mobile Point-of-Sale (mPOS) terminal when a customer makes a purchase. As the name suggests, the card reader gathers the credit or debit card number and other customer information. From there, the financial data on the card is transmitted to a payment processor.
The processor, in turn, directs this data to the proper financial institution to confirm processing. It then processes the payment for the card, sending the money to your bank account. Instead of using a traditional point-of-sale (POS) terminal for payment processing, you use your iPhone for this data transmission. This makes the activity affordable, portable, and manageable–something many small businesses can benefit from.
How do You Find the Best Card Reader for iPhone?
To make a selection for the best iPhone card reader, you have to consider what type of business you have, how, when, and how often the reader will be used, as well as your customer base. For example, if you work in a business that receives a lot of contactless payments, you should choose a reader that primarily provides this function.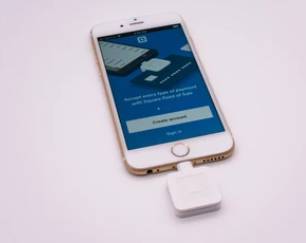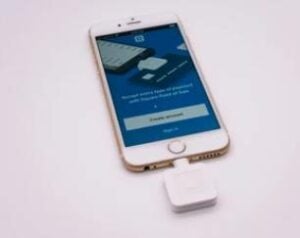 On the other hand, if you have older customers who are used to swiping their credit cards, you can set up a POS credit card reader for iPhone for those types of payments. Again, the processing function needs to be considered when selecting an iPhone card reader. Once you narrow down the functions of the different products, look at the pricing. This step will help you decide on the best solution for your needs.
Considerations for Mobile Card Readers
When choosing a card reader for iPhone, consider the features, then ask the following:
What methods are used for accepting payments–swiping, chip card, or contactless?
Is there an associated mobile app? If so, what are the benefits?
Does the reader offer more than credit or debit card processing?
Is the device free, and, if not, what is the purchase price?
What type of sales volume does the card reader handle?
How much is the per-transaction fee?
What type of business can benefit from the card reader?
For example, if you work in construction, you may want a credit card reader that offers more than credit card processing. You may also be interested in a reader that will help you make invoices, or keep track of your inventory.
Compatibility
The card reader for iPhone users that you choose should be compatible with the latest Apple technology. Compatibility is crucial if you want to accept payments without hassle. You should be able to easily integrate the features of your reader with your phone.
Function
Function plays a big role in what you choose in a card reader for iPhone. You can choose from three functions for credit and debit card processing.
App and reader
An app-and-reader mPOS is the favored choice for credit card processing for iPhones. It is also easy and convenient to use. All you need to do is sign up for a merchant account with the provider, then download the provider's app to your iPhone. Some app-and-reader providers will send you a free credit card reader that you can plug into your iPhone's lightning port or headphone jack.
With the reader set up, all you need to do is connect your iPhone to the internet and swipe a credit or debit card. You can also upgrade to a Bluetooth card reader for iPhone for around $50. This upgrade supports chip and contactless payments. With this method, you can protect your business from receiving fraudulent charge payments.
App and terminal
An app-and-terminal iPhone card reader offers a more robust solution than an app-and-reader set-up. While you will depend on an app for processing, this type of function is similar, in appearance, to the traditional POS card processing system.
This type of functionality allows you to streamline your operations, optimize profits, and leverage your base of customers. Many of these types of terminals feature the same capabilities as traditional POS terminals. Let's look at some of the advantages:
Inventory management
Customer relationship management (CRM) software
Marketing tools
Advanced analytics
Staff management support
If your business has an established location and recurring inventory, this might be the credit card processing solution for you. The terminals used for app-and-terminal iPhone card reader processing often feature the following equipment:
A barcode scanner
Cash register and a printer for receipts
Near-Field Communication (NFC) or contactless reader
The NFC or contactless reader enables you to accept contactless cards, Apple Pay, or Google Pay for payments. This function reduces your risk of fraud.
App-only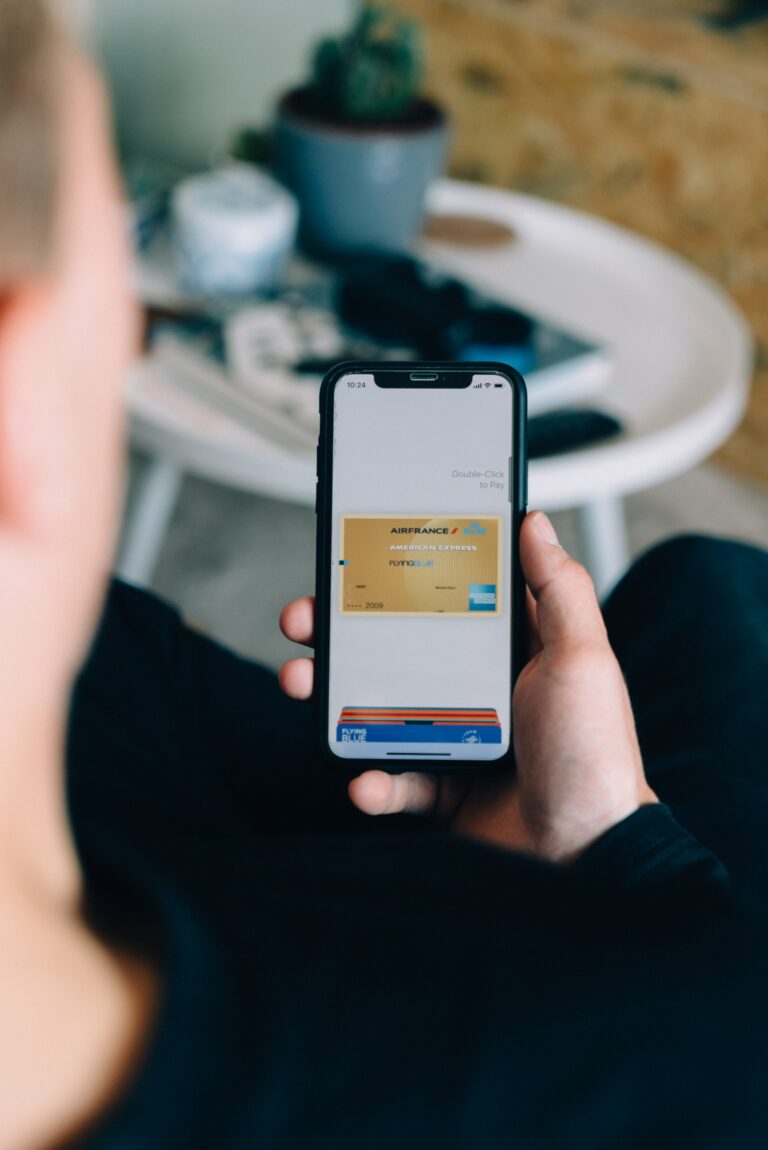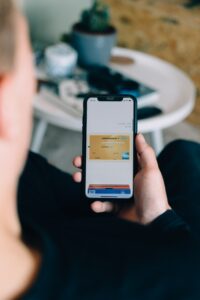 An app-only credit card reader for iPhone allows you to accept mobile payments without swiping a credit card. Therefore, you don't have to deal with a credit card reader, just on the app. Some of the apps use the camera on the iPhone to capture an image of the credit card. They scan the number on the card or reach a quick response (QR) code.
While the app-only applications above may sound easy and convenient, you should still consider the following:
Some credit card holders may not like the idea of having their card's image and number taken.
Certain customers may not be familiar with this type of setup.
Cards with app-only functions are not processed like cards that go through terminals. They are processed as card-not-present credit card transactions, which have different associated fees.
This type of processing goes slower, as you need enough light to properly scan the card or the QR code.
When you consider your choice for mPOS credit readers for iPhone, think about what you would like or need to achieve when using an mPOS credit card reader for iPhone.
Price
Most of the app-and-reader card readers for iPhone products range in price depending on quality. However, you must account for the average credit card processing rates that accompany your hardware. In most of these instances, the first swipe reader is free. The cost of accepting cards in person is about 2.70% to 2.75% when you use an iPhone card reader.
You may be eligible for custom rates if you receive charge payments annually at a certain dollar level, or have an average sales ticket over a specific dollar amount. Check out fees for add-on services, such as email services or the cost per transaction for processing gift cards.
Mobility
There's no need to worry about mobility with this form of credit card terminal. Since card readers for iPhone products can be used with an app and plugged into a phone, you can process payments on the go. Most of these products will serve you well when it comes to ease of portability.
Security
While these card readers are designed with security in mind, you do have other options available to you. For example, there are upgrades such as a Bluetooth card reader, with enhanced fraud security, or opt for Google Pay or Apple Pay to accept contactless payments. It's important to note these features, especially if you process a large volume of payments.
Is an iPhone Credit Card Reader Your Best Option?
Given the ubiquity of card payments and the popularity of Apple phones, an iPhone credit card reader offers an easy and convenient way to accept credit and debit card payments. Not only does this type of mPOS processor increase your ability to accept all types of credit card transactions, but it also makes it easy to avoid problems with cash flow–something that affects many small businesses today. Consider this option if you want to make it easier to conveniently accept payments anytime, anywhere.